Maldives holiday, the perfect tropical experience, is a synonym of opulence, luxury, and serenity. You must have seen your favourite celebrities posting while enjoying the luxuriating encounters of this island paradise. The scenic vistas of the Maldives feature unparalleled natural marvels. However, one thing that bothers many travellers seeking a vacation to the Maldives is the budget. Usually, backpackers and pocket-friendly holidayers find difficulty in planning a trip here. Whether you wish to stay at luxurious beach bungalows or enjoy the leisure of water villas, you can count on multitudinous budget-friendly resorts in Maldives. The island country features an array of modern boutique hotels & resorts and overwater accommodations with essential in-room amenities and gratifying service staff, ensuring a comfortable experience for visitors. You can continue reading to know inexpensive yet quality accommodation in the Maldives to have a memorable getaway with your loved ones.
7 Budget-friendly Resorts in Maldives
A cosy room with mesmerising vistas or serenity amid azure, whatever is your preference, the following are the best budget friendly resorts in Maldives:
1. Paradise Island Resort
Paradise Island Resort in North Male atoll of the Maldives features an ambiance where modern amenities meet tranquillity, purveying the best leisures in a budget. The island can be reached through a 20-minutes speed boat ride from the Velana International Airport. The property is also recognized by various leisure and travel platforms. You can choose between well-furnished rooms and suites and enjoy culinary fiestas at six restaurants and five bars. If you are looking for the best budget resorts in Maldives for honeymoon, the property can be an ideal location for you scattered across the island.
Address: Paradise Island Resort & Spa, Lankanfinolhu, Maldives
Website | Reviews
2. Embudu Village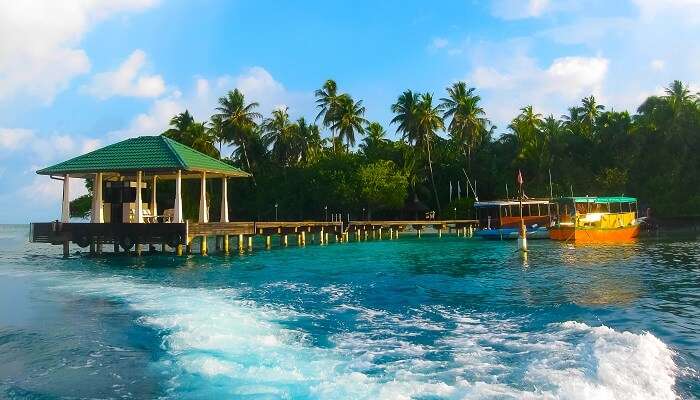 Nestled amid serenity, Embudu Village is a hamlet in the Indian Ocean offering tropical holidays in the iconic Maldives manner. The village is accessible via a speedboat ride. You will be staying at the beach villas or water villas, depending upon your preferences and availability at the property. You can plan your meals at the buffet style themed restaurants and relish regional dishes too. The village also features activities like fishing, diving, snorkelling, trekking, and interacting with locals and understanding their lifestyle.
Address: Embudu Village South Male atoll, 20012, Maldives
Website | Reviews
3. Fun Island Resort
Fun Island is in South Male' Atoll and counted among the popular budget beach resorts in Maldives. You need to take a short speedboat ride which takes around 45 minutes from the international airport. The property features 67 beachfront rooms and eight deluxe rooms giving you a chance to enjoy an open shower area providing access to the beach. All the rooms here are elegantly furnished and provide almost all the modern facilities that make a vacation comfortable. The resort features a buffet-style restaurant where you can taste world-class delicacies. The unmatchable experiences and comfort at an affordable price makes this property one among the best budget resorts in Maldives.
Address: Fun Island Resort & Spa South Malé Atoll Bodufinolhu, Maldives
Reviews
4. Reethi Beach Resort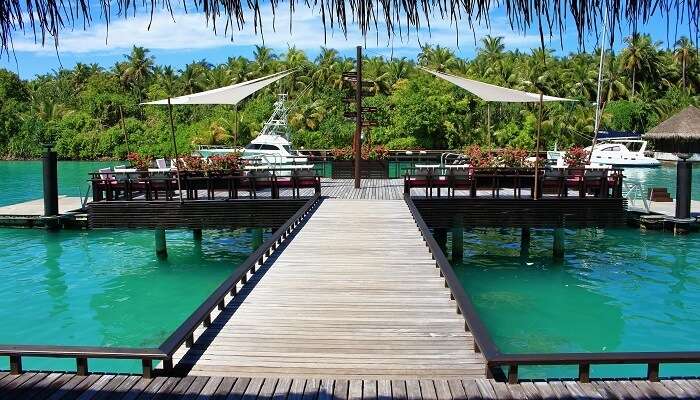 Reethi Beach Resort is a serene island that belongs to Baa Atoll and it takes about a 35 minutes ride by seaplane from the international airport to reach here. However, a journey by seaplane may agitate your budget and you can opt for a speedboat transfer which takes 50 minutes. With an abundance of natural materials, the property offers villas categorised as spacious and semi-detached setups. Sneak peeking at the Maldivian-style art and lifestyle is an exclusive experience, worth planning a stay at an affordable price. From buffets to gourmet, the specialty restaurants of the Reethi beach resort offer scrumptious delicacies cooked with local ingredients.
Address: Fonimagoodhoo, Maldives
Website | Reviews
5. Kuredu Island Resort and Spa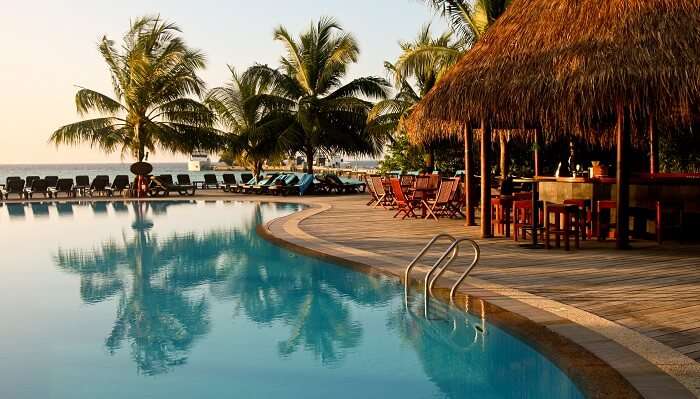 If you wish to witness the landscape vistas and marine life of the Maldives, Kuredu Island Resort might be a perfect place for you. It is nestled in Lhaviyani Atoll and can be reached by a 35-minute seaplane ride. The cost of the ride won't bother you much as the stay is arguably money saving. The property features garden bungalows, jacuzzi & water villas, family suite with pool, and a few other options too. You can relish world-class recipes, including their famous seafood platters. The resort hosts party nights and you can also go on a fishing venture or indulge in water sports adventure. This is counted as one of the best budget-friendly resorts in Maldives.
Address: Kuredu Island Resort & Spa, Maldives
Website | Reviews
6. Kurumba Maldives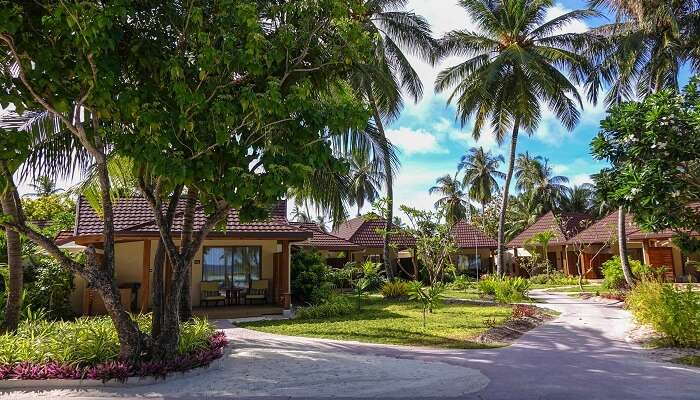 Another budget-friendly resort in Maldives, Kurumba features palatial accommodations with a variety of scrumptious delicacies. It is known to be the first resort in the Maldives, yet offers affordable accommodations. They have a spacious kids' club hosting numerous activities to keep them entertained. The property also gives opportunities to indulge in snorkelling, glass bottom boat tour, kayaking, and dolphin spotting.
Address: Vihamanaafushi, North Male Atoll 08340, Maldives
Website | Reviews
7. Furaveri Maldives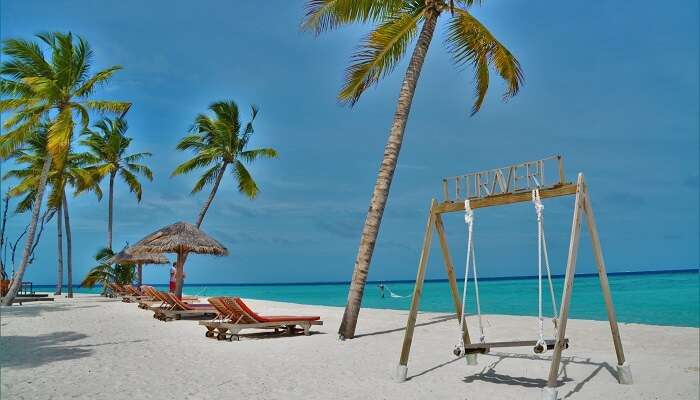 Furaveri Maldives is a luxurious property but if you are travelling during the off-season, especially summer months, grab a mega deal with which you can encounter opulence of the place at a pocket-friendly price. The island resort has 168 villas hosting leisure in their exclusive manner. Travellers who don't want to compromise on luxury, yet wish to book an affordable accommodation must consider this property at least once and check their seasonal deals.
Address: Furaveri Maldives Raa Atoll, 20012, Maldives
Website | Reviews
Innahura Maldives Resort, Sun Island Resort & Spa , Malahini Kuda Bandos Resort, Equator Village Resort, etc. are other budget-friendly resorts in Maldives. You can book your future Maldives holiday with TravelTriangle and grab the best deals along with holidaying on an itinerary designed exclusively according to your preferences.
For our editorial codes of conduct and copyright disclaimer, please click here.
Frequently Asked Questions about Budget-friendly Resorts in Maldives
What is the minimum budget for a Maldives trip?
Your budget for a Maldives trip entirely depends on your preferences. The island country features not only expensive, but also pocket-friendly accommodations, transfers, adventures, getaways, food & beverages, and a lot more.
Where can I go for sightseeing in the Maldives?
Male, Maafushi Island, Hulhumale, Addu City, Tsunami Monument, Grand Friday Mosque, Gan Island, National Museum, Mulee'age Palace, National Art Gallery, etc. are the best places to go for sightseeing in the Maldives.
Are there any budget resorts in Maldives?
Yes, Embudu Village, Furaveri Maldives, Kuredu Island Resort and Spa, Reethi Beach Resort, and many other properties offer affordable stays in the Maldives.
People Also Read:
Budget Resorts In India Resorts Near Gurgaon Resorts In Manesar