Sukhothai, the first capital of Thailand in 13th and 14th centuries is a lesser-known destination that takes pride in its alluring temple ruins and cultural vibes. There are a plethora of things to do in Sukhothai that allows you to experience the best of the destination. Lying in the lower northern part of Thailand, Sukhothai features numerous ancient sites making it a perfect destination for history buffs and cultural explorers. From strolling around the Sukhothai Historical Park to marveling at the Buddha statue at Wat Si Chum to exploring the local markets and sampling some local delicacies, the enjoyment options in Sukhothai are countless. So, if you are planning a trip to this culturally-rich destination, check out some of the best activities that will make your vacation a joyful affair.
7 Top Things to do in Sukhothai
Wondering how to make your Sukhothai trip a fun-filled one? Here are some excellent things to do in Sukhothai that will let you indulge in numerous memorable experiences.
1. Explore Si Satchanalai Historical Park
Image Credit: Public Domain Pictures
Resembling Sukhothai Historical Park, Si Satchanalai National Park is an open space filled with ancient temples and ruins along with lush greenery. Apart from temple ruins, the park houses a palace and a house remains showcasing Khmer, Ayutthaya, and Sukhothai styles. The best way to explore the park is by hiring a bicycle and witness sites at your leisure. The park opens daily from 8.30 a.m.to 4.30 p.m. and the entry fee for the park is 100 Baht for non-Thais.
45 Breathtaking Places To Visit In Krabi For A Relaxing Thai Vacation
2. Spend a Day with Elephants at Boon Lott's Elephant Sanctuary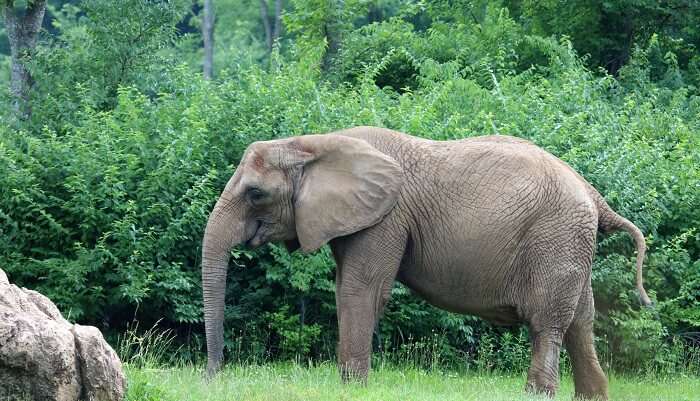 Founded by Katherine Connor in 2007, Boon Lott's Elephant Sanctuary or BLES is a safe haven for retired and rescued elephants. The sanctuary does not offer any tours, however; visitors can make the most of their visit while walking the elephants to the grazing area, enjoying picnic lunches in the tree house, understanding the behavior of elephants so close up, and planting trees and vegetation. Moreover, guesthouses are also available near the sanctuary for travelers wanting to spend some days near the natural habitat of elephants.
3. Stroll Around Sukhothai Historical Park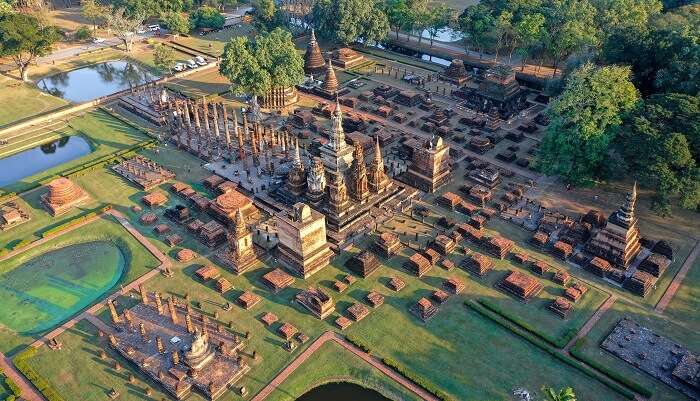 Sukhothai Historical Park is an old city turned into a historical park showcasing the intriguing 200 ruins. While being one of the best places to visit in Sukhothai, the park is divided in 5 zones including north zone, west zone, east zone, south zone, and central zone which boasts most of the attractions. Besides this, visitors need to buy tickets separately for each zone. To witness the best of these historic sites, renting a bicycle is an excellent way to explore the park thoroughly. Moreover, there are a couple of coffee shops and eateries near the park.
15 Best Beaches In Thailand You Need To Visit Right Now
4. Celebrate Loy Krathong with Locals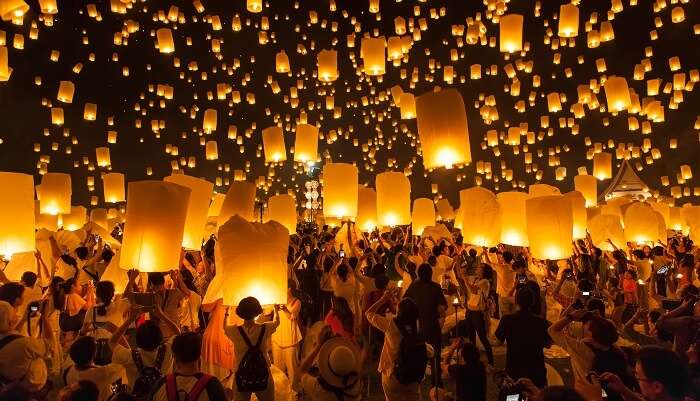 Loy Krathong is a Thai festival celebrated every year throughout Thailand and in nearby countries. Also known as Thailand's "Festival of Lights", the festival is celebrated to pay respect to the Goddess of Water and the Buddha. The festival usually falls in the Month of November. On the night of this day, locals head to the temples to partake in religious rituals. They also assemble at rivers, canals, or lakes to release floating lanterns or Krathongs.
5. Savor Some Traditional Delicacies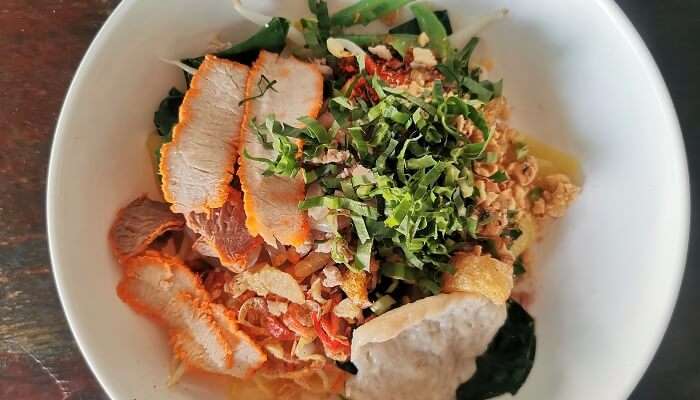 One of the most fun things to do in Sukhothai is sampling some regional delicacies. There are numerous Thai eateries, noodle joints, and restaurants in every nook and corner of the city offering a wide range of local dishes. The region's top culinary specialty is kuay tiao Sukhothai which is an eclectic blend of noodles, peanuts, beans and lime juice. Besides this, Pad Thai (stir-fried noodles), Kaeng Lueang (yellow curry), Khao Pad (Thai fried rice), and Khao Soi (Thai coconut curry noodle soup) are some of the most popular Thai foods one can try.
Full Moon Party In Thailand In 2023 Is Going To Be Beach Madness At Its Loudest
6. Unravel History at Ramkhamhaeng National Museum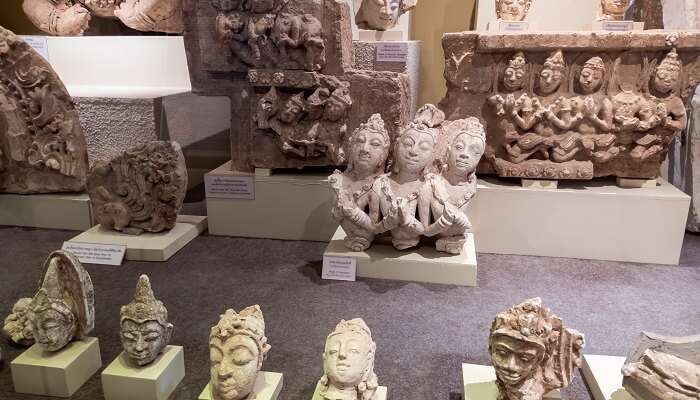 Located near to the entry of Sukhothai Historical Park, Ramkhamhaeng National Museum features a striking collection from the periods of Thai Kingdoms. The museum majorly exhibits the antiques and artifacts found during Sri Satchanalai Historical Park and Sukhothai Historical Park excavations. In order to understand the ruins of these parks, one must take a tour of the museum. The statues of Harihara and Vishnu showcasing Hindu influence, statues of Buddha exhibiting Sukhothai style of art, and numerous stone inscriptions are some of the highlights of this fascinating tourist place. So, if you wish to cover all the top things to do in Sukhothai, don't forget to add Ramkhamhaeng National Museum to your itinerary. Notably, the museum opens everyday from 9:00 am to 4:00 pm.
7. Buy Souvenirs at Sukhothai Weekend Night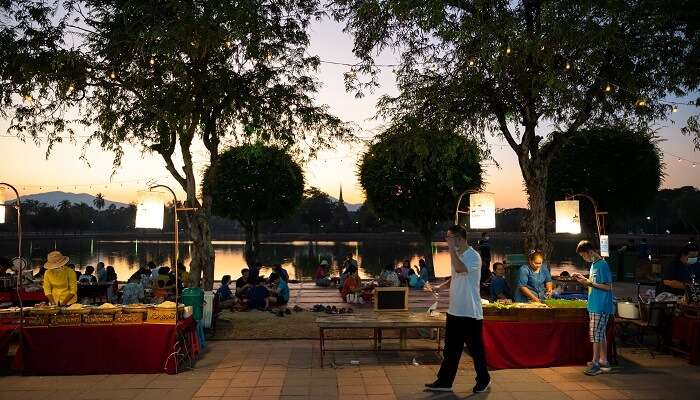 Positioned amid the ruins of Sukhothai Historical Park, Sukhothai weekend night is a great place to indulge in some retail therapy and gorge upon street delicacies. The market is replete with numerous stalls of souvenirs, clothes, handicrafts, and regional dishes. This once-a-week event takes place on Friday and Saturday nights from 5-5:30 onwards. So, while planning a trip to Sukhothai, make sure to incorporate a weekend to witness the liveliness of Sukhothai nightlife.
4 Prime National Parks In Krabi All Adventure Loves Must Visit
Sukhothai is a culturally rich destination that truly enhances the charm of Thailand. For travelers wanting to dig into the history and culture of Thailand, Sukhothai is indeed a perfect paradise. So, plan a Thailand holiday right away with your loved ones and head on a soulful affair in 2023.
For our editorial codes of conduct and copyright disclaimer, please click here.
Frequently Asked Questions About Things to do in Sukhothai
Which are the best things to do in Sukhothai?
Some of the best activities you can enjoy in Sukhothai are:
1. Savor Some Traditional Delicacies
2. Buy Souvenirs at Sukhothai weekend night
3. Explore Si Satchanalai Historical Park
4. Witness Sukhothai's nightlife while visit at various bars and clubs
5. Spend a Day with Elephants at Boon Lott's Elephant Sanctuary
Which are the best attractions in Sukhothai?
Here is a list of top places to visit in Sukhothai:
Sukhothai Historical Park
1. Wat Mahathat
2. Wat Si Chum
3. Wat Sri Chawai
4. Wat Chang Lom
When is the best time to visit Sukhothai?
The months between October and February are perfect for planning a trip to Sukhothai. During these months the weather is cool and pleasant, making your sightseeing experiences all the more worthwhile.
Where can I stay in Sukhothai with my family?
Some of the best hotels in Sukhothai are:
1. Thai Thai Sukhothai Resort
2. Legendha Sukhothai Hotel
3. Le Charme Sukhothai Historical Park
4. Baan Georges Hotel
5. Sriwilai Sukhothai
How many days are enough for a Sukhothai trip?
A trip of 2-3 days would be enough to witness the best of Sukhothai. To enjoy your vacation, you can go sightseeing and indulge in outdoor activities.
People Also Read:
Things To Do In Bali Things To Do In Bangkok Things To Do In Ho Chi Minh