Just eight miles from New York City, Newark, New Jersey, is the third-oldest city in the nation. Out of all the beautiful towns in New Jersey, Newark offers something really unique. The city is home to the largest flowering cherry blossom trees in the U.S. And that's not all Newark has to offer. With world-class entertainment, outdoor adventures, museums, culinary treats, and even a cathedral—there are so many things to do in Newark, New Jersey!
Visitors can book tickets for a show at the New Jersey Performing Arts Center, spend the afternoon exploring the Newark Museum of Art, or spend the day outside at Riverfront Park. They can enjoy a leisurely lunch in Ironwood or create an artistic masterpiece at a local screen-printing shop. There really are so many things to do in Newark.
Newark, New Jersey, is bursting with charm and plenty of sights to see. Here is our complete guide and list of things to do in Brick City!
UPDATE: 2023/05/30 13:07 EST BY LANE VASQUEZ
There Are More Things To See And Do In Newark, New Jersey
Visitors to Newark will appreciate the additions to this list of things to do, including self-guided tours, public parks, and seasonal festivals.
Top Things To Do in Newark
There are so many things to do in New Jersey, and many of them are right here in Newark!
1
Take A Newark Walk (Self-Guided)
View of Newark, New Jersey from across the Passaic River
A self-guided walking tour is a great way to get to know any city, and Newark is no exception. While there are paid tours available from various agencies, visitors can also use their smartphones to pinpoint iconic Newark landmarks, see the sights, and learn a bit about the city's history.
Newark Walks
states that its app is available on both
Apple
and Android devices, but currently, the only matching app on Google Play is a different offering,
Newark Map and Walks
(from GPSmyCity.com).

Interpretive signs, trail markers, and more help keep walkers on track outside of the digital app.
2
Catch A Show At The New Jersey Performing Arts Center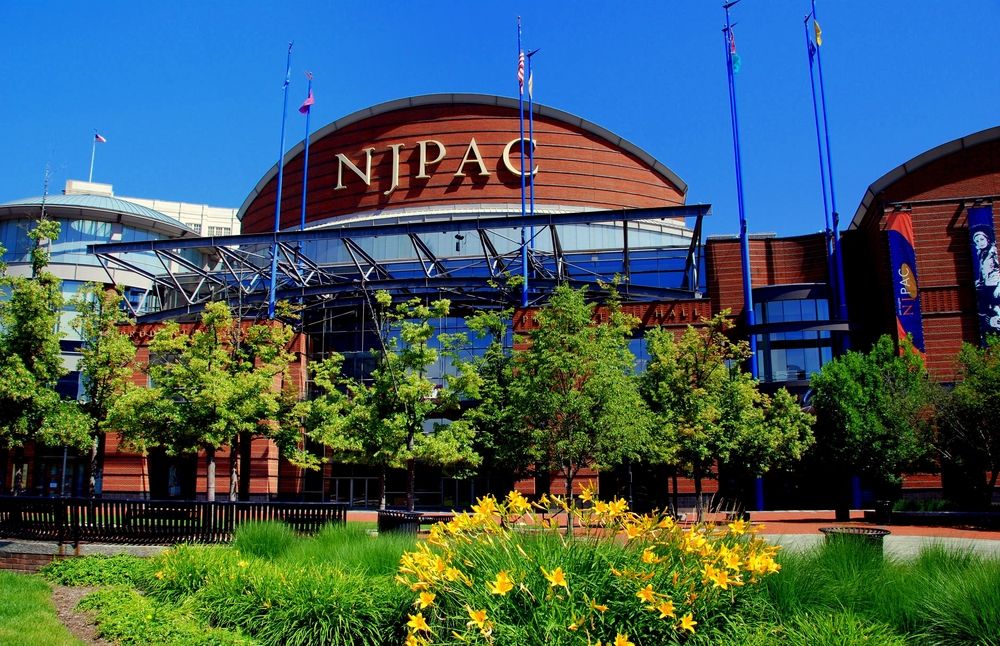 Yellow Day Lilies and trees in front of the New Jersey Performing Arts in Newark, New Jersey. 
Check out the events page for the New Jersey Performing Arts Center. From music to comedy, literary readings, and dancing—this is the best place in the city to catch a show.
With world-class performances, tourists are guaranteed a great time. The center has even featured icons like Jerry Seinfeld, Tony Bennet, and Dianna Ross!
Address: 1 Center Street, Newark
3
Enjoy A Grammy Museum Experience
Grammy Museum Experience in Newark, New Jersey
Located at the Presidential Center, the Grammy Museum Experience celebrates music legends from all genres. The featured exhibit from March until June 25th is The Beatles. The exhibit showcases the bands' success from 1964 through 1966 and explains how and why Beatlemania impacted America so greatly.
A must-see for any Beatles fans, tourists can expect to see clothing worn by famous musicians, lyric sheets, handwritten setlists, and so much more!
Address: 165 Mulberry Street, Newark
Hours: Thursday through Sunday, 11 AM to 6 PM.
Cost: $10 per person; $7 for children aged 3 to 17.
4
Get A Bite To Eat In Ironbound
Roman Babakin via Adobe Stock"">
Aerial photo of Newark and surrounding areas, New Jersey
Ironbound is one of Newark's most famous neighborhoods. Just steps from Newark's Penn Station, it's easy to get to and offers so many yummy things to taste. This shopping district has over 170 businesses and restaurants, many offering multicultural cuisine, especially Portuguese, Spanish, and Brazilian. Known to have some of the best Portuguese food in the country, Ironbound exudes an old-fashioned style.
Some popular spots are Teixeira's Bakery for fresh-from-the-oven baked goods, Seabra's Marisqueira for a glass of wine and the salada de polvo, and Nasto's Old World Desserts for a scoop of ice cream.
5
Discover Something New At Newark Museum Of Art
Jim.henderson via Wikimedia Commons,
public domain
."">
The Newark Museum of Art in Newark, New Jersey. 
With more than eighty galleries to wander through, the Newark Museum of Art is the biggest museum in New Jersey. Its collections include American, African, Asian, and Classical. Highlights include the extensive collection of Tibetan art and a Buddhist altar consecrated in 1990 by the Dali Lama himself.
There's also a sculpture garden, a planetarium, kids' workshops, and interactive galleries.
Address: 49 Washington Street, Newark
Hours: Thursday through Sunday, 11 AM to 5 PM
Cost: $10 per person
6
Sightsee Or Board A Boat At Riverfront Park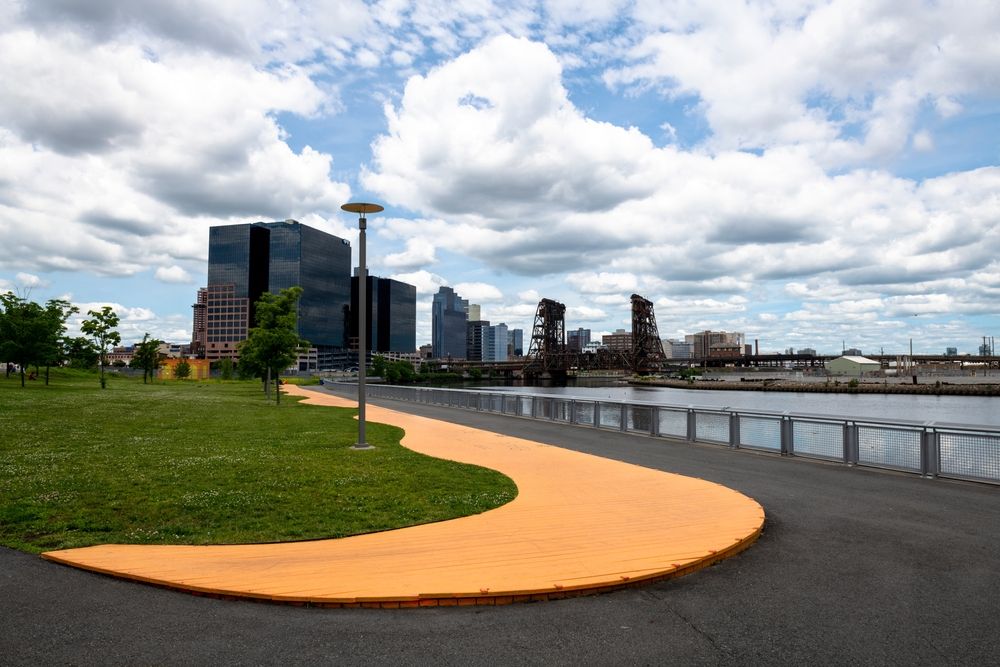 Riverfront walkway in Newark, New Jersey
A stroll along Newark's Riverfront Park is the perfect way to spend the afternoon. Enjoy views of the Passaic River while traveling along the orange walkway. Alternatively, tourists can also rent a kayak or grab a boat tour to get up close and personal with the water.
Riverfront Park is a popular public green space. A great spot for active tourists, the park also offers a baseball field, basketball and tennis courts, two playgrounds, a soccer field, and an open grassy area.
Address: 709 Raymond Blvd, Newark
7
Catch A Show At Newark Symphony Hall
Creative Commons
Attribution-Share Alike 3.0 Unported
license."">
Newark, New Jersey skyline looking east.
The Newark Symphony Hall has been a staple in Newark for almost a century. From classical music to opera, ballet, piano virtuosos, rock n' roll, R&B, and gospel—this place has seen it all!
Some iconic names have performed in the Hall, such as The Rolling Stones, The Beatles, Tony Bennet, and Aretha Franklin, to name a few.
Address: 1020 Broad Street, Newark
8
Admire The Cathedral Basilica Of The Sacred Heart
Mathew Schwartz on
Unsplash
"">
View of the front of the Cathedral Basilica of the Sacred Heart in Newark, New Jersey. 
Built on the highest peak in Newark, this French Gothic Cathedral is a whopping 45,000 square feet. It's one of the most spectacular cathedrals in the country and features hand-carved wood, marble, and stone decorations, beautiful stained-glass windows, massive bronze doors, and fourteen bells in the west tower made in Italy and tested by Vatican bell experts.
The building is both a national and a state historical landmark. Tours are offered on the first Sunday of every month following the noon Mass. If interested, guests can meet in the pulpit after Mass.
Address: 89 Ridge Street, Newark
Hours: Mondays through Fridays, 9 AM to 5 PM; Saturdays, 9 AM to 4 PM
9
DIY A Design At Newark Print Shop
Jin via Adobe Stock"">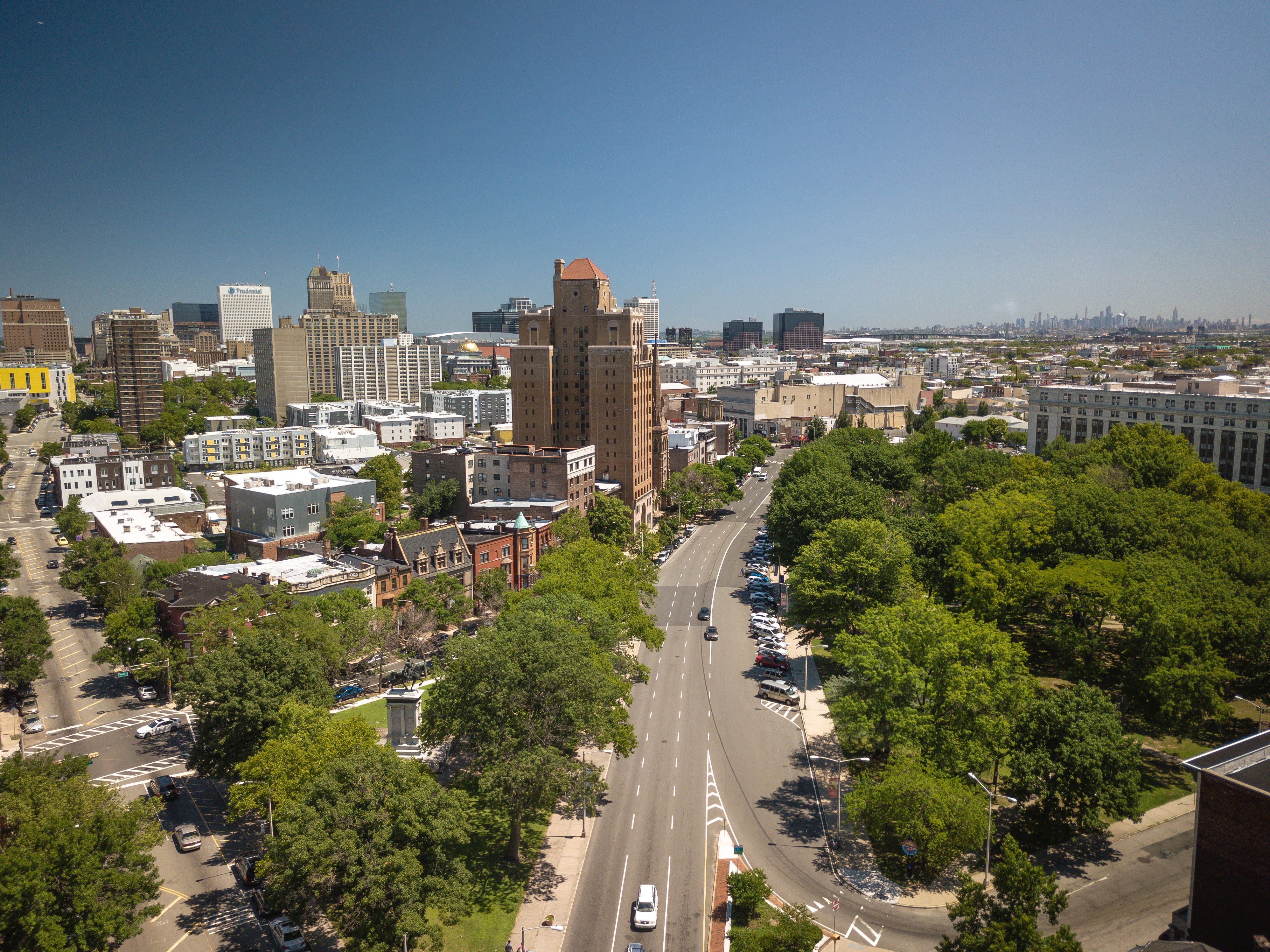 Aerial photo of Newark NewJersey
The Newark Print Shop is a screen-printing shop where tourists can create their very own artistic masterpieces. From t-shirts to hats and bags (and other options), customers can create a unique print by moving through each section of the printing process.
The Newark Print Shop also provides classes and workshops, and they have an exhibition space to showcase brilliant pieces.
Address: 304 University Avenue, Fl 2, Newark
Hours & Cost: Open to the public every Wednesday from 6 PM to 10 PM, tourists can get creative in the open studio for a mere $10.
Related: 8 Things To Do In Hoboken: Complete Guide To One Of New Jersey's Favorite Cities
10
Do Some Light Reading At Newark's Main Public Library
LeeSnider"">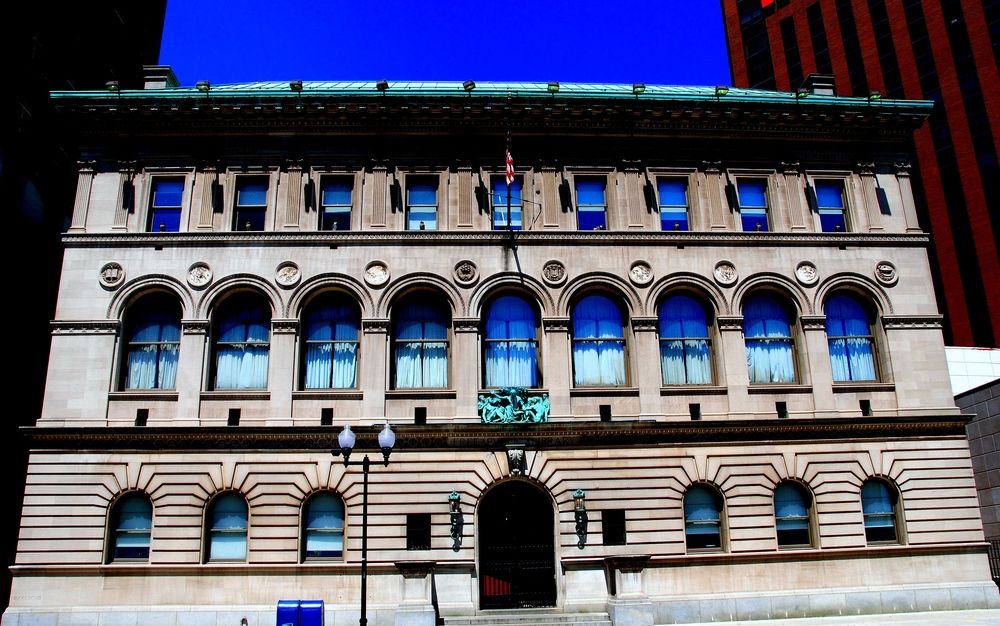 Newark Public Library facade
A library may not sound like the ideal tourist spot, but Newark's Main Library is a sight to see. There are three floors for library-goers to explore, including a children's room (a great place to decompress when traveling with kids), an LGBTQ+ Center, a Teen Room, and more.
No public parking is available at the Main Library; prepare to park on the street (and pay) or take public transportation to get there.
11
Spot Cherry Blossoms At Branch Brook Park
Christopher Lotito on
Unsplash
"">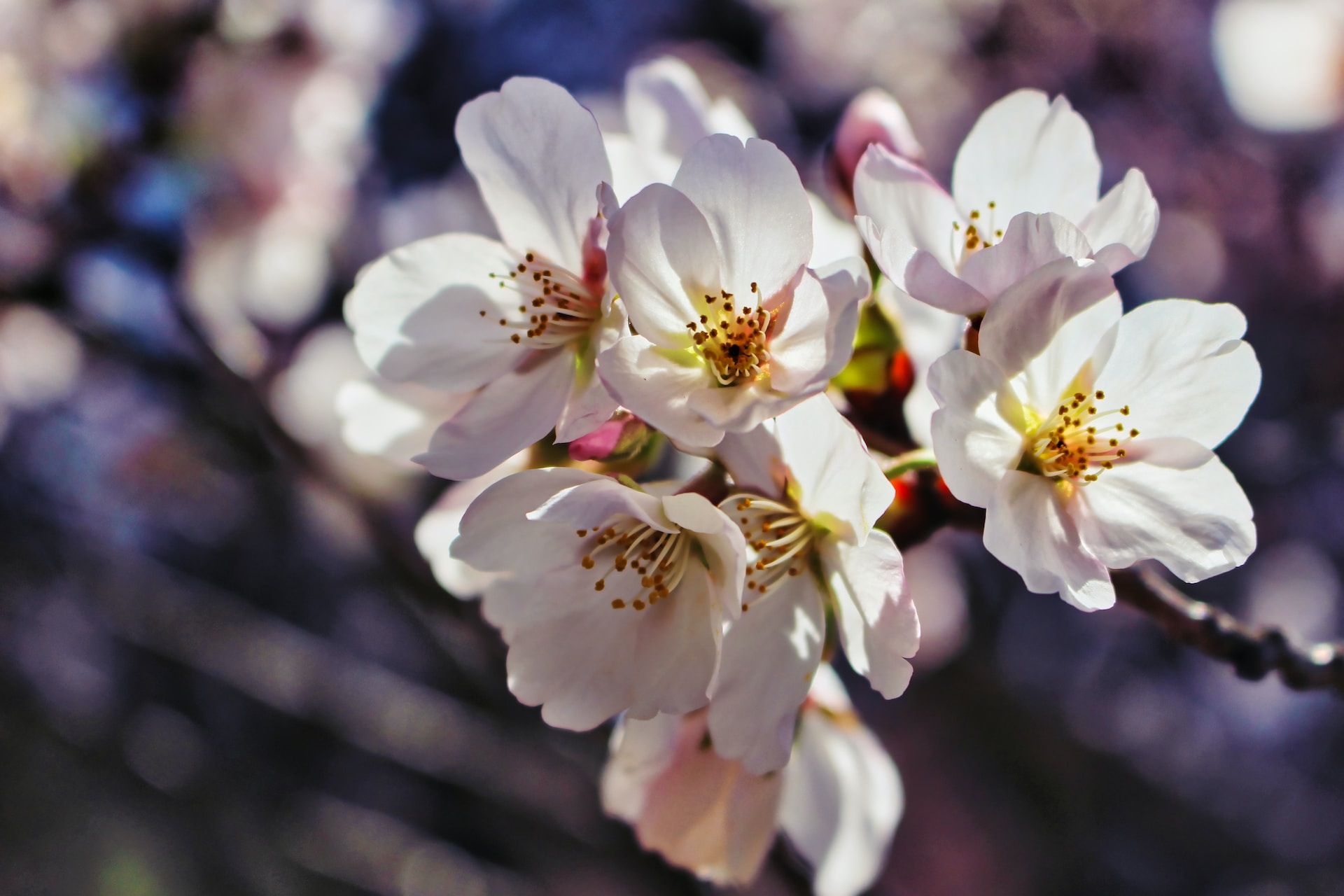 Cherry blossoms at the Cherry Blossom Festival in Newark, New Jersey
Branch Brook Park is not only home to tons of community events (like a fishing derby and outdoor concerts in summer), but also an enormous grove of cherry blossom trees.
Branch Brook Park even has a
live webcam feed
that monitors the cherry blossoms so visitors can check out the conditions before they go.
The park also has a Cherry Blossom Festival that takes place in spring (generally April).
Take a self-guided historic walking tour of the area; scan the QR codes at each green sign near various attractions.
12
Enjoy Waterfront Views At Essex County Riverfront Park
digidream"">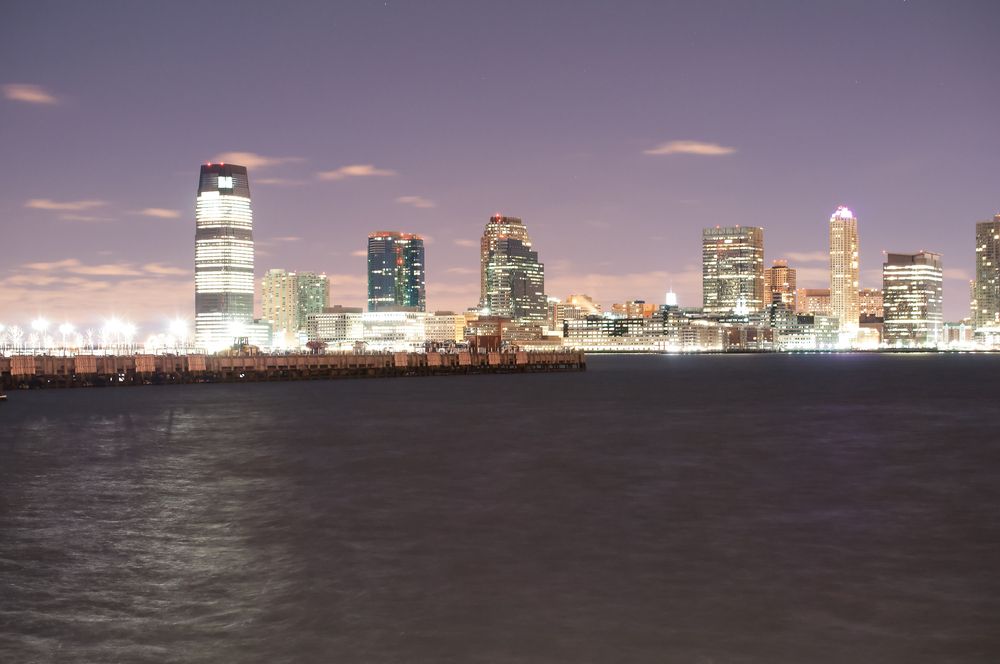 Distant view of Newark over the water Passaic River
Essex County Riverfront Park is Newark's only waterfront green space, and it's an excellent spot to take a stroll, relax on a bench, and check out the scenery.
Events also take place at Riverfront Park, depending on the season.
How big is Riverfront Park
? Riverfront Park spans 12 acres and includes two playgrounds, basketball courts and a baseball field, and a soccer field.
13
Best Time To Go To Newark
Robert Thiemann on
Unsplash
"">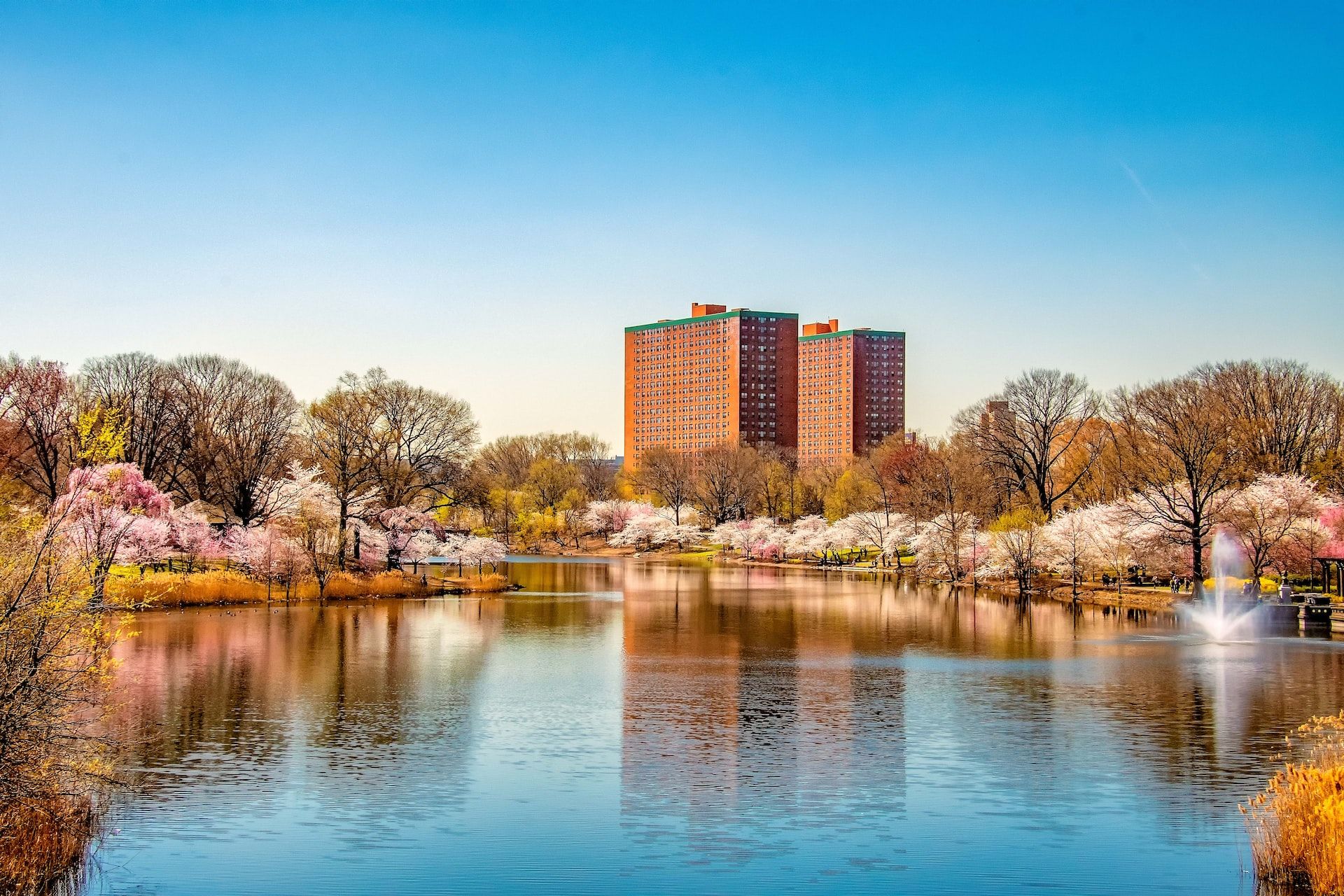 Cherry Blossoms in Newark, New Jersey
Spring
April is the perfect time of year to visit Newark. The cherry blossoms are out in full bloom and absolutely gorgeous. But while spring brings pleasant temperatures, it can be unpredictably chilly at times. Bring layers.
Summer
Summers in Newark are hot and humid. If you love the sun, this is a great time to visit. This is also the season when Newark sees the most tourists, so hotels and airfare may be more expensive.
Related: 10 Best Beaches In New Jersey You Need To Visit
Fall
Daily highs range from the mid-80s to the low 50s. The temperatures drop as the calendar approaches winter. Tourists can expect to see rain or snow five to seven times per month in the fall.
Winter
Newark in winter is cold. Temperatures range from average highs from the 50s to the 30s. And it rains and snows approximately seven to eight times per month. Winter is too cold for most outdoor activities and is Newark's slowest tourist season.
14
Best Ways To Get Around Newark
Newark Penn Station in Newark, New Jersey.
After flying into the newly improved Newark Airport, tourists have options to get around Brick City.
Car
This is the easiest option. Tourists can travel around Newark on their own timetable, but be aware—traffic can be very heavy. Route 21 heads through downtown Newark. Be aware that it can be jam-packed, in which case tourists can travel to many downtown destinations using Interstate 280.
Parking can be difficult in Newark, but try
Spot Hero
to reserve a parking spot downtown.
Rail, Light Rail & Bus
Newark's Penn Station is a major transportation hub. From here, tourists can travel by rail, light rail, and bus. Tourists can plan trips around Newark or even a day trip from Newark to many nearby cities, such as Manhattan.
Walk
Newark is a very walkable city. It's actually the fifth most walkable city in the U.S. Mix walking with fantastic public transport options and tourists can easily explore the entire city.
Related: Why The New Jersey Fairy Trail Is Just Magical As It Sounds
15
Where To Eat In Newark
Jin via Adobe Stock"">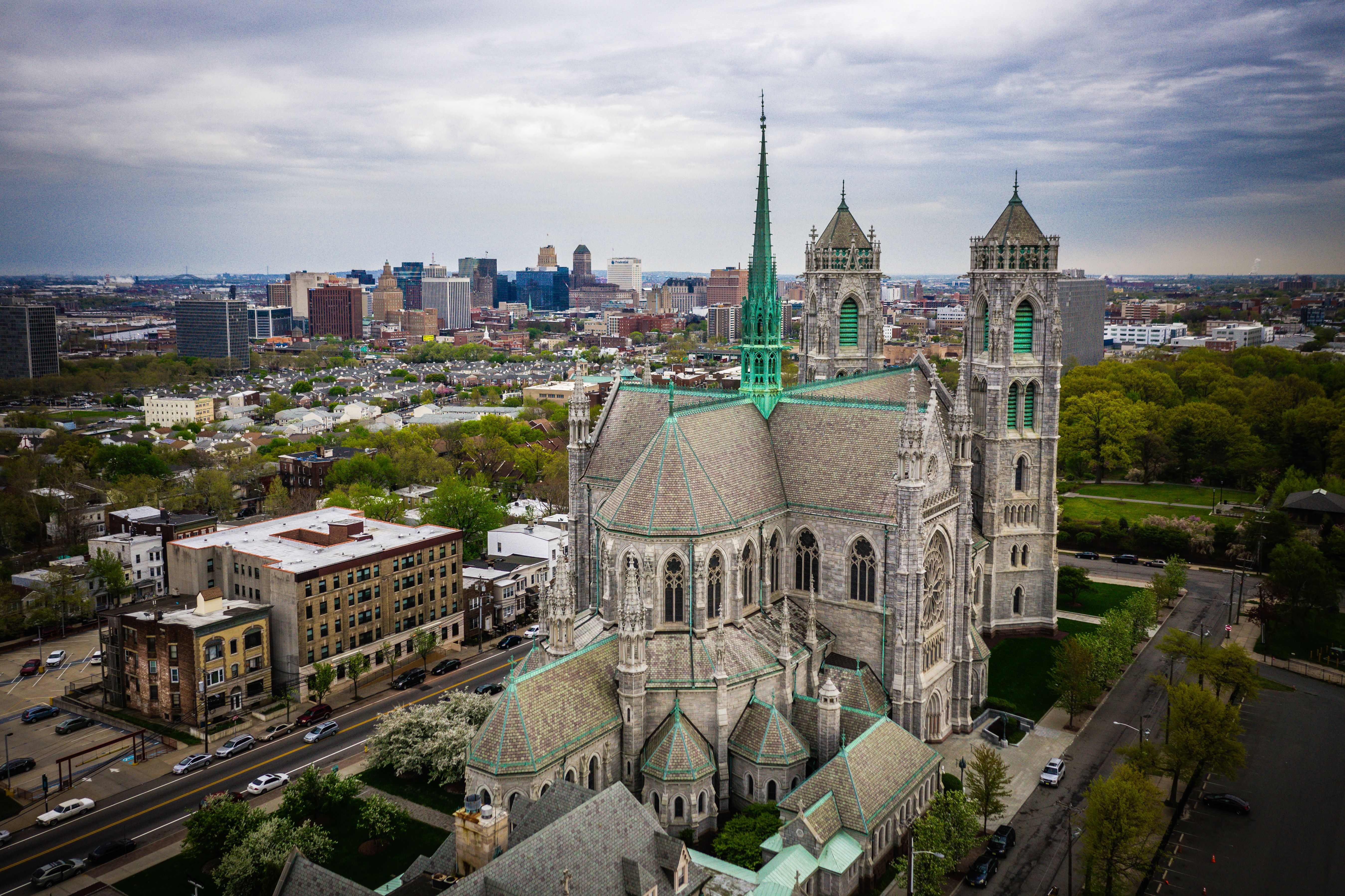 Aerial view of Newark, New Jersey
New Jersey has its own iconic Jersey dishes, but Newark is known in particular for its international cuisine.
Breakfast
Teixeira's Bakery
Perfect for breakfast on the go, this quaint bakery has the best pastries. It has an old-school vibe, a delicious scent of warm baked goods, and a fair number of locals who stop and chat with the people behind the counter.
Address: 184 Ferry Street, Newark
Hours: Monday through Saturday, 5 AM to 8 PM; Sunday, 6 AM to 8 PM
Recommended: Pasteis de Nata
Related: First Time In New Jersey? Try Doing These Things
Lunch
Iberia Tavern and Restaurant
Iberia Tavern and Restaurant is one of the best Portuguese restaurants in Newark. It introduced its Spanish and Portuguese cuisine to Newark in 1926, and the restaurant soon gained the reputation of great food, large portions, and affordable prices.
Address: 80-84 Ferry Street, Newark
Hours: Tuesday through Sunday, opens at 11 AM; Sunday, opens at 12 PM.
Recommended: Shellfish and Sangria!
Dinner
Casa d'Paco
Case d'Paco is a must-stop destination for anyone traveling to Newark. Located in the Ironbound, the Galician-style restaurant offers staples, like paella and langostinos, in addition to a new alternative menu every week, allowing tourists and locals alike to fall in love over and over again with each new delicious dish.
Address: 73 Warwick Street, Newark
Hours: Tuesday through Saturday, 11 AM to 12 AM; Sunday, 12 PM to 11 PM; Mondays, Closed.
Recommended:
16
Where To Stay In Newark
Emmanuel Ogbonnaya on
Unsplash
"">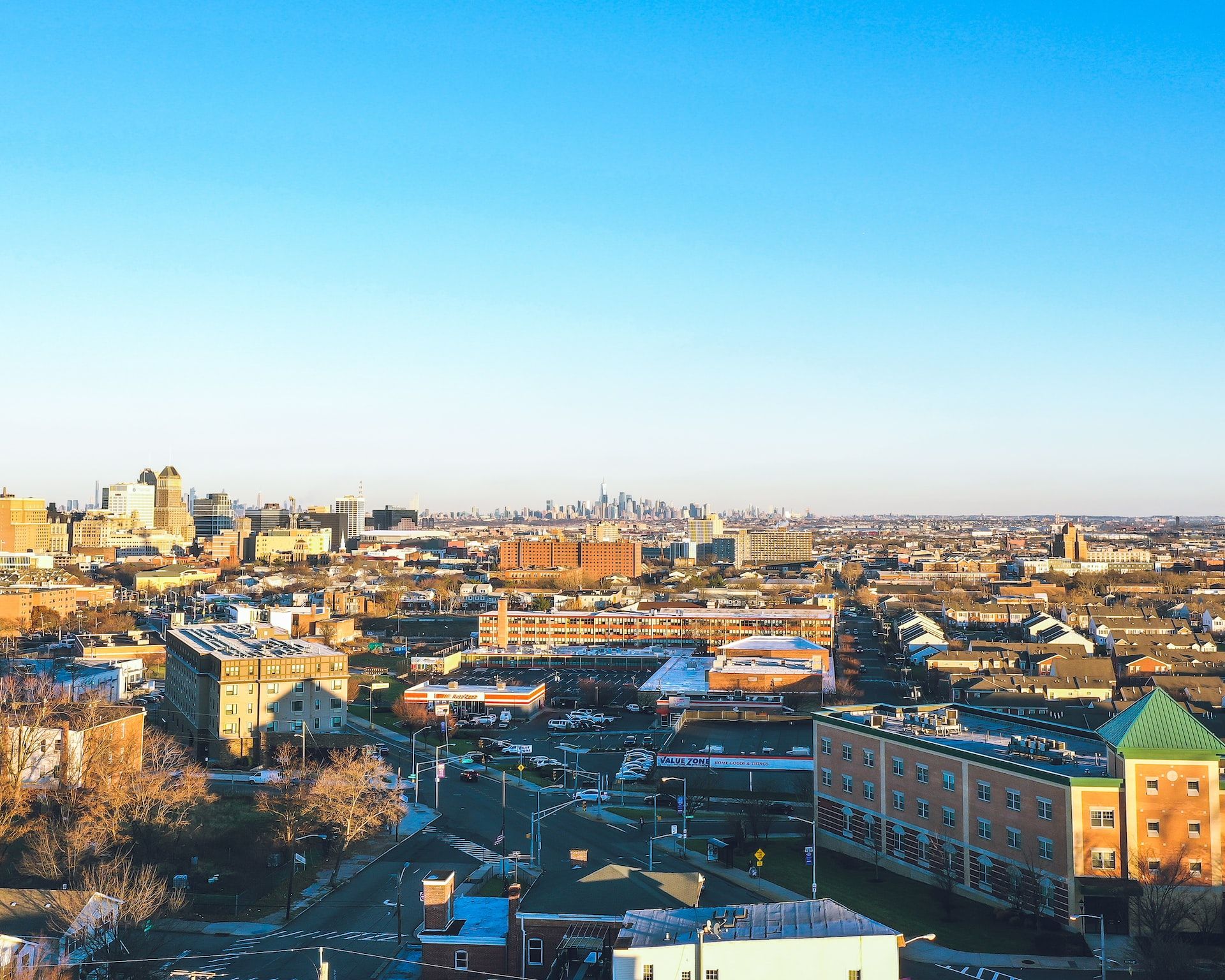 Aerial View of Newark, New Jersey
While Newark doesn't have the luxury hotels that nearby Manhattan offers, there are fantastic mid-range and budget hotels perfect for a weekend getaway in Brick City.
Mid-Range
Doubletree by Hilton Newark Penn Station
The Doubletree by Hilton Newark Penn Station is connected to Penn Station via an indoor corridor. This makes traveling in and out of Newark and around Newark very easy!
Address:
1048 Raymond Boulevard, Newark
Amenities: Complimentary shuttle service to Newark Airport; warm DoubleTree chocolate chip cookie upon arrival; complimentary Wi-Fi; 55-inch HDTV; Market Street Bar and Grill restaurant serving casual American cuisine; fitness center.
Cost: $$
Upper Mid-range
TRYP by Wyndham Newark Downtown
This unique hotel offers standard hotel rooms as well as family rooms with bunk beds. Perfect for everything from business trips to family getaways, the TRYP by Wyndham Newark Downtown is centrally located and within walking distance of Newark's downtown attractions.
Address:
24 East Park Street, Newark
Amenities: fitness center; bar/lounge; Free Wi-Fi; Free airport shuttle; restaurant; room service.
Cost based on double occupancy: $$
Budget
Comfort Suites Newark – Harrison
Centrally located next to the airport, Penn Station, Red Bull Arena, and the New Jersey Performing Arts Center, the Comfort Suites Newark – Harrison is an excellent option for the budget traveler.
Address:
1348 McCarter Highway, Newark
Amenities: fitness center; flat-screen TV; Free Wi-Fi; free parking; airport shuttle; refrigerator; microwave.
Cost based on double occupancy:

$
17
How To Spend The Perfect Day In Newark
Bruce Emmerling from
Pixabay
"">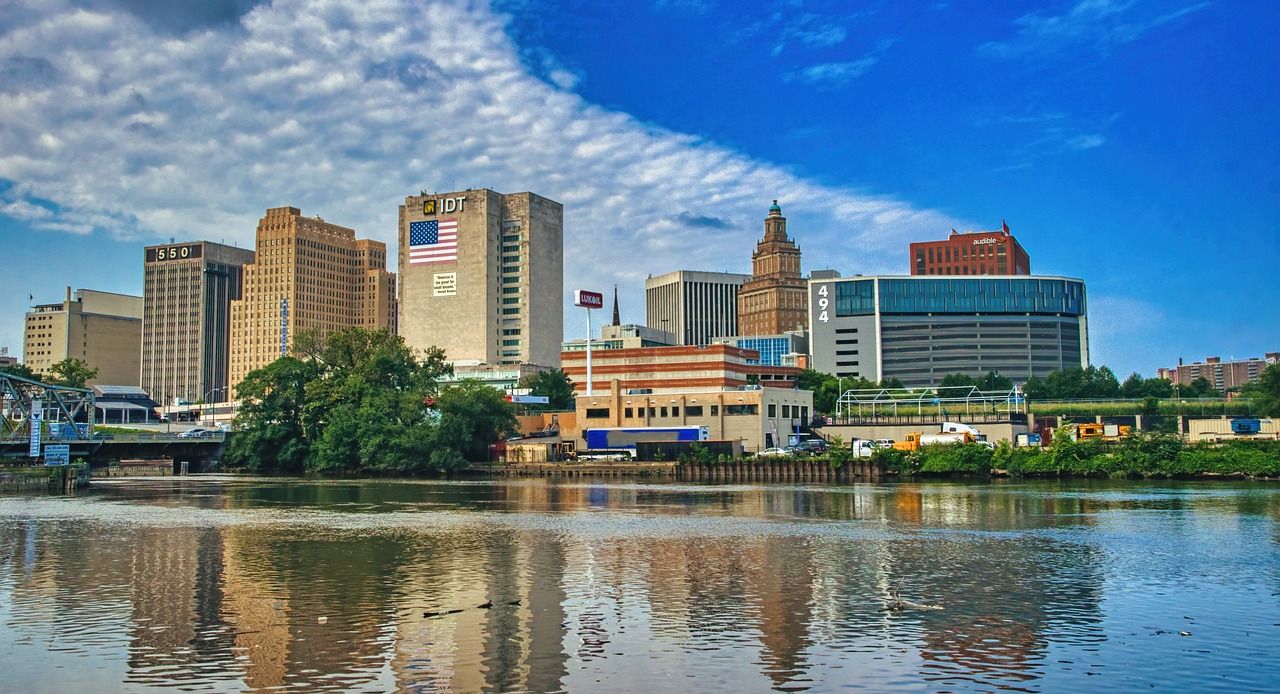 View of Newark, New Jersey from the Passaic River. 
If only every morning could start with a pastry from Teixeira's Bakery! Grab a pasteis de nata and wander over to Riverfront Park. Enjoy the gorgeous views of the Passaic River while devouring the sweet treat.
Next up, check out some of Newark's main attractions. Explore the Newark Museum of Art, the Grammy Music Experience, or maybe even travel to the Cathedral Basilica of the Sacred Heart (the French Gothic Cathedral). There are so many inspiring things to do in Newark!
Related: Jersey-Bound: Here's How To Spend Two Amazing Days In Newark
After an afternoon of exploration, head over to the Ironbound for lunch. The old-school neighborhood has plenty of choices, many of them Portuguese, Spanish, or Brazilian. With so many unique options, it's hard to go wrong.
When bellies are full, try the Newark Print Shop for a hands-on activity. Create the perfect design and then learn their printing process. The end result? A perfect souvenir to remind travelers of their trip to Newark, New Jersey.
In the evening, opt for the classic combo—dinner and a show! Newark has so many great dining options and the New Jersey Performing Art Center has so many great acts. Just make sure to reserve tickets ahead of time. Enjoy the show!
FAQ
Q: Is Newark NJ worth visiting?
Yes, absolutely. There are so many things to do in New Jersey, and many of them are in Newark. Known as Brick City, Newark offers tourists world-class entertainment at the New Jersey Performing Arts Center.
Newark has museums, a cathedral, and tons of great dining options. It's definitely a city worth visiting
Q: What is Newark NJ famous for?
The cherry blossoms. Newark has the largest flowering cherry blossoms in the U.S. These beautiful trees are only one reason why Newark is one of many beautiful towns in New Jersey
Q: What is unique about Newark NJ?
Founded in 1666, Newark is the country's third-oldest city. It's also home to the approximately 4,300 cherry blossom trees, the largest in the U.S.