Visiting the eclectic and lively Taipei City is one of many reasons every globetrotter should add Taiwan to their bucket list. Taipei is home to over two million people, both the political and cultural capital of the island country. The metropolis lies in an ancient river basin, surrounded by valleys, rolling mountains, and lush tropical forests. A rich natural setting and history have made Taipei City an incredible cultural destination.
An independent spirit has always coursed through the streets of Taipei. The Ketagalan indigenous people originally inhabited the region for centuries. Taiwan came under Japanese rule in the late 19th century, and the capital became Taihoku. After World War II, Taiwan was handed over to the Chinese until the Wild Lily student rallies when Taipei City successfully fought for a democratic society.
Travelers can experience Taipei's unique blend of indigenous, Japanese, and Chinese cultures, from delectable eats at night markets, opulent temples throughout the city, and year-round traditional festivals. An Alpha-City in East Asia, Taipei is a powerhouse of culture.
Unveil Taipei City's electric charm, from its attractions and sites to restaurants and hotels.
Top Things To Do In Taipei
Financial district in Taipei, Taiwan
Taipei boasts some of the most iconic and charming places in Taiwan.
Explore everything to do in the eclectic capital: from visiting cultural sites and squares to soaking in hot springs or climbing to breathtaking views.
1
Wander Through The National Palace Museum
Welcome to All ! u30c4 on
Pixabay
"">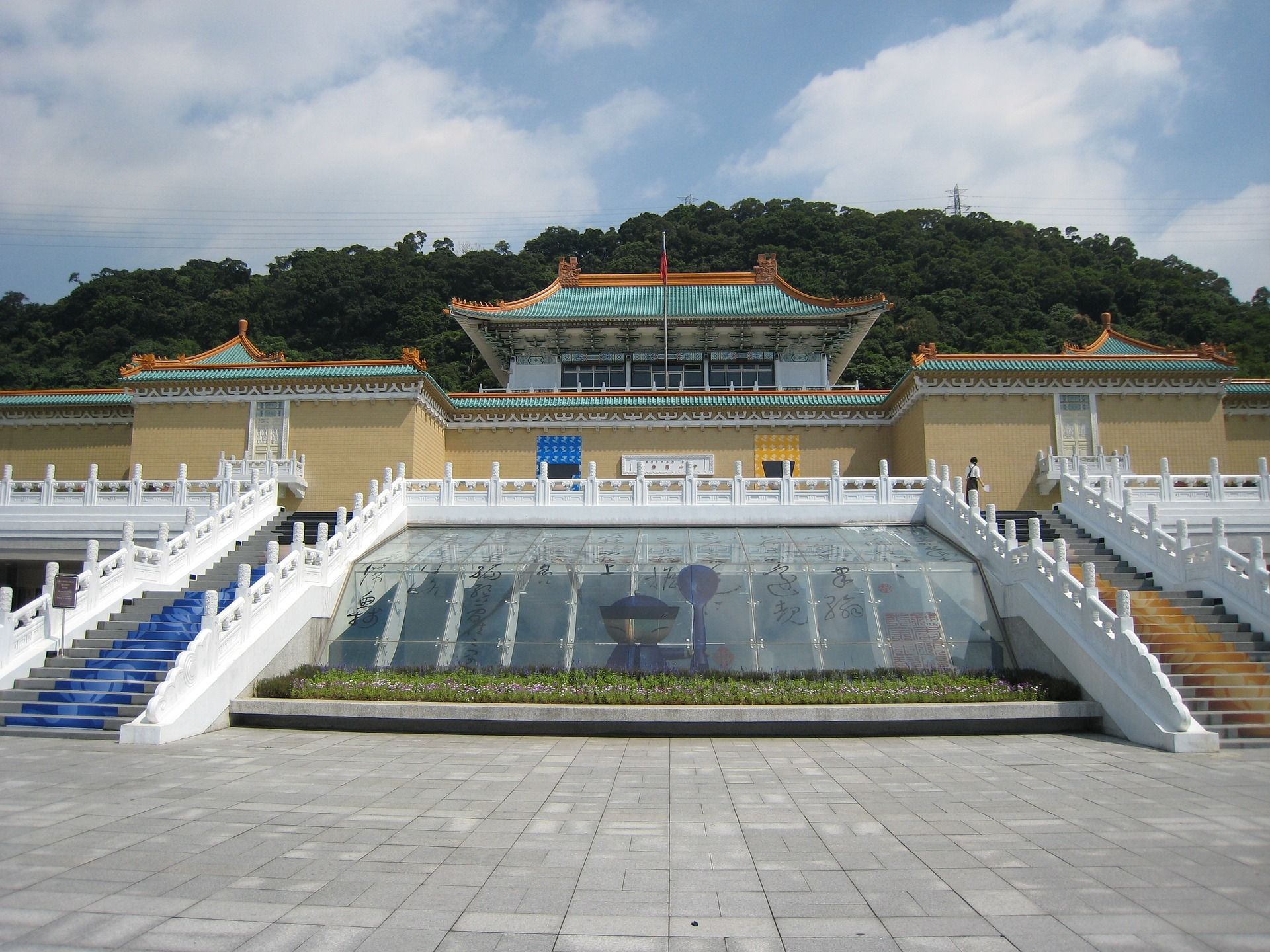 National Palace Museum in Taipei, Taiwan
The National Palace Museum is Taipei's most emblematic tourist attraction and the world's most expansive collection of Chinese objects and art. First, visitors can wander the ornate Zhishan Gardens free of charge before entering the imposing pagoda museum.
Guests can marvel at over 700,000 artifacts spanning millennia of Chinese history. The museum showcases delicate paintings, fine china, calligraphy, and sculptures.
The most famous masterpiece within the halls is the Jadeite Cabbage: an exquisite treasure carved from jade.
Hours Of Operation:
Daily, 9 AM – 5 PM | Closed Mondays

Cost Of Admission:
from

$11 (NT $350) | Free for ages 17 & under

Note:
Take a transfer bus from Shilin Metro Station to arrive
Related 'Taipei's Backyard': Meet Yilan, A Touristy Taipei Alternative
2
Marvel At The Chiang Kai-Shek Memorial Hall
Kaizer Bienes on
Unsplash
"">
Chiang Kai-shek Memorial Hall in Taipei
An important gathering place for tourists and locals alike, Chian Kai-Shek Memorial Hall is a stunning monument in Taipei. White gates welcome visitors into a broad park decorated with gardens and pools with fish. The noble hall lies at the center, stark white against its octagonal blue roof. The number eight signifies good fortune in Chinese tradition.
The hall was erected in 1976 in honor of Generalissimo Chiang Kai-Shek, the former president of the Republic of China. Two sets of staircases with 89 steps represent his age at death.
Flanked by the National Theater and National Concert Hall, the landmark has historical expositions and was an instrumental meeting point during Taiwan's journey to democracy.
Hours Of Operation:
Daily, 9 AM – 6 PM

Cost Of Admission:
Free

Nearest Metro:
Chiang Kai-Shek Memorial Station
Tourists should time their visit to catch the Changing of the Guard ceremony, performed on the hour from 9 AM – 5 PM.
3
Chill At Huashan 1914 Creative Park
Discover frequent performances and exhibitions of local and international art at Taipei's hippest hangout.
What began as a wine and sake factory was reconverted into Huashan 1914 Creative Park: a cultural center offering artists a space to develop their work and non-profits the chance to host activities. Artsy travelers can indulge their creative spirit and browse the galleries, bookshops, boutiques, and coffee shops.
Open 24/7

Nearest Metro:
Zhongxiao Xinsheng Station
Related Tourists Can Sit On The Giant Water Lilies At Taipei's Shuangxi Park
4
Travel Back In Time To Longshan Temple
Lungshan Temple in Taipei, Taiwan
One of the must-see attractions in Taipei is Longshan Temple. Explore the impressively elegant temple, constructed in 1738 by Chinese settlers, and soak in the magic of its halls.
Decorated with Chinese folk religious elements, the temple features altars of Buddhist and Taoist deities. The complex was raised to pay tribute to Guanyin, the Bodhisattva of compassion.
Hours Of Operation:
Daily, 6 AM – 9:45 PM

Cost Of Admission:
Free

Nearest Metro:
Longshan Temple Station
Later, tourists can immerse themselves in the surrounding historic Wanhua District. Browse the stalls at Herb Lane, take a selfie with traditional storefronts on the preserved Bopiliao Block, or try finger-licking street food at Huaxi Street Night Market.
​
5
Go Hiking At Elephant Mountain
Thomas Tucker on
Unsplash
"">
A view of Taipei 101 in Taiwan from Elephant Mountain
Taipei is a concrete jungle encircled by beautiful parks and natural surroundings. One of the most convenient ways to breathe fresh air and get in a workout is to climb Elephant Mountain.
Many routes crisscross the gentle mountain, and many parks east of downtown have entrance trails, like Yongchungang Park. The easiest way to ascend is to take the path directly from the Xiangshan metro station.
While there are stairs and incline, hikers can stop at several lookout points on their way to the top to catch their breath and catch marvelous views of the skyline, Taipei 101, and hills rolling into the distance.
Round-trip Route Duration:
~1.5 hours

Difficulty:
Easy

Nearest Metro:
Xiangshan Station
Go early morning or late afternoon on a weekday to avoid crowds and enjoy stunning panoramas.
6
Indulge At The Raohe Night Market
Vernon Raineil Cenzon on
Unsplash
"">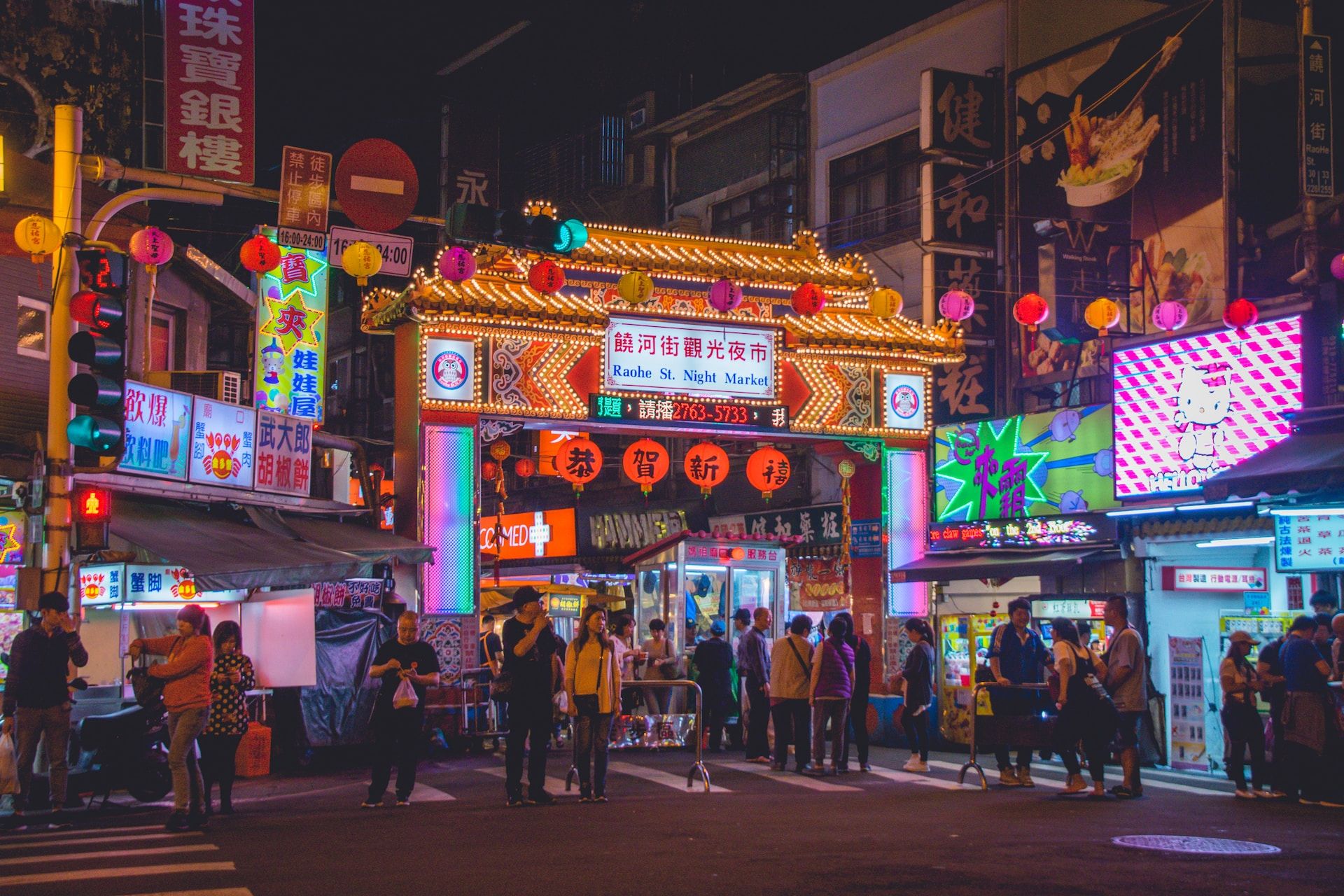 The Raohe Night Market lit up at night in Taipei, Taiwan
Diving into Raohe Night Market is an exhilarating experience for foodies and adventurous tourists. Taipei has several vibrant night markets sporting neon lights, shopping, arcades, and food stalls.
Trying one-of-a-kind snacks doesn't have to break the bank: foodies have endless street food options on a budget in Taiwan. Raohe is particularly popular for Michelin Guide Bib Gourmand options.
Hours:
Daily, 5 PM – 11 PM

Nearest Metro:
Songshan Station
Follow the crowd current and marvel at the lively markets. Some essential street eats in Taipei include:
Fried Scallion or Daikon
(Radish)
Pancakes

Hu Jiao Bing
(Pork Pepper Bun)

Taiwanese Fried Chicken
7
Soak In The Beitou Hot Springs
n "" data-modal-id="single-image-modal" data-modal-container-id="single-image-modal-container" data-img-caption=""Via:
aestelle
on
Unsplash
"">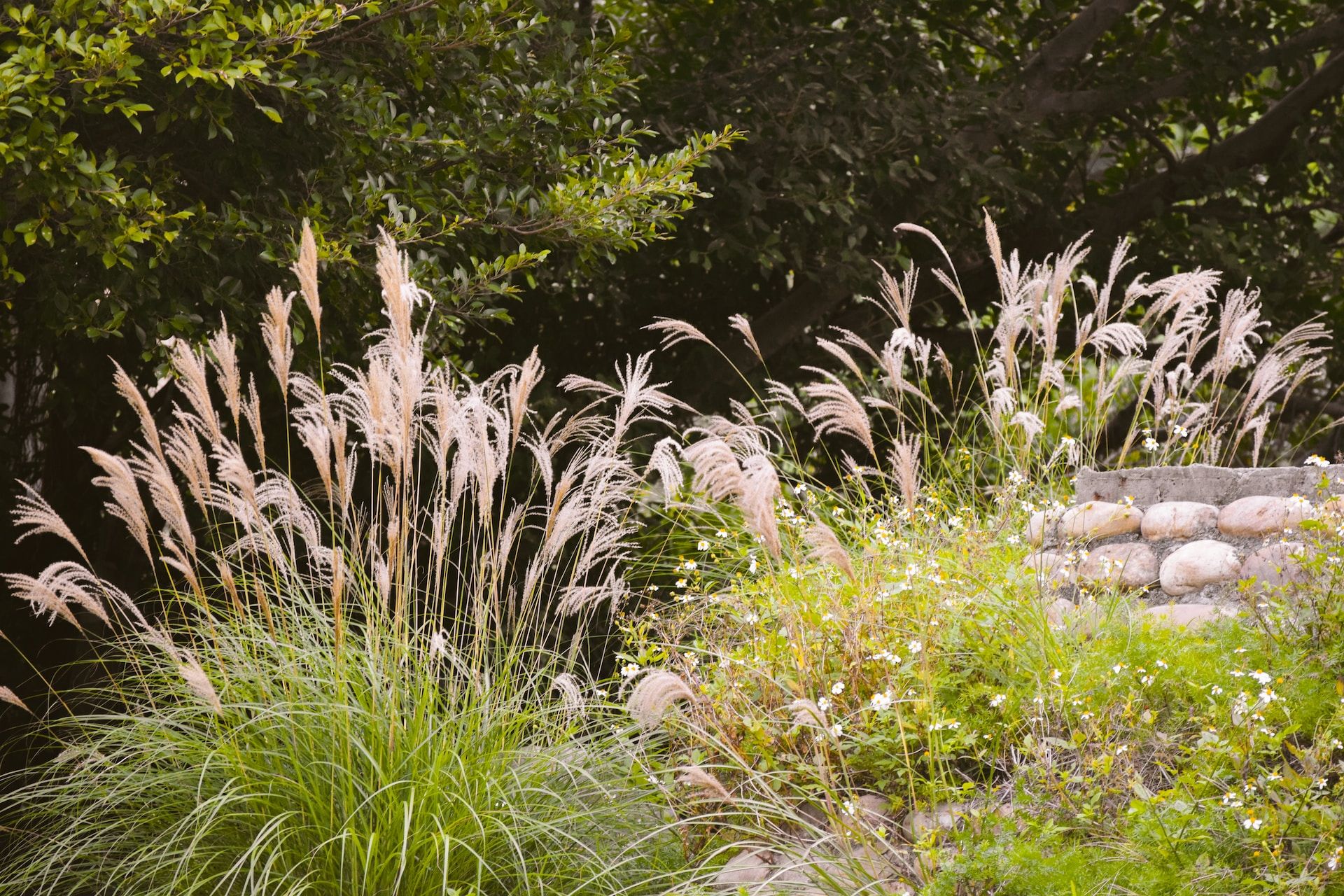 Beitou Hot Springs in Taipei, Taiwan

 
Take a break from the crowds and dip into nature. Amidst thermal springs and luscious gardens, travelers can leave Taipei behind for Taiwan's scenery and countryside at the Beitou Hot Springs village.
The sprawling park has public hot springs and a museum. Once the largest bathhouse in East Asia, the Beitou Hot Springs Museum was formerly a Japanese bathhouse, now showcasing a historic sauna and exhibits.
Outside the museum, mineral-rich waters entice visitors to the public hot springs, famed for their spring waters flowing from the rivers in Yangmingshan.
Public Hot Springs Hours:
Daily, 5:30 AM – 10 PM

| Closes for 30 minutes every 2 hours

Nearest Metro:
Beitou Station
8
Soar Above Tea Plantations On The Maokong Gondola
Continue the outdoor adventure in Taipei on a Maokong Gondola ride. The glass-bottomed cable cars glide over terraced tea plantations famous for their high-quality oolong tea.
Travelers can disembark at three stops, offering unique excursions for everyone. The gondola stops at the Taipei Zoo, one of the largest in Asia, at Zhinan Temple, an adored Taoist temple tucked into the forests, and at Maokong Station, for leisurely hikes featuring bridges and waterfalls.
Hours Of Operation:
Weekdays, 9 AM – 9 PM

| Holidays, 9 AM – 10 PM | Closed Mondays

Cost Of Ride:
from

$2 (NT $70) per single journey

Note:
Various discounted rates are available
Tourists can save money by purchasing combination tickets for the gondola and zoo.
9
Breathtaking Sights Await Atop Taipei 101
Taipei 101 Skyscraper, Taiwan
The most iconic site in Taiwan's capital is Taipei 101. Towering half a kilometer over the city, Taipei 101 was the world's tallest skyscraper until the completion of the Burj Khalifa.
Thrill seekers can step onto record-breaking elevators, whizzing riders from the 5th to the 89th floor in 37 seconds. The observatory deck on the 89th boasts the most spectacular views of Taipei imaginable.
Anyone with a stomach made of anything but steel might wonder how Taiwan's tallest building keeps from swaying. Rest assured, the skyscraper is perfectly safe for photographers and selfie-takers, thanks to its innovative architecture.
If that isn't sufficiently reassuring, fortunately, Taipei 101 is also an excellent destination for foodies and shoppers.
Observatory Deck Hours:
Daily, 11 AM – 9 PM

Cost Of Admission: from
$13 (NT $3,000) per person

Nearest Metro:
Taipei 101 Station
Go at sunset or New Year's Eve for the most extraordinary experiences.
10
Be Mesmerized By Ximending Square
Huang Yingone on
Unsplash
"">
Ximending Square in Taipei, Taiwan
The cultural heart of Taipei, travelers will find shopping, nightlife, and entertainment at Ximending Square. The district is the first pedestrian area in Taipei, where tourists can shop to their heart's content or settle into an alternative pub or club.
Known as the Harajuku of Taipei, dazzling Ximending is a fountain of fashion and Japanese culture. Join the youthful crowds or visit The Red House cultural museum.
Nearest Metro:
Ximen Station
11
Where To Eat In Taipei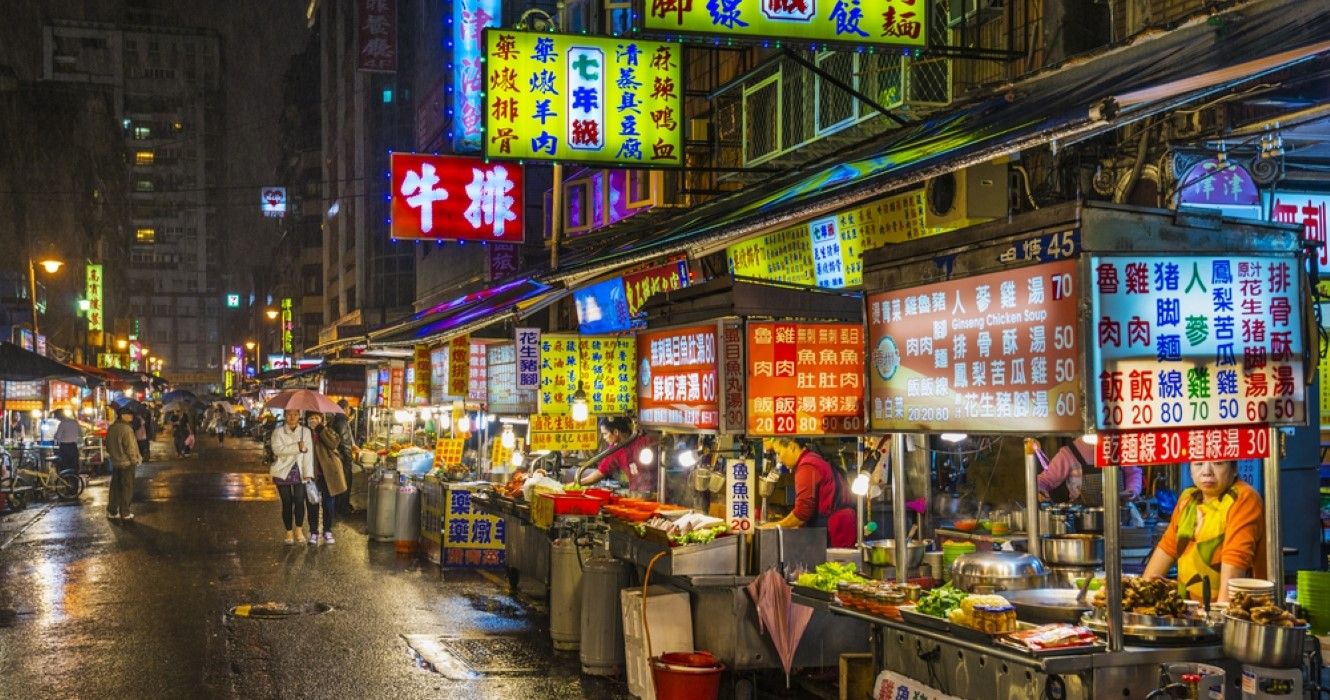 Night Market on Guangzhou Street, Taipei, Taiwan
Apart from incredible eats at the street markets, foodies need to step inside restaurants in Taipei to sample unique and savory Taiwanese dishes. This can include slurping vermicelli noodles near the counter or sitting around a bubbling hot pot with friends.
What's essential is to try something new and bizarre––the ultimate way to experience a different culture.
Travelers discover that a Taiwanese restaurant's specialty is often in its name. Some exceptional dishes to try in Taipei include:
Niu Rou Mian
: Braised Beef Noodle Soup

Lu Rou Fan
: Braised Pork Rice

Pork Intestine & Oyster Noodle
Between meals, travelers have boundless bubble tea shops, can try traditional pineapple cake, or can tour some of Taipei's best Taiwanese tea houses.
Breakfast Spots In Taipei
Yong He Soy Milk King
Hours:
Daily, 5 AM – 2 PM, 4 PM – 1 AM | Closed Mondays

Cost:
$

Address:
No. 102號, Section 2, Fuxing S Rd, Da'an District, Taipei City

Recommended:
Sweet soy milk | Omelet Cake | Fritters | Scallion Pancakes
Chia Te Bakery
Hours:
Daily, 8:30 AM – 8:30 PM

Cost:
$$

Address:
No. 88, Section 5, Nanjing E Rd, Songshan District, Taipei City

Recommended:
Pineapple Cakes
Lunch Locations In Taipei
Yongkang Beef Noodles
Hours:
Daily, 11 AM – 8:50 PM

Cost:
$

Address:
No. 17, Lane 31, Section 2, Jinshan S Rd, Da'an District, Taipei City

Specialties:
Niu Rou Mian
Jin Feng Braised Pork Rice
Hours:
Daily, 11 AM – 1 AM | Closed Mondays

Cost:
$

Address:
No. 10, Section 1, Roosevelt Rd, Zhongzheng District, Taipei City

Specialties:
Lu Rou Fan
Dinner Restaurants In Taipei
Taihodien Restaurant
Hours:
Daily, noon-midnight

Cost:
$$$

Address:
No. 315號, Section 4, Xinyi Road, Da'an District, Taipei City

Recommended:
Hotpot
Ay-Chung Flour-Rice Noodle
Hours:
Monday – Thursday, 8:45 AM – 10:45 PM

| Friday – Sunday, 8:45 AM – 11 PM

Cost:
$

Address:
No. 8-1號, Emei St, Wanhua District, Taipei City

Recommended:
Pork Intestine & Oyster Noodle
Tipping is uncommon and unnecessary at restaurants in Taipei.
Bubble Tea & Drinks In Taipei
Chun Shui Tang
Hours:
Daily, 11 AM – 9:30 PM

Cost:
$$

Address:
Various locations across the city

Specialty:
Known as the creators of

Bubble Tea
AHA Saloon
Hours:
Daily, 8 PM – 2 AM

Cost:
$$$

Address:
No. 138, Section 2, Fuxing S Rd, Da'an District, Taipei City

Customers Love:
Cocktails

| Swanky atmosphere
Tourists and locals usually buy bottled water to stay hydrated on steamy days or while exploring the capital.
12
Where To Stay In Taipei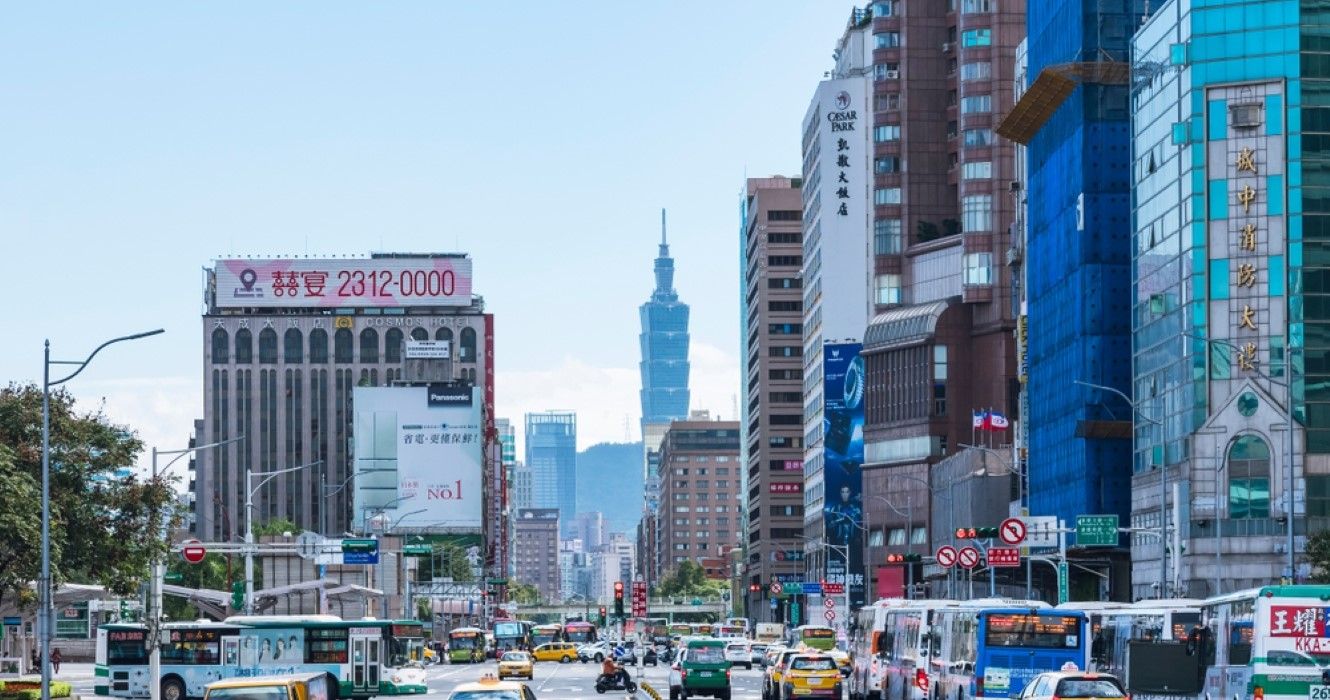 Taipei, Taiwan
Vacationing in Taipei doesn't have to break the bank. The buzzing metropolis offers endless accommodation options, adaptable to every tourist. Solo travelers and friend groups can find incredible budget hotels in Taipei, while families or couples ready to splurge can opt for luxury stays in Taiwan's capital.
Just as important as the hotel deciding which neighborhood to stay in. The sprawling city can feel overwhelming, but with some research, globetrotters can find a district that fits their needs and guarantees the ultimate trip.
The best neighborhoods to stay in Taipei for first-time visitors include:
Zhongzheng:
Convenience & Attractions

Xinyi:
Shopping, Nightlife, & Luxury

Datong:
Culture & Tranquility
Luxury Stays In Taipei
Prices From:
$160 per night

District:
Xinyi

Why You Should Book:
Fitness Center | Restaurant | Bar & Lounge | Coffee Shop
Prices From:
$340 per night

District:
Xinyi

Why You Should Book:
Five-star Hotel | Adults Only | Indoor Pool | Restaurant
Mid-tier Stays In Taipei
Prices From:
$100 per night

District:
Zhongzheng

Why You Should Book:
Fitness

Center | Bar & Restaurant | Coffee Shop
Prices From:
$80 per night

District:
Zhongzheng

Why You Should Book:
Fitness

Center | Bar & Restaurant | Spa
Related Book These 10 Hippest Taipei Hostels For A Fun Vacation In Taiwan
Budget-friendly Stays In Taipei
Prices From:
$50 per night

District:
Datong

Why You Should Book:
Sleeps

5 | Air-conditioned
Prices From:
$60 per night

District:
Datong

Why You Should Book:
Fitness Center | Restaurant | Coffee Shop
13
Best Time To Go To Taipei
Supasit Chantranon on
Unsplash
"">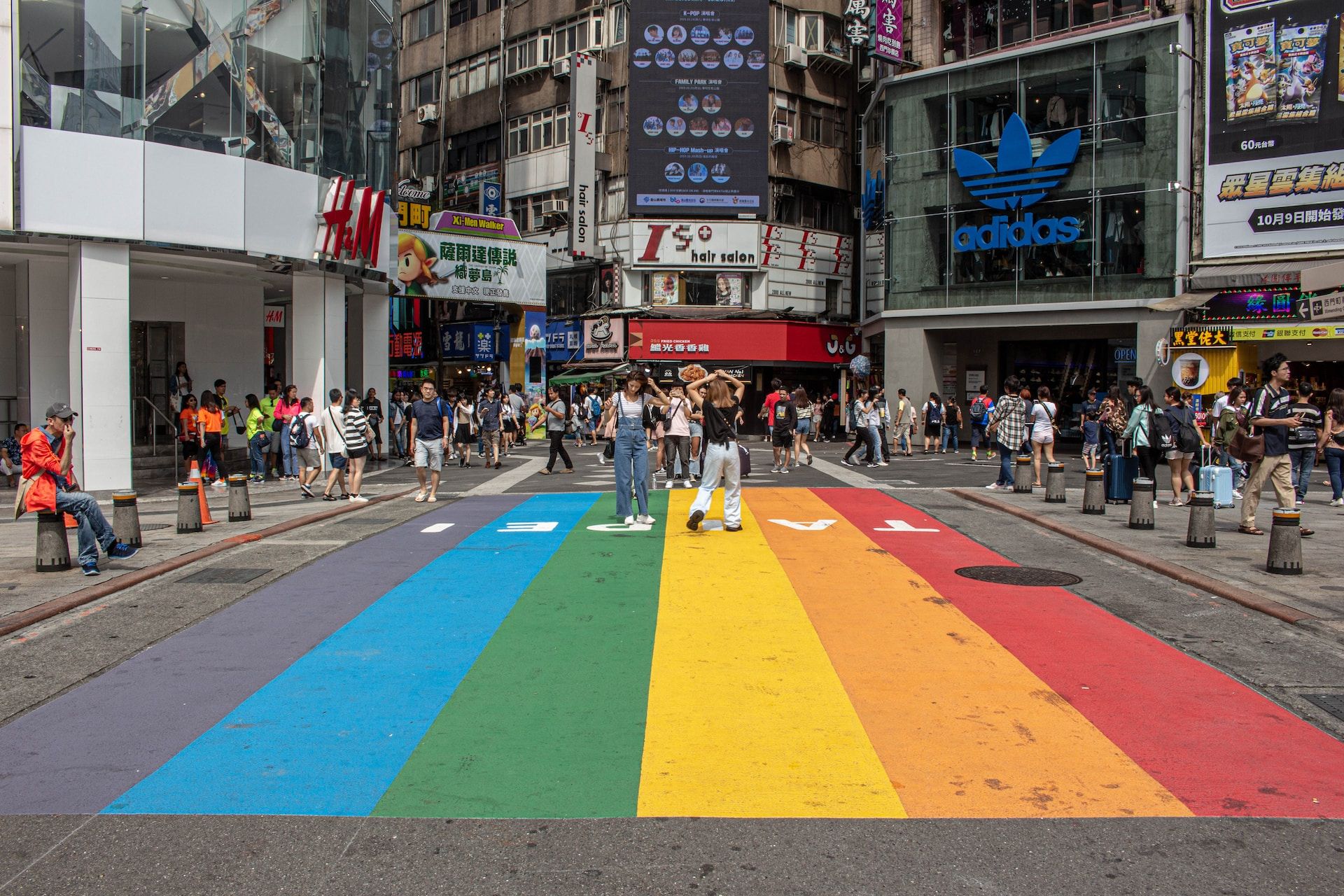 Colorful street in main square in Taipei, Taiwan
Taipei is a year-round vacation destination. The Taiwanese capital has a humid subtropical climate, with long and hot summers and short and warm winters. Each season in the metropolis offers something unique, so the important thing is to plan accordingly.
Tourists can experience traditional Chinese holidays or colorful Aboriginal festivals throughout the year.
Best Time To Visit Taipei:
October – April

Temperatures:
Highs in the 70s and lows in the 60s
Fall In Taipei
October to December offers warm and dry weather in Taipei. The city parks and surrounding mountains explode with autumn colors, and the mild weather ensures travelers can get outside to enjoy the spectacle. These are also some of the most affordable months to fly to and stay in the Taiwanese capital.
Winter In Taipei
Cold-weather travelers will love Taipei's cool temperatures and comfortable winter climate. While the days can be foggy or overcast, winters in the metropolis are much warmer than in destinations like Japan. The best tourist activities these months are checking out all the museums or soaking in some thermal springs.
Photographers can even spot the cherry blossoms as early as January. Winter is the cheapest time to visit Taipei.
Spring In Taipei
Springtime is gorgeous in Taipei, and one of the best things to do is make a trip to Yangmingshan National Park to see the earth painted with blossoming trees, lilies, and gardens. As temperatures, precipitation, and travel rates gradually increase from March into May, spring in Taipei is an excellent time for indoor or outdoor activities.
Summer In Taipei
Swamped with national and international travelers, June through August are peak tourist months in Taipei. The hot temperatures in the capital will feel even warmer due to the humidity. Escaping to the southern coast for beach days is the best summer activity in Taiwan.
May to September coincides with the wet season, so travelers should expect sudden rainfall, typhoons, or tropical storms. Luckily, the precipitation is usually heavy but short-lived.
Warm-weather travelers should bring umbrellas, raincoats, and flip-flops to Taipei.
14
Best Ways To Get Around Taipei
Public Transportation In Taipei
The easiest way to traverse the metropolis is by metro. Tourists can walk around specific neighborhoods, hiking areas, or sites but must rely on the Taipei Metro to cross long distances between attractions.
The comprehensive metro system has five lines connecting riders to over 100 essential stops within the metropolitan area. Pick up an EasyCardat the airport, stations, or any 7-11 throughout the capital. The transport card is used for the Metro in Taipei and buses and trains throughout Taiwan.
Buses offer slightly cheaper one-way rates than the metro in Taipei but can be intimidating for first-time visitors as drivers typically don't speak English, and the stops may not be as clear.
Hours Of Operation:
Typically from 6 AM – midnight

Prices:

$3 (NT $100) for an Easy Card | $0.60 – $2 (NT $20 – $60) for individual rides depending on the distance
Etiquette is important on the Taipei Metro. Keep conversation volume low.
By Bike In Taipei
Taipei is relatively bike friendly. Outside most MRT stations, tourists will find YouBike locations. The local bicycle renting service allows cyclists to take on city streets or explore the boardwalks along Tamsui and Keelung Rivers. Travelers can conveniently pay with the EasyCard, and fares are determined by the amount of time.
By Car In Taipei
With efficient public transportation, travelers should not consider driving around Taipei. However, road-trippers can escape the capital and visit Taiwan's scenic towns. Like North America, the Taiwanese drive on the right side of the road.
Drivers can rent a car from the airport with their national license and an International Driver's Permit.
Bright yellow taxis are a reliable way to get around Taipei but are more expensive than public transportation. Riders should have the destination address written in Chinese.
How To Get To Taipei
Most travelers arrive in Taipei from Taoyuan International Airport. The airport is connected to the capital by a 35-minute train ride for about $5 (NT $160).
15
Tips To Know When Visiting Taipei
Practical Information For Traveling To Taipei
U.S. citizens can visit Taipei with a
valid passport for 90 days
without any special visa.
Most establishments accept credit cards but carry cash for family-owned restaurants and local stalls. The currency used is the New Taiwanese Dollar,
NT
.
Download Taipei City for offline use on Google Maps and the traditional Chinese language pack from Google Translate.
Consider purchasing a pre-paid SIM card to stay connected during the trip.
Related Dos And Don'ts When Traveling To Taiwan
Is Taipei Safe?
Taipei is a very safe tourist destination. Travelers will feel secure walking around during the day or at night. Watch out for pickpockets in crowded areas, but theft is also relatively uncommon.
The Taiwanese are very polite and friendly, albeit a bit shy. Foreigners should always give and receive with two hands and dip their heads or bow slightly instead of handshakes or saying thank you.
16
How To Spend The Perfect Day In Taipei
Taipei, Taiwan at night
Taipei City boasts many of Taiwan's essential attractions. While visitors can experience the capital's must-see sites in a day or two, the city and its lush natural surroundings ideally warrant three to five days. Thanks to the efficient public transportation system, tourists can check many spots off the list in one day.
The perfect day in Taipei starts with culture. Travelers should visit Taiwan's most important collection of Chinese artifacts and artwork, The National Palace Museum. Instead, tourists could admire and stroll through the expansive Chiang Kai-Shek Memorial Hall, conveniently near other attractions like the Longshan Temple or Ximending shopping district.
Foodies must replenish their reserves with lunch at a restaurant in Taipei, sampling traditional Taiwanese eats or savory hot pots. Later, depending on the vibe, globetrotters can soak in the public hot springs at Beitou Village or chill at the trendy Huashan 1914 Creative Park.
Taipei has several spots to enjoy jaw-dropping views. Hikers could climb Elephant Mountain, or photographers may prefer to take the elevator to the observatory deck at Taipei 101, one of the world's highest skyscrapers. Either option offers astonishing sunset panoramas.
Finally, the best way to end the day in Taipei is by exploring the buzzing night markets for drinks, shopping, and tasty street eats.
FAQ
Q: How many days in Taipei is enough?
Although road trippers could easily spend two weeks in Taiwan, not everyone can afford the time and costs. Tourists can enjoy the essential sites in Taipei in one or two days.
However, the ultimate vacation in the capital deserves three to five days to discover the city's unique attractions while finding time to relax.
Q: Is it worth visiting Taipei?
Taipei is an incredibly unique and exhilarating travel destination. Tourists dreaming of exploring East Asian monuments, nature, and cuisines should put a trip to Taiwan's capital at the top of their bucket list.
First-time travelers have a lot of things not to miss in Taipei. The essential tourist stops in Taipei City include The National Palace Museum, Chiang Kai-Shek Memorial Hall, the bustling night markets, and a journey to the top of the Taipei 101 skyscraper for marvelous panoramas.
Q: What are some free things to do in Taipei?
The most expensive part of a trip to Taipei is the plane ticket. After landing in the capital, the city offers multiple budget accommodations, restaurants, and attractions.
Luckily, some of Taipei's unique attractions are also free. The best free things to do include hiking at Elephant Mountain, admiring Longshan Temple, or hanging out at the hip Huashan 1914 Creative Park.