On your way to Manikaran from Bhuntar or vice versa, you'll come across a hamlet in Kullu upon which nature has showered its blessings, Kasol. This small village lies closer to Manikaran and is a backpackers' paradise, thanks to the various trekking trails and awe-inspiring views.
The village is renowned by the name 'mini Israel of India' owing to the fact that there's a huge number of Israeli people who come to explore this part of Himachal Pradesh. With a number of places to visit in Kasol and around it, your time spent here won't go unproductive.
Snowfall begins here towards the end of the month of December and lasts till February. Generally, the climate here remains humid subtropical. If you're getting curious and excited to know this place better, scroll through!
14 Places To Visit In Kasol
Kasol is a small village with big surprises treasured for you. Get a better idea about the different spots in this region of Himachal Pradesh by going through the list of the best places to visit in Kasol.
1. Parvati River
Flowing through Parvati Valley, the perennial Parvati River completes the whole picture of Kasol. The river embellishes the village and enhances its picturesqueness altogether. Having so much significance in this village, the river makes for the ideal tourist attraction. Just looking at this river flowing and listening to its burble will simply take you to the state of peace. The flow of this river is quite rapid, therefore, doing any adventurous activity is not allowed around it.
Location: Himachal Pradesh

Kasol In Winter: Let's Set Off On A Winter Journey
2. Tosh Village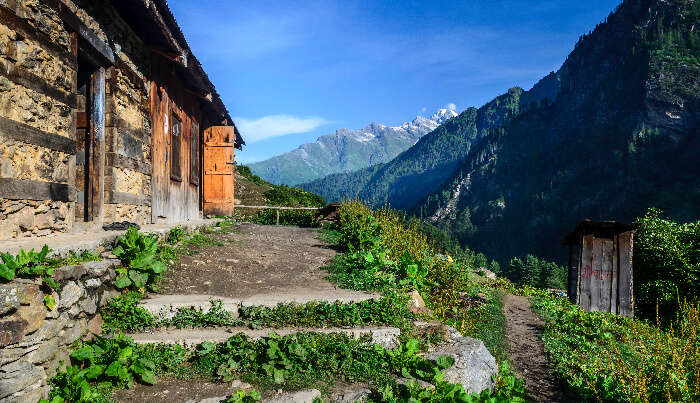 Located at 20 km from Kasol, Tosh is also a small village established at a height of 2,400 meters above the sea level, along the shores of river Tosh. The culture followed at this village will definitely attract those travelers who have the soul of a hippie. The breathtaking views will simply make this place one of the highlights of your Kasol trip.
Location: Tosh, Himachal Pradesh 175105
3. Kheer Ganga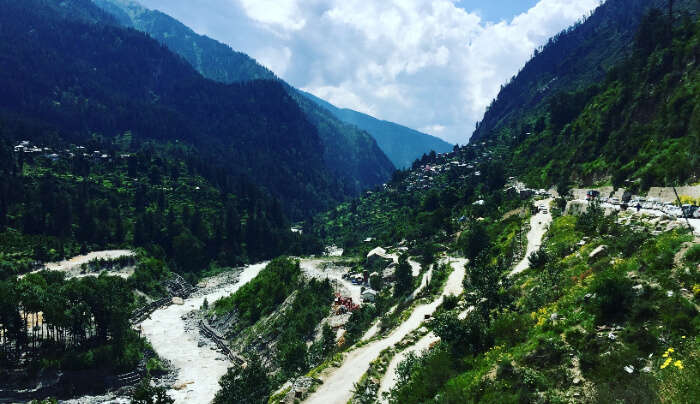 Lying at the region where Parvati Valley ends, Kheer Ganga is the last village that is inhabited by people that you will come across as you trek your way through the Pin-Parvati Pass. The whole vista will simply steal your heart and you will end up wanting to stay a little longer. The lush greenery beneath the wide blue skies enveloped within the awe-inspiring mountains will be a treat to your eyes. The village stands as the base camp for Kheer Ganga trek and Pin Parvati trek.
Location: Kheerganga, Barshaini, Khir Ganga, Himachal Pradesh 175105
18 Cafes In Kasol That Have Everything You Need For An Ultimate Food High!
4. Tirthan Valley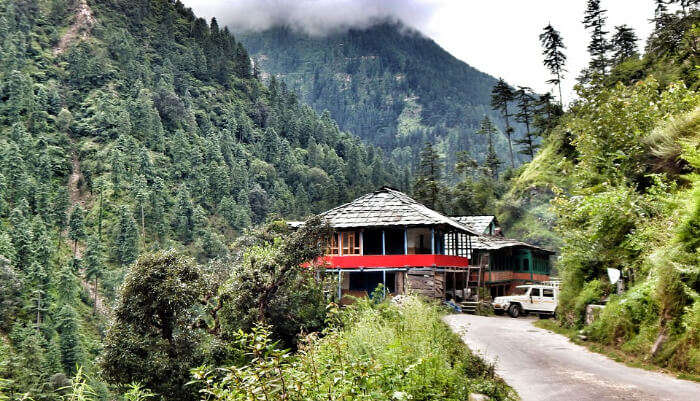 To reach valley, you'll have to drive from Kasol for 60 km, which would be totally worth it. This valley is considered to be one of the secluded places located around Kasol and will definitely help you find the refuge that you have been looking for. A one-day trip to this valley is all it takes to make your travel experience more wonderful. This is one of the best places to visit in Kasol in August.
Location: VPO Gushaini, Dist, Banjar, Himachal Pradesh 175123
5. Manikaran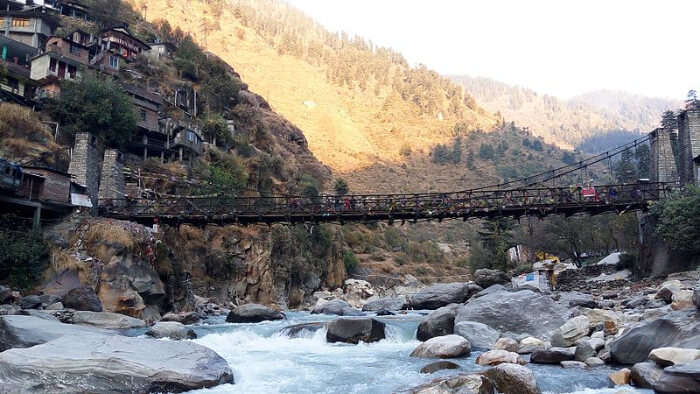 For those seeking spiritual enlightenment amidst the mountainous beauty, this is the ideal pilgrimage site. It is said that the Gurudwara here, Manikaran Sahib was visited by Guru Nanak one day, which is why it is considered to be most-honored and respect-worthy place near Kasol. As it is located at a distance of only 4.3 km from the village of Kasol, adding it to your itinerary is a must.
Location: Manikaran, Himachal Pradesh 175105
15 Treks Near Kasol: Tread The Best Of Himalayan Trails
6. Chalal Village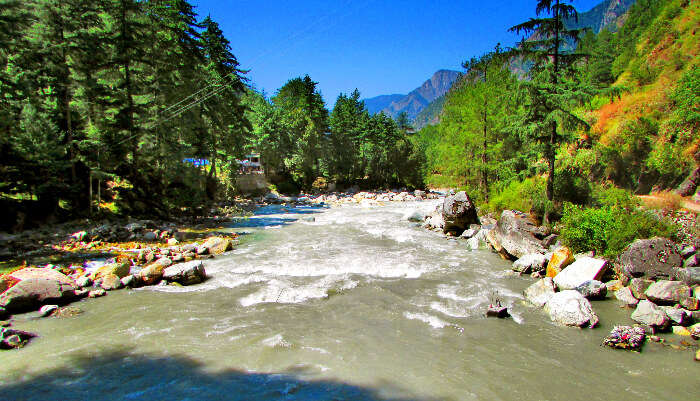 This village is known as well as admired for the Israeli culture. Spending a day at this village will be a great addition to your Kasol vacay, as you would want to lose yourself in the views around. For the adventurers out there, this is the ideal place to come to, as you get the chance to trek till here with the mesmerizing views making the whole adventure worthwhile.
Location: Chalal, Himachal Pradesh 175105
7. Naggar Village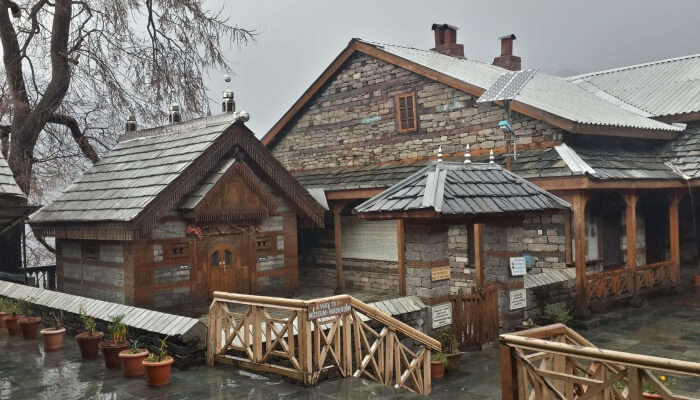 This particular village is considered amongst the untouched, offbeat places around the hamlet of Kasol. It will take you around 2 hours to reach Naggar from Kasol and on the way you'll witness some of the most surprising views. While you're exploring this village, you must not forget to visit some of the major attractions that are considered to be the highlights of this village – they are Naggar Castle and Gauri Shankar Temple.
Location: Naggar, Himachal Pradesh 175130

Snowfall Places In Himachal Pradesh: Here's A Comprehensive List For You
8. Rasol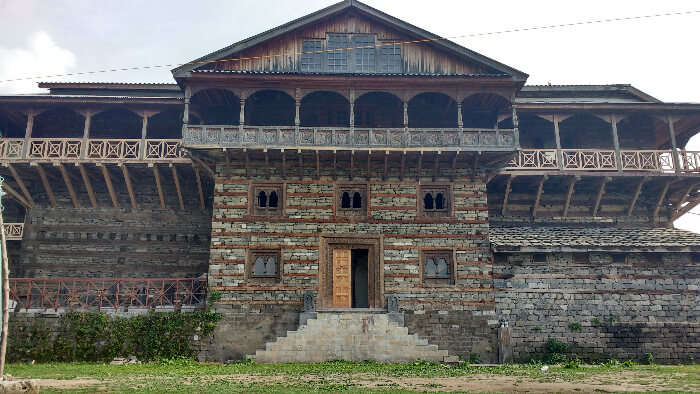 Established at an altitude of 10,000 feet above sea level, the village of Rasol has only a few number of inhabitants. Just like Kasol, this village is visited by the backpackers who love to explore the different corners of this place. The people residing here are quite welcoming and one of the strangest things you'll find here would be that every second person living here is indulged in spinning wool. This is one of the best tourist places in Kasol.
Location: Rasol, Himachal Pradesh 175105
9. Nature Park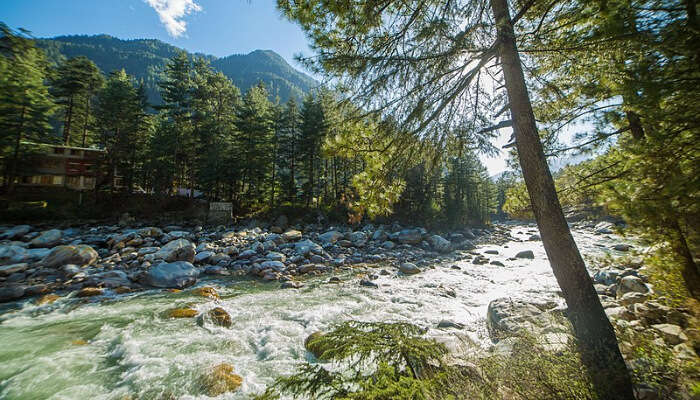 Image Credits: Jan J George for Wikimedia Commons
One of the finest places to visit in Kasol , Nature Park is a serene and quiet place to relax in the morning or evening. The Parvati river flows through the park combined with the peaceful atmosphere and worn-out rocks, you really get the feel of a Himachal vacation. The park is lined with pine trees that make way for strolling and taking a nature walk. 
Location: Nature Park, Kasol, Himachal Pradesh 175105
Trekking In Himachal Pradesh: 23 Best Routes To Put On Your Bucket List
10. Hot Water Springs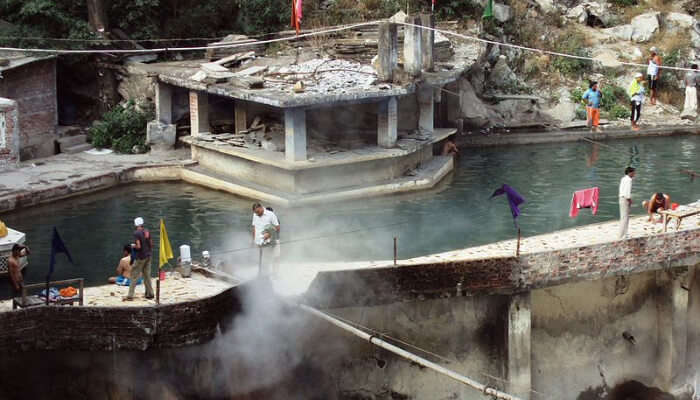 Image Credits: Aman Gupta for Wikimedia Commons
The hot water springs in Manikaran cover a total distance of 1.2 km and located by the banks of river Parvati. The initial water coming out is very hot, so it is first stored in a pool for a while to make it suitable for use. It is believed that the water contains medicinal properties and a dip is meant to relieve you of the ailments. Be that as it may, a dip in warm waters during winters might be the best things to do in Kasol.
Location: Sosan, Manikaran, Himachal Pradesh 175105
11. Shiv Mandir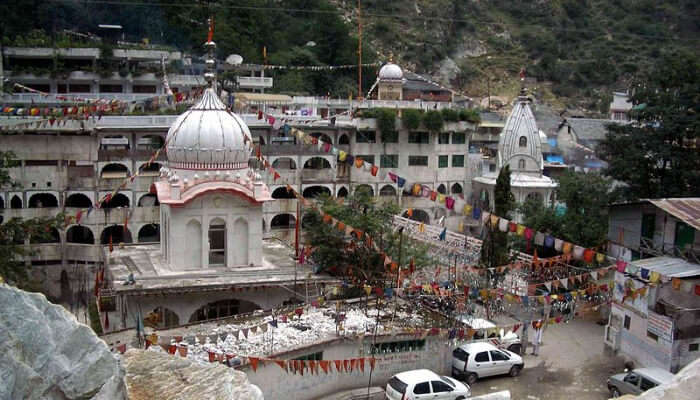 Image Credits: John Hill for Wikimedia Commons
The Lord Shiva Temple in Manikaran is an extraordinary travel destination around Kasol. Built in the year 905, the shrine is located in the midst of the Himalayas and attracts a huge amount of visitors. The temple is famous for its architecture which has stayed intact despite several earthquakes. It is believed that demi-gods come from heavens to worship the lord in the temple and hence a visit during Shivratri is very much recommended.
Location: Ram Mandir Marg, Manikaran, Himachal Pradesh 175105
10 Valleys In Himachal Pradesh That You Must Visit For Their Heavenly Landscapes
12. Malana Village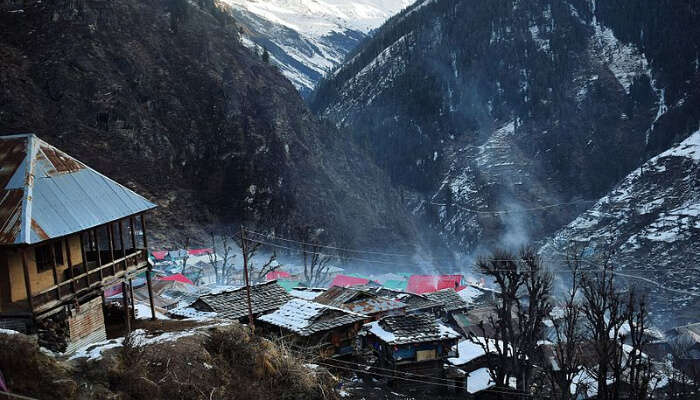 Image Credits: Rohan Sandhu for Wikimedia Commons
Visiting Malana might be a challenge for you and you will realize why once you reach here. The village is quite ancient and is completely pristine located on the side of Parvati Valley. The solitary village and its isolation is what one desires from a vacation so a visit here is worth it. The village is surrounded by the amazing Deo Tibba and Chanderkhani mountains.
Here are a few secrets of Malana you must know about!
Location: Malana, Himachal Pradesh 175105
13. Pulga Village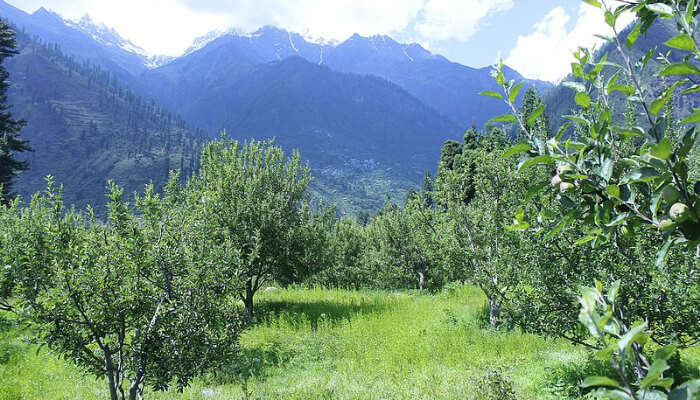 Image Credits: Malay Gupta for Wikimedia Commons
If you feel like visiting a place not crowded and frequented by tourists then you need to focus on village Pulga. The small village has an amazing view of the lofty mountains, tea plantations, wooden houses and forests. Untouched by modern mechanics, it is a real hidden gem of Himachal which is just perfect for solo goers or couples. 
Location: Pulga, Himachal Pradesh 175105
18 Secret Places In Himachal Tourists Haven't Discovered Yet
14. Naina Bhagwati Mandir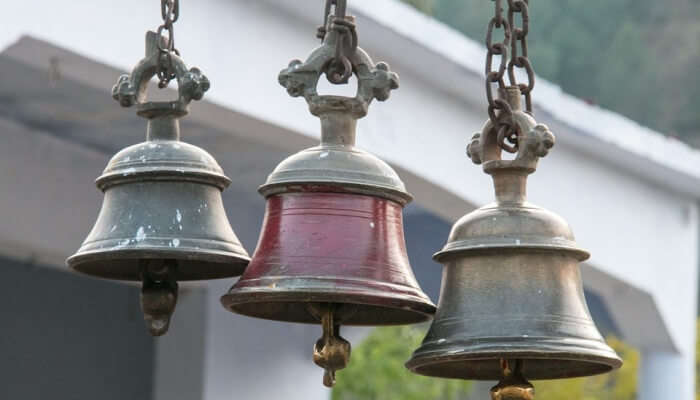 The mystic legends of the stories of gods and goddesses is what this temple is all about. It is a popular Hindu Temple that sits among the Himalayan foothills and on the banks of the beautiful Parvati river. The temple is renowned for its wooden architecture and which from far away seems like a Buddhist monastery. Stay  here for an hour or two to get some spiritual rejuvenation.
Location: Hot Water Spring Path, Manikaran, Himachal Pradesh 175105
The picturesque hamlet, Kasol is the perfect retreat for all those seeking a pleasurable time out of the bustling life of the city. The lifestyle and culture of the people living in and around the village will simply attract you and make you want to have a hearty conversation with the locals. We are sure this must have convinced you to make plans for your Kasol vacay. If this is so, then don't forget to keep the list of places to visit in Kasol and around the village handy.
Disclaimer: TravelTriangle claims no credit for images featured on our blog site unless otherwise noted. All visual content is copyrighted to its respectful owners. We try to link back to original sources whenever possible. If you own the rights to any of the images, and do not wish them to appear on TravelTriangle, please contact us and they will be promptly removed. We believe in providing proper attribution to the original author, artist or photographer.
For our editorial codes of conduct and copyright disclaimer, please click here.
Frequently Asked Questions About Places To Visit In Kasol
What is famous in Kasol?

Kasol is a serene hamlet nestled in the Kullu district of Himachal Pradesh. This offbeat place is perched in Parvati Valley, and serves to be gateway for those heading towards Manikaran Sahib and other nearby treks.

Which is better, Manali or Kasol?

Manali and Kasol, both the places are known for their own experiences. Manali is comparatively lively and features unmatchable adventure and getaways. Whereas, Kasol on the other hand is quite serene and has its own leisure vibe.

Is it safe to visit Kasol during Covid times?

You need to follow all the mandatory safety guidelines mentioned by the authorities to ensure a safe travel experience. Remain masked while stepping out of the hotel and maintain social distance. Avoid visiting crowded places and keep sanitizing your hands after touching surfaces.

What are the romantic places to visit in Kasol?

For all travelers, Kasol is a land of wonders including lakes, scenic mountains, hiking trails, and a lot more that can make their trip worthwhile. It is also considered a romantic spot specifically for attractions such as Chalal village and Tirthan Valley, where nobody would bother them and affordable accommodation and food would be available. The place is a popular honeymoon spot for newly married couples as well.

How can I commute within Kasol?

If you are visiting Kasol, then the nearest airport will be Kullu Manali airport, from there a 30 km drive will take you to your destination. You can hire a cab or a taxi driver for two to three days for commuting to different places in Kasol. Oftentimes, an experienced taxi driver might act as a tourist guide as they usually take visitors to different attractions around Kasol.

Which are the best places to visit in Kasol?

Parvati river, Tosh village, kheer Ganga tirtha valley, Manikaran, Chalal village, Naggar village, and Rasol are some of the best places to visit in Kasol. You could enjoy stargazing and camping in Kasol at night.

What significance does the Parvati river hold in Kasol village?

Parvati river is a beautiful tourist attraction and also enhances the beauty of Kasol. It is said to ensure the state of peace in the village.

Why one should visit Kasol village?

Kasol is a great hill station where there's something for everyone, you can trek to Malana, visit the Manikaran Sahib Gurudwara if you are a devotional person, try the Israeli food and enjoy the beauty of nature and the mesmerizing views Kasol has to offer.

What can I wear in Kasol?

You can wear light clothes, a cap, sunglasses, comfortable shoes in Kasol during summer. While in winter, you should carry woolen clothes.

What is the best time to visit Kasol?

April, May, October, and November are the best months to visit Kasol. During these months, the weather is just perfect to explore the tourist attractions.
---
---
People Also Read:
Places To Visit In Kolad Places To Visit In Kullu Places To Visit In Warangal