Koh Tao is a small island covered in rich forests and hills. What attracts tourists to this island is the underwater world and the places to visit in Koh Tao. The tropical paradise is known for scuba diving and snorkeling. A few hiking trails lead to viewpoints, which offer enchanting views of the surrounding.
Located on the east side of the Surat Thani coastline, Koh Tao means 'Turtle Island' in English. When viewed from Koh Phangan, the neighbouring island, the shape of Koh Tao resembles that of a turtle. Plan your trip, pack your bags, and head to this beautiful island for an unforgettable experience.
6 Best Places To Visit In Koh Tao
Residing on the western shore of the Gulf of Thailand, Koh Tao offers an amazing sightseeing experience. Here is a list of the best places to visit in Koh Tao:
1. Sairee Beach
Image Credit: Jakub Michankow for Wikimedia Commons
The biggest beach in Koh Tao, Sairee Beach is at a stretch of 1.8 km along the western coastline of the island. Visitors can indulge in fun activities like snorkeling out on the reef, beach volleyball, tree swings, sunbathing, kayaking, and building sand castles. The beach has a bustling nightlife in Koh Tao as the bars and pubs there get crowded after the sunset. Entertainment facilities like live music, a fire dancing show, pool tables, live telecast of sports, and a dance floor are available in most bars.
Location: Sairee Beach, Koh Tao, Suratthani 84360, Thailand
Timings: 24/7
Thailand Travel Tips To Plan A Safe And Hassle Free Trip
2. John Suwan Viewpoint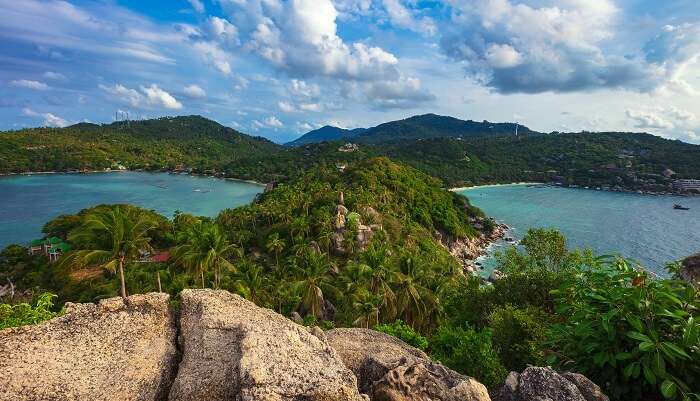 One of the top attractions in Koh Tao, John Suwan Viewpoint is located in the south of the island. A 15 to 20 minutes steep trekking trail from the Freedom Beach car park at the southern end of the island will lead you to the viewpoint. While trekking, there are ropes for you to hold on to in harder sections. From this viewpoint, one gets to witness exhilarating views of a series of beaches in multitudinous directions. A tip you can follow is to wear sturdy footwear, carry a water bottle with snacks, and wear a hat or sunglasses to bear the heat, which will ease your trekking experience.
Location: John Suwan Viewpoint, 3R6H+3QG, Ko Tao, Ko Pha-ngan District, Surat Thani 84280, Thailand
Timings: 9 am to 7 pm
Ticket Price: 50 THB
3. King Rama V Monument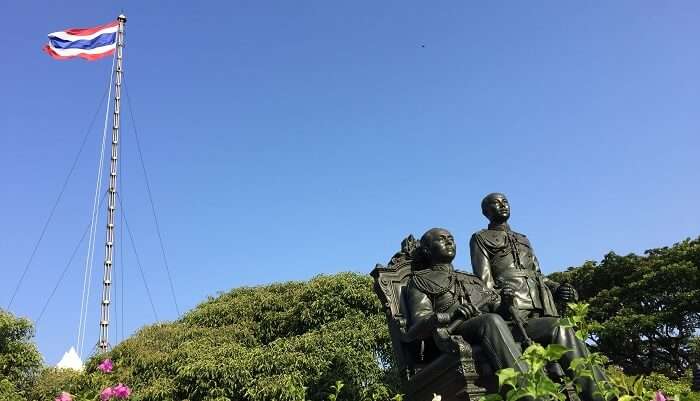 Image Credit: Payajam for Wikimedia Commons
King Chulalongkorn Rama V, the great beloved king of Thailand, is known for his efforts in modernizing Thailand and keeping the country free from colonization during the 19th century. King Rama V Monument is a rock and statue with King Rama V's initials carved on a large boulder and a statue of the former Thai monarch. It has become a place of worship for locals and Thai visitors. A commemoration ceremony is conducted here every year in October. Among the iconic tourist attractions in Koh Tao, one gets an enchanting view of the sunset from the King Rama V Monument.
Location: Laem Jor Por Ror, south of Sairee Beach
Timings: 24/7
15 Best Pattaya Beach Hotels For An Exotic Vacation At This Tropical Destination!
4. Wat Koh Tao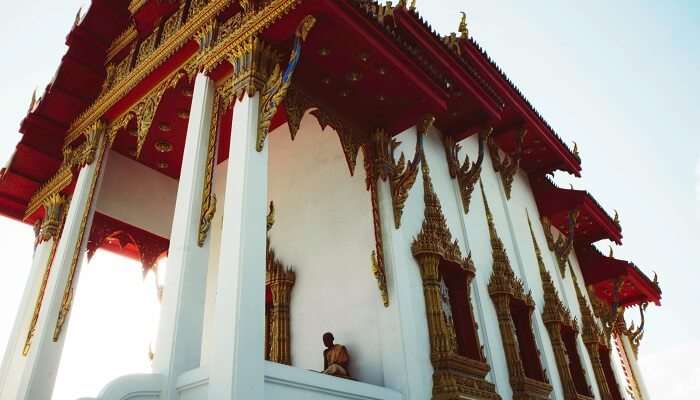 Located between Mae Haad Bay and Sairee Beach, Wat Koh Tao is the main Buddha Temple in Koh Tao. Officially known as Wat Koh Charoen Santi Dhamma, the temple depicts Thai culture. The temple is designed in a traditional style with white walls, a red-tiled roof, and golden decorations. Here, knowledge of Buddhism and studies & practical aspects of spiritual life is imparted by the monks to anyone interested. Just follow the temple etiquette, like respecting the Buddha statue (don't climb, touch, or sit), covering yourself (wear long trousers and shoulders should be covered), and removing your hat and shoes before entering the temple.
Location: Ko Tao, Ko Pha-ngan District, Surat Thani 84280, Thailand
Timings: 8 am to 6 pm
5. Chumphon Pinnacles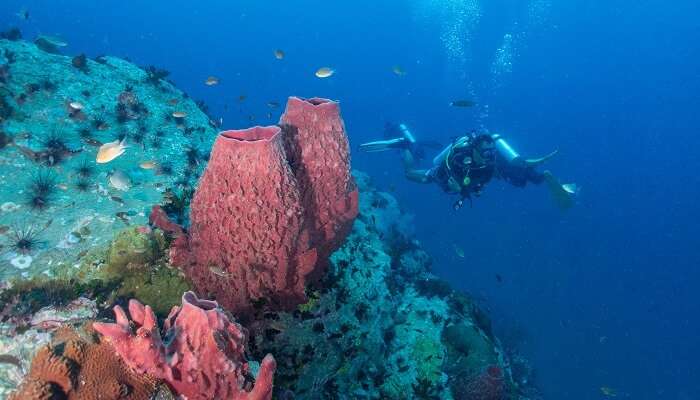 Chumphon Pinnacles is one of the most famous and deepest diving sites in Koh Tao. The top of this large granite pinnacle is covered with sea anemones and Pink Anemonefish. With a depth of 40 m and clear visibility, it is suitable for only advanced divers and divers who are comfortable in deep water or looking to increase their experience. One can spot numerous Fusiliers, Rabbitfish, Big-Eyed Jacks, Yellow-Tailed Barracuda, White-Eyed Moral eels, crabs, Scorpion fish, small shrimps, and more. The abundance of marine life in Chumphon Pinnacles makes it one of the best places to visit in Koh Tao.
Location: Chumphon Pinnacle, 5QCH+XF, Ko Tao, Ko Pha-ngan District, Surat Thani, Thailand
Timings: Sunrise to sunset
Ticket Price: starts from THB 2,500 (varies from type of diver's course opted)
24 Spectacular Things To Do In Koh Samui For A Fulfilling Holiday
6. Koh Tao Leisure Park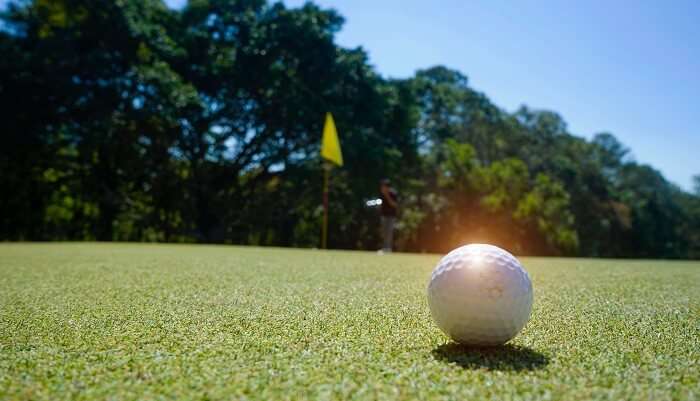 Koh Tao Leisure Park is an amusement arena famous for its mini-golf. You can play as many rounds of golf as you like on this 18-hole course. For those who are not much of a golf lover, the premises also have foosball tables, pool tables, petanque courts, a sports bar, and a cinema to make your evening entertaining. A night market across the park is a must-visit. Koh Tao Leisure Park is among the fun places to visit in Koh Tao, which you must not skip in your itinerary.
Location: 2/21, Moo 3, Between Mae Haad & Chalok Ban Kao, Koh Tao 84360
Timings: 1:45 pm to 11 pm, closed on Mondays
Ticket Price: 170.80 THB
How To Reach?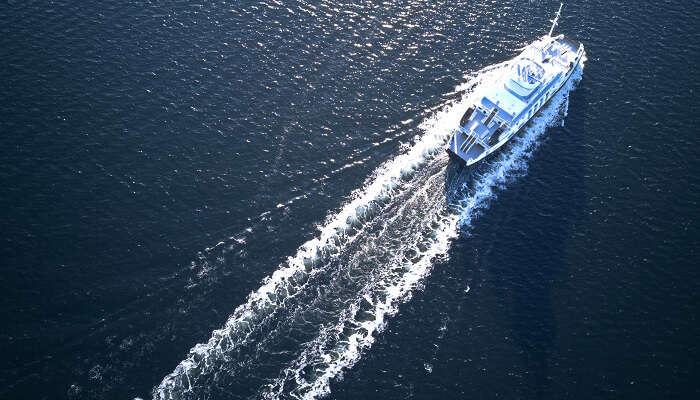 By Air
There is no airport in Koh Tao but the near By Airports are Koh Samui Airport, Chumphon Airport, and Surat Thani Airport. After that, ferries and catamarans to Koh Tao are available from all three airports.
By Rail
Railways are not the main form of transportation in Koh Tao. However, train services are available to Chumphon, where ferries to Koh Tao are available.
By Ferry
Koh Tao has ferry services from Chumphon, Koh Samui, Surat Thani, and Ko Pha-ngan at regular intervals. All ferries dock at Ban Mae Haad.
12 Kickass Water Sports In Thailand For The Water Babies To Enjoy
Best Time To Visit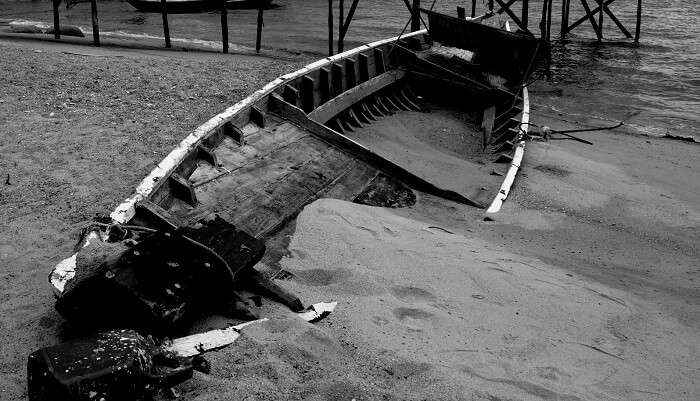 Image Credit: Morten Idriss Nygaar for Wikimedia Commons
March to May
The hot and dry season in Koh Tao is humid, and sunny with a minimum amount of rainfall. The temperature can get extremely high but the cool breeze at beaches makes it all worthwhile. If you are visiting during these months, make sure to carry your sunscreen, hat, and sunglasses with you.
June to September
These are the hot and windy months in Koh Tao. The island is more crowded than usual and if you want to visit during these months, it is advisable to book accommodation and other reservations in advance. Also, it is a great time to dive as the visibility is higher.
October to February
The rainy season is a spite of relief after hot climatic conditions. The weather is cooler and wetter with an abundance of sunshine. One can witness nonstop rainfall and occasional thunderstorms.
Don't forget to include these six above-mentioned places to visit in Koh Tao when you plan a trip to the island. From the beach to the monument, from a scenic location to a spiritual one, from deep diving to having a fun time at a leisure park, these sightseeing spots cover different dimensions. Book your Thailand Tour Packages with TravelTriangle for a hassle-free vacation experience. You can customize your package at the time of booking.
For our editorial codes of conduct and copyright disclaimer, please click here.
Cover Image Source: Franz Winter for Wikimedia Commons
Frequently Asked Questions About Places to Visit in Koh Tao
What are the best places to visit in Koh Tao?
The best places to visit in Koh Tao are-
1. Sairee Beach
2. John Suwan Viewpoint
3. Koh Tao Leisure Park
4. Chumphon Pinnacles
5. Wat Koh Tao
6. King Rama V Monument
What is the best time to visit Koh Tao?
Koh Tao remains warm all year round and heavy downpours only during the monsoon season. The best time to visit Koh Tao is from January to September when weather conditions are favourable for sightseeing and water activities.
Is Koh Tao good for diving?
Yes, Koh Tao is a great destination for diving for divers of all levels- beginner, intermediate, and advanced. One can explore the underwater marine life along with the shallow reefs with utmost ease. There are plenty of diving schools in Koh Tao, proficient in training every type of diver and you can enroll yourself in a certified diving course.
What is the best time to dive in Koh Tao?
January to September is the best time for diving and other water sports in Koh Tao.
What is the best romantic spot in Koh Tao?
John Suwan Viewpoint and Sairee Beach are two of the most popular romantic spots in Koh Tao.
People Also Read:
Places To Visit In Kuta Places To Visit In Kenya Places To Visit In South Africa