Lying on the shore of the Andaman Sea, Krabi is a destination of beaches and Islands offering travelers a cozy vacation. With glitzy nightlife, water sports, and oodles of nature's charm, the place never leaves a chance to amaze its visitors. Not only its tourist attractions, but the day trips from Krabi is another element that makes it one of the best places in Thailand. From Koh Rok to Phi Phi Islands to Koh Samui, Krabi surrounds an array of enchanting locations which are just a short drive away from it. Whether you wish to enjoy water activities or simply laze around the beach, you will get to experience it on your holiday.
7 Best Day Trips From Krabi
Here are some of the the most sought-after day trips from Krabi that you must add to your Thailand vacation:
1. Phi Phi Islands
Phi Phi is a group of six islands namely Phi Phi Don, Biddah Nok, Phi Phi Leh, Koh Yung, Biddah Nai, and Koh Pai. From the white sandy beaches to the colossal limestone karsts, Phi Phi island boats several features to enthrall its visitors. One of the most visited islands, Phi Phi Don features an array of restaurants, bars, and resorts. Monkey beach is another famous attraction where you can get familiar with furry residents. Notably, Phi Phi is a small island that can be covered within a couple of hours on a speedboat.
Places To Visit On A Mesmerizing 5 Day Honeymoon In Krabi
2. Four Islands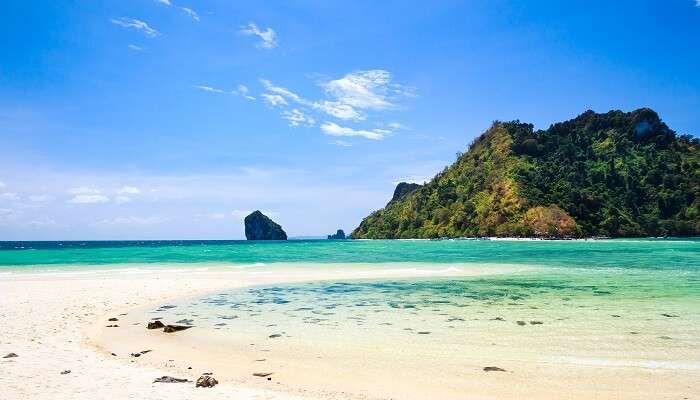 One of the most sought-after day trips from Krabi, a four island tour allows one to witness the serenity of Chicken Island, Koh Poda, Koh Mor, and Tup Island. From scintillating beaches to deserted islands to sheer clear water and intriguing rock formations, the islands have so much to woo you. There are myriads of speedboats and long-tail boats ready to take you on a tour of the islands. Moreover, one can also indulge in adventurous water activities like diving, sea-walking, snorkeling, etc. to make the most of their vacation.
3. Koh Rok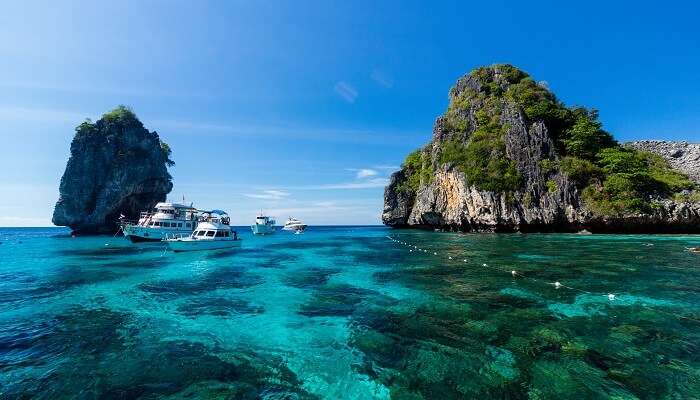 The land of marine life and colorful corals, Koh Rok is a perfect place to witness the charm of the underwater world that is home to a wide range of tropical fish, eels, turtles, star fish, nudibraches, and many other exotic species. Snorkeling under the crystal clear water is indeed a worth-exploring activity while visiting Koh Rok. Besides this, one can also spot monitor lizards wandering around the beaches.
Make The Most Of Your Honeymoon In Phuket And Krabi With These Best Experiences!
4. Hong Island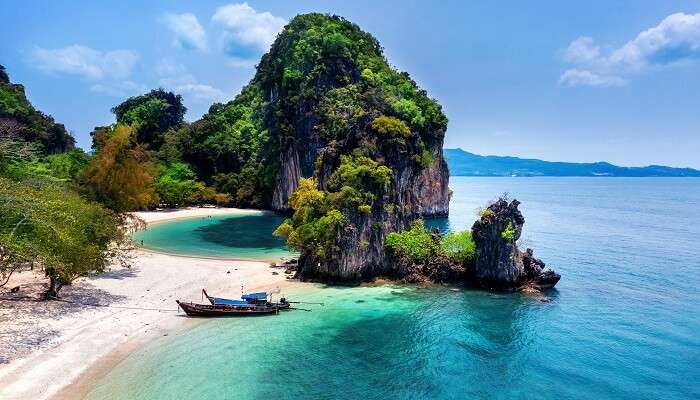 Also known as Koh Hong, Hong Island is a paradise for thrill-seekers and water sports lovers. The awe-inspiring limestone formations, magnificent cliffs along with white sandy beach and turquoise waters make Hong Island a perfect destination for a day trip from Krabi. Additionally, the destination is an apt choice to indulge in snorkeling experiences. One can also boards a traditional longtail boat that takes around 45 minutes to reach Hong Island or simply hire a speedboat to cover the distance in just 20 minutes.
5. Emerald Pool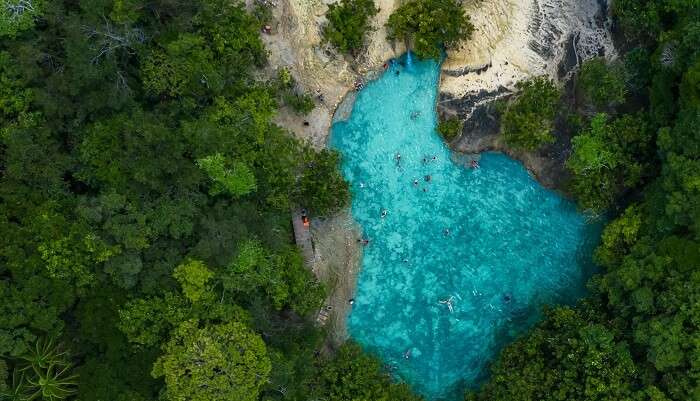 Positioned in a lush forest area, Emerald Pool or Sa Morakot is a cool natural turquoise-colored pond having fresh water coming straight from the hills. To reach the pool, one needs to complete a 2 km hike. The entry to the pool is allowed throughout the week from 8:30 am to 4:30 pm. You can simply relax in the nature bath or take a plunge to brush up your swimming skills.
Things To Do In Krabi With Kids: A Handy Guide About Our Experiences With Our Daughter
6. Ko Klang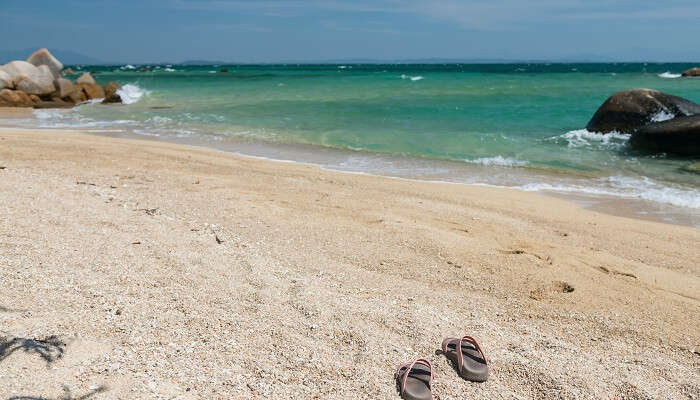 Offering a perfect escape for peace-seekers, Koh Klang is an island in Tambon Khlong Prasong in Krabi province of Thailand. While visiting here, one can enjoy a tour of the purple rice field and cave of Khao Khanab Nam. The art of batik painting is also popular in Koh Klang created by localites Moreover, you can buy several locally produced handicrafts. The island is only accessible by longtail boats that launch from two piers including Chaofa Pier (central Krabi) Tara Pier (southern Krabi).
7. Tha Pon Khlong Song Nam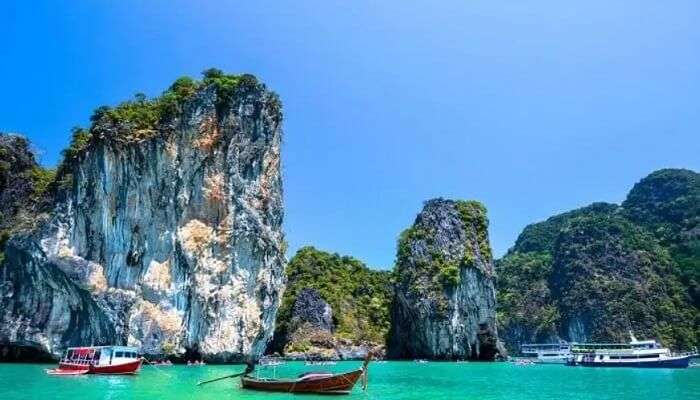 Lying in the Andaman Sea of Southern Thailand, Phuket takes pride in its white sandy beaches, vivid nightlife, and awe-inspiring landscapes. Located at a distance of around 163.0 km from Krabi, the destination offers a wide range of exciting activities. While visiting here, one can enjoy beach hopping, explore the glitzy nightlife, partake in watersports, and go on a boat tour. Moreover, cultural shows and night markets are also quite popular in Phuket that attracts numerous tourists.
20 Best Resorts In Krabi For Soaking In Ultimate Bliss & Luxury
Krabi is a destination that lets you forget all your woes and worries. While the destination has so much to offer, day trips from Krabi adds the edge to your vacation. So, when planning a Krabi trip, don't forget to enjoy some of the above-mentioned places on your itinerary. Find the best deals at TravelTriangle and customize packages as per your convenience.
For our editorial codes of conduct and copyright disclaimer, please click here.
Frequently Asked Questions About Day Trips from Krabi
Which is better, Krabi or Phuket?
If you want to take a break from the hustle-bustle of daily life and relax or play in nature, then Krabi is a better place. But if you want to enjoy a sophisticated vacation in a well-developed destination, then Phuket is better.
Is Krabi safe?
Yes, Krabi is safe to place for travel. In fact, Krabi locals are famous for their friendliness. Most passengers never experience any danger in Krabi.
How many days do you need in Krabi?
A 3-4 day full-day tour is enough to explore Krabi island's most beautiful places like Phranang beach, Tup island, chicken island and Poda island, etc.
What is the best time to visit Krabi?
The best time to visit Krabi is the summer season between November to March, which is the peak season for tourists. From June to October Krabi experience heavy rainfall. So it is not a good time to visit there. April to May are considered as the hottest months and is also marked as the shoulder season of Krabi. However, you should plan your visit during April if you want to witness the Songkran Festival, the Thai New Year, when people sprinkle water on each other.
How do I get from Krabi town to Railay Beach?
From Krabi town, you have to take a taxi or a white-colored songthaew to Nammao Pier. The taxi will take around 15 min and 350-400 baht and the white-colored songthaew may take about one hour which costs 60 baht. From there you can get direct boat access to Railay Beach. The boat fare is 80 baht per person.
People Also Read:
Day Trips From Berlin Day Trips From Brisbane Day Trips From Colombo