Churchill, Manitoba, is known as the Polar Bear Capital of the World, but this small town offers plenty more than viewing the Kings of the Arctic. From July to November, the human population of about 800 is outnumbered by around a thousand polar bears, attracting bear enthusiasts and adventurers from across the globe. However, the prime polar bear viewing season lasts only six weeks. If you are considering making the voyage up to Canada's north, maximize your time to include a number of other activities in Churchill.
On cold, cloudless fall and winter nights, the aurora borealis put on a brilliant show in the sky. Warmer months bring many bird species to this northern seaport town, and fireweed and other wildflowers bloom along the shores. The Churchill River estuary fills with thousands of beluga whales migrating from the high Arctic. When timed just right, visitors may get to experience beluga whales, polar bears, and the northern lights.
Beluga Whale Watching
Belugas, with their bulbous foreheads and friendly nature, come in droves to the water bodies around Churchill after spending winters in the Arctic. These white-colored whales are often referred to as "sea canaries" for their whistling and chirping vocalizations and can be found swimming in pods, curious of boaters and paddlers.
n "" data-modal-id="single-image-modal" data-modal-container-id="single-image-modal-container" data-img-caption=""Photo credit: Travel Manitoba"">
Beluga whale watching from boat by Lazy Bear Expeditions

 
Around 3,000 beluga whales visit the Churchill River basin, and 60,000 can be found in the Hudson Bay Area from June to September. The estuary plays an important role in providing a habitat for these cetaceans to mate, give birth and raise their young.
Being on a boat, kayak, or paddle board, surrounded by hundreds of these white whales, is quite a sensory experience one wouldn't want to miss. Churchill Wild, a local tour operator, offers the "Our Birds, Bears & Belugas" zodiac safari during the summer to see both of the iconic white animals.
Bird Watching
In the spring and summer months, thousands of birds make their way to Churchill, including some rare species. The Churchill Northern Studies Centre (CNSC) offers seasonal educational vacations for small groups. The Spring's Wings–The Birds of Churchill tour not only gives enthusiastic birders to check off some avian beauties off their lists but also a chance to contribute to subarctic scientific research.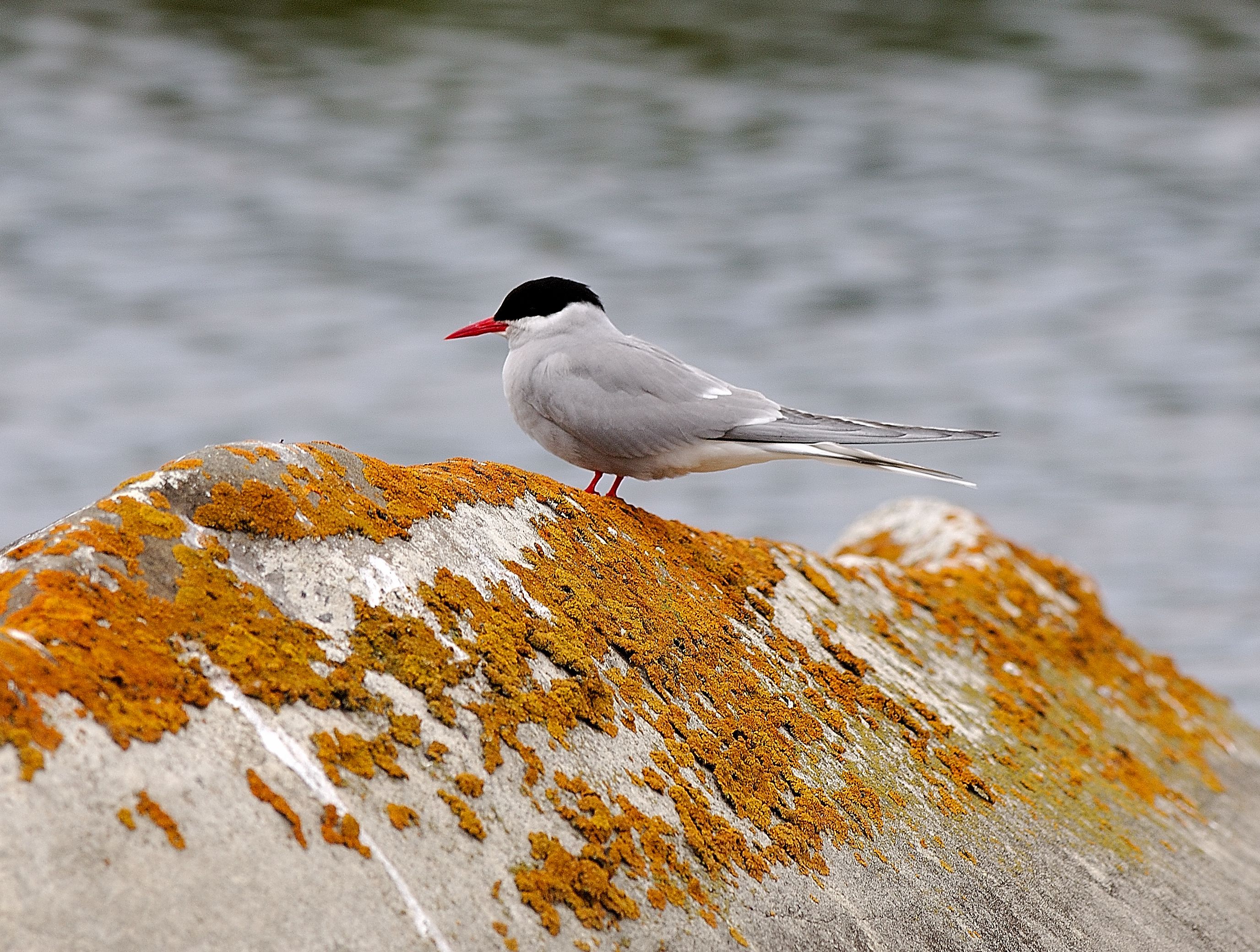 Arctic Tern, Churchill, Manitoba 
Daily outings with an expert guide will bring visitors to diverse habitats, from the tundra and boreal forests to the coastal environments of Hudson Bay. Among the birds found here include Ross' gull, arctic tern, Hudsonian godwit, and red-throated loon, in addition to hawks, falcons, snowy owls, and tundra swans.
The CNSC is a non-profit research and education facility located just outside the town in the Wildlife Management Area. Their primary purpose of research, specifically on climate change, ecology, and wildlife, is conducted by hosted scientists from around the world. In addition to daily bird viewings, travelers can learn about CNSC's Rocket Greens community share agriculture program, listen to Indigenous storytellers, and meet like-minded individuals.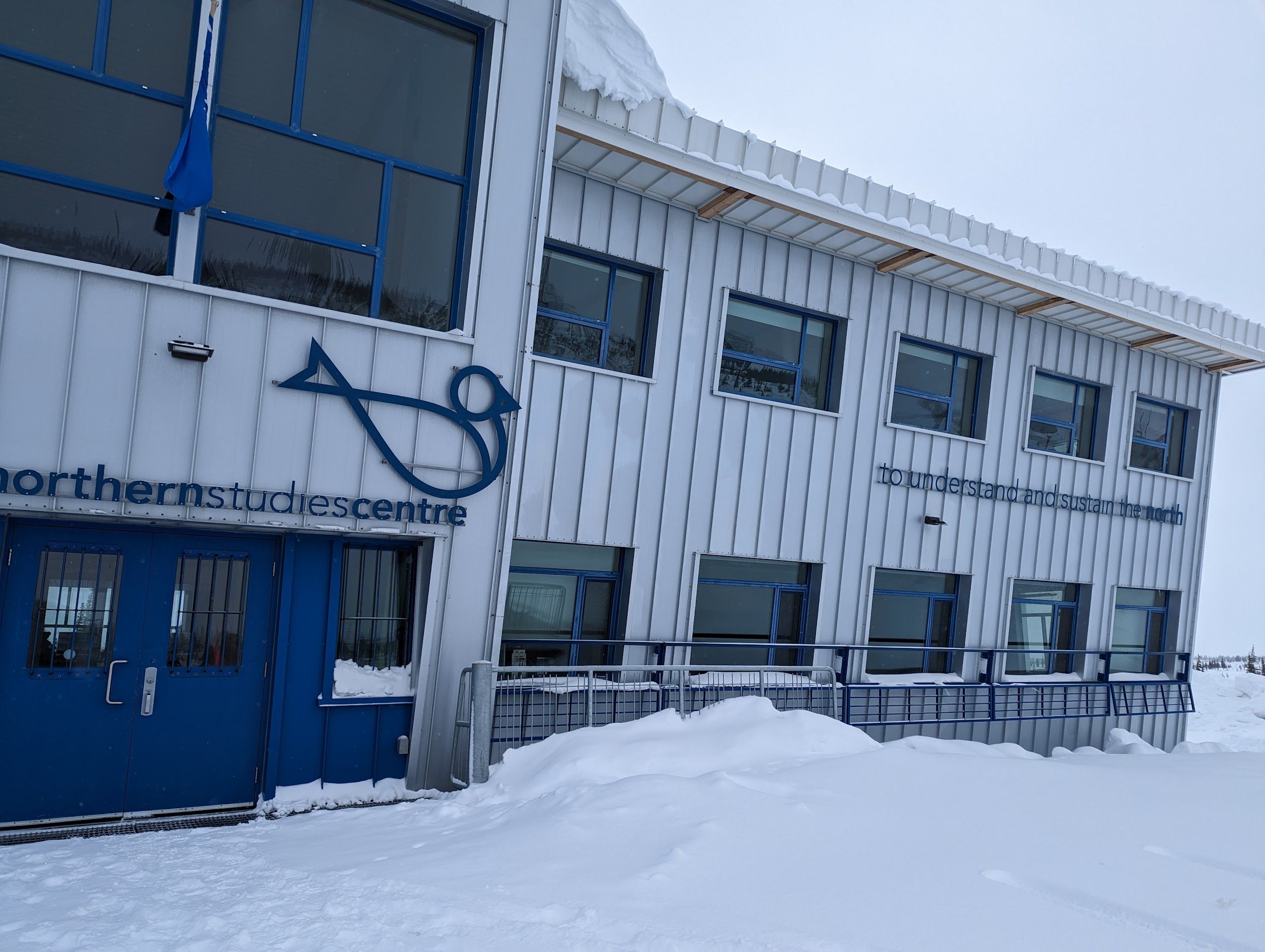 Churchill Northern Studies Centre
In addition to daily guided excursions, the center provides communal accommodations, delicious healthy on-site meals, lectures, and transportation within the town. The building has an outdoor platform for wildlife viewing and an indoor Aurora dome to catch the northern lights in comfort.
Dog Sledding
Snowy, subarctic landscapes call for adventures like dog sledding. Indigenous-owned Wapusk Adventures doesn't just provide visitors with a thrilling ride on a sled through the boreal forest; the outing comes with an educational component as owner Dave Daley (Métis), from a multi-generational Churchillian family, shares the history and importance of dog sledding to his family and ancestors.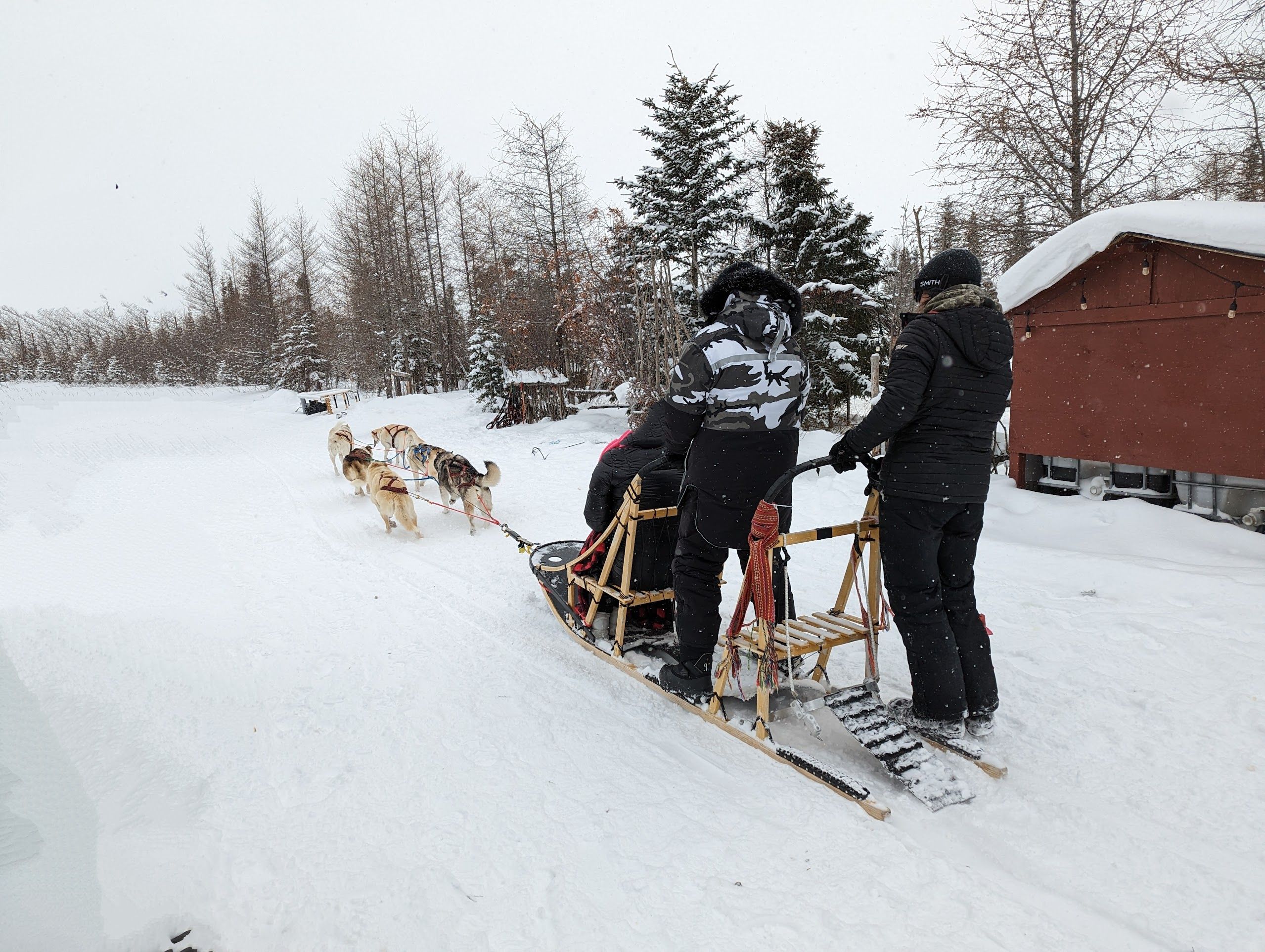 Dog sledding, Wapusk Adventures
Musher Daley started Wapusk Adventures in 2001, and his love for his rescued canines is clear in the way he treats them. The sled dogs, which are highly trained athletes, love to run. Participants go on what Daley calls "Ididamile," a mile-long sled ride through the boreal wilderness. Wapusk Adventures is part of ITAC (Indigenous Tourism Association of Canada), and Daley is on the Board, representing Manitoba. Churchill is within Treaty 5 territory, which are the traditional lands of the Dene, Inuit, Swampy Cree, and Métis.
Related: Why Visit Manitoba? Here Are 10 Good Reasons
Northern Lights And Indigenous Storytelling
Seeing the northern lights is high on many peoples' wish lists, and rightfully so. This magical phenomenon, which happens in the polar regions of the planet, is thrilling to witness. Nanuk Operations, a boutique tour operator that opened in 2017, provides an intimate, multi or single-day tour for groups. Called Nights Under Lights, it is designed for those seeking the aurora borealis in a fairytale setting deep in a snowy boreal forest.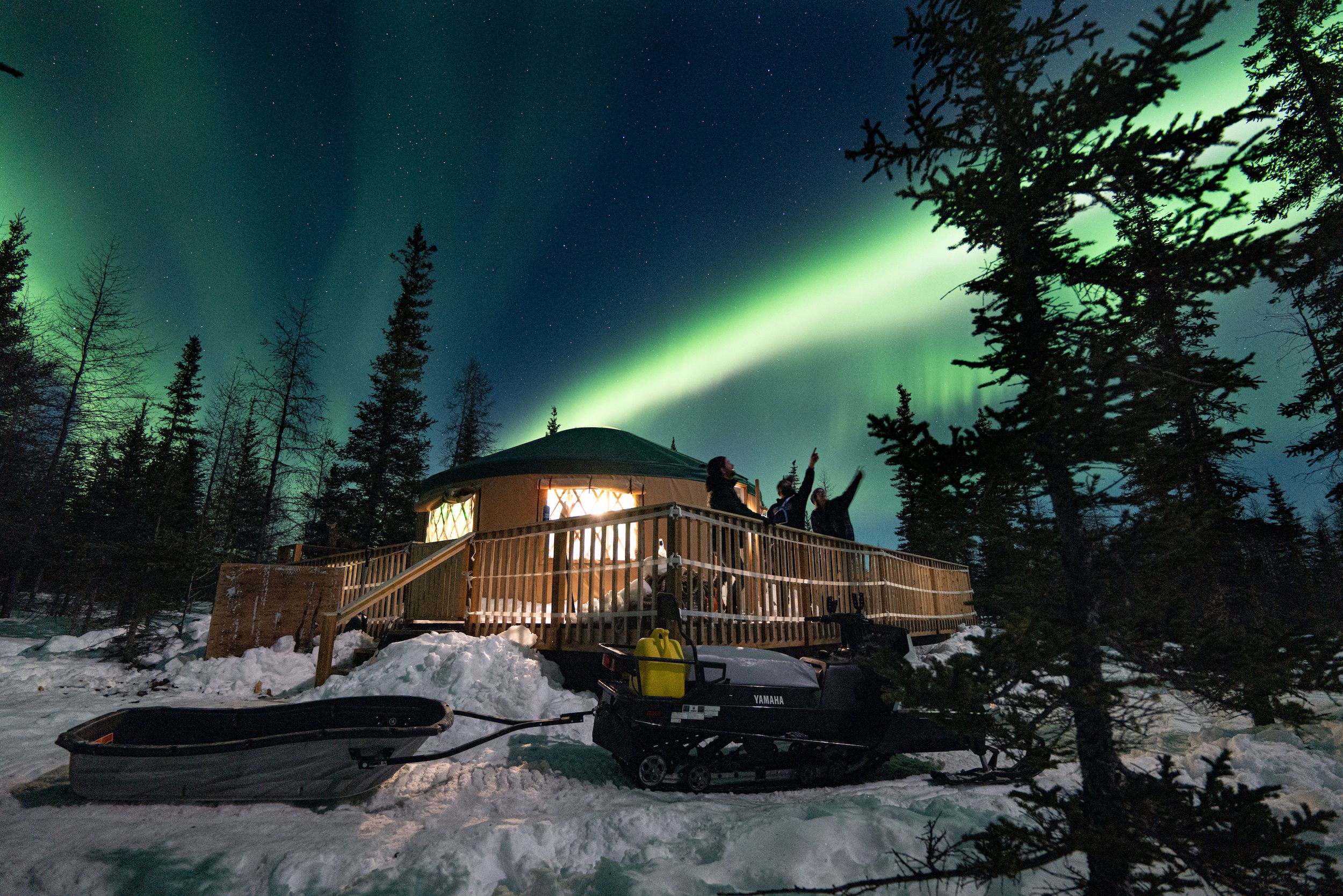 Nanuk Operations Northern Lights viewing 
On a single evening tour, guests begin inside a heated yurt sitting on comfortable couches near a wood-burning stove, awaiting the natural show to unfold. Adventure seekers can venture out on snowshoes in the middle of the night for a hike through the forest under the twinkling stars.
As part of the tour, guests are joined by Indigenous storyteller, Katie de Muelles (Métis), for an educational experience. Wearing her traditional hand-woven Métis-nation sash and embroidered capote (wool coat), de Muelles details her mother's journey from a trap line past to becoming known for her caribou-hair artwork. The moving tale about this pioneering woman, regaled with genuine love and affection, supplemented with family heirlooms and pictures, art, and beadwork, is inspiring to listeners. Traditional fry bread with local jams and other delicious snacks are served during these talks.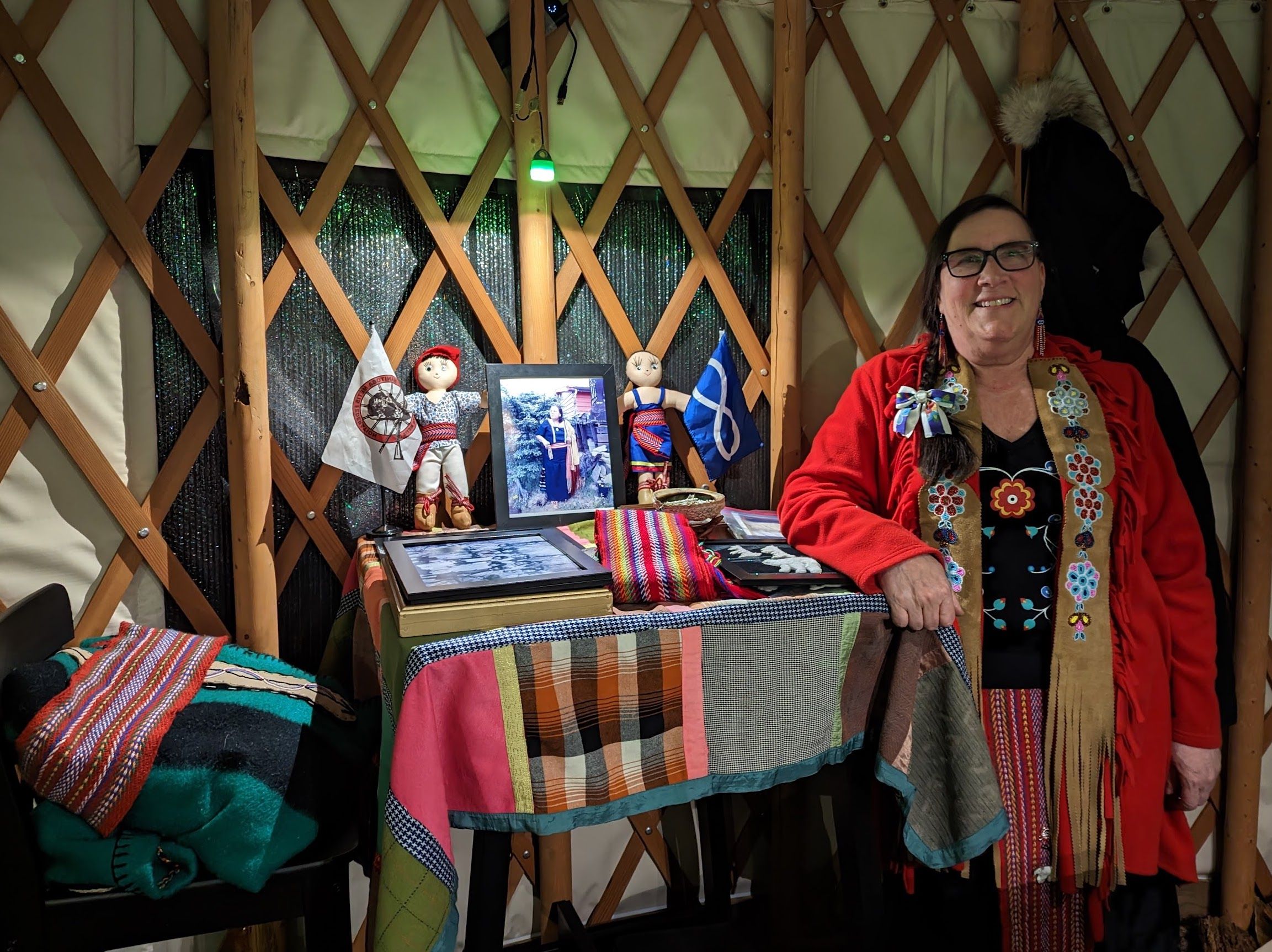 Katie de Muelle, Nanuk Operations 
On multi-day tours, guests experience snowshoeing, dog sledding tours, and visits to historic sites and museums. Evenings are filled with cultural presentations alongside aurora viewing and photography.
Itsanitaq Museum
The Itsanitaq Museum is a small, one-room establishment, but it packs a lot of information about the Inuit population of Canada's north. Inuit carvings made of whalebone, caribou antler, and soapstone depict daily scenes. Artifacts, images, and tools, like harpoon heads and traditional water vessels, and a taxidermied polar bear, showcase the culture and traditions of the Inuit. Inuit people inhabit the northern areas of Canada and also call Alaska, Siberia, and Greenland home.
Itsanitaq Museum
Inukshuks, shaped in the form of a human, are often used as landmarks by Indigenous people to indicate a direction, warn of danger, assist hunters, or mark a special place. In honor of the Inuit and other people of the Arctic, the town has a large Inukshuk, made of large stones, on the shore of Hudson Bay.
The museum is open year-round. The small shop sells soapstone carvings by Inuit artists, along with books about the north, postcards, and local wildberry preserves.
Related: Arctic Nunavut: Exploring The Incredible Ways Of Inuit Life
VIA Rail Station Parks Canada Visitor Centre
In Churchill's historic VIA Rail Station building is the Parks Canada Visitor Reception Centre, whose exhibit "Our Land, Our Stories," is a must see for anyone interested in learning about this subarctic region's people and natural history, specifically Wapusk National Park. The park protects one of the largest polar bear maternity denning areas and is not accessible to humans.
VIA Rail Station Parks Canada Visitor Centre
n
n "" data-modal-id="single-image-modal" data-modal-container-id="single-image-modal-container" data-img-caption=""Photo credit: Lavanya Sunkara"">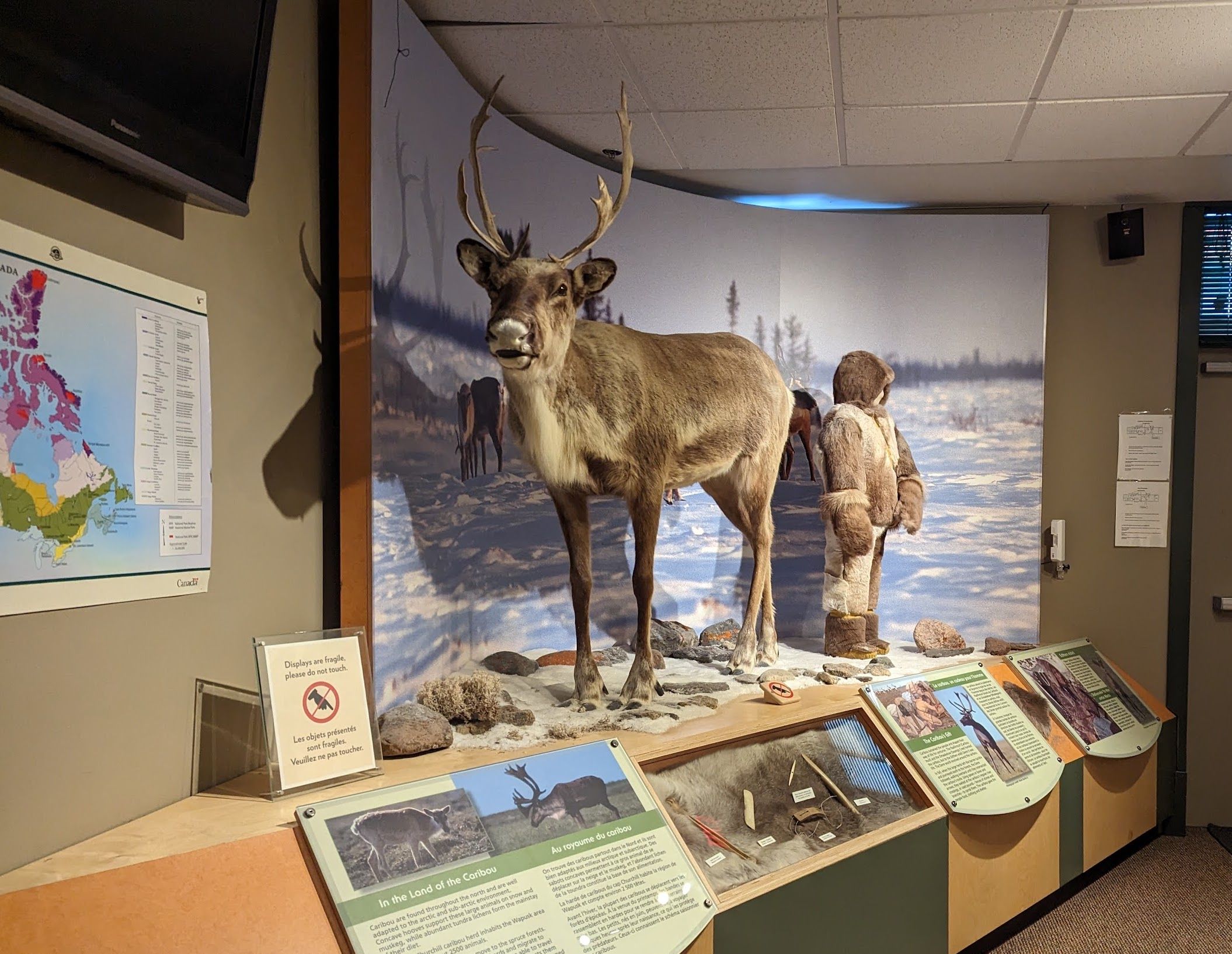 VIA Rail Station Parks Canada Visitor Centre 
Upon entering the building, an imposing taxidermied polar bear on its hind legs greets visitors. A few steps inside brings one up close to an intricately recreated, life-like maternity bear den, complete with a mama bear and her cubs. Moving further along the exhibit, patrons can see a tipi and more taxidermy and information about arctic wildlife. The exhibit also houses Hudson's Bay Company's muskets and trading goods.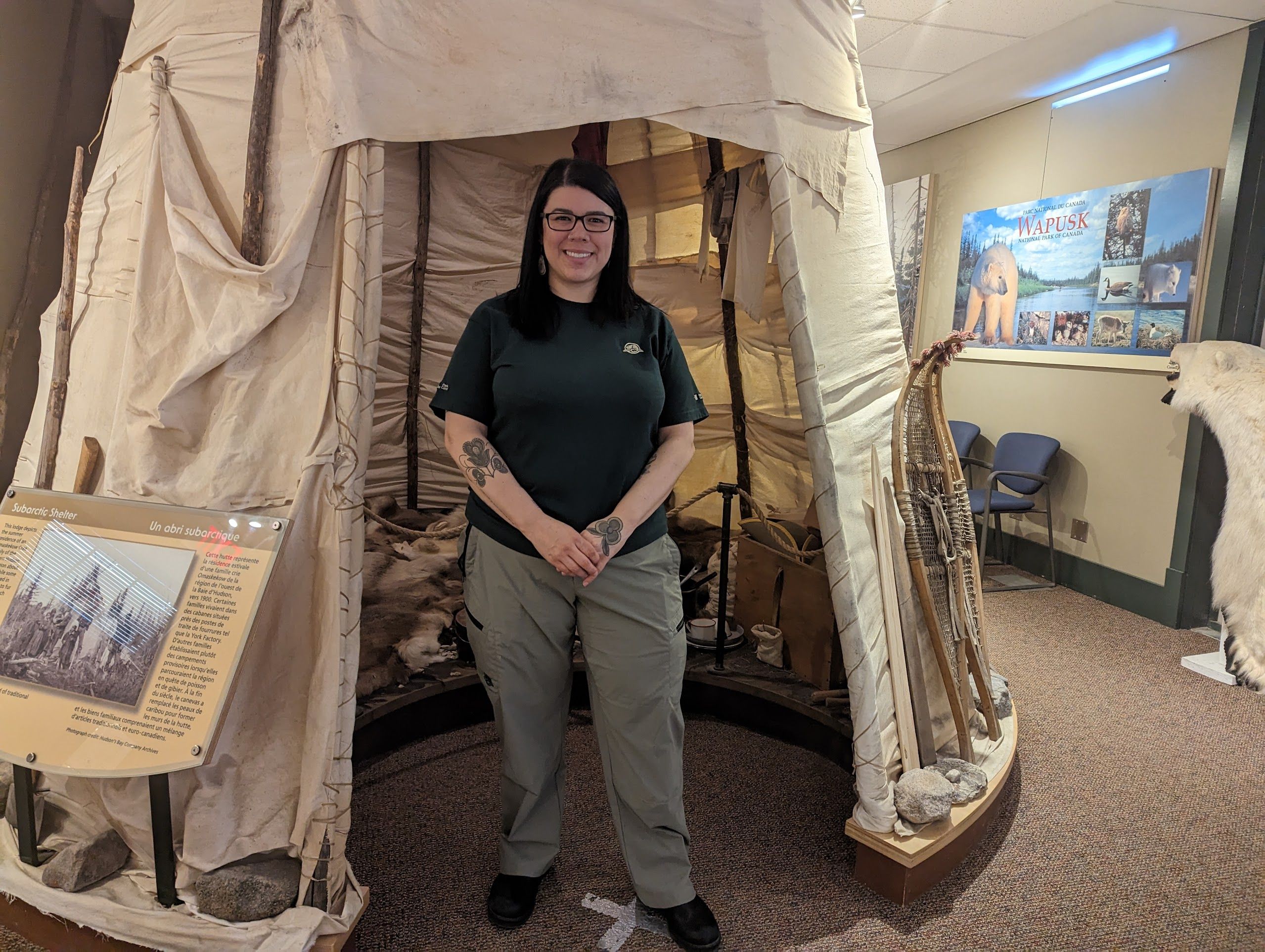 Heather Spence-Botelho, Parks Canada Visitor Centre 
Those who wish to learn more about Indigenous life can book a presentation by seventh-generation Churchillian, Heather Spence-Botelho, detailing her life in Churchill, whose ancestry belongs to Fox Lake Cree Nation, Swampy Cree, Dene, and Portuguese heritage. She takes viewers on a historical journey of her ancestors and the struggles that her next of kin continue to face with racism, violence, addiction, and abandonment as a result of Indigenous people being forced to give up their cultural identity in the past. The presentation gives viewers a look at the importance of traditional beading to Indigenous culture, hunting and gathering, and living in harmony with whales and bears.
SeaWalls Walking Tour
Given its remote polar location, Churchill faces its share of challenges. Among them include two major snowstorms and a flood in 2017 that damaged the only railway line connecting to Winnipeg, the capital of Manitoba. Without the train bringing much-needed goods, food, and fuel, prices shot up, jobs were lost, and people found themselves despondent. To lift the spirits of the people of this subarctic port town and bring attention to the environmental challenges its wildlife and people are facing, Travel Manitoba invited mural artists from around the globe to visit and paint massive wall murals.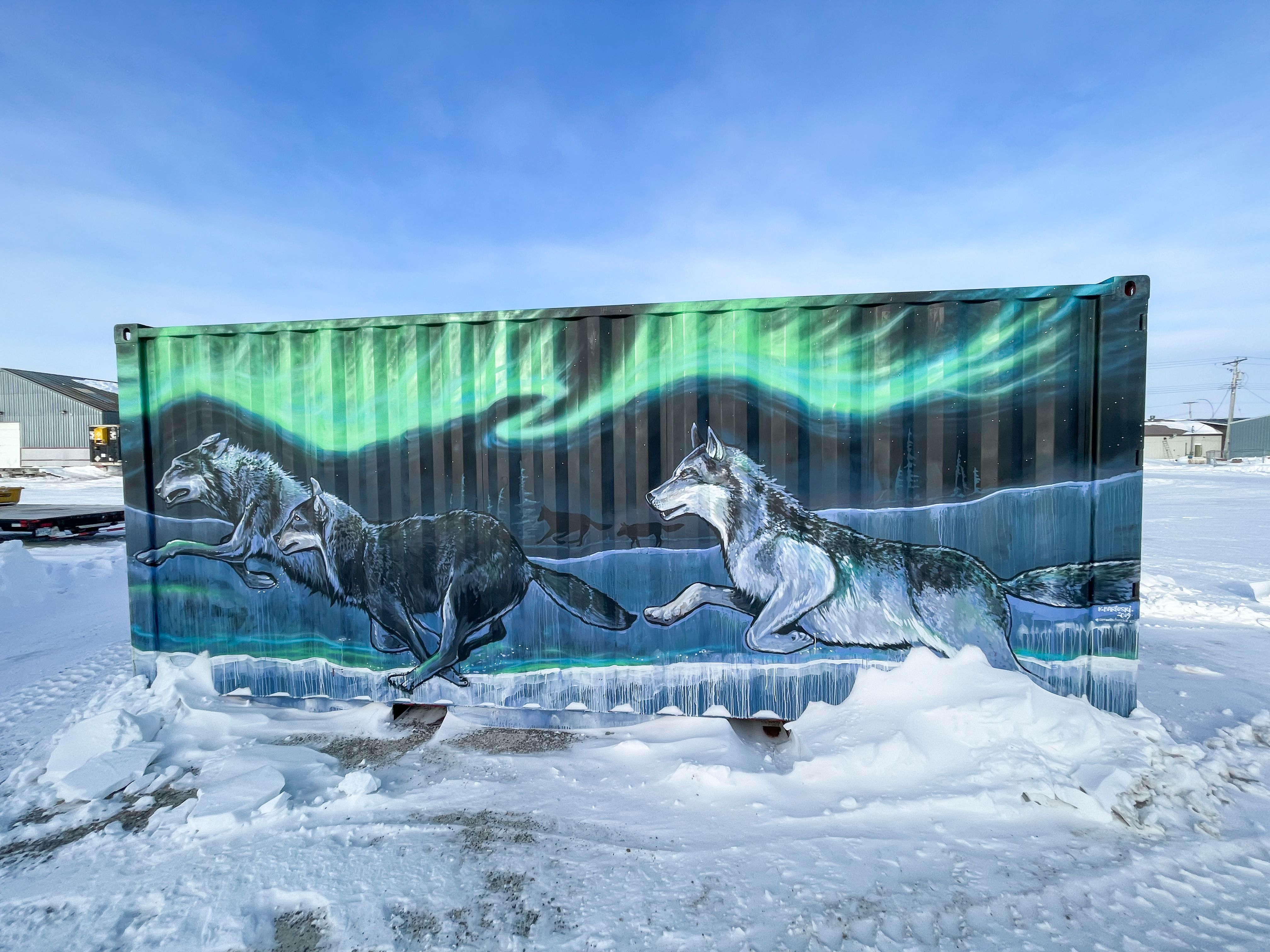 SeaWalls Mural 
The SeaWalls Churchill mural project is a collaboration between Winnipeg artist Kal Barteski, Founder of Polar Bear Fund, PangeaSeed Foundation, and SeaWalls: Artists for Oceans. By the end of that summer, 18 large-scale paintings of bears and marine life, along with powerful phrases like "Know I'm Here," brought color and breathed new life to buildings in and around the town and, with that, vibrancy returned to Churchill once again. In the winter months, when polar bears are far out on the frozen ice hunting for seals (and away from the outskirts of the town), visitors can do a self-guided walking tour to see these murals up close. Another fun way to experience the murals is by renting an e-bike from Wapusk Adventures and doing a self-guided or guided tour.
Dan's Diner Culinary Experience
For a truly one-of-a-kind experience of dining on a frozen river, check out Frontiers North Adventures' newest offering: Dan's Diner Culinary Experience. When the river freezes for the winter, the ice sheet is thick enough for a Tundra Buggy to venture out. After a half-hour to 45-minute drive on what seems like a moonscape, arrive at Dan's Diner, a pop-up restaurant completely set inside a Tundra Buggy.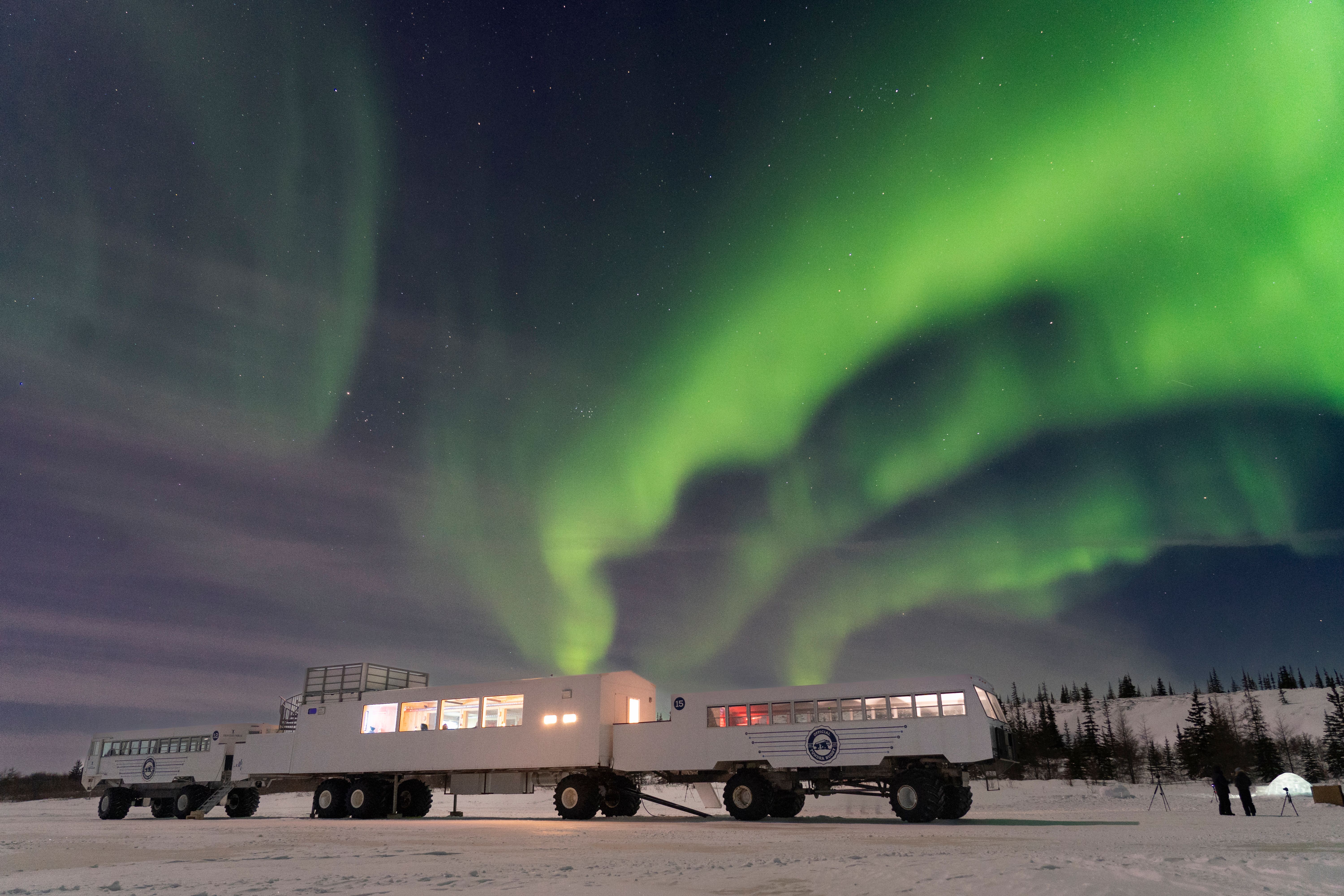 Dan's Diner Culinary Experience on the frozen Churchill River
Enjoy a multi-course gourmet meal prepared by Yves Page (Red River Métis) featuring regional delicacies, followed by drinking whiskey fireside and watching the northern lights (weather dependent). For those wanting to take in the sights in comfort, the Buggy is equipped with skylights and panoramic windows that bring the outside in. The experience is further enhanced by storytelling from Florence Hamilton (Sayisi Dene) Dene Routes, who shares her family's story and connection to Churchill.
Getting There:
Churchill has no roads linking to Winnipeg, making rail and air travel the only two options. Upon arriving in Winnipeg, travelers have a choice between a 45-hour train ride on VIA Rail or a two-and-a-half-hour flight on Calm Air. Some tour operators selling packaged tours often include a chartered flight in the rate.
Where to Stay:
Churchill's hotel rooms book up fast with groups during peak polar bear and whale viewing season. If venturing to Churchill as an individual (and not part of a group), book a hotel ahead of time. Aurora Inn, an Indigenous-owned and operated hotel, offers comfortable two-story apartment-style accommodations, complete with a kitchen and living area.