Osaka, the heart of Japan's Kansai region, is renowned for its culinary culture and street food scene. From mouth-watering Takoyaki to savory Okonomiyaki, Osaka's local cuisine will tantalize even the most discerning of taste buds.
But exploring the city's food culture is not the only attraction — Osaka also boasts a rich history and a unique blend of traditional and modern attractions. From the iconic Osaka Castle, a towering monument to Japan's rich feudal history, to the neon-lit streets of the Dotonbori district, a sensory explosion of colorful signs, bustling crowds, and mouth-watering aromas, there's no shortage of amazing experiences to be had in this incredible city.
Joining the ranks of Tokyo and Kyoto as one of Japan's must-visit destinations, Osaka is a city that rewards exploration, discovery, and a willingness to dive headfirst into the unknown. So pack those bags and prepare to discover the rich tapestry of culture, history, and cuisine that makes this city such a beloved destination for travelers from around the world.
This complete guide is the perfect companion to discovering the best that Osaka has to offer. Get ready to fall in love with Osaka's dynamic energy and indulge in some of the best street food in the world.
Things To Do In Osaka
While visitors can spend days, if not weeks, exploring Osaka's hidden gems, here are ten must-do activities in Osaka, including visiting iconic landmarks like Osaka Castle and exploring hidden local haunts like Shinsekai.
1
Wander Through The Dotonbori District
Bright lights and traditional buildings in the Dotonbori District in Osaka, Japan
Wander through the bustling Dotonbori District to experience the vibrant heart of Osaka's street food culture. This lively district, known for its illuminated neon signs and eccentric atmosphere, has been a popular entertainment destination since the 1600s.
The district was named after a canal that was constructed during this period to increase the flow of goods between neighboring towns. Visitors can indulge in dishes like Takoyaki, a deep-fried ball of octopus goodness, and Kushikatsu, deep-fried skewered meats, and vegetables.
Aside from the food, visitors can take in the lively nightlife, explore the shopping scene and snap a picture with the iconic Glico Running Man sign.
Related: These Are The Best 10 Tours To Take In Osaka In 2022
2
Indulge In Thrills At Universal Studios Japan
Roméo A. on Unsplash"">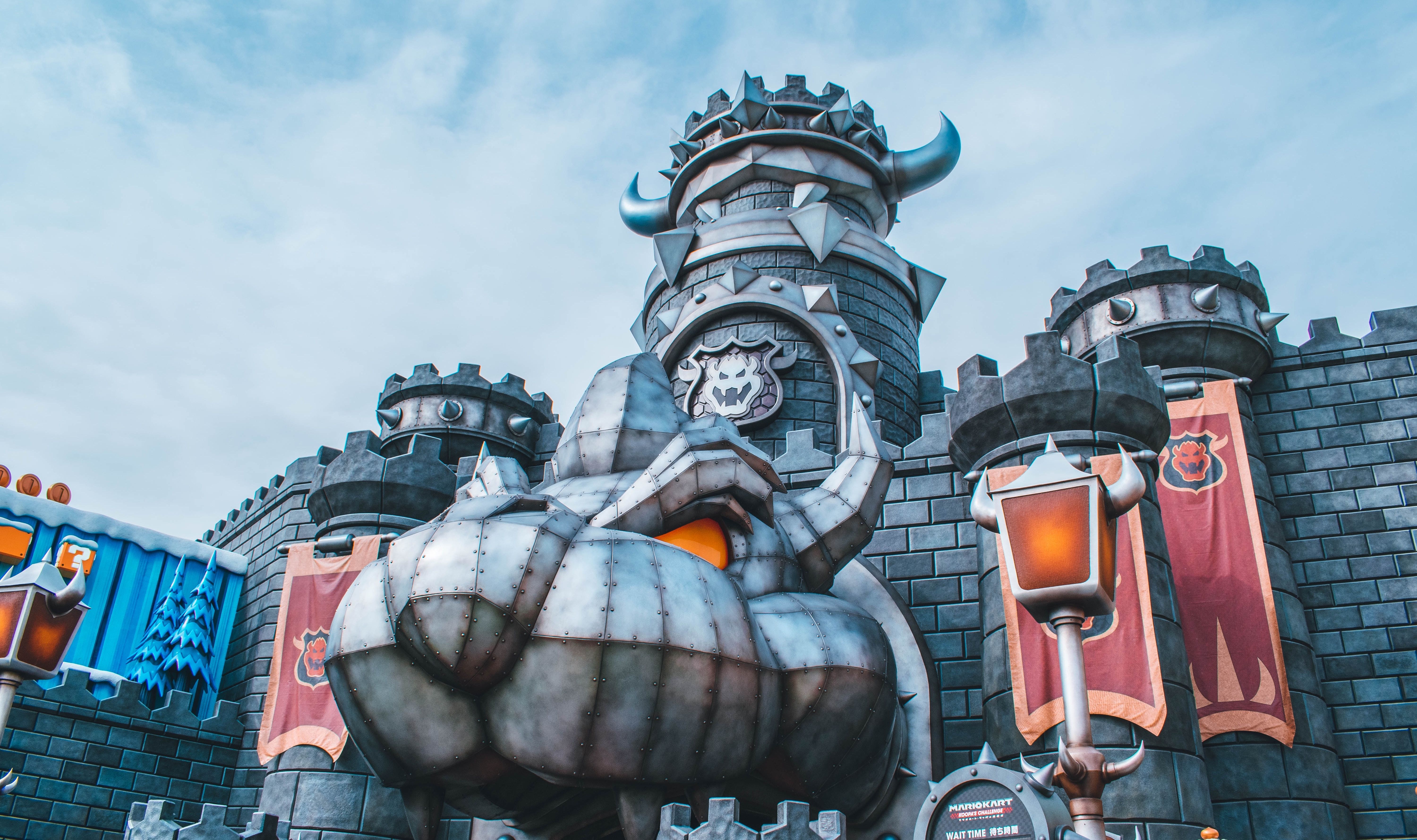 Nintendo World at Universal Studios Japan in Osaka
Universal Studios Japan is the perfect destination for those seeking heart-thumping adventures and out-of-this-world entertainment. With an array of themed attractions, this theme park is perfect for a day of fun, laughter, and excitement.
Travelers can explore the Wizarding World of Harry Potter, filled with magical potions, Hogwarts Castle, and the Forbidden Journey. Take a ride through Jurassic Park, encounter life-sized raptors, and scream on the way down from the epic drops.
Visitors can also immerse themselves in the dynamic world of action-packed movies with life-size installations like Spider-Man and Transformers or hop on over to Super Nintendo World and enjoy a quick game of life-sized Mario Kart fueled by augmented reality.
Related: A Guide To Everything Worth Experiencing At Universal Studios Japan
With various unique park sections full of thrilling rides, attractions, and live shows, Universal Studios Japan is a one-stop shop for a thrill-packed extravaganza.
Address:
2 Chome-1-33 Sakurajima, Konohana Ward, Osaka, 554-0031, Japan

Hours:
Opening hours vary but usually range from about 8 to 9 am until about 7 pm; check the website for accurate hours

Tickets:
Purchase tickets online in advance or at the gate; one-day studio pass adult tickets cost ¥8,600 (about $63.35 USD)
3
Explore Sea Life At The Osaka Aquarium
Björn on Unsplash"">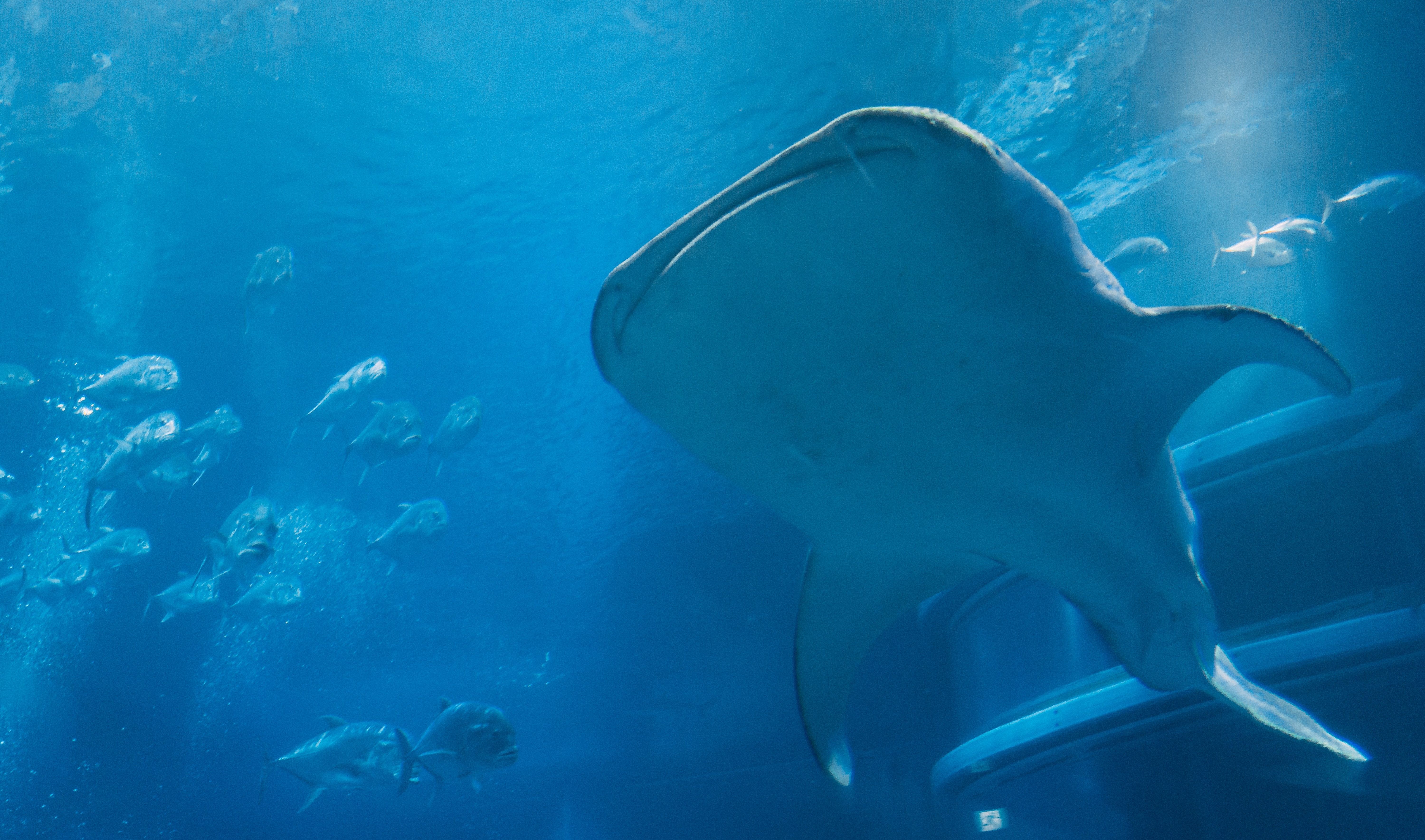 A shark cuts through the water at the Osaka Aquarium in Osaka, Japan
Travelers looking for an unforgettable aquatic experience must visit the Osaka Aquarium Kaiyukan. Known for its massive water tanks that house over 30,000 creatures representing at least 620 species, it's one of the world's most impressive aquariums.
The highlight of the aquarium is the Pacific Ocean tank, which holds an immense representation of the Pacific Ocean's marine life. The aquarium is divided into several sections, from the Arctic region to the tropical rainforest, each with its unique sea creatures.
Visitors can see creatures such as a giant crab, a whale shark, and various playful dolphins (among other sea life), making Osaka Aquarium an extraordinary place to explore the underwater world.
Address:
1 Chome-1-10 Kaigandori, Minato Ward, Osaka, 552-0022, Japan

Hours:
Monday to Friday from 10 am to 8 pm; Saturday and Sunday from 9:30 am to 8 pm

Tickets:
Travelers can purchase Osaka Aquarium tickets online in advance; tickets start at ¥2,700 (just under $20 USD)
Arrive after 5 pm to enjoy a nighttime experience when the aquarium changes the music, and the fish begin to swim under artificial moonlight.
4
Marvel At The History Of The Osaka Castle
Shai Pal on Unsplash"">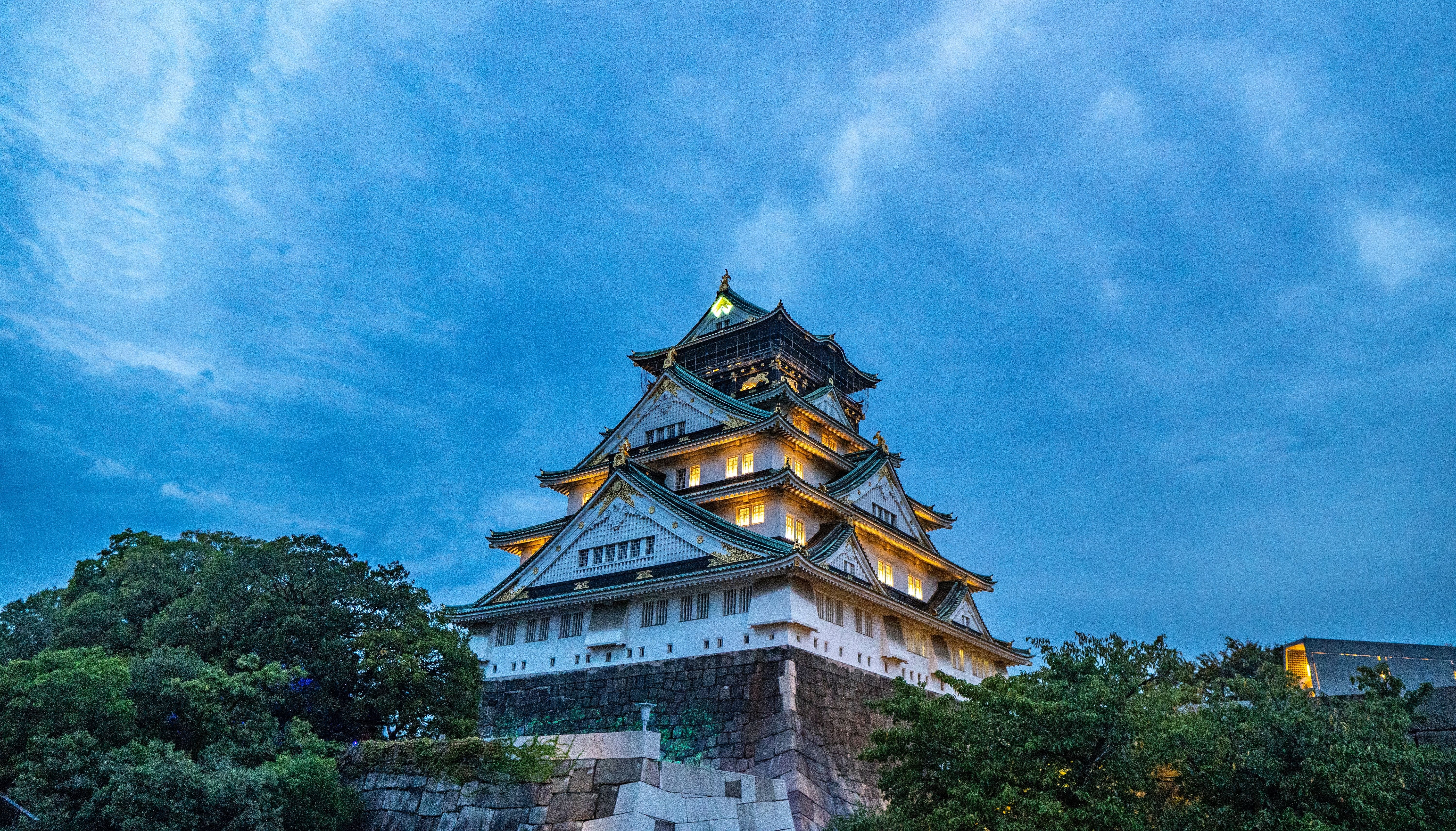 The Osaka Castle in Osaka, Japan
Nestled in the heart of Osaka sits the majestic and iconic Osaka Castle. Built in the mid-16th century by Hideyoshi Toyotomi (also known as Japan's Napoleon), this castle symbolizes power, prestige, and resilience for generations.
Its elegant architecture and breathtaking beauty affirm its status as a national treasure, and visiting this grand structure will transport travelers to another era altogether.
Visitors can take a stroll through the castle's meticulously preserved gardens, admire the stunning view of the city from the uppermost floors (there are eight in total), or explore the castle museum to gain a deeper understanding of Osaka's rich history.
Address:
1-1 Osakajo, Chuo Ward, Osaka, 540-0002, Japan

Hours:
Daily from 9 am to 5 pm

Tickets:
¥ 600 for adults; free for children 15 and under

Getting There:
The Osaka Castle is accessible by the Tanimachi, Chuo, and Nagahori Tsurumi-ryokuchi metro lines as well as the Osaka Loop line and Tozai line of the JR train system
The Osaka Castle is surrounded by over 260 acres of lush greenery, making it the perfect respite from the hustle and bustle of the city.
5
Snap Photos At The Kuchu Teien Observatory
Clark Gu on Unsplash"">
The Kuchu Teien Observatory in Osaka, Japan
For incredible panoramic views of Osaka's vast skyline, the Kuchu Teien Observatory, situated atop the Umeda Sky Building, offers an unparalleled experience. This landmark building is 173 meters high and is widely considered one of Japan's most remarkable architectural feats.
Visitors can take a quick ride on the express elevator and enjoy a stunning 360° bird's eye view of the bustling city from the open-air deck at the observatory, aptly called "Kuchu Teien" because it means "The Floating Garden" in Japanese.
Address:
Japan, 〒531-6039 Osaka, Kita Ward, Oyodonaka, 1 Chome−1−88 梅田スカイビル

Hours:
Daily from 9:30 am to 10:30 pm (the last entry to the observatory deck is at 10 pm)

Tickets:
Visitors can purchase tickets to the Kuchu Teien Observatory online; the cost is ¥1,500 for adults and ¥700 for children ages 4 to 12
There are discounts for people with disabilities, and visitors can also enjoy reduced ticket prices by purchasing a Koji Kinutani Tenku Art Museum ticket set with entry to the observatory.
6
Sample Osaka Street Food At Kuromon Market
Food stalls at the Kuromon Market in Osaka, Japan
No visit to Osaka is complete without a trip to the city's culinary heart, the Kuromon Market. This bustling hub is home to over 150 food stalls and vendors, each offering delectable bites that are guaranteed to tantalize taste buds.
From fresh seafood to juicy wagyu beef skewers, crispy Takoyaki to mouth-watering Okonomiyaki, Kuromon Market has it all.
A street vendor named Tomekichi Endo created Takoyaki in Osaka in the 1930s.
One of the most popular food items in the market is tuna sashimi, which is sourced fresh from nearby ports and served sashimi-style, with a side of wasabi, soy sauce, and pickled ginger. Another must-try is the oden, a traditional Japanese dish made of various ingredients simmered in savory dashi broth, such as daikon radish, fish cakes, and boiled eggs.
Food-focused travelers strolling through the market should keep their eyes peeled for the giant Hokkaido scallops, the plump, juicy strawberries, and the huge chunks of fatty, marbled beef that are grilled to perfection on the spot.
Address:
2 Chome Nipponbashi, Chuo Ward, Osaka, 542-0073, Japan

Hours:
Opening hours vary depending on the stall, but generally from 8 am to 6 pm
7
Enjoy The Bright Lights Of Minami
Miram Oh on Unsplash"">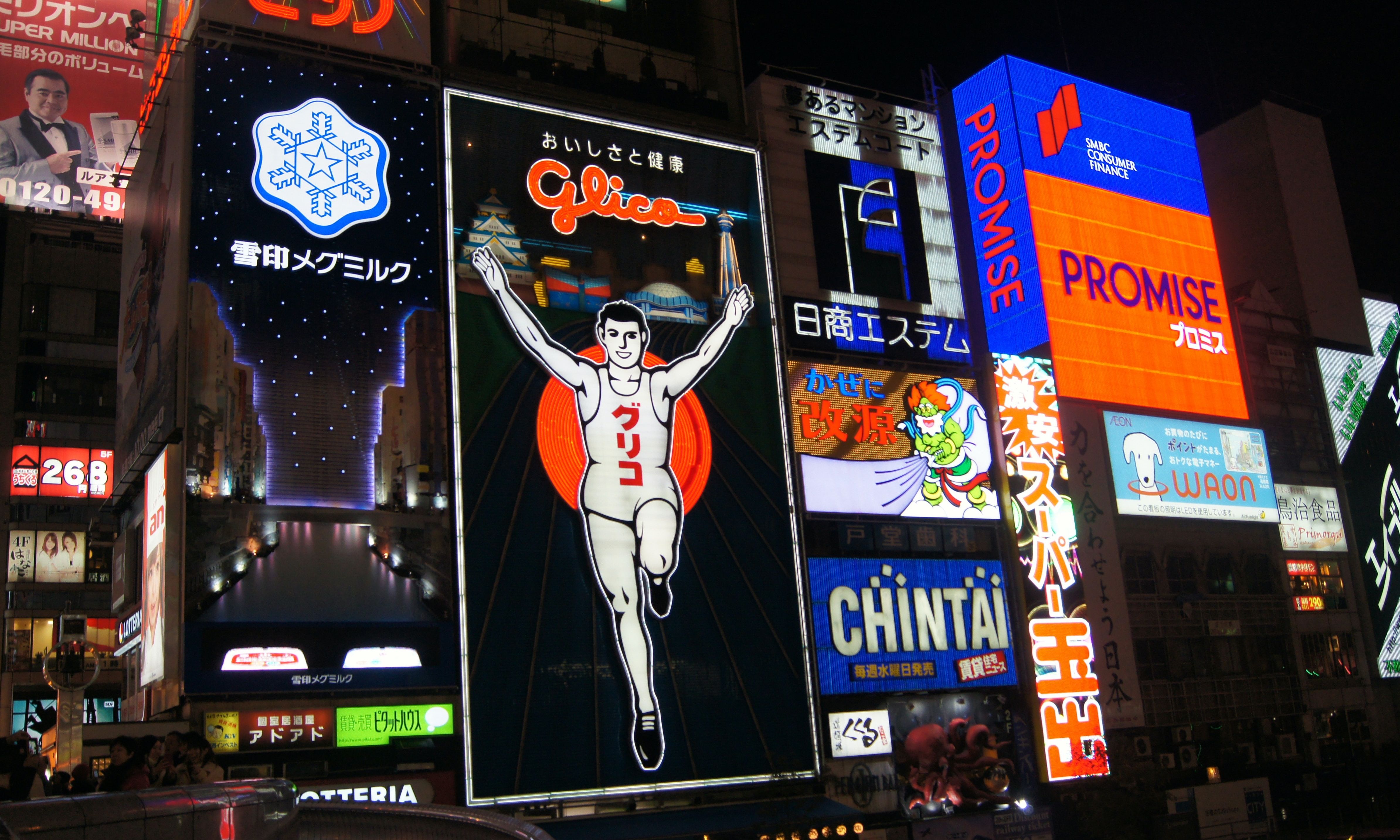 The Minami District in Osaka, Japan at night
The Minami district of Osaka is an energetic and exciting place to explore after dark. Known as the city's entertainment hub (it's super close to the Dotonbori district mentioned above), Minami offers a plethora of activities that cater to a diverse range of interests.
As visitors stroll along the neon-lit streets, they will find themselves surrounded by theaters, arcades, and karaoke rooms.
Visitors will find the old neighborhood of Shinsekai tucked away in Minami. It was built in 1912, with the southern half of the neighborhood modeled after New York and the northern half after Paris.
The area is also known for its delicious street food, with Takoyaki balls and Okonomiyaki pancakes the perfect snack to fuel a night of exploration. Alternatively, catch a traditional theatre performance at the Shochikuza Theatre or simply enjoy the lively atmosphere outdoors if the weather's nice.
8
Participate In A Japanese Tea Ceremony
Motoki Tonn on Unsplash"">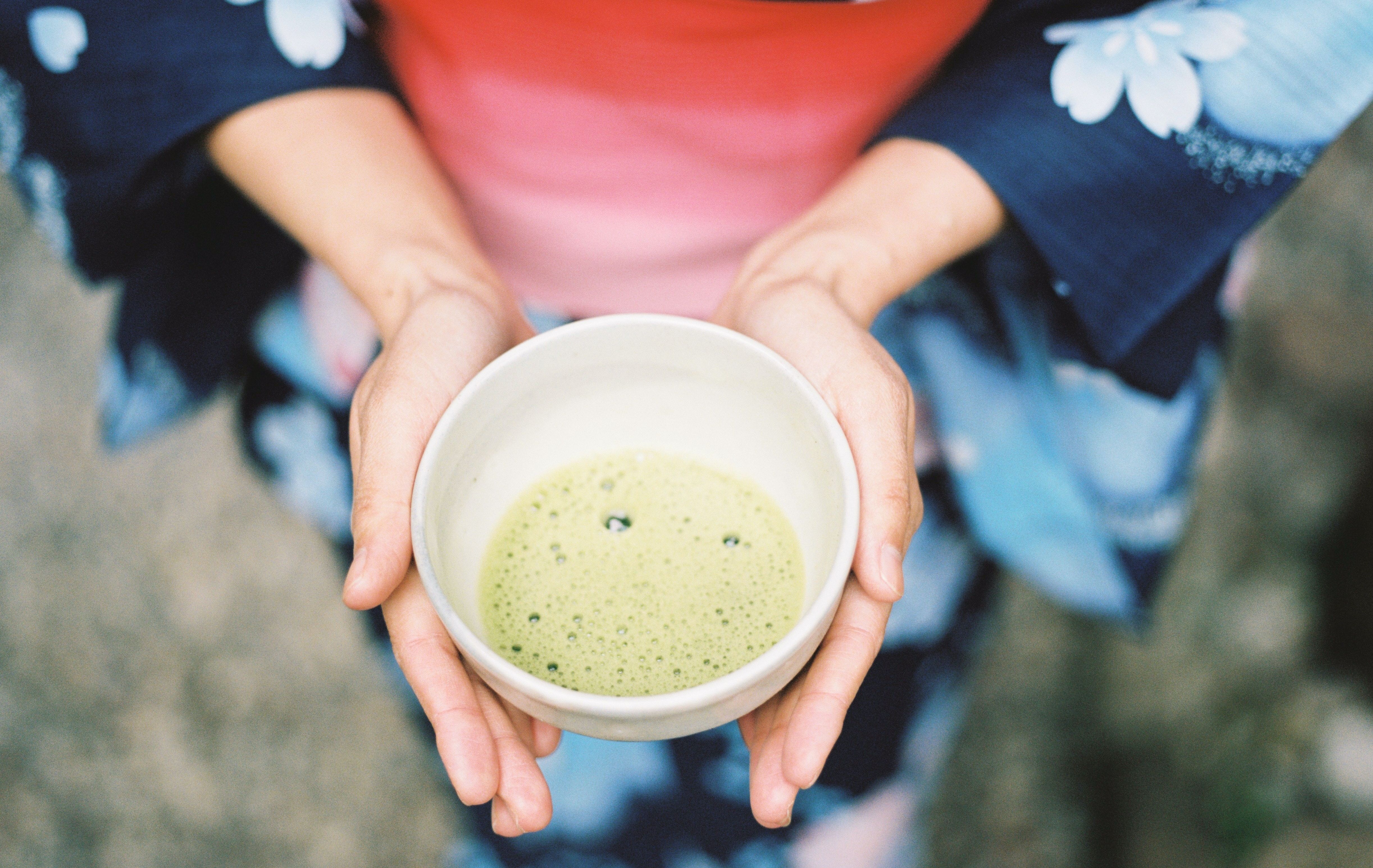 A woman holding tea during a Japanese tea ceremony in Japan
Ready to take a break from the hustle and bustle of Osaka's busy streets? Enjoy the serene atmosphere of a traditional Japanese tea ceremony.
Originating centuries ago, the tea ceremony, or "chanoyu," is a cultural activity that aims to bring harmony to the mind, body, and spirit through the appreciation of finely prepared tea served in a tranquil setting.
In Osaka, there are several places to experience a traditional tea ceremony, including the Urasenke Tea Ceremony, one of Japan's oldest and most respected tea schools, in the neighboring city of Kyoto.
The Kimono Tea Ceremony, held at Maikoya in Osaka, is another popular choice, held at Maikoya, and teaches guests about the rich history of the unique tradition.
9
Explore The Historic Shitennoji Temple
Yuta Koike on Unsplash"">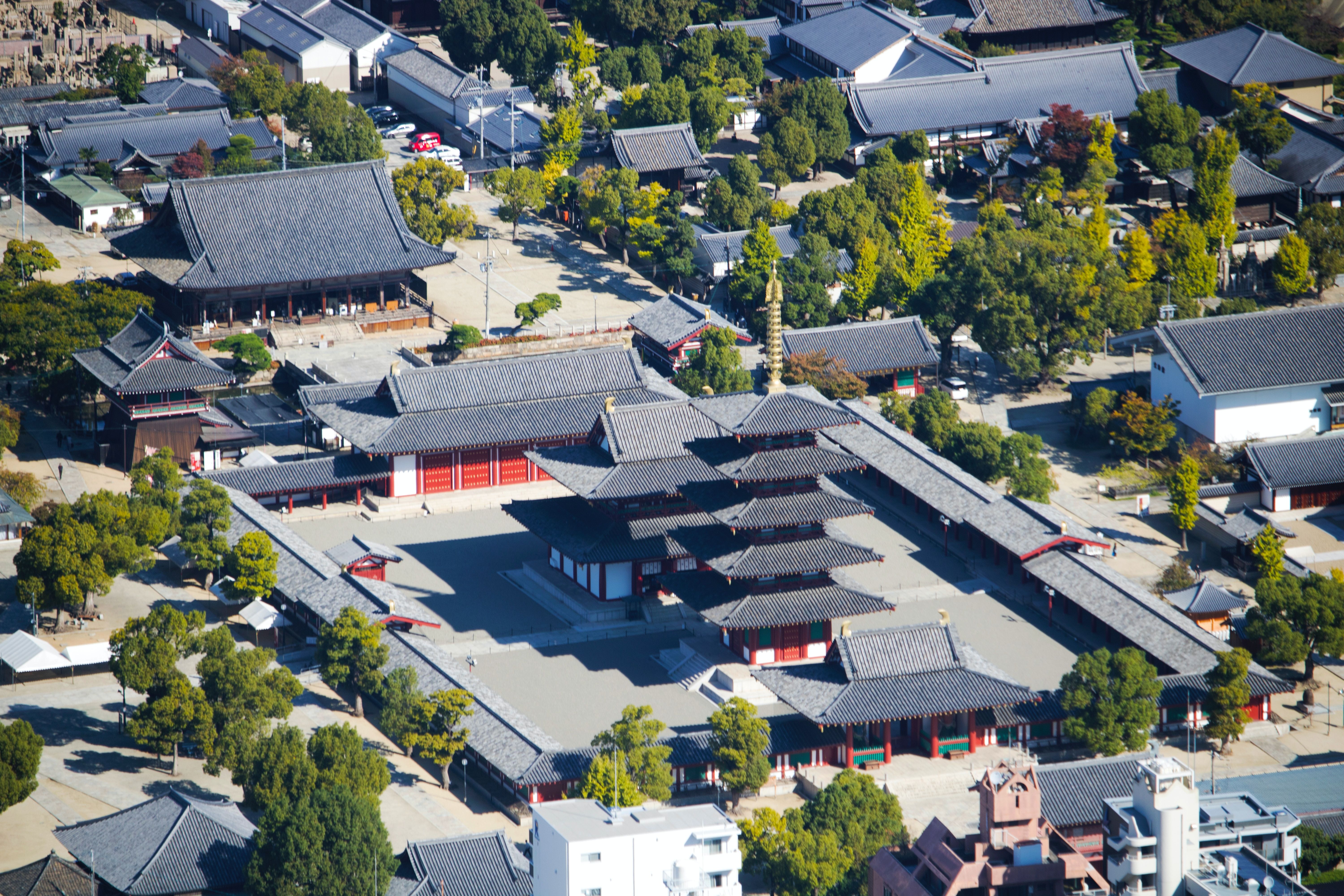 An aerial view of the Shitennoji Temple in Osaka, Japan
Built in 593 AD, the Shitennoji Temple is the first Buddhist temple to be established in Japan. This ancient temple was originally constructed by Prince Shotoku, known as the father of Japanese Buddhism. The temple grounds are home to numerous historic structures, including a five-story pagoda, a main hall, and a treasure house.
Visitors can explore the temple's peaceful gardens (for free), which are adorned with cherry blossom trees and traditional Japanese architecture. There is a fee for entering the Gokuraku-jodo Garden, or treasure house, there is a fee.
However, inside, there is a stunning five-storied pagoda located in the pebble-covered courtyard. Visitors can also check out the Main Hall (called Kondo), which enshrines Prince Shotoku as a statue of Kannon.
Don't miss the opportunity to experience a Buddhist ceremony, which is held six times daily at the Rokujido.
Address:
1 Chome-11-18 Shitennoji, Tennoji Ward, Osaka, 543-0051, Japan

Hours:
Daily from 8 am to 4 pm

Tickets:
Guests are required to purchase a separate entry ticket for each area; ticket prices vary depending on age but start at ¥100 (about $.74 USD)
10
Visit The Mozu Tombs
Nakaharu Line on Unsplash"">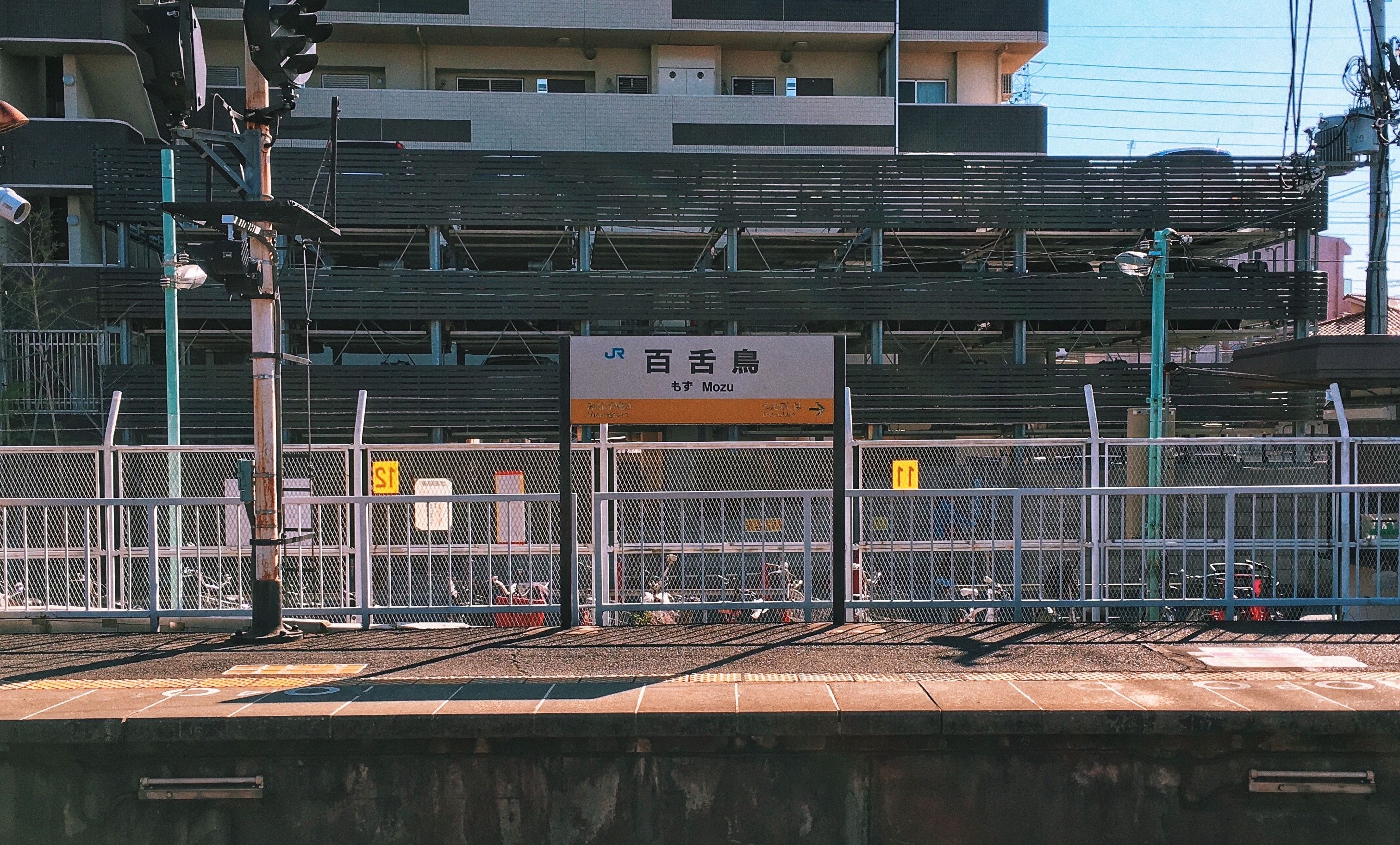 The Mozu Station near the Mozu Tombs in Osaka, Japan
The Mozu Tombs are a must-visit for history buffs and archeology enthusiasts alike. Located in Sakai City, just south of Osaka, these ancient burial mounds date as far back as the third century and are now considered a UNESCO World Heritage Site.
Consisting of over 100 tombs in total, they are the largest burial mounds constructed in Japan during the Kofun period. Visitors can explore the interior of some of the tombs, which are adorned with clay figures, swords, and other ceremonial objects, via virtual reality at the Sakai City Museum.
At the heart of the Mozu Tombs lies the Daisenryo Kofun, the largest tomb on the site and one of the largest in Japan. Standing at a towering 35 meters high and measuring 486 meters in length, the tomb is a testament to the incredible engineering feats of ancient Japanese civilization.
While it hasn't been proven, the Daisenryo Kofun is thought to house the late Emperor Nintoku.
Address:
Daisencho, Sakai Ward, Sakai, Osaka 590-0035, Japan

Hours:
Open 24 hours

Tickets:
Free admission
11
Best Time To Visit Osaka
Osaka Castle at sunset with Japanese temple cherry blossom trees, sakura season, autumn, Japan
Osaka is best experienced during the spring and fall seasons when the climate is mild, and the city is bustling with festivals and events.
Springtime, from March to May, sees the blooming of cherry blossoms around the city, transforming Osaka into a picturesque canvas of pink and white hues. In the fall, from September to November, the city is a panorama of autumn foliage.
Related: 10 Tips For Chasing Cherry Blossom Season In Japan
12
The Best Way To Get Around Osaka
Ling Tang on Unsplash"">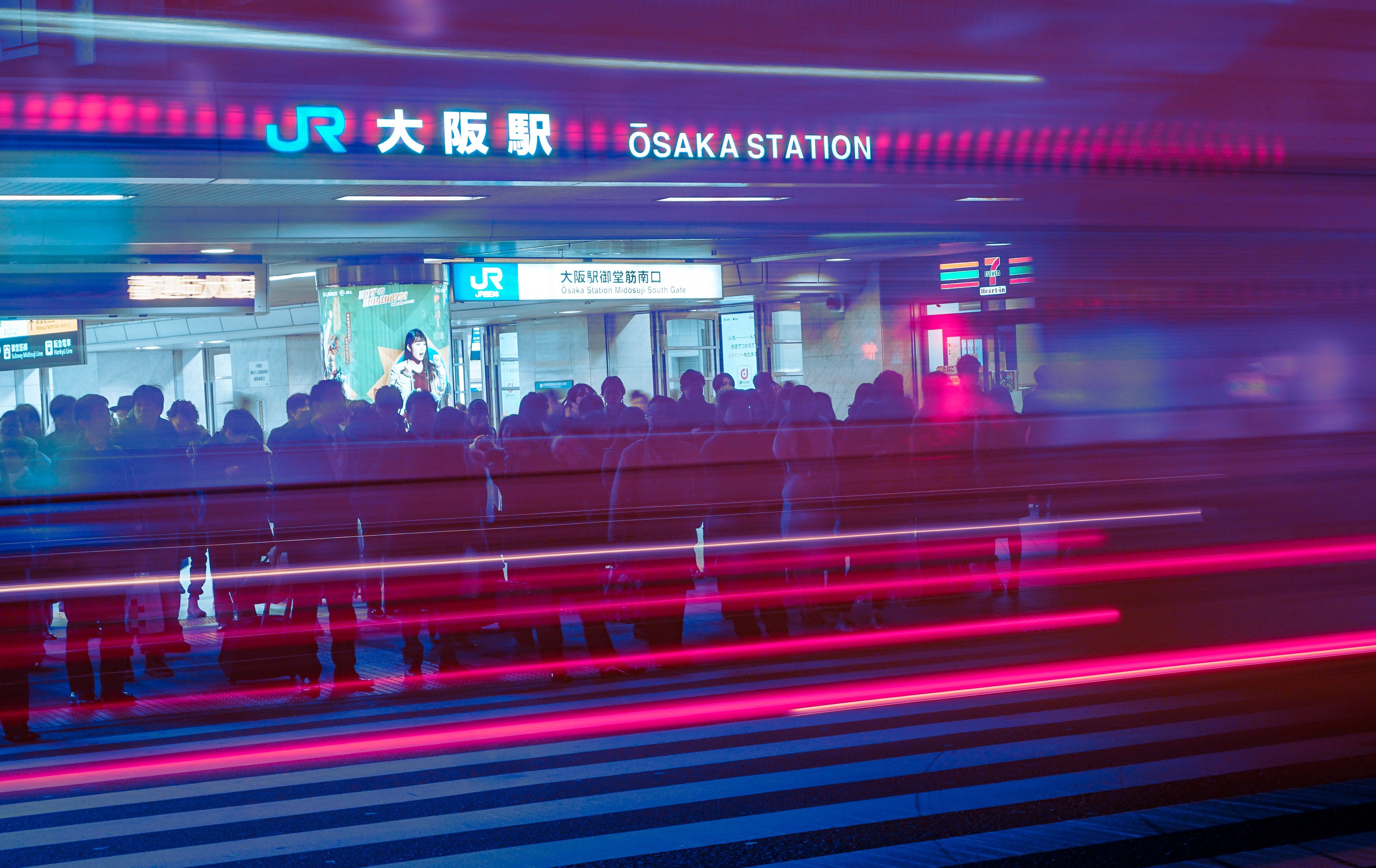 The Osaka Station in Osaka, Japan
With a sprawling cityscape and excellent public transit system, exploring Osaka's eccentric neighborhoods can be both fun and daunting. From riding the modern metro to learning how to get a Japan Rail Pass, find the best way to navigate the city like a local.
Walking
One of the best ways to explore Osaka is by foot. The city is compact and easy to navigate, with charming alleyways and bustling streets that are possible to traverse entirely in a couple of hours.
Wander through the lively neighborhoods of Dotonbori and Shinsekai, discovering endless options for indulging in local street food. Take a leisurely stroll through the peaceful Osaka Castle Park, admiring the blooming cherry blossoms in the spring or vibrant autumn foliage.
With plenty of pedestrian-friendly areas, walking is the perfect way for travelers to immerse themselves in the vibrant energy of Osaka.
Osaka Metro
Osaka boasts a comprehensive public transportation system, with the metro being the best way to get around and see most tourist attractions. In fact, the five main city hubs are conveniently located on the Midosuji subway line:
Shin-Osaka
Kita
Central Osaka (Honmachi)
Minami
Tennoji
Only two tourist centers, Osaka Castle Area and Osaka Bay Area, are off the Midosuji subway line. However, travelers can easily reach the Osaka Castle Area from Kita on the JR Osaka Loop line or from Honmachi via the Chuo subway line.
The Osaka Bay Area is also reachable by the Chuo Line or the JR Yumesaki Line.
Osaka metro fare:
Fares are set according to zones (of which there are five) and start at ¥180 (about $1.33 USD)

Where to purchase tickets:
It's super quick and easy to purchase metro tickets at any automatic ticket station inside the metro stops
A prepaid card, such as Icoca, is the most efficient way to pay for trains and subways when exploring Osaka. Those traveling from Tokyo with a Suica or Pasmo card from Tokyo can also use those cards on Osaka public transportation (and the rest of Kansai).
Travelers should remember to keep track of their tickets. They'll be required to insert them into the ticketing machine when exiting the metro at their destination.
JR Trains
Travelers planning to visit other cities outside of Osaka should purchase a Japan Rail Pass, which is only available to foreign tourists. These passes allow unlimited access to the JR train network, including the Shinkansen bullet trains, local train lines, and JR bus services.
With a variety of pass options available, visitors can easily explore all that Osaka has to offer.
Cost of 7-Day Pass:
¥33,610 (about $247.60 USD)

Cost of 14-Day Pass:
¥52,960 (about $390.14 USD)

Cost of 21-Day Pass:
¥66,200 (about $487.68 USD)
With a JR Pass, visitors can easily navigate Osaka's extensive rail network, from the bustling Umeda district to the charming neighborhoods of Tennoji and Shinsaibashi.
Plus, the pass can also be used for day trips to nearby cities like Kyoto and Kobe, making it a versatile and cost-effective option for those looking to fully explore the Kansai region and beyond.
Related: Everything You Should Know About Using A Japan Rail Pass
City Buses
While most travelers will find the metro and rail system to be efficient and convenient enough for short-term visits, Osaka city buses also offer a convenient and affordable option for discovering the metropolis. The buses operate on a fixed-fare system and offer various route options.
Adult bus fare:
¥210 ($1.55 USD)

Child bus fare:
¥110 ($.81 USD)
Consider Japanese bus etiquette before getting on a bus in Osaka. For example, riders pay for their fare when exiting the bus in Osaka. It's also important to note that riders board in the middle of the bus, not in the front, as is the case in most Western countries.
The best way to pay for an Osaka bus fare is with an Icoca, Pasmo, or Suica prepaid card.
13
Where To Eat In Osaka
Crystal Jo on Unsplash"">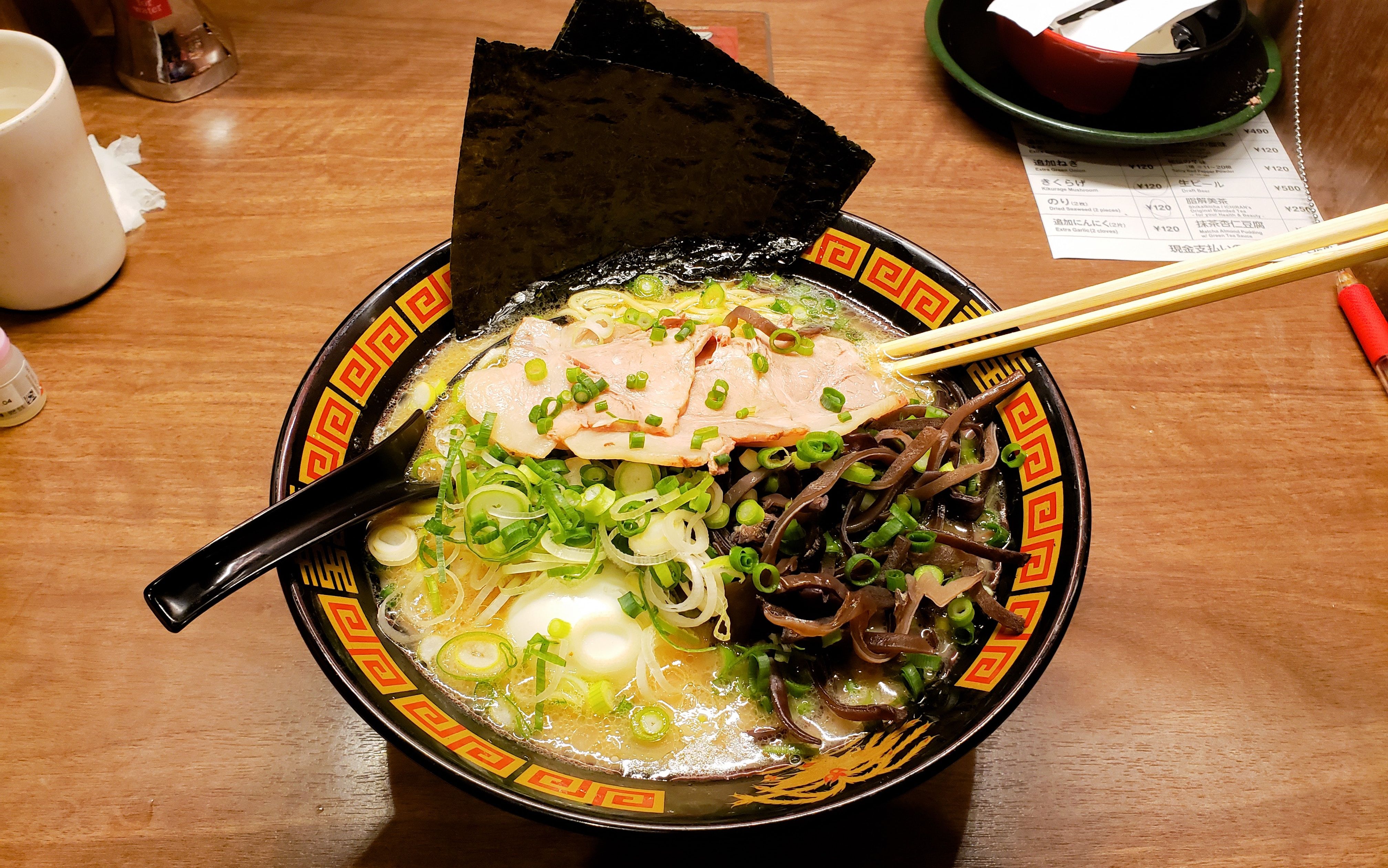 A bowl of Ichiran Ramen in Osaka, Japan
Known as Japan's street food capital, Osaka is a culinary haven that boasts diverse and mouth-watering cuisines. Experience the city's delicious offerings at every corner at one of the best places to eat in Osaka below.
Related: Japanese Food Etiquette: The Dos And Don'ts Of Dining In Japan
Breakfast
Address:
Japan, 〒545-0052 Osaka, Abeno Ward, Abenosuji, 1 Chome−6−1 あべのキューズモール地下1階

Hours:
Daily from 10 am to 9 pm

Recommended:
Don't leave without ordering their incredibly fluffy pancakes; the Eggs Benedict is a great option, though, for those craving a savory breakfast in lieu of something sweet
Address:
1F Sanei Moor Building 3丁目 8 7 8, 8 Minamisenba, Chuo Ward, Osaka, 542-0081, Japan

Hours:
Daily from 9 am to 1 pm

Recommended:
Travelers swear this place serves the absolute best coffee in Osaka (the joint is run by an Australian, so it's worth sampling their flat white), with other favorites including the muesli and avocado smash
Lunch
Address:
1 Chome-6-12 Kitahorie, Nishi Ward, Osaka, 550-0014, Japan

Hours:
Daily from 11:30 am to 10:30 pm

Recommended:
Their 100% additive-free beef comes straight from Hokkaido and is worth sampling in their Deluxe Beef Burger; if it's not too early, pair it with one of their cold beers
Address:
1 Chome-9-20 Sennichimae, Chuo Ward, Osaka, 542-0074, Japan

Hours:
Daily from 4 pm to 12 am

Recommended:
They open later in the afternoon, making this spot great for a late lunch or early sushi dinner; diners recommended ordering the toro and unagi
Dinner
Address:
Japan, 〒542-0083 Osaka, Chuo Ward, Higashishinsaibashi, 1 Chome−13−9 2

Hours:
Daily from 6 pm to 2 am

Recommended:
This is the best spot for plant-based Okonomiyaki in Osaka; the warm, cozy vibes and fun atmosphere are an added plus
Address:
1-1-88, Oyodonaka, Kita-ku, Osaka-shi, Osaka, 531-6023

Hours:
Daily from 5 pm to 10:30 pm

Recommended:
Discover this stylish restaurant on the 39th floor of Osaka's Umeda Sky Building while indulging in great Italian dishes and sweeping city views
Drinks
Dotonbori Riverside Grill Wonder
Address:
Japan, 〒542-0071 Osaka, Chuo Ward, Dotonbori, 1 Chome−1−6 B1 川沿い

Hours:
Daily from 5 pm to 2 am

Recommended:
This riverside bar and grill serves up some stunning views alongside great drinks, like traditional Japanese sake
Address:
Japan, 〒542-0086 Osaka, Chuo Ward, Nishishinsaibashi, 1 Chome−6−17 マリオビル5F

Hours:
Daily from 5 pm to 3 am

Recommended:
Find the hidden entrance near Triangle Park and waltz into an intimate space full of craft cocktails and great vibes (try the wasabi-based cocktail if it's on the menu)
14
Where To Stay In Osaka
Roméo A. on Unsplash"">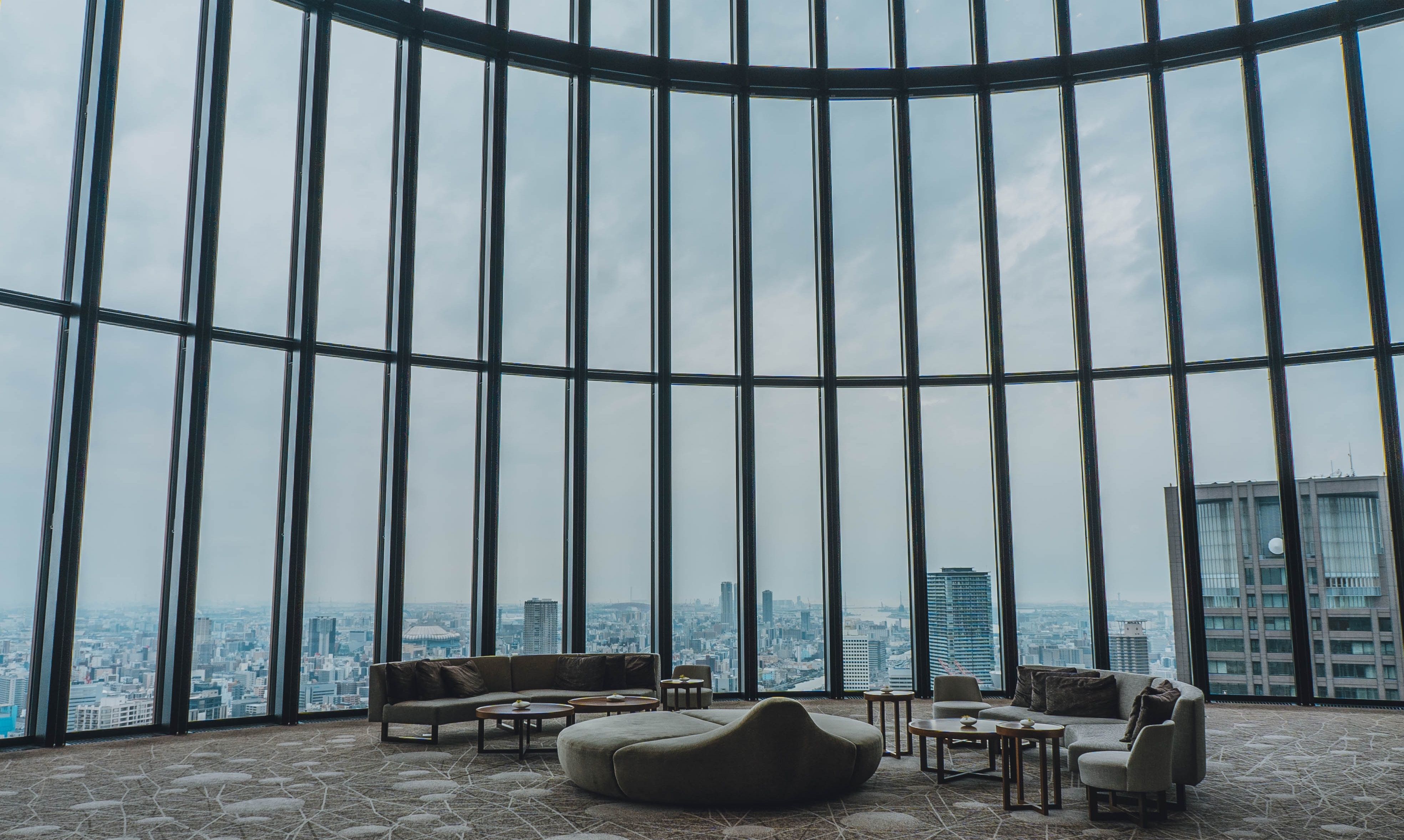 The view from the Conrad Hotel in Osaka, Japan
Osaka is a city that never sleeps, boasting countless options for travelers looking to stay the night. From budget-friendly hostels to luxury hotels offering stunning city views, there is something for everyone in this vibrant metropolis.
Budget-Friendly
Hotel Wing International Premium Osaka-Shinsekai
Address:
3-6-16 Ebisuhigashi, Osaka 556-0002

Amenities:
24-hour reception, air conditioning, in-room TV, refrigerator, shampoo and pajamas, garden views

Cost based on double occupancy:
$54/night
Mid-Level
Address:
2-Chome-2-15 Minamisenba Chuo Ward, Osaka 542-0081

Amenities:
Free WiFi, flat-screen TVs, free toiletries, pajamas, air conditioning, parking, bathtubs, feather pillows, a four-minute walk from Nagahoribashi Station

Cost based on double occupancy:
$153/night
Luxury
Address:
Nakanoshima 3-2-4, Kita-ku, Osaka 530-0005

Amenities:
Indoor pool, fitness center, bar and lounge, spa and wellness center, coffee machine, pajamas, free toiletries, near monuments, sweeping views

Cost based on double occupancy:
$479/night
15
How To Spend The Perfect Day In Osaka
Nomadic Julien on Unsplash"">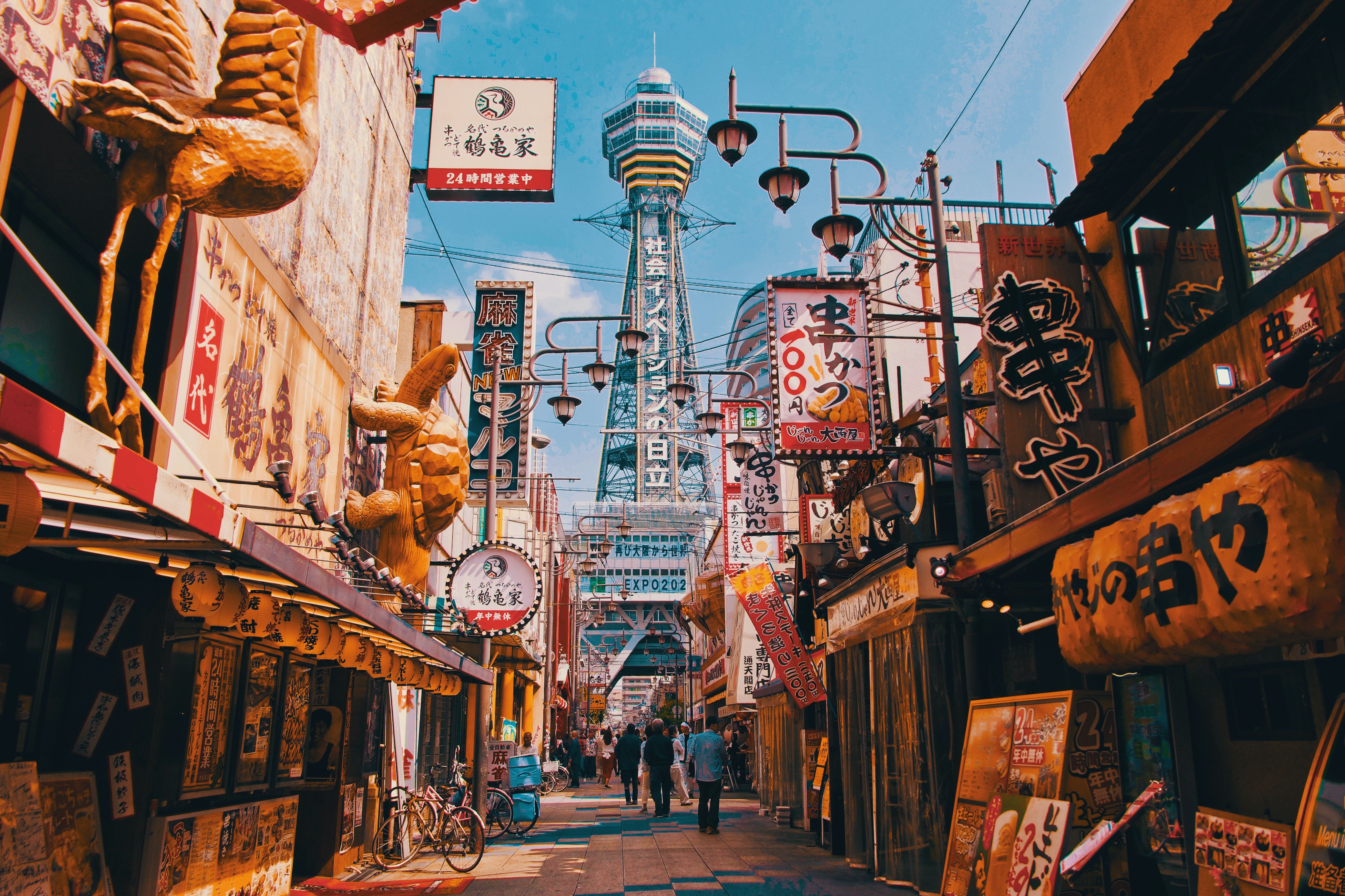 A street in Osaka, Japan
Osaka is a city that never sleeps, filled with delicious food, breathtaking sights, and exciting things to do. Travelers with just one day to spend in Osaka need not worry — with this travel guide, it's possible to discover the magic of Osaka and turn just one day into an unforgettable experience.
Start the day right with a delicious breakfast at a local café or bakery. Indulge in a traditional Japanese breakfast of miso soup, rice, and natto, or opt for a Western breakfast at one of the city's modern cafés, like Melbourne Coffee, to enjoy a flat white and some granola.
After breakfast, hop on the well-connected metro system and head to Osaka Castle, one of the city's most famous landmarks. Explore the castle's inner courtyard and gardens, and climb to the top for a stunning panoramic view of the city.
For lunch, head to Dotonbori, where there are a wide variety of street food vendors and local restaurants. Try some Takoyaki, a popular Osaka specialty made with octopus and dough balls. Then, walk off lunch by exploring the shopping streets of Shinsaibashi.
In the afternoon, take a stroll in Nakanoshima Park, located in the heart of the city. The sprawling greenery and seasonal trees create a serene and peaceful atmosphere. Culture-hungry visitors can also visit the Osaka Museum of History to learn about Osaka's rich history.
As the sun sets, head to Shinsekai, a lively neighborhood known for its colorful neon signs and delicious street food. Here, travelers can experience Osaka's nightlife and enjoy some Kushikatsu before wandering in and out of one of the area's many karaoke bars.
End the day at a rooftop bar, where travelers can enjoy a drink while taking in the dazzling views of Osaka at night. Sure, by the end of the day, travelers might not have seen everything Osaka has to offer, but they've certainly captured the essence of this unique and vibrant city.
FAQ
Q: What is Osaka best known for?
Known as the nation's kitchen, Osaka is famous for its delicious cuisine, including tasty street food, traditional dishes, and Michelin-starred restaurants.
The city is also home to many exciting festivals, including the lively Tenjin Matsuri Festival and the Osaka Castle Illuminage, while the Dotonbori district offers a bustling nightlife, neon lights, and mouth-watering classic Japanese dishes.
Q: Is Osaka nicer than Tokyo?
Comparing Osaka to Tokyo is like comparing apples to oranges — both are wonderful but different. While Tokyo is known for its modernity and tradition, Osaka is famous for its welcoming locals, delicious food, and unique atmosphere.
Both cities have their charm and are worth including on any serene journey through Japan.
Q: Is three days enough for Osaka?
While visitors could spend weeks exploring this Japanese city, three days in Osaka is the perfect amount of time to discover its unique charm.
However, Osaka is a city brimming with excitement, so travelers interested in immersing themselves in the culture could stay for at least five to seven days to give themselves enough time to really see the city without feeling rushed.