One doesn't have to be Audrey Hepburn or Gregory Peck to dream of the perfect Roman holiday. The Eternal City is widely regarded as an exquisite destination with some of the best travel experiences to offer. Rome is a medley of scenic beauty, historical grandeur, and cosmopolitan urbanity — and one of the greatest ways to fully indulge in the Italian capital's adventures is by giving the holiday a luxurious spin.
While exploring Rome on a budget is quite possible, enjoying the avenues of five-star hospitality that Rome is renowned for ensures a sumptuous vacation consistent with the city's characteristic splendor. At these renowned hotels, one can set up the perfect base from where to tour Rome's best spots or just perfect the Italian spirit of slowing down and enjoying life, one day at a time. Here are 10 luxury hotels in Rome where you can indulge in la dolce vita!
The hotels featured in this article are all based on our recommendations and have been curated after thorough research on luxury stays in Rome's most sought-after travel hotspots. These accommodations enjoy superior reviews from travelers, as well as high ratings of 8.5 and up at the time of publishing. Every stay is designed and well-fitted to the tastes of the luxury traveler seeking world-class amenities, hospitality, and services.
Julius Silver on Pexels"">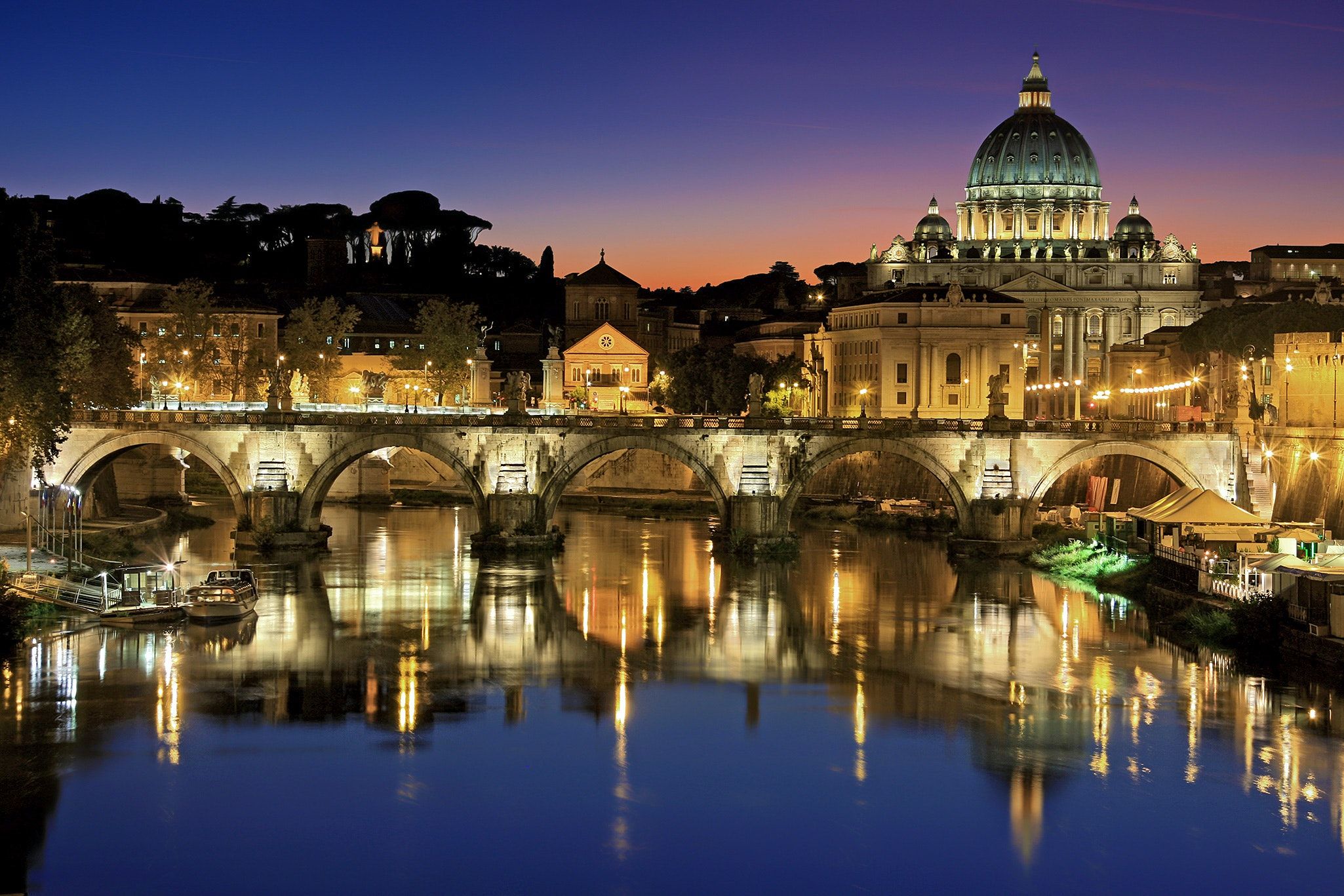 Night landscape in Rome
Luxury living gets a new meaning at Rome's Hotel de Russie, a historic institution that has been around in the Eternal City since the early 20th century. An offering from the esteemed Rocco Forte brand of hospitality, Hotel de Russie is a highly-rated, Michelin-recognized retreat that is said to have offered residency to the high and mighty of the creative world, including Pablo Picasso. It is a stone's throw away from the Spanish Steps, one of Rome's most famous tourist attractions.
Hotel De Russie
Amenities

Indoor pool, hammam, minibar, on-site shops

Price

$$$
Caleb Miller on
Unsplash
"">
Aerial view of the Vatican City, Rome.
The St. Regis Rome always stands a class apart, even in the illustrious company of its fellow luxury hotels in the city. Erected in 1894, the hotel prides itself on being a key part of the Roman legacy and, over the decades, has evolved parallel to the city's metropolitan character while retaining its historical value. The interiors are artful and ornate, just as the global traveler would expect a classy residence to be. Their signature restaurant LUMEN, Cocktails & Cuisine, is unmissable.
The St. Regis Rome
The St. Regis Rome
Hotel Chain

Marriott International

Amenities

Wheelchair accessible, spa, minibar, wedding services

Price

$$$
Related: 10 Top-Rated Churches In Rome Worth Visiting
Aerial view of Rome, Italy at night
Palazzo Manfredi places the traveling visitor in the immediate vicinity of the Colosseum, with a magnificent view of Rome's symbolic monument right up ahead. The quarters are compact and ideally cozy, with an airy aesthetic that exudes sophistication. Although the hotel itself is infused with an artful charm, there is a good chance guests will be compelled to lounge for hours on any of the terrace eateries here, with front-row seats to Rome's ancient history.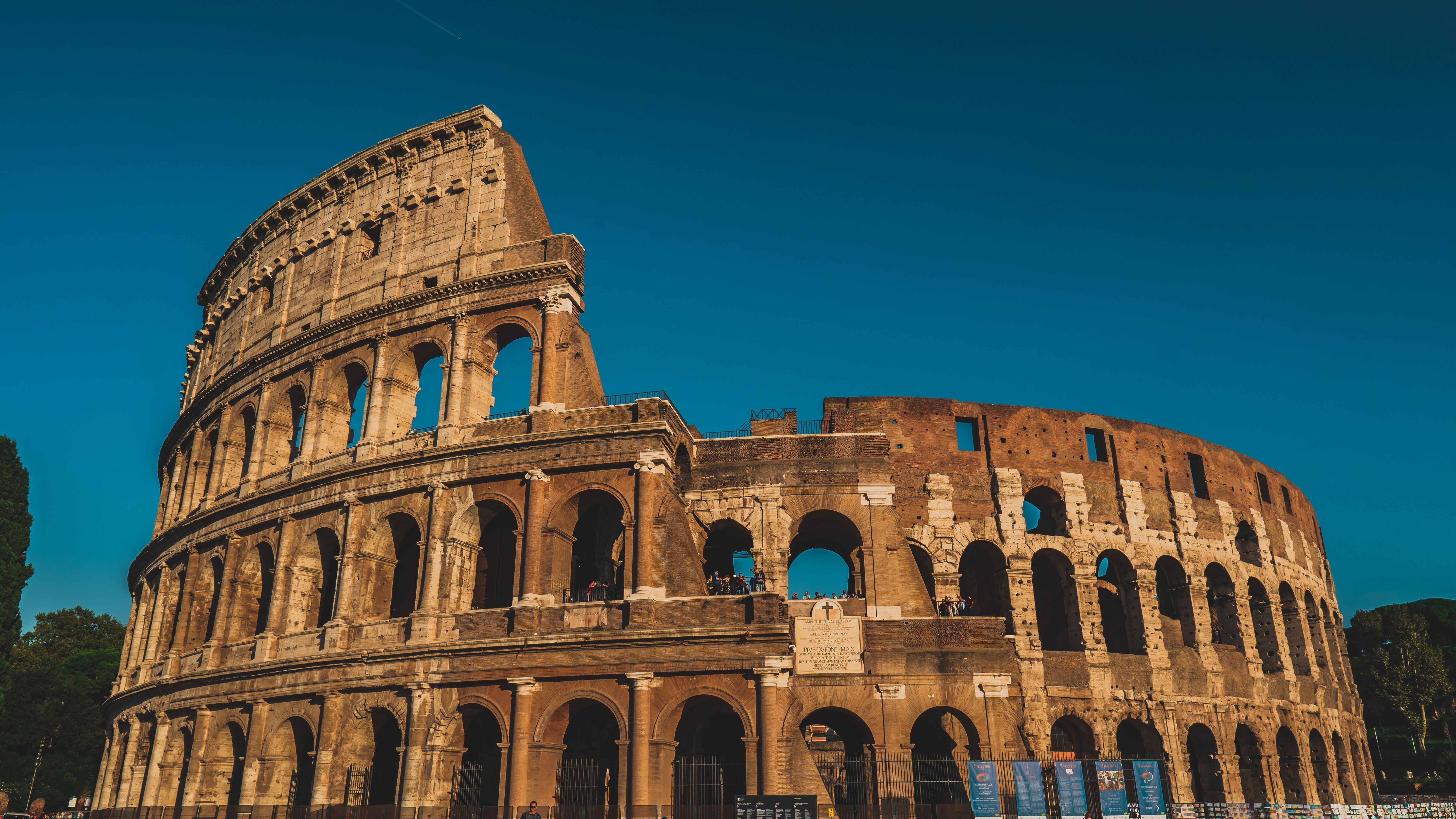 The Colosseum in the city of Rome, Italy is around 1943 years old.
Palazzo Manfredi
Palazzo Manfredi, Rome 
Amenities

Restaurant, wheelchair accessible, cooking classes

Price

$$$
Spanish Steps in Rome, Italy
Ever dreamed of living in the pastel fantasy worlds of Wes Anderson? Those who have need look no further than Villa Agrippina Gran Meliá, an exquisite pink-hued oasis of luxurious relaxation where perfect summers come to life. It is as much a five-star hotel as it is a wellness retreat where guests can switch off from their busy lives and revel in vacation vibes all day long. Travelers especially enjoy the hotel's outdoor pool and the fairytale, cobbled streets of Trastevere nearby.
Spanish Steps in Rome, Italy
Villa Agrippina Gran Meliá
Amenities

Coffee shop, sauna, soundproof rooms, kitchenette

Price

$$
Rome, Italy at sunset in the fall
J.K. Place Roma is a boutique hotel with an urbane feel that makes the wandering tourist feel right at home. Approved by hospitality authorities, including Condé Nast Traveler and Travel+Leisure, the luxury lodgings offer a taste of high-class living with a list of curated city tours and "archeorunning" sessions to give guests an up-close experience of Rome's top tourist attractions. The place also hosts lovely Sunday brunches and picnics for wholesome family holiday moments!
Rome, Italy at sunset in the fall
J.K. Place Roma
J.K. Place Roma 
Hotel Chain

Leading Hotels Of The World

Amenities

Restaurant, valet parking, childcare services, complimentary breakfast

Price

$$
Related: Discover The Ancient Walls Of Rome Still Standing Today
Francesco Maria Achille on
Unsplash
"">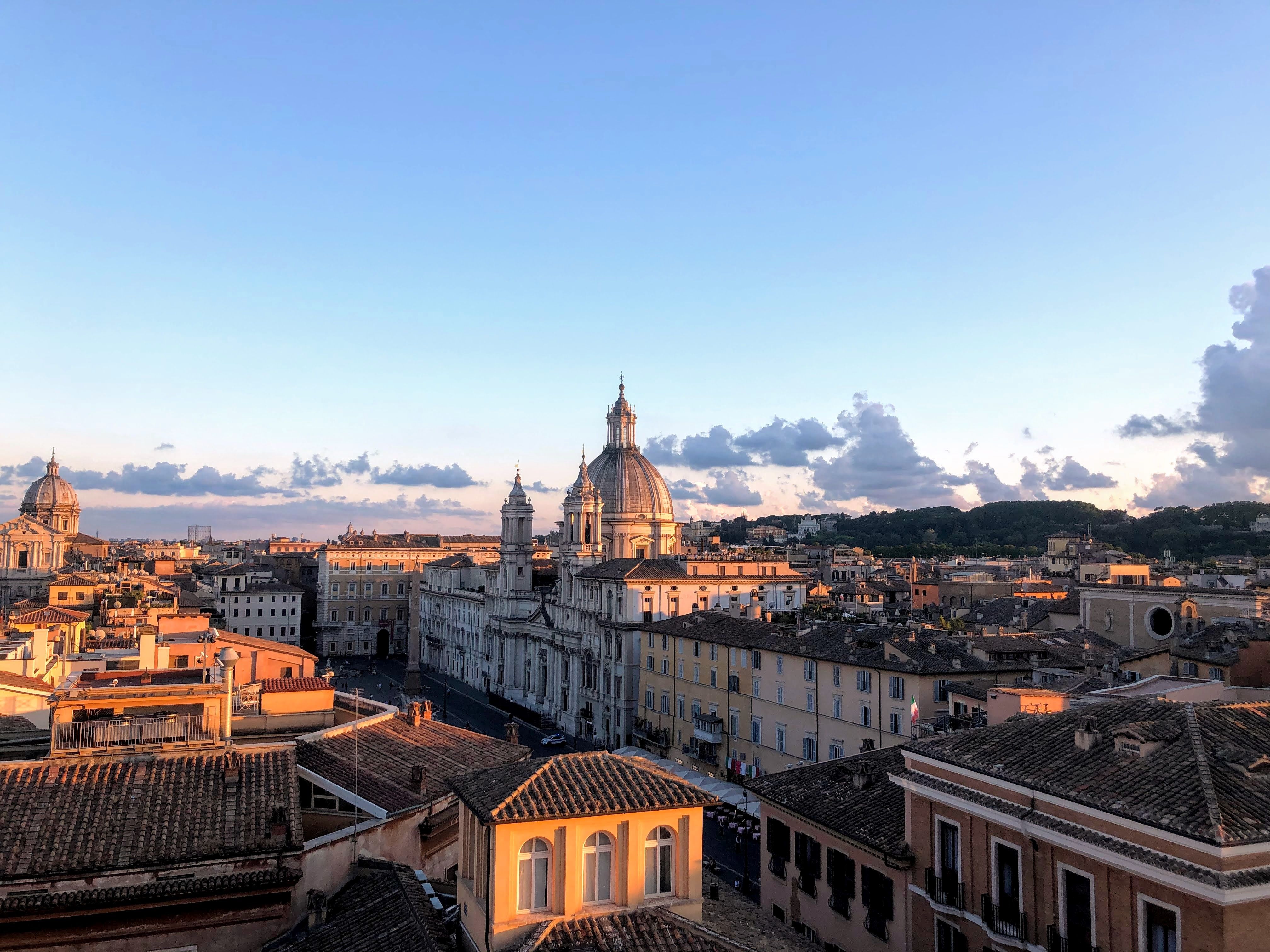 Sant'Apollinare, Rome, Italy
Considering its grand Italian architecture and superlative hospitality, it wouldn't be a reach to say that Anantara Palazzo Naiadi Rome Hotel easily ranks among the best hotels in Rome. As the palazzo in its name suggests, the hotel has an imposing structure that makes it look like a residence fit for royalty. This five-star is the brightest feature of the famous Piazza della Repubblica city square, which is close to popular tourist attractions as well as many of Rome's hidden travel gems.
Anantara Palazzo Naiadi Rome Hotel
Amenities

Outdoor pool, pet-friendly, wedding services, gift shop

Price

$$
Paula Flan from
Pixabay
"">
Street near the Vatican, Rome, Italy
The romantic charm of Hassler Roma is potent enough to transport the passionate traveler back to ancient Rome. Perched atop the historic 18th-century Spanish Steps, the luxury residence boasts not just a prime location but also an ethereal hospitality experience with sprawling penthouse suites and deluxe suites for the ultimate vacation. Its convenient central location makes it easy for the traveler to explore Rome's legendary nightlife scene and tourist hotspots.
Hassler Roma
Hassler Roma, Rome 
Amenities

Spa & massage, minibar, salon

Price

$$$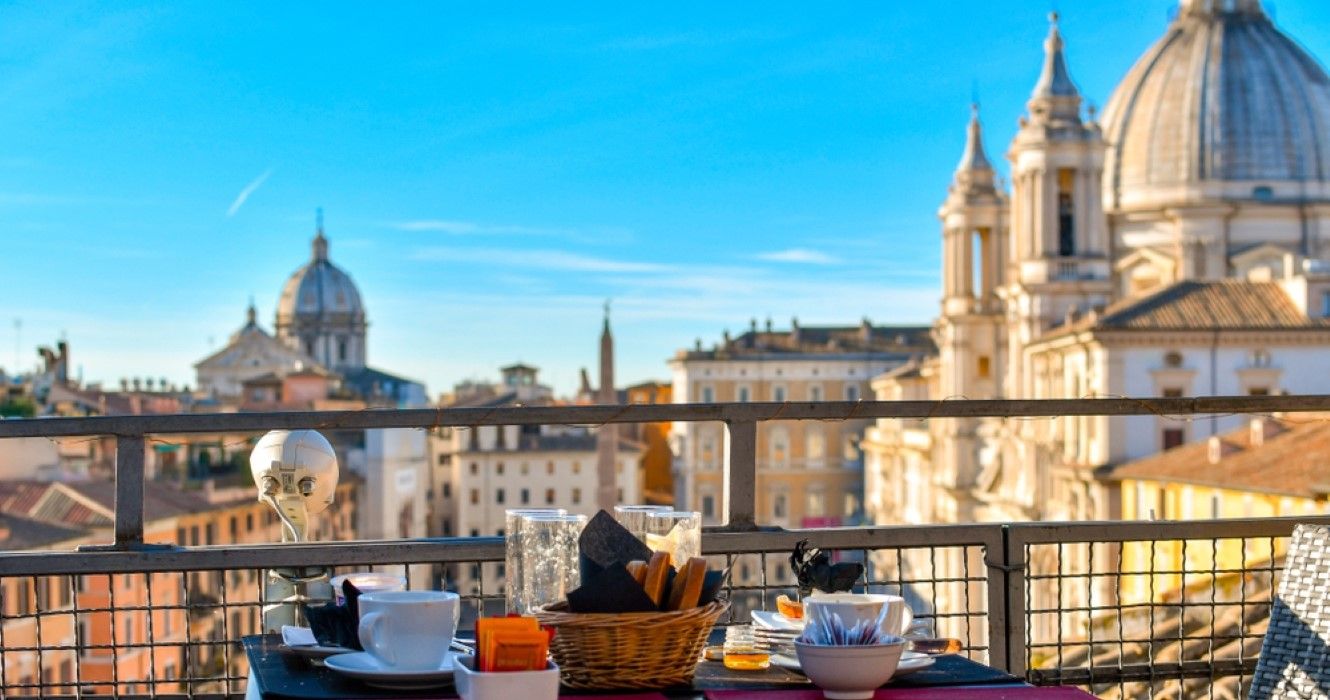 View from a hotel balcony in Rome
A sterling installment under the renowned Waldorf Astoria brand name, Rome Cavalieri has a majestic appeal that is incomparable to any other in all of Rome. Under the opulent roof of this preeminent hotel are a multitude of spacious suites, each more palatial than the last, as well as the standout La Pergola that prides itself on the highest culinary honor of a three-star Michelin status. Rome Cavalieri is a choice favorite among the crème de la crème passing through the Eternal City.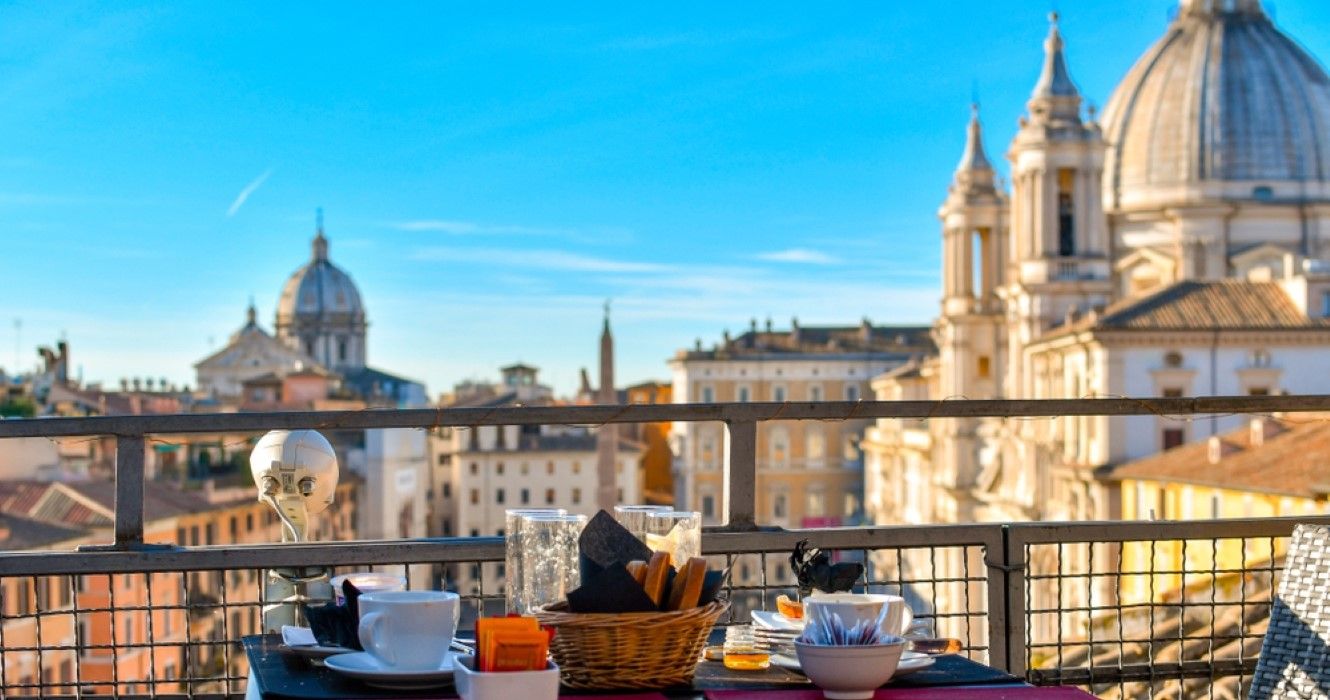 View from a hotel balcony in Rome
Rome Cavalieri
Amenities

Hot spring bath, wellness center, winery, on-site ATM

Price

$$
Related: Visit The Baths Of Diocletian: The Largest Ancient Baths In Rome
Think of Aleph Rome Hotel as a glitzy upgrade of the city's grand historical past, with elements of both the old and new thrown into the mix. The award-winning five-star by Hilton is a remodel of a vintage bank that stood on the spot, where deluxe spas and gastronomic indulgences now stand. Aleph's houses multiple bars, most prominently the Cognac Lounge, where one can mingle with fellow explorers sharing a passion for the better tastes in life.
Aleph Rome Hotel
Amenities

Snack bar, infinity pool, wheelchair accessible, pet-friendly

Price

$$
Live out the ultimate "Roman Holiday" dream at Margutta 19, a luxury hotel standing in the iconic locales of the Italian capital where the 1953 film was actually shot. In keeping with the upscale tenor of the famous Via Margutta streets of Rome, the hotel is steeped in an authentic Italian aura, evident in its gourmet spreads at the EMME Restaurant and old-world charm reminiscent of the bygone era of intellectuals like Federico Fellini and Pablo Picasso, who are said to have lived in the area.
Margutta 19
Amenities

Complimentary breakfast, restaurant, coffee machine

Price

$$