The magical white island of Ibiza in Spain's Balearics attracts visitors from across the globe to indulge in hedonistic nights by the light of the moon and lazy days in the sun. Ibiza is known as party central, but there are more than just nightclubs and beaches in this jewel in the Mediterranean.
Once a relatively unknown hippy paradise, this small island has evolved to become a party island where celebrities rub shoulders with vacationers looking for fun in the sun and an unrivaled party scene.
Eivissa is the island's name in the local dialect Ibicenco, but here's how to pronounce its Spanish name. Always Ib-ee-tha, never Eye-bee-tha or Ib-ee-zza!
Things to Do in Ibiza
In this guide, travelers can find the best places to see, where to stay, and how best to enjoy the unique hospitality of the island of Ibiza.
1
Head To The Club
Photo: Matty Adame on Unsplash"">
Ibiza San Antonio Club
Ibiza's famous party town, San Antonio is the destination of choice for party lovers from around the world boasting some of the hottest party spots in Europe. Its famous nightclubs play host to A-list DJs each attracting thousands of followers fired up ready to party and dance the night away.
Ibiza's nightclubs are like no others, many with fantastic swimming pools, cages, stages, and incredible sound and light systems. It's easy to see why this small island has such a big name in the clubbing world.
Entrance prices vary and discount tickets are often available from PR staff who roam the beaches handing out drink vouchers or other merchandise.
San Antonio's most popular nightclubs include Eden Ibiza, known for its amazing sound system, and Es Paradis, one of the original Ibiza super clubs. Es Paradis is famous for its water parties and features a huge retractable roof.
For people who like to take their party into the day, there are many beach clubs with DJs hosting parties under the sun.
Times:
Nightclubs usually open at 11pm until 6am, clubs sometimes open for early sessions in the afternoon from 4pm.

Cost:
Average entrance price $20 to $30
To keep costs down, look out for PR staff from the nightclubs who offer drinks tickets, and free merchandise.
2
Enjoy A Spa Day
Slow Ibiza on
Unsplash
"">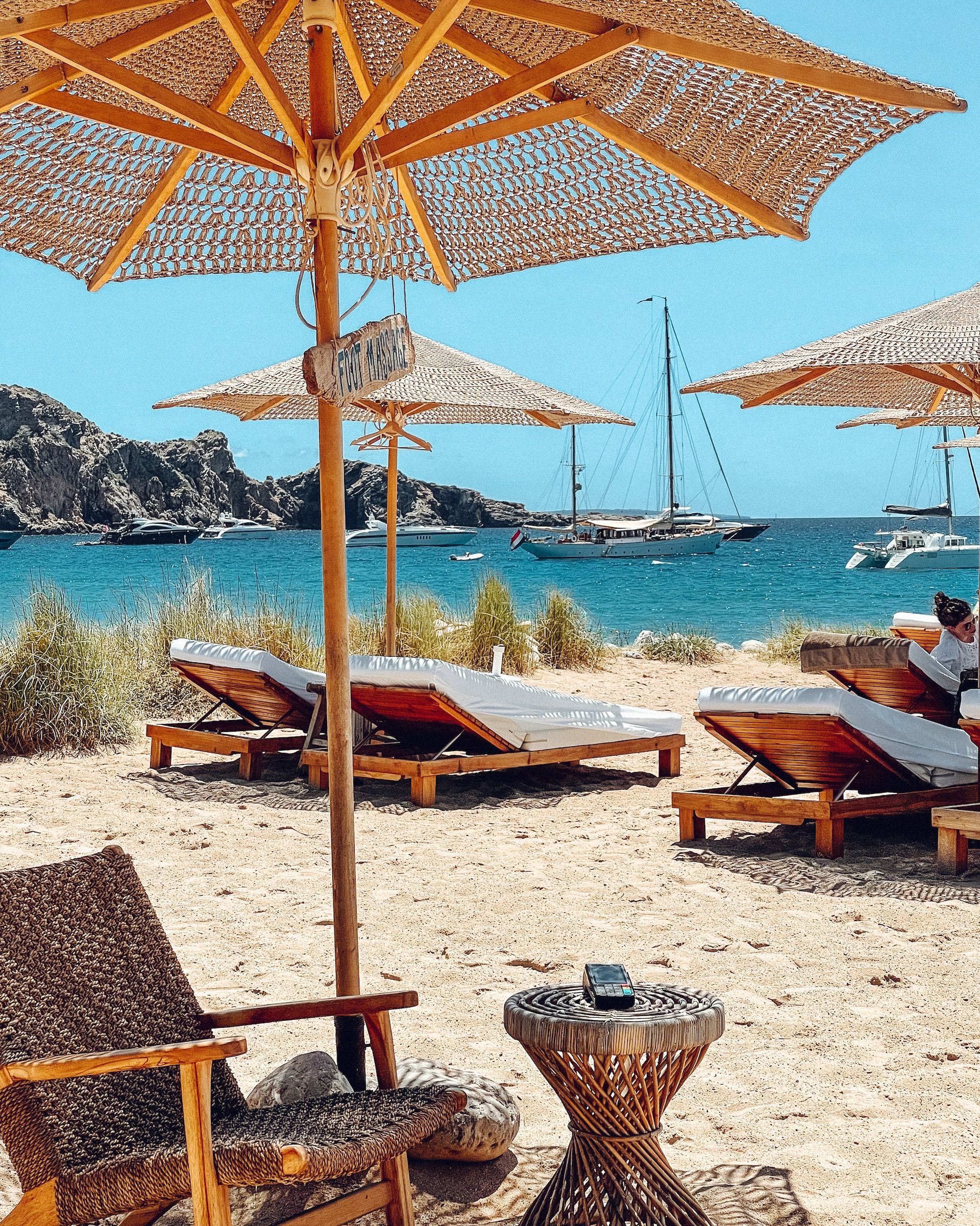 Beach chairs at Restaurant Jondal in Ibiza
Ibiza is famous for its spas, many are residential and include luxury accommodations and meals cooked by top chefs specializing in healthy cuisine.
Most spas offer day passes where visitors can escape the fast pace of the party scene and enjoy a relaxing atmosphere with a choice of massages and a selection of other treatments. Enjoy a yoga session or pick up the pace with an invigorating fitness class.
Dine al fresco in beautiful gardens with birdsong as the soundtrack to the day and finish the experience with a relaxing dip in the pool or indulge in quiet meditation.
Times:
Most Spas have day passes available 10am to 7pm

Cost:
Luxury Spa Days cost from $150
Related: 10 Destinations Around The World To Enjoy A Unique Spa Experience
3
Take A Boat Trip
Moored vessels on bay. Ibiza Island, Balearic Islands
Ibiza's coastline is a delight to explore, with hidden coves, turquoise waters, and rocky outcrops. The best way to experience these hidden treasures is by boat.
Boat excursions are readily available from most coastal towns and depart in the morning allowing guests time to jump from the boat for a cooling dip before enjoying a delicious lunch onboard.
A sunset cruise in the evening is the perfect way to take in a spectacular Ibiza sunset. Raise a glass of champagne as the sun says its goodbyes giving way to the moon which will illuminate the rest of the trip.
Cost:
Average price for a 3-hour daytime trip or evening sunset trip is $90.

Times:
Varied departure times

Included:
Alcoholic and non-alcoholic drinks are usually included plus snacks
Related: 10 Awesome Things You Can Do In Ibiza This Spring
4
Visit Formentera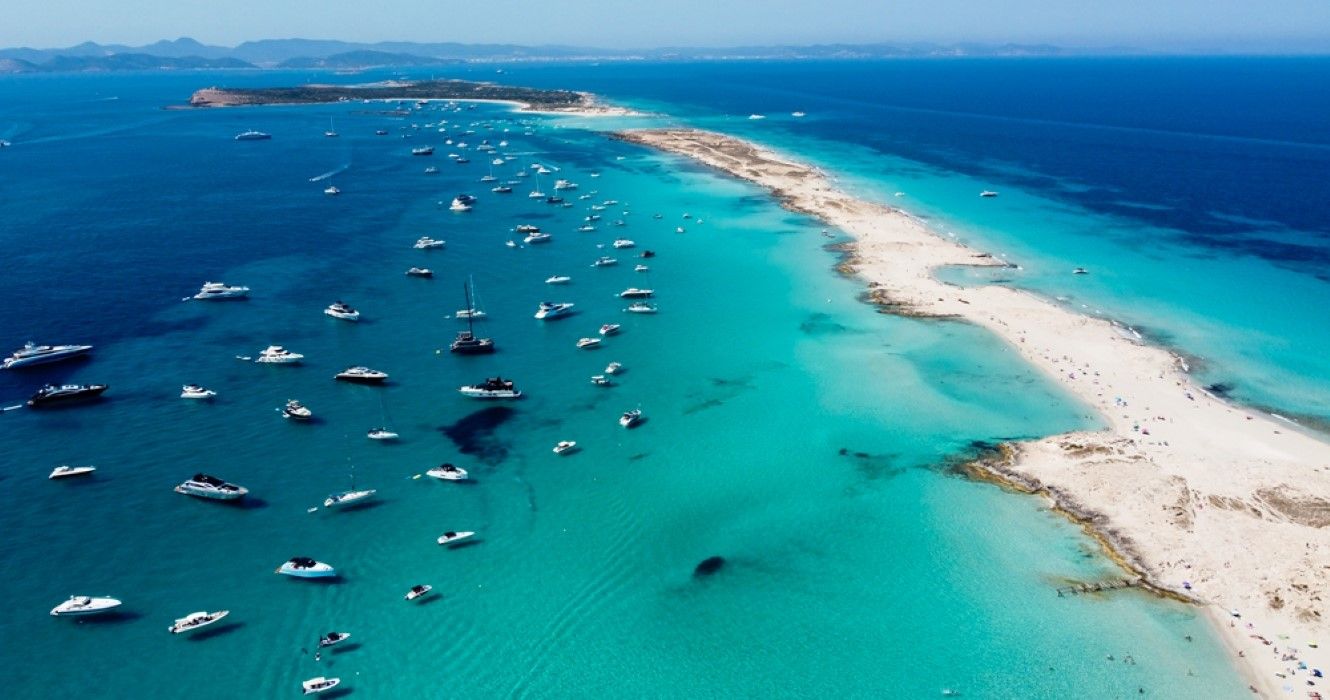 Aerial view of Ses Illetes beach on the island of Formentera, Spain 
Formentera is the smallest of the Balearic Islands and is famous for its beautiful beaches reminiscent of those in the Caribbean. Formentera has no airport but can easily be reached by ferry from Ibiza Town which takes around 25 minutes.
The best thing to do in Formentera is relax on the beach or enjoy snorkeling in the clear blue waters filled with marine life.
How to get there:
Ferries run every 30 minutes from 7.30am to 8.30pm

Cost:
One way ticket $23
Related: Mallorca Travel Guide: What To Do In A Week In Spain's Largest Island
5
Visit Ibiza Town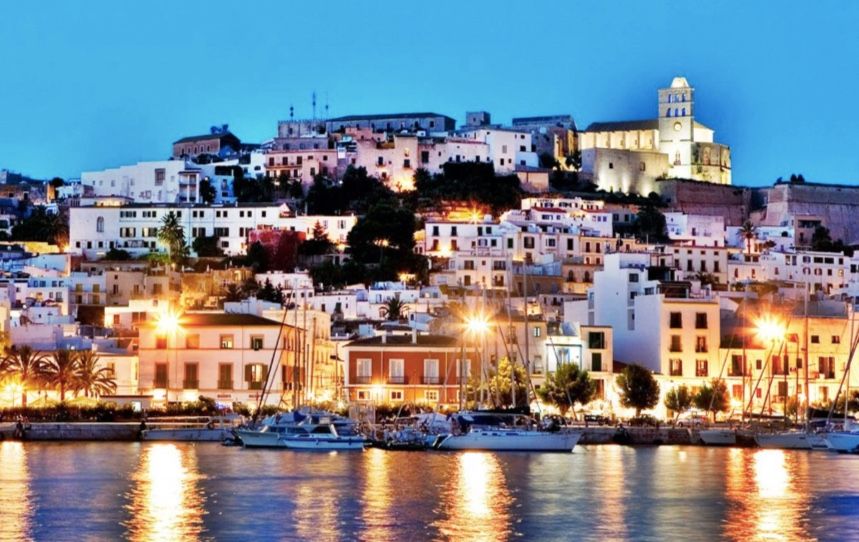 Ibiza Town is packed with history and intrigue yet is modern, cosmopolitan, and vibrant all at the same time. Day or night, the island's capital is a fabulous place to visit, shop, eat, drink, party, or relax.
Climb to the top of the town to Dalt Vila, the old walled part of the town dating back to 3000BC. A designated UNESCO site, Dalt Vila is the perfect place to briefly escape Ibiza's hedonistic vibe and gaze over the rest of the town in quiet contemplation.
At night, Ibiza Town's streets come alive with an eclectic mix of visitors and locals enjoying the many bars and eateries dotted around the town's narrow streets.
Times:
Ibiza Town is a great place to visit day or night

Cost:
No cost to visit the town, but prices in establishments can be more expensive than in other areas.
6
Visit Talamanca
Photo: Moodesigner on Pixabay"">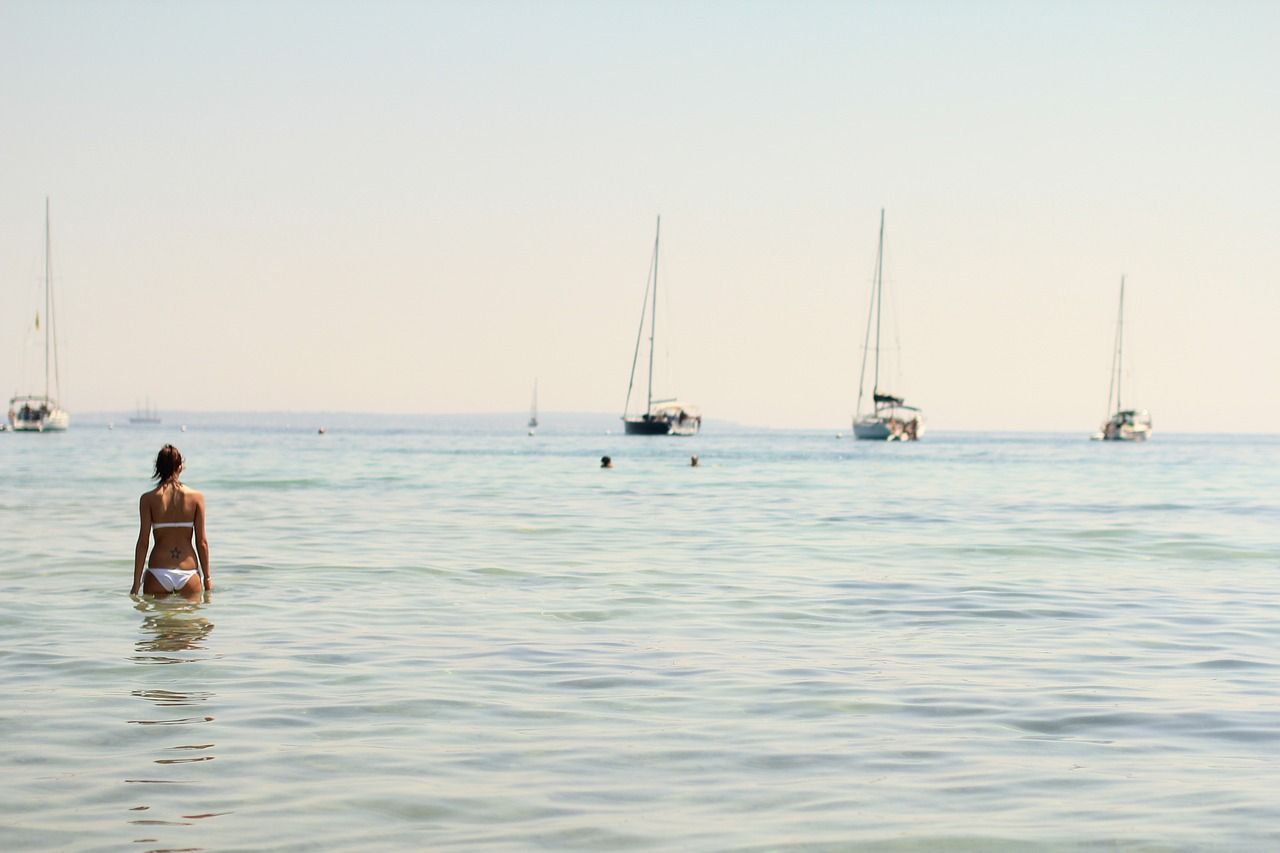 Quiet Ibiza Beach
Take a 15-minute stroll by the marina near Ibiza Town to reach the beautiful beach of Talamanca.
Peaceful and spacious, Talamanca is the perfect place to relax after the nighttime revelry. Even in the height of summer, a secluded spot can be found on this glorious sandy beach and yet it is so close to town.
Ibiza is known for having some of the best beaches in Spain and Talamanca is definitely one to tick off the list.
Times:
Talamanca beach is open 24 hours

Cost:
There is no cost to visit the beach
7
Es Vedra
Photo: Jamie Turek on Pixabay"">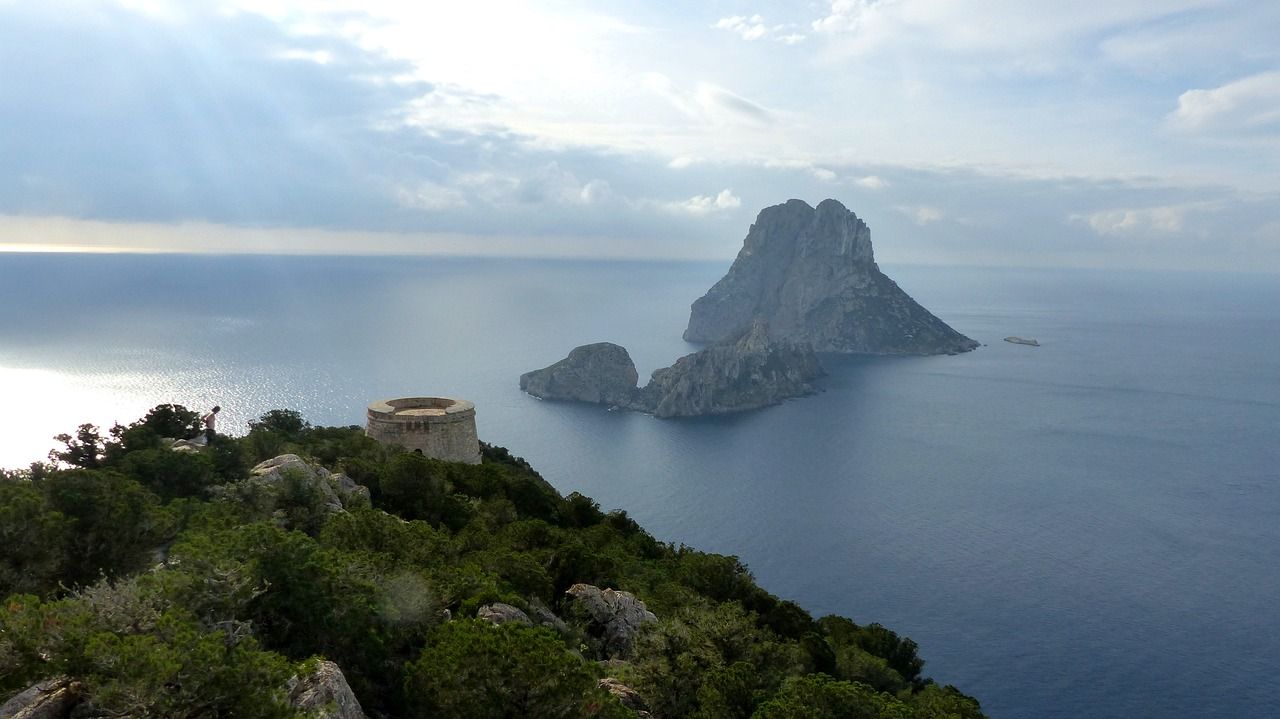 Es Vedra island, Ibiza
Es Vedra is a rocky island off the southwest coast of Ibiza. Steeped in mythology, the island is shrouded in intrigue and locals have many tales to tell about this mysterious island.
Legend has it that UFOs landed on the island in the 1970s and the event was witnessed by many, although those who doubt the truth of the story, suggest that the hallucinogenic drugs frequently in use by people on the island at the time may be behind the alleged sighting.
As a privately owned island, it is forbidden to land on Es Vedra, but it is well worth heading to Torres de Savinat where one can witness the spectacular sunset over the island.
Times:
It is not possible to visit Es Vedra, but sunset is the best time to view it from afar
Related: Stat-Driven: Best Places In The World To See The Sunset
8
Market In Es Canar
Photo: Photosforyou on Pixabay"">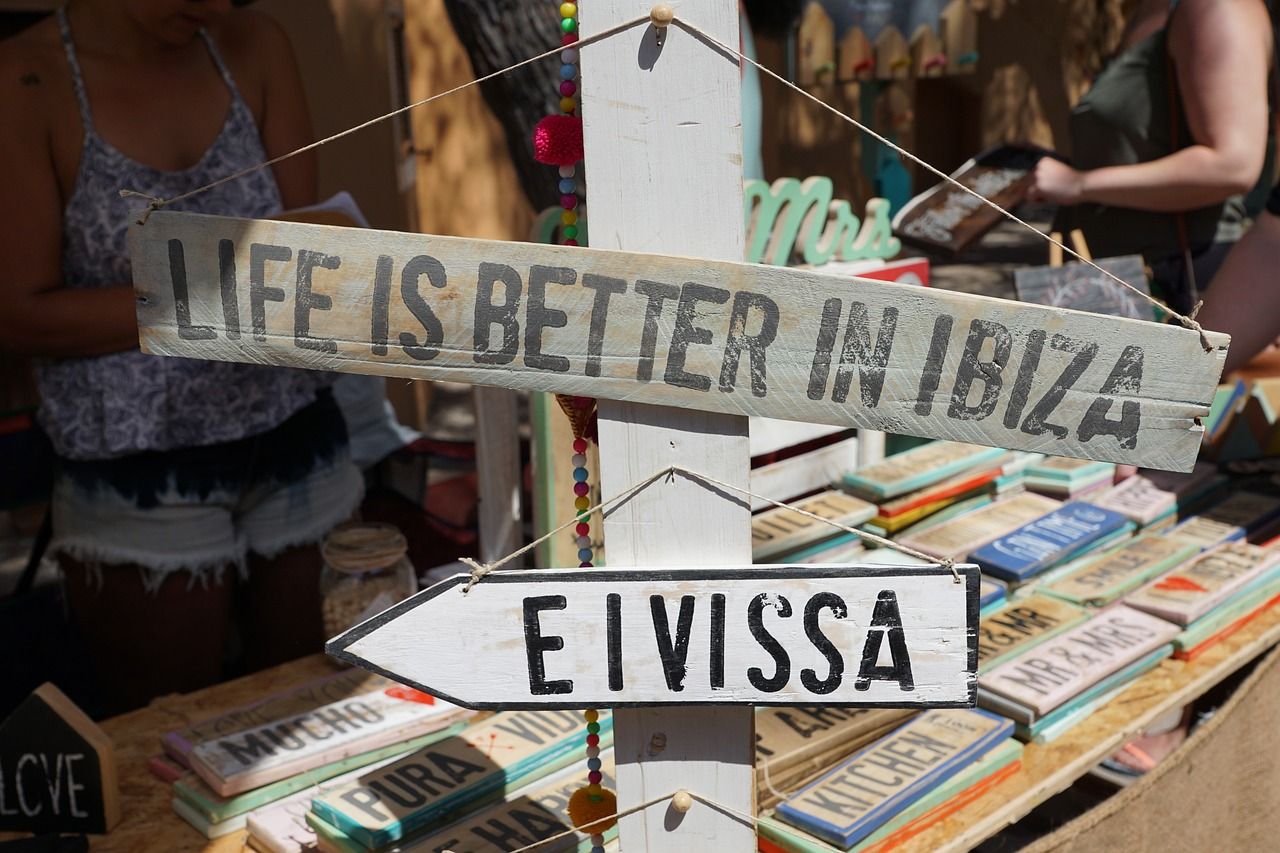 Hippy Market in Ibiza
Every Wednesday in the northeastern town of Es Canar, the oldest market in Spain takes place. Spain is well known for its flea markets and this is one of the best.
Here visitors can get everything from a henna tattoo to handmade bracelets to delightful trinkets to take home as gifts. With more than 450 stalls, shoppers will be spoiled for choice as venders offer their various crafts and handmade goods.
Aside from the shopping, there are plenty of places to eat and drink while watching fascinating street performers.
While many of the original hippy settlers are long gone, Es Canar's weekly market is a delightful trip back in time to the 1970s when nightclubs and hedonistic parties were non-existent on the island.
Times:
April to October 10am to 6pm
Ibiza is a very safe island, but it is always good to be aware that pickpockets often work in crowded places.
9
What To Know When Visiting Ibiza
Briony Brown on
Unsplash
"">
Array of drinks on the water in Ibiza
Partying is great fun, but there are many things to know about partying in Ibiza, specifically. Travelers will want to make sure they're well-rested, hydrated, and covered in sunscreen before hitting the beach party (or the after-party).
10
When To Visit Ibiza
Aerial view of Ibiza port, Spain
Ibiza is the southernmost of Spain's Balearic Islands and enjoys a mild climate year-round. The summer months, July and August, are the busiest when the party crown flock to the island. April to June and September to November the island is quieter, but the weather is still warm.
There are fewer flight connections for people wishing to visit Ibiza in the winter, but it is still a pleasant time to go.
11
How To Get Around Ibiza
Unsplash"">
Easyjet plane in Gatwick
Ibiza International Airport has flights throughout the summer from cities across Europe. For visitors from further afield, connections can be made in Barcelona or Madrid.
Buses around the island are frequent during the day, but it is advisable to take a taxi later in the evening.
A great way to see more secluded parts of the island is by renting a car which is quite inexpensive and there are many rental offices in all major towns.
Prices start at as little as $13 per day but be sure to check for any hidden extra costs.
Party buses run to and from the nightclubs in San Antonio. The services usually start in May and run until the end of October.
12
Eating Out In Ibiza
Slow Ibiza on
Unsplash
"">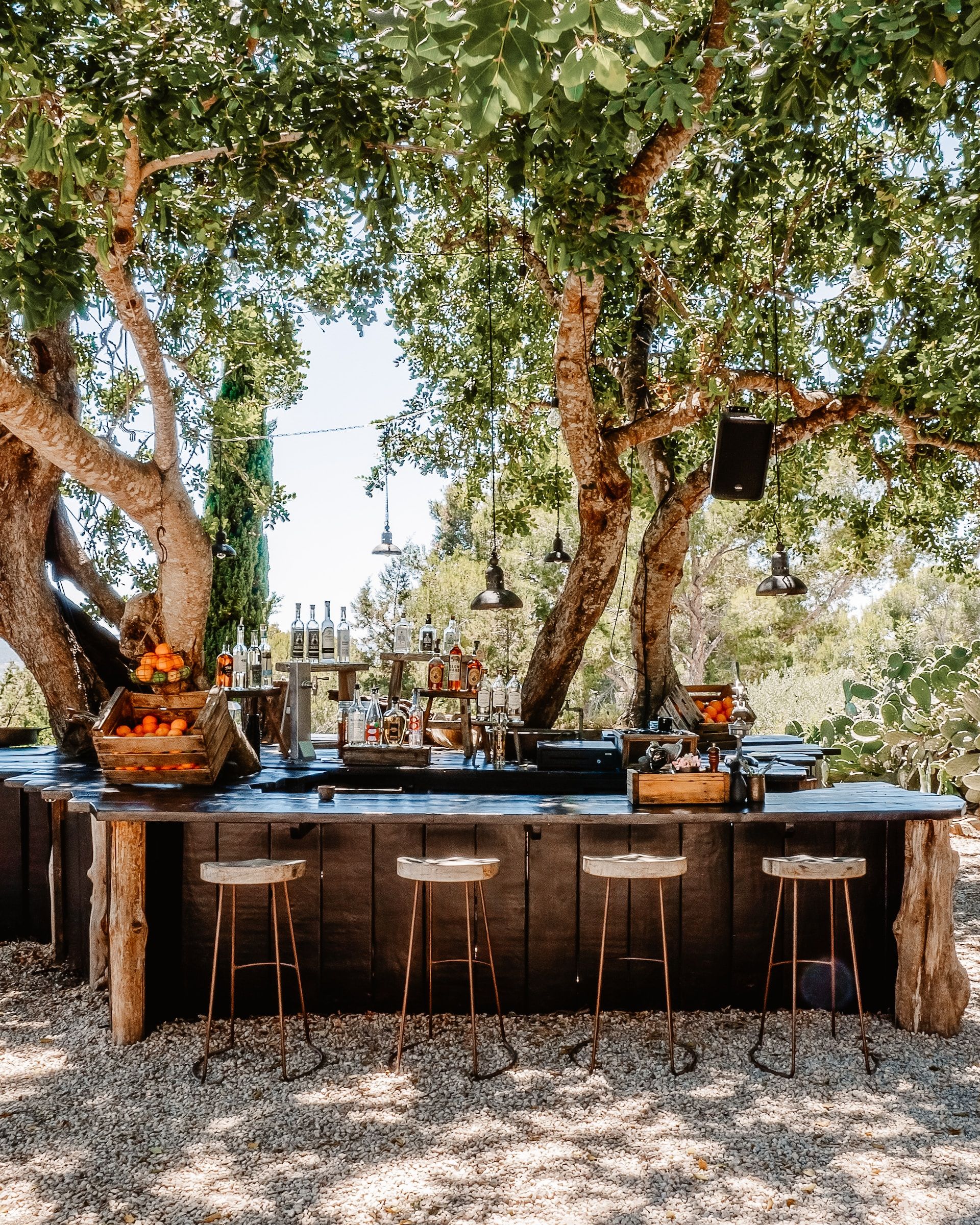 A bar setting at a farmhouse at a golf course in Ibiza
There are restaurants throughout Ibiza to suit all tastes and budgets. Ibiza Town is generally the more expensive area but should not be overlooked as the atmosphere is magical.
Breakfast/Brunch
Address:
Pintor Vincent Calbet 3, Ibiza Town

Times:
9.30am to 8pm closed Sundays

Suggestion:
Fresh lemonade made from local lemons
Lunch
Address:
Avinguda Punta Arabí, 126, 07849 Es Canar

Times:
8am to 1am

Suggestion:
Try one of the delicious sharing plates
Dinner
Address:
Puerto Deportivo Ibiza Nueva, Paseo Juan Carlos

Times:
9am to 1am

Suggestion:
Well known for delicious fresh seafood
13
Where To Stay In Ibiza
Pixabay on Pexels"">
Lounge chairs at the pool in Staniel Cay Yacht Club
Ibiza's accommodation ranges from budget to high-end luxury with prices at their highest in July and August.
Address:
Carrer Ramón I Cajal, 2, San Antonio

Cost:
From $124 per night in July

Amenities:
Multi lingual staff, good location
Address:
Calle Cala de Bou 46, San Antonio

Cost:
From $239 per night in July

Amenities:
Good location, adult only
Address:
Port Deportivo Marina Botafoch,66, Ibiza Town

Cost:
From $722 per night in July

Amenities:
Luxury, great location
14
How To Spend A Day In Ibiza
Ibiza town in Spain 
There are many amazing ways to spend the perfect day on the magical Island of Ibiza. Here's just one suggestion.
Wake up early and head out for breakfast in the harbor by Ibiza Town and watch the late-night revelers making their way home.
Catch a boat ride later in the morning and enjoy a swim in the turquoise waters before enjoying lunch and drinks onboard. Spend the rest of the day relaxing by the pool or on the beach before heading out for the evening.
Enjoy drinks and dinner in Ibiza Town before partying the night away in one of San Antonio's thrilling nightclubs.
FAQ
Q: What is Ibiza best known for?
Ibiza is well known for its party and clubbing scene which is rated as the best in Europe. The island is also known for its lovely beach coves, historical old town, and many boating marinas.
Q: Is two days in Ibiza enough?
Ibiza has so much to offer it would be a stretch to enjoy it all in just 48 hours but if time is tight then visitors can make the most of it by staying close to Ibiza town where they can enjoy as much as possible.
Q: Why is Ibiza so expensive?
The influx of upmarket visitors and celebrities purchasing holiday homes in Ibiza has pushed up prices overall. That being said there are many lower-cost accommodations and places to eat and drink, especially in the off-season.