Have you ever thought that you live in a small city where nothing happens? Or that you live in such a big city where it's too crowded, and you don't feel like you know the people around you? Are there cities within the US that are less populated?
The truth being said, no matter where we live, we tend to be curious about how life would be somewhere else or how life would look if it were the opposite of what we have. Sometimes, solitude sounds perfect, but it seems impossible to find it.
Therefore, we thought it would be interesting to find 17 cities in the United States of America with the smallest population in today's article. Let's begin!
UPDATE: 2023/04/20 11:54 EST BY NOAH STAATS
There Are Now 17 Least Populated Cities In The US On This List!
This article has been updated with two new sparsely populated places, including one in Florida and another in Nevada. We've also refreshed all of the photos and given helpful insight into why some places remain undiscovered to the masses.
Related: 10 Of The Most Densely Populated Cities In The World
17
Boca Grande, Florida – 925 people
Person walking on Florida beach
One of the more remote islands on Florida's southwest coast is Boca Grande. The population has been around 1,000 people for the past few years, with trends showing it is shrinking rather than growing. This tropical island is mainly residential, although there is a quaint town towards the middle of the island.
Furthermore, Boca Grande is located on Gasparilla Island, split between Charlotte and Lee Counties. Some residents have Charlotte County ownership, while others fall into Lee County. That can make this island confusing for many. Like many towns in Florida, Boca Grande is a retirement community for the most part, with the median age being 66. It has beautiful beaches, a few shops, and even a grocery store for anyone wanting to live a more secluded life.
Florida is home to countless Gulf Coast beach towns: here are 19 of the best.
16
Gabbs, Nevada – 269 people
Ryne Anderson on
Unsplash
"">
Evening view of Lake Las Vegas, Henderson, Nevada
The next least populated city in the US on this list is Gabbs, Nevada. Gabbs is a community on the northern end of the Las Vegas area, starkly different from the famous Las Vegas Strip. However, in Gabbs, residents live a more secluded life, with few stores and things to do around town. The town is located in Nye County,
One standout feature of living here is that residents are close to the wildly unique Berlin-Ichthyosaur State Park, which is situated just 20 miles east of Gabbs. Here, people can learn about Nevada's rich mining history and even see old fossils of a giant marine reptile known as the Ichthyosaur.
Nevada is filled with odd places, ranging from super famous alien hotspots to mining communities with giant marine reptiles. This is certainly the type of place an off-the-grid type of person would want to set up camp. Nevada is packed with bucket-list-worthy towns, so Gabbs may be one to add to that list.
15
Freeport City, Kansas – 5 people
Freeport City, Kansas
As of 2010, this was considered to be an incorporated city in Harper County. Although it is not what most would consider a city, legally, it was considered a city. They voted to become unincorporated a couple of years ago, though. They also used to have a bank (which left Freeport in 2009).
Freeport has a population of 5 people, according to the latest census made in 2010. It is interesting to think that many communities around the United States do have small populations. However, the status of this 0.52 km area, founded in 1885 (and back then had a population of 138), is still hanging in there.
RELATED: 10 Of The Most Densely Populated Cities In The World
14
Vernon, California – 112
Vernon, California
Can you believe that this is a very compact city to one of the most famous spots in the world? Outside of Los Angeles, Vernon has a population of only 112 people. Vernon was incorporated in 1905 and had the purpose of being an industrial city. Vernon has only 13 km of land and is very active in promoting itself and mentioning that the city offers employment opportunities.
There are over 5,000 job opportunities, and many people are going there on a day-to-day basis. There just isn't much residential space or people actually living there. This tends to be a problem for many small towns and cities throughout the US: there isn't enough demand. Of course, that's not to say this won't turn around, but for now, Vernon is going to stay tiny.
13
Caliente, Nevada – 1, 130
Photo 254481118 © Meinzahn | Dreamstime.com"">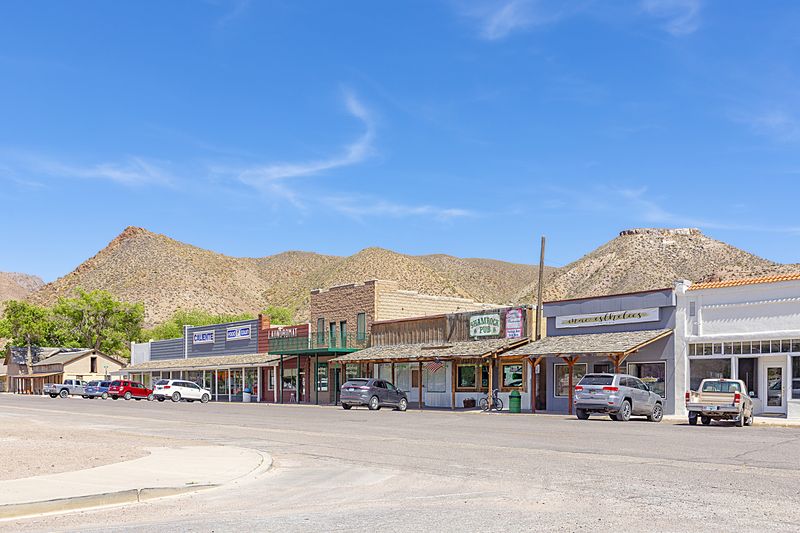 Downtown Caliente with small stores, Nevada
This city in Lincoln County has a population of 1,130, according to the last census made. The name is quite particular because it means "boiling" in Spanish, which is quite an exciting choice. The area covers almost 5 kilometers in total and can be visited, especially when trying to get to Las Vegas by car, as it is right on the way. Moreover, tourists choose Caliente because, despite the name, summers are not as hot as they are in the lower elevations of the state, so they can come to relax and chill during the summer.
Like the above town of Gabbs, Nevada, this is also an escape of sorts from the hustle and bustle of the Las Vegas/Henderson area. Sometimes, people need to escape to the middle of nowhere!
12
Whites City, New Mexico – 147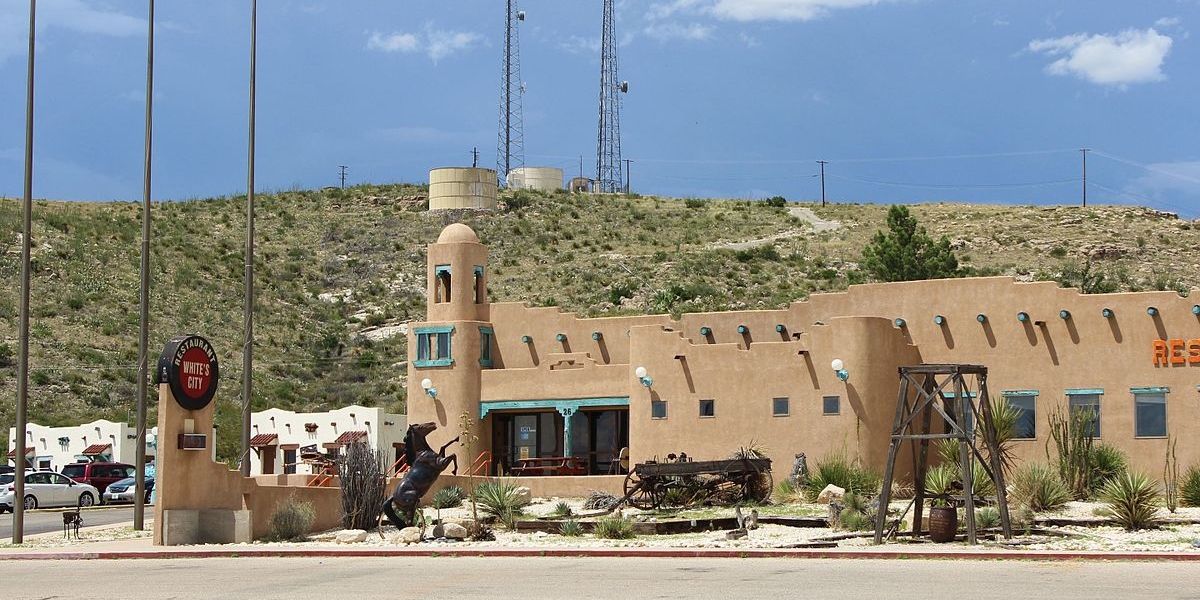 Pueblo building in Whites City, New Mexico
An exciting location that has a population of 147. This little bump in the road is four miles from the wondrous Carlsbad Caverns National Park. People tend to simply pass through it as there are a lot of hotels to stay at; it makes a pleasant diversion on the way to the Caves. It is a quiet and secluded place for tourists to relax in the hills. Overall, people consider it a unique treasure due to its exciting history and pleasant surroundings (a gift shop, water park, and museum).
11
Akhiok, Alaska – 70
Joris Beugels on
Unsplash
"">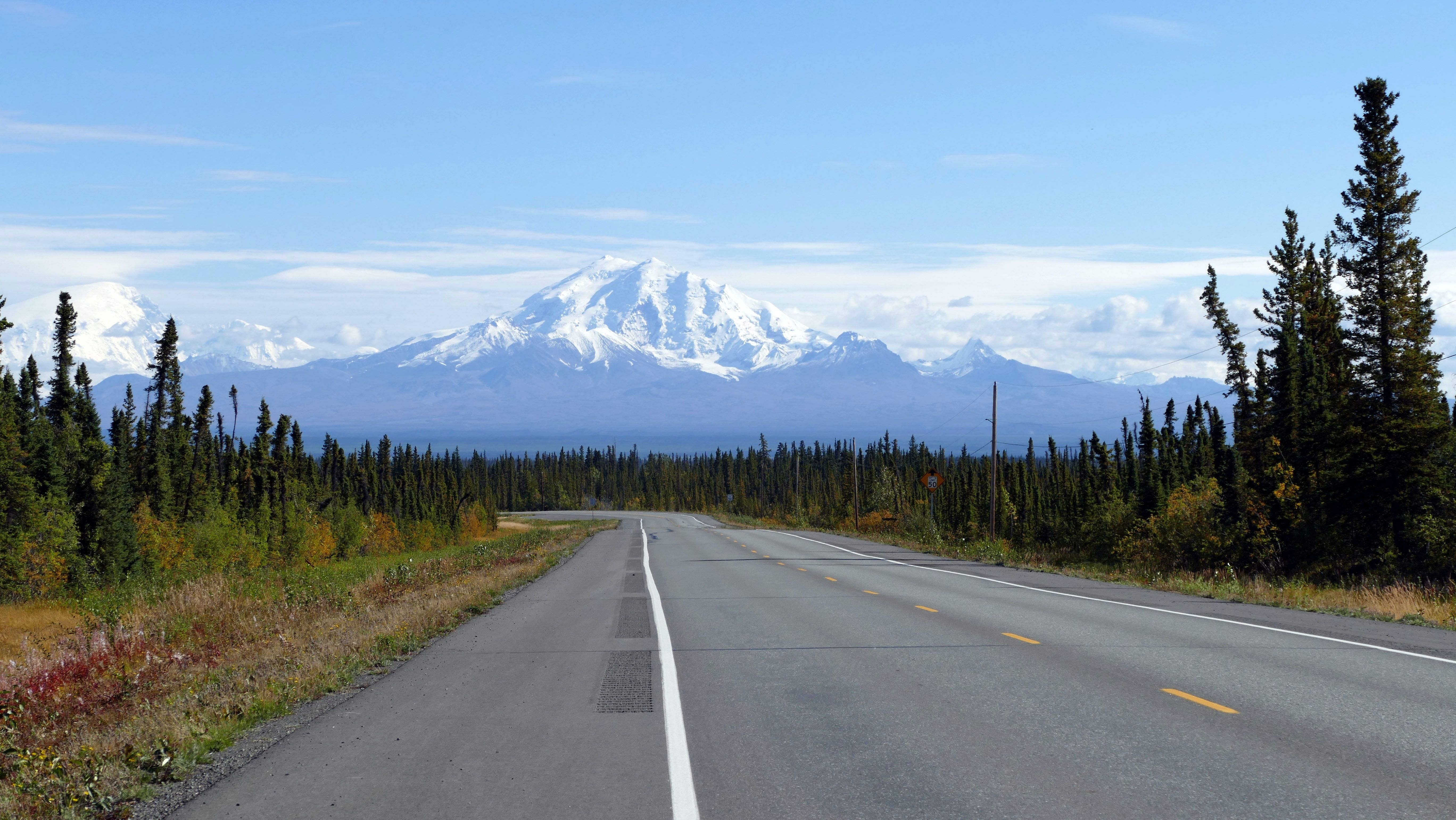 A highway with trees at the sides and a snow-covered mountain in the background
This is called a second-class city in Kodiak Island Borough, Alaska. After the census in 2010, the population was 70 residents. The area covers almost 27 kilometers, and it used to be for fishermen or other similar activities. Although the town first appeared in 1880, in the 19th century, it was occupied by Russians, and it had different names throughout the time.
The majority of the folks living here are around 36 years old and are Native American, with just a smattering of Caucasians. If you like living close to nature, don't mind the cold and snow, and would love a short commute to work, you might want to move here. Most of Alaska already feels remote, so relocating to a place like Kodiak could be an even greater step forward.
RELATED: 10 Free Things Every Visitor Should Do In Lisbon
10
Hood River, Oregon – 7,806
a lavender field in hood river, oregon
This city has a population of 7,806 residents with almost 3,000 households. Hood River serves as a port on the Columbia River. The city sits where the Columbia River and the Hood River meet. It was incorporated in 1895. The industries that work here are tourism, agriculture, and sports recreation because many people are coming to Hood River to come here for the watersports on the Columbia River. Moreover, geography helps because Mount Hood, the highest peak in Oregon, is only 50 kilometers away, and there's a spectacular view of it from the city.
9
Bisbee, Arizona – 5,209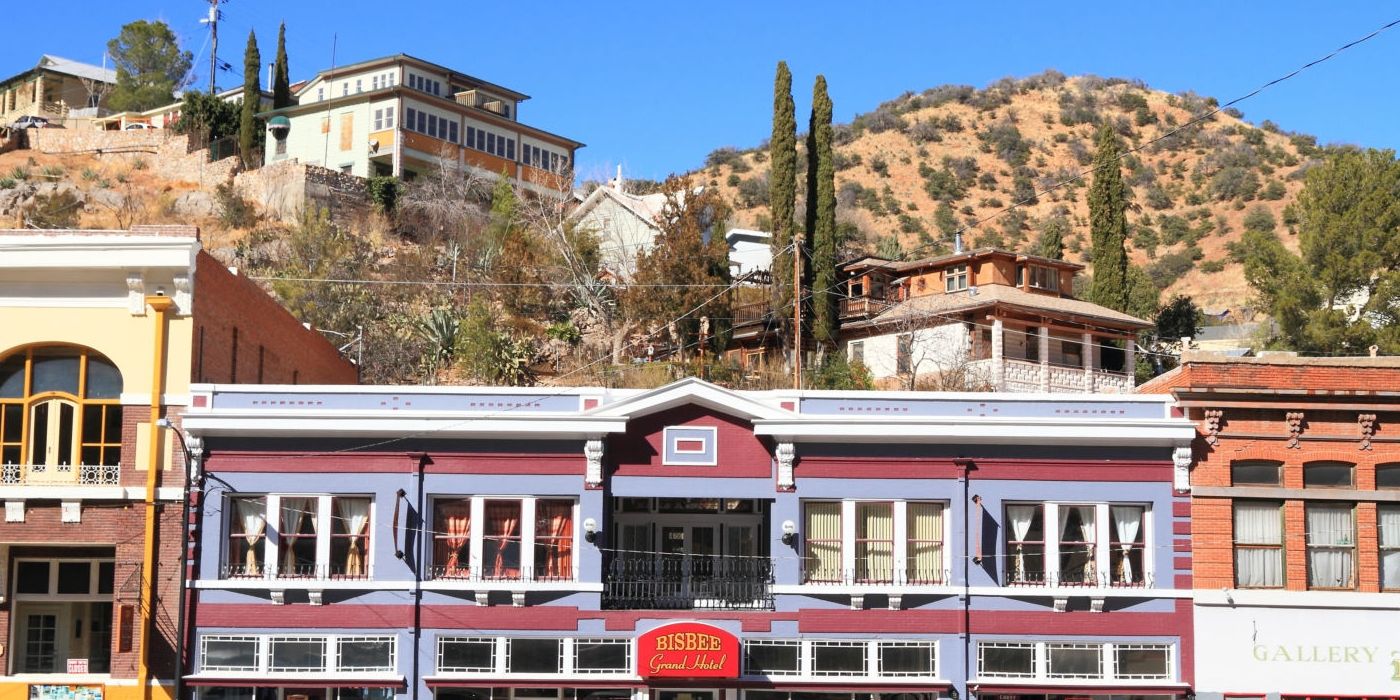 Brisbee, Arizona downtown
This small town will catch your eye! With a population of 5,209 people after the census and is located very close to the Mexican border. Even though the city was founded as a mining town, it is an excellent place for tourists right now thanks to the fantastic sightseeing you can do in the high desert town. Known as the Queen of the Copper Mines, it once produced 25% of the world's copper.
There are a lot of cute cafés and art galleries and museums and tons of information on its copper mining history. Living here is cheap, but it is close enough to the big city to provide what big cities do. Brisbee is extremely quiet and peaceful.
It's also worth mentioning that driving from Bisbee to other cities, like Tuscon and Phoenix, will take a couple of hours. Phoenix is roughly 3.5 hours away, while Tucson is closer to 1.5 hours.
8
Joshua Tree, California – 7,414
Via: Unsplash"">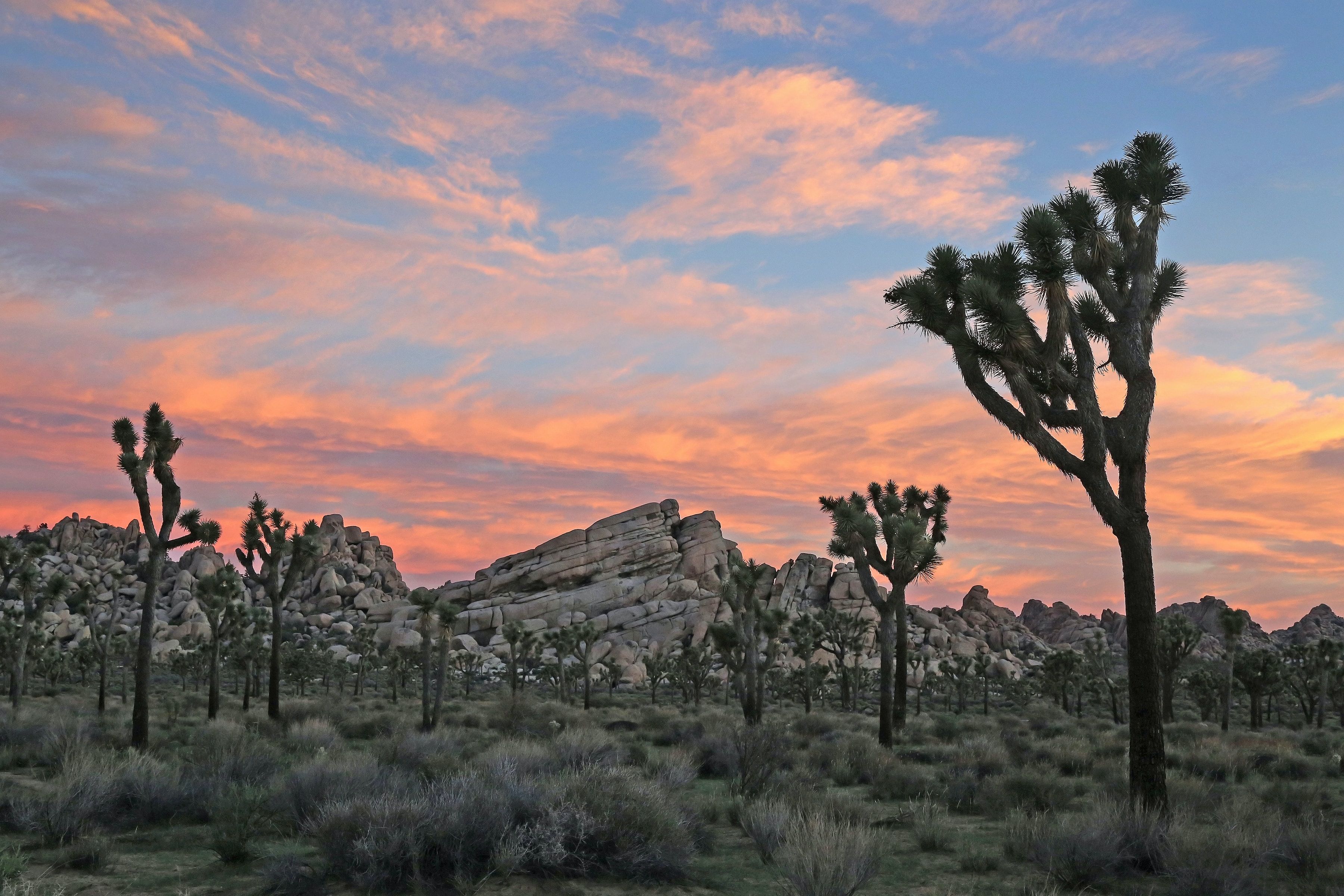 Joshua Tree National Park, California, USA
Located in the heart of the High Desert of California, Joshua Tree has a population of only 7,414 as of the last census. The area offers outstanding recreational opportunities at Joshua Tree National Park, where many Joshua trees are believed to be between 500 and 900 years old. There are a lot of small hotels and cafés where you can relax and enjoy your time.
Moreover, it is famous for its "aesthetic" look, so many artists have recorded their music in the city (Foo Fighters and Arctic Monkeys, for example). Needless to say, even though this city is relatively small, it does have a lot of incredible things to offer.
Joshua Tree is also a short drive from Palm Springs, making it a great escape for residents of that area. This secluded, natural town is also about 2.5 hours from San Diego and closer to two hours from Los Angeles. It tends to be a weekend getaway for many California state residents.
7
Elkins, Arkansas – 3,179
Arkansas in fall
With a population of 3,179, where most folks (72 percent) live in an urban environment, and 28 percent live in the countryside, this city has become more and more populated over the past decade. It is situated in the Boston Mountains inside the more extensive range of the Ozark Mountains, so it offers a very secluded alternative to a big city. Moreover, the median age of the residents is 33 years old, so there is quite a young population here, and residents are young, willing to work, and have fun. While here, you can visit the Collins Mound Site, believed to be a prehistoric settlement from A.D. 900 – 1400.
6
Whiteville, North Carolina – 5,340
Elijah Mears on
Unsplash
"">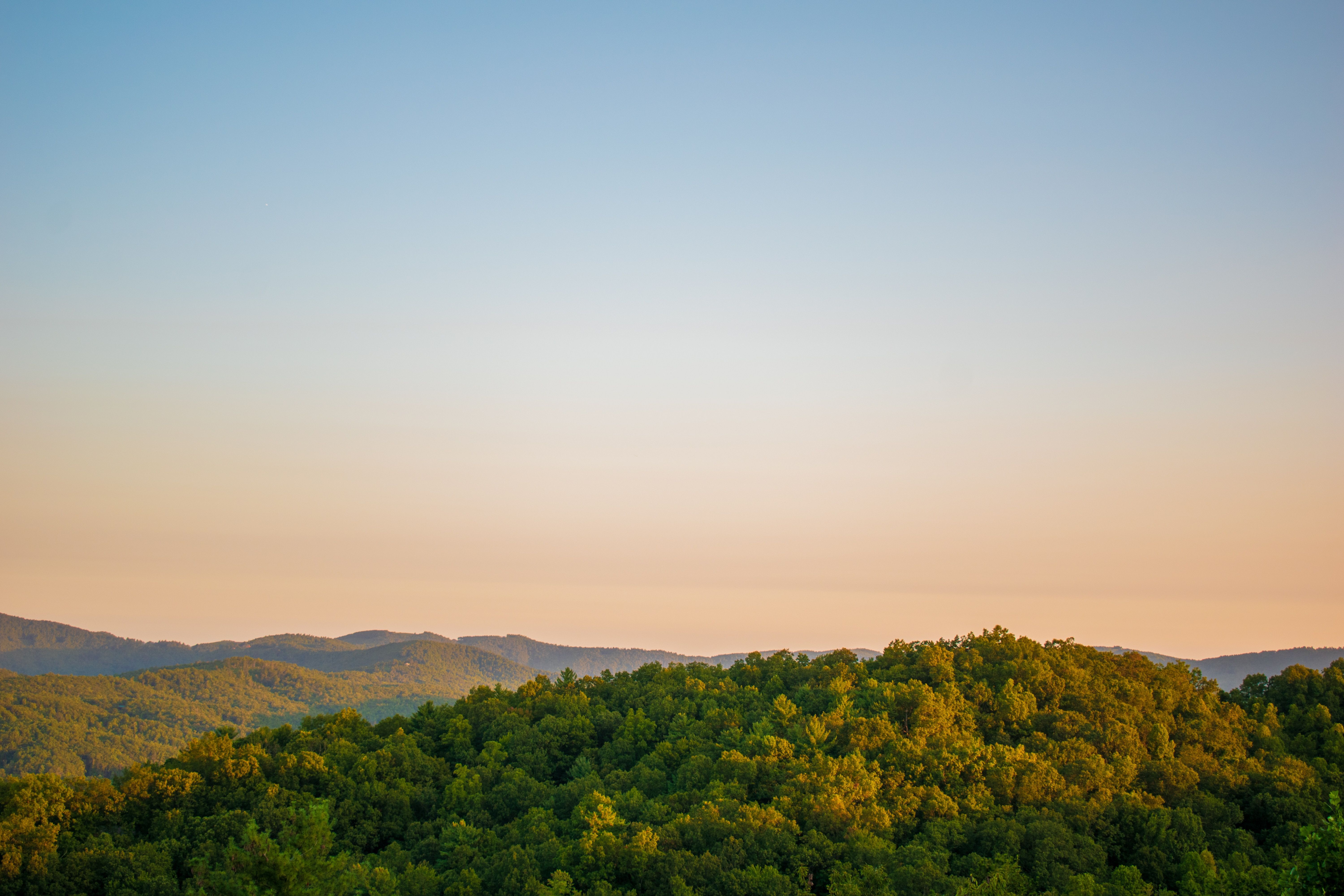 A forest landscape under a colorful sky in North Carolina
This small city has 5,340 residents located in Columbus County and is very beautiful to visit and walk around its most famous attractions. You will find various restaurants and shops as well as specific events on particular days. Moreover, the North Carolina Museum of Natural Sciences is an essential aspect of a city with a small population. Even though there are a small number of residents, many tourists pass through because of the excellent recreation facilities at Lake Waccamaw State Park nearby and the Carolina beaches.
5
Watch Hill, Rhode Island – 144
Yacht club with American flag flying in Watch Hill, Rhode Island
Watch Hill was made famous again after Taylor Swift purchased a home there. The city was known as a seaside destination for rich people. Watch Hill boasts miles of beaches, art galleries, restaurants, boutiques, and oceanfront hotels. Moreover, the only Five-Diamond hotel in Rhode Island is the Watch Hill Inn which has hosted several celebrities over the years.
Like many beachside locations, Watch Hill tends to attract wealthier retired residents, adding to its already upscale charm and feeling. Some people want to spend their later years in peace and quiet.
4
Berkley Springs, West Virginia – 602
Girma Nigusse on
Unsplash
"">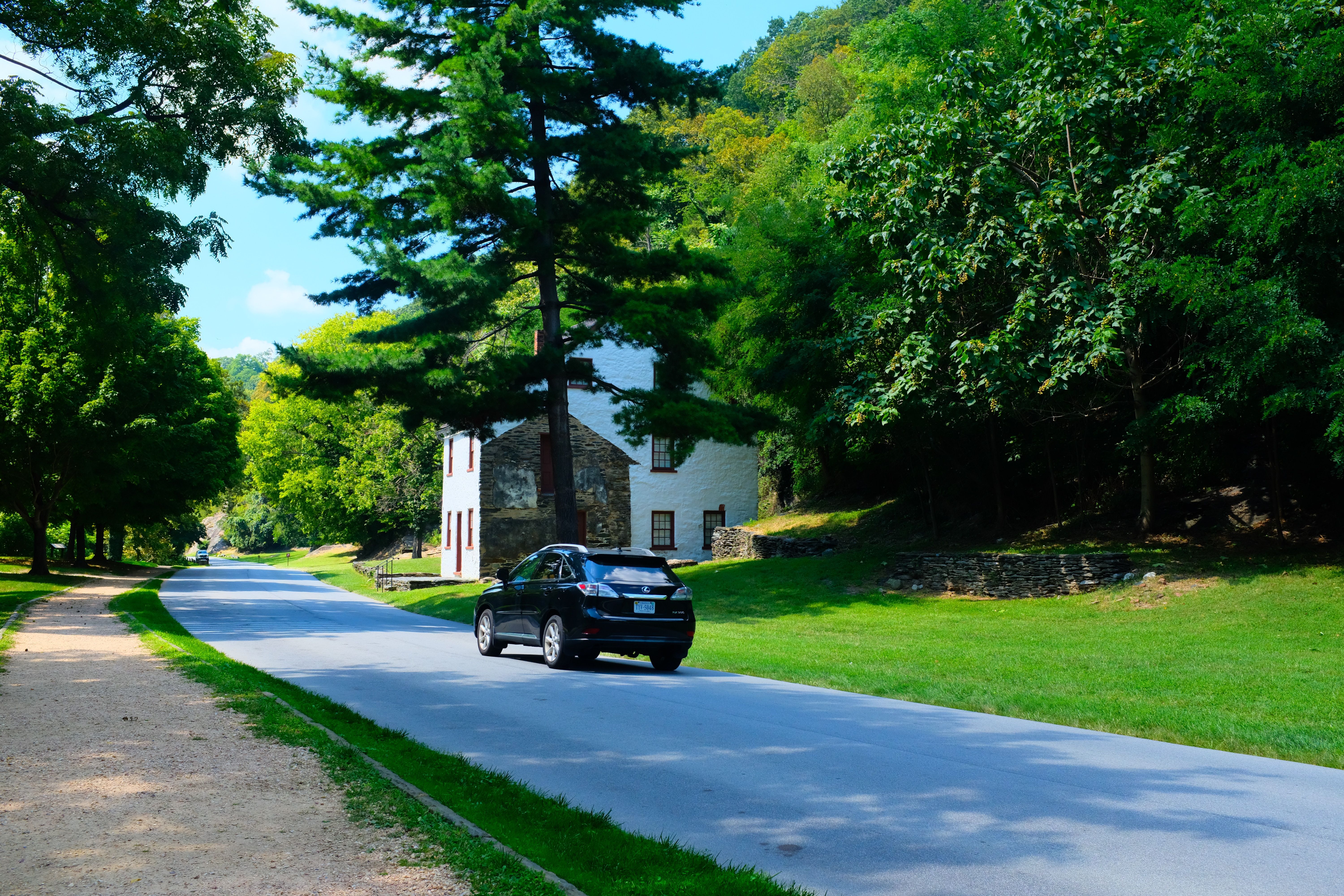 A car riding on a road with beautiful trees on both sides
Before the arrival of the Europeans, Berkley Springs mineral springs attracted a lot of people, and the town was considered the first American spa. In addition to its service spas, Berkley Springs is known for its rustic accommodations, art galleries, shopping centers, and high-end dining. The town is home to a late-19th-century castle. Even George Washington believed that the mineral springs and freshwater of Berkley Springs in West Virginia would heal his ill brother.
Here are ten of the most beautiful places in West Virginia to visit during the spring.
3
Monowi, Nebraska – 1
a map of monowi, nebraska
Normally statistics speak of the population of the city growing in percentage terms – e.g., a 9% increase over ten years. But when the population is one, it is only possible to grow in the 100's%. It would be interesting arithmetic for the town to have grown 35% over 10 years and have a population of 1.35 people. Monowi is a city in Nebraska with a population of one, namely Elsie Eiler, aged approx. 86. She pays taxes herself and grants herself an alcohol license. The 2020 census reported Monowi's population had swelled to two, but this was later shown to be incorrect, and the population of the city remains stable.
2
Bodie, California – Handful Of Park Rangers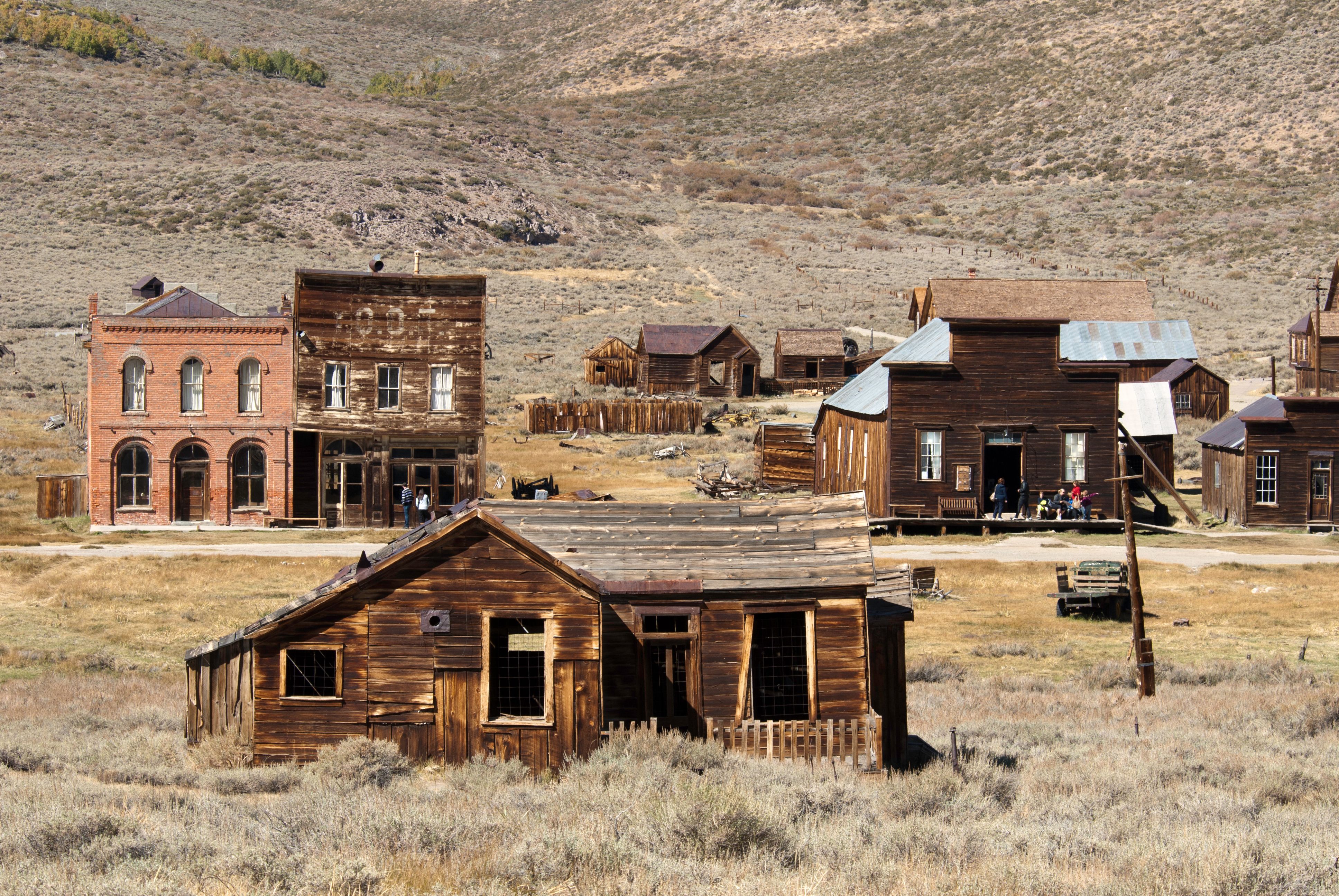 Bodie Ghost Town California
Bodie is a ghost town and not a modern city (instead, it's a state park). But Bodie gets an honorable mention as it is one of the nation's most iconic ghost towns and was once one of the larger towns in California. It is located around 75 miles from Lake Tahoe right on the border with Nevada. It boomed in 1876 and reached a population of up to 10,000, quickly becoming a ghost town. Today it is the home of no one barring some state park rangers.
1
Sitka, Alaska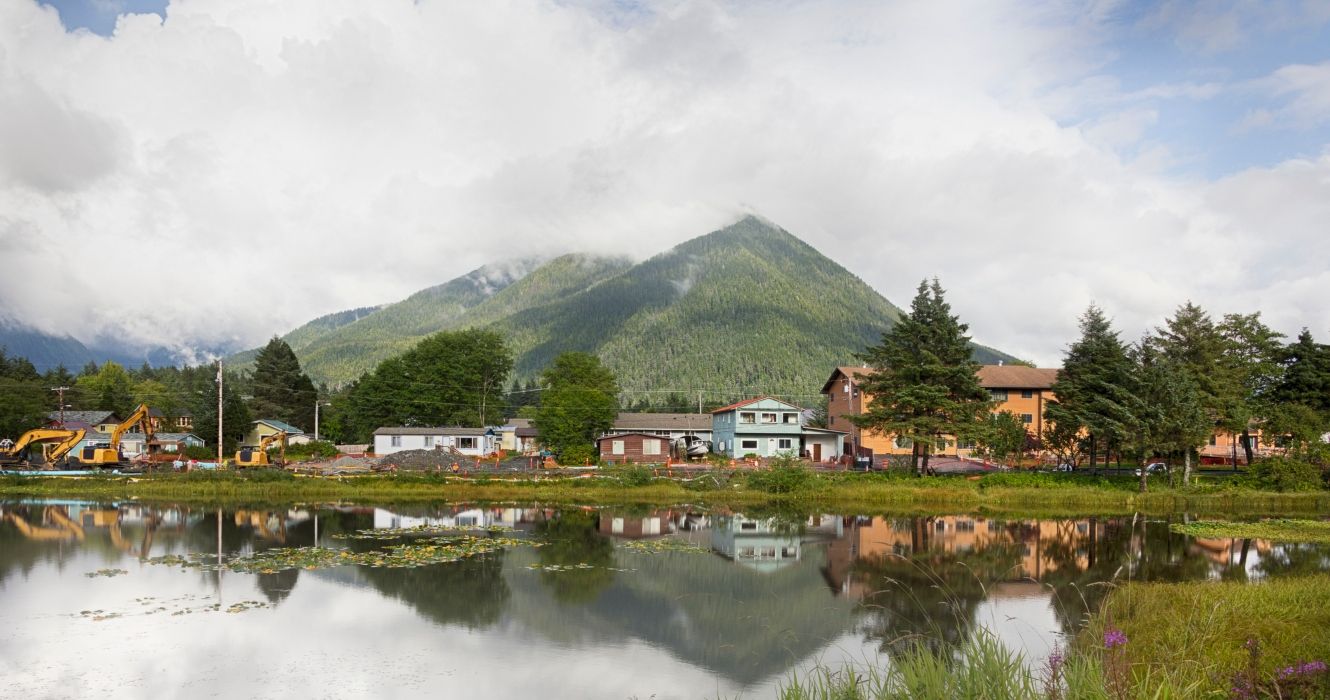 Swan Lake, Sitka, Alaska
Sitka is an old Russian colonial settlement founded in 1799 and today has some of the best Russian sites in the state. It is located in the Alaskan Panhandle. What makes this town so remarkable is that it is the largest city-borough by area in the United States. It is larger than two states – Rhode Island and Delaware. Today it has a population of around 8,500 – making it a notable town for Alaska and one of the most popular destinations for Alaskan cruise ships.