Arizona is home to numerous tourist hotspots, but one of its hidden gems waiting to be discovered in Lake Havasu City. Nestled in the depth of the Mohave Desert, this sprawling resort community offers a mix of unending sunshine and big shiny waters. While some consider it to be in the middle of nowhere, Lake Havasu is only three hours away from its more famous counterpart, Phoenix, or about two hours away from Las Vegas.
UPDATE: 2023/04/19 15:15 EST BY NOAH STAATS
The Search For Fun Spots In Lake Havasu City Continues!
This article has been refreshed with new locations in Lake Havasu City, added tips and tricks for a successful Arizona vacation, as well as suggestions for a road trip to nearby destinations. Remember to have fun and enjoy the water in beautiful Lake Havasu City!
Things To Do
A relatively young city, Lake Havasu was established in 1963 after attracting miners speculating for gold and silver and serving as a military recreation site. But thanks to industrialist Robert McCulloch and his vision, the city has come a long way from its mining days to become a bustling vacation destination with popular historical landmarks, incredible natural landscapes, and endless outdoor adventures.
Fancy exploring this diamond in the rough? Here is the ultimate guide to Lake Havasu City.
1
Visit The Iconic London Bridge
Beautiful view of the iconic London Bridge and sparkling waters in Lake Havasu
London Bridge is probably the most visited site in Lake Havasu City. This historic bridge was built in 1831 on the River Thames, London, but when it started sinking, it was auctioned and acquired by the founder of Lake Havasu City, Robert McCulloch.
Today, the bridge stands tall in the city, extending approximately 930 feet from the mainland and connecting to a small island on the Colorado River. Today, it is a popular tourist hub, attracting several shops, hotels, and parks that have mushroomed around it.
Walking across the bridge is a popular tourist activity, offering stunning views of the Colorado River below, providing the perfect photo opportunity. The area is also usually packed with crowds, so there is always a bright moment on London Bridge.
Related: Visit Navajo Bridge As It Takes Visitors Across The Grand Canyon (& Has Its Own Visitor Center)
2
Explore The Water Activities On Lake Havasu
London Bridge and surrounding English Village at sunset, Lake Havasu City.
Lake Havasu is a massive desert lake that spans 19,000 acres across the Arizona-California border. The large mass of water offers various recreational activities that visitors can indulge in.
Bating is one of the most popular for tourists and locals. A cruise on the crystal-clear turquoise waters against the backdrop of rugged mountains and imposing cliff faces is an experience to remember.
The Dixie Belle river boat tour allows visitors to discover Lake Havasu as a group in a climate-controlled environment.
Duration:
1 hour

Charges
: $45 per person, $35 per person group rate (25+)
Tourists who prefer a solo adventure can choose between kayaking, canoeing, and stand-up paddleboarding. A 4-mile trail on the lake takes canoers and paddlers along the Havasu National Wildlife Heritage, with opportune sightings of species like bobcats, coyotes, and exotic birds in the offing.
Related: A Castle In The Middle Of An Arizona Desert Exists, And This Is How You Can Visit Tovrea
3
Go Hiking In SARA's Crack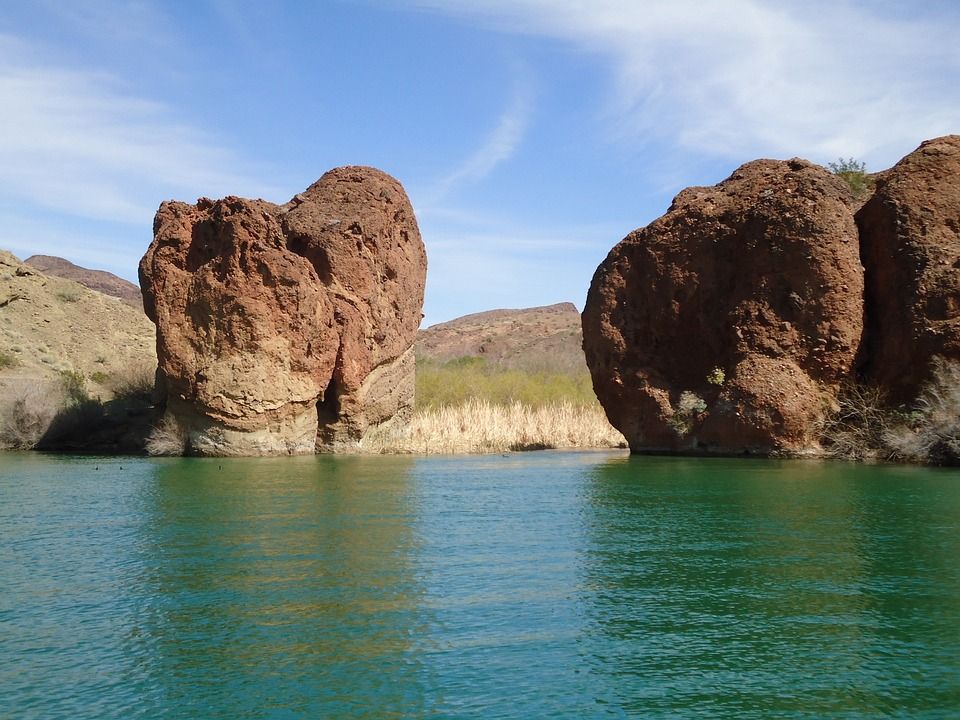 Rock formations on Lake Havasu in Arizona
Arizona is the perfect state for hikers who like to explore the great outdoors, and LHC doesn't disappoint. Tourists eager to sneak in some exercise should try hiking in SARA's Crack. SARA, an acronym for Special Activities Area, features a 3-mile canyon called the "crack" formed through water erosion.
This resulted in a fairly difficult hiking trail with a few tricky spots to provide enthusiasts with a fun outdoor adventure. Hiking season in Lake Havasu falls between autumn and spring, and inexperienced tourists can sign up with tour companies like Havasu Hikes for a more fulfilling experience.
Alternatively, tourists can organize a lakeside road trip to Havasu Falls, where they'll witness a one-of-a-kind waterfall.
4
Take A Dip At The Lake Havasu State Park Beach
Rotary Park Beach in Lake Havasu City
Lake Havasu State Park is a nice escape by the water with over 2 miles of silky-smooth, white beach sand. This is perfect for laid-back lounging while enjoying the refreshing breeze.
There are also boat launch ramps on the beach and open spaces for tent and RV camping.
The state park also hosts big events like music festivals, expos, and fairs throughout the year and features several hiking trails.
5
Hunt For The Miniature Lake Havasu Lighthouses
Lighthouse by the Lake in Havasu
Lake Havasu island is dotted with 27 miniature lighthouses replicating actual lighthouses from different cities in the country. These are 1/3 scale and fully functional and include handmade models depicting the Cape Hatteras Lighthouse in Buxton, North Carolina, and even the Fire Island Lighthouse in Long Island, New York.
The lighthouses have been scattered around the area, some easy to find and some slightly hidden in the rocky and dirt locations. Searching for them on foot and matching them to their real counterparts can be an interesting pastime that many visitors will be happy to try.
6
Take A Dose Of History At The Lake Havasu Museum Of History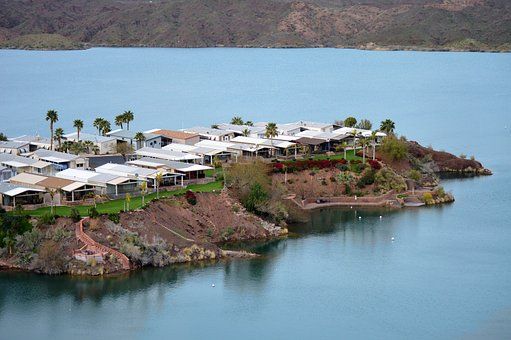 Vacation homes in Lake Havasu City
History and culture buffs can visit the Lake Havasu Museum of History to learn about the formative days of the city. The museum displays several artifacts, historical photographs, and documents associated with the city.
Tourists can also find works from local artists and exhibitions of prehistoric tools used by the original occupants of Lake Havasu.
7
Explore The Bill Williams River National Wildlife Refuge
Eric Tompkins on
Unsplash
"">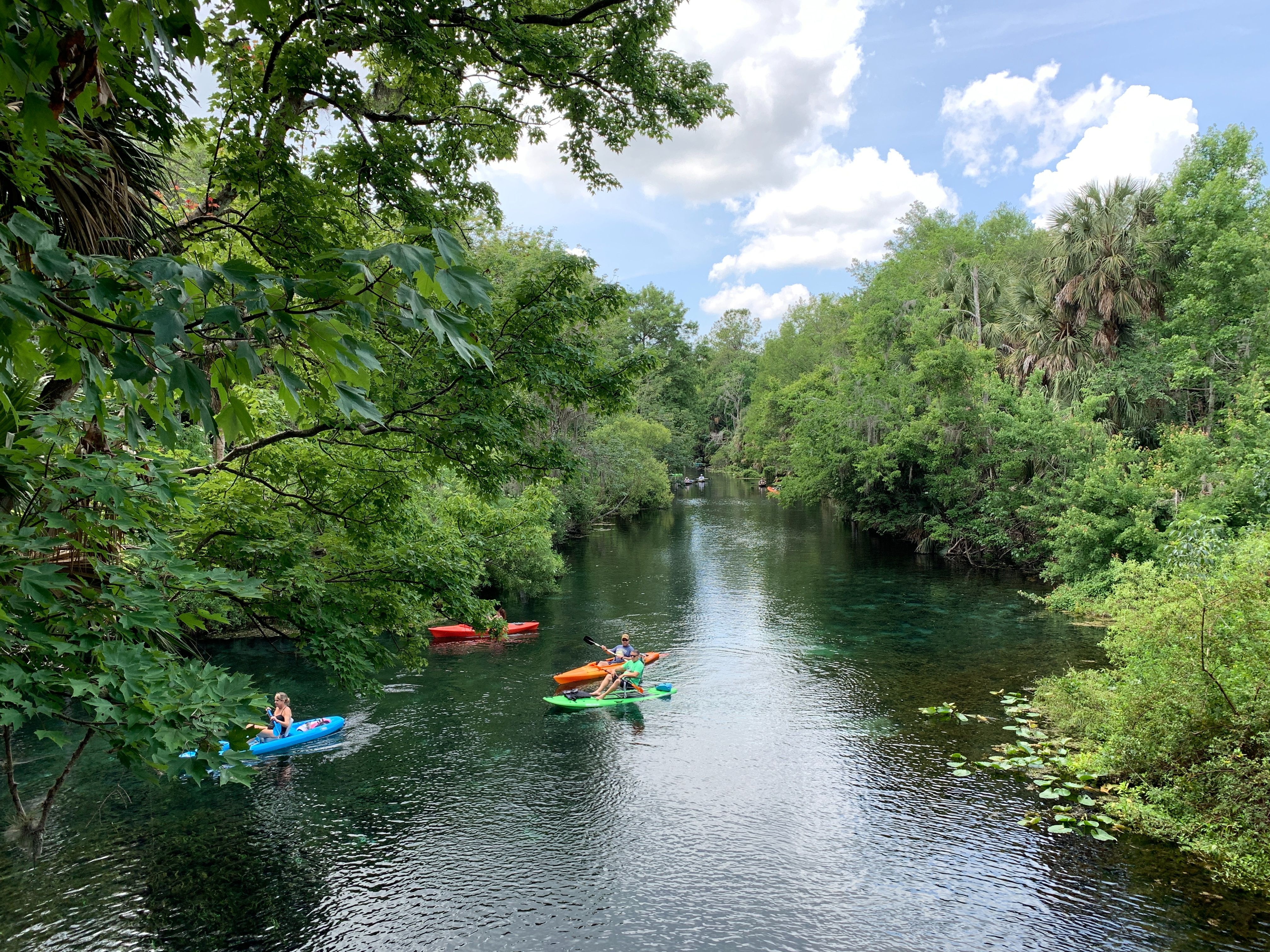 People kayaking on a river surrounded by trees with a blue and cloudy sky in the background in Florida
Another fun activity for people visiting the Lake Havasu area is checking out the Bill Williams River National Wildlife Refuge. Here, tourists are able to explore 6,105 acres of preserved land, including one of the last strands of natural cottonwood-willow forests along the lower Colorado River.
Many past visitors describe this experience as unique, as there are many types of flora and fauna inhabiting the area. This might be a nice way to spend the entire day if the weather is good. In addition, this refuge runs along the Bill Williams River, giving it a water feature for guests to see.
On hot summer days in Arizona, hanging out near a body of water is one of the best ways to cool down. Remember to bring sunscreen, water, and plenty of snacks!
8
Take A Walk Downtown In Lake Havasu City
Skate park in Lake Havasu City
For people wanting to do some shopping or eat, heading downtown is a great choice. The official Downtown District of Lake Havasu City is located on McCulloch Blvd N between Smoketree Ave and Acoma Blvd and will be close to just about everything one needs in town.
Here, there are restaurants, bars, clothing stores, and souvenir shops, and close to the lake. Spending the afternoon or early evening here may be fun: but remember to make lunch and dinner reservations before heading out. In busier seasons, the downtown area can get crowded, often leading to longer lines at eateries, shops, etc.
The Downtown District of Lake Havasu City can become crowded during peak vacation periods. It's recommended to always make reservations for breakfast, lunch, and dinner, as well as call ahead for lake equipment rentals and whatever else the group needs.
9
Fly High At The Lake Havasu City Balloon Festival
Via: Unsplash"">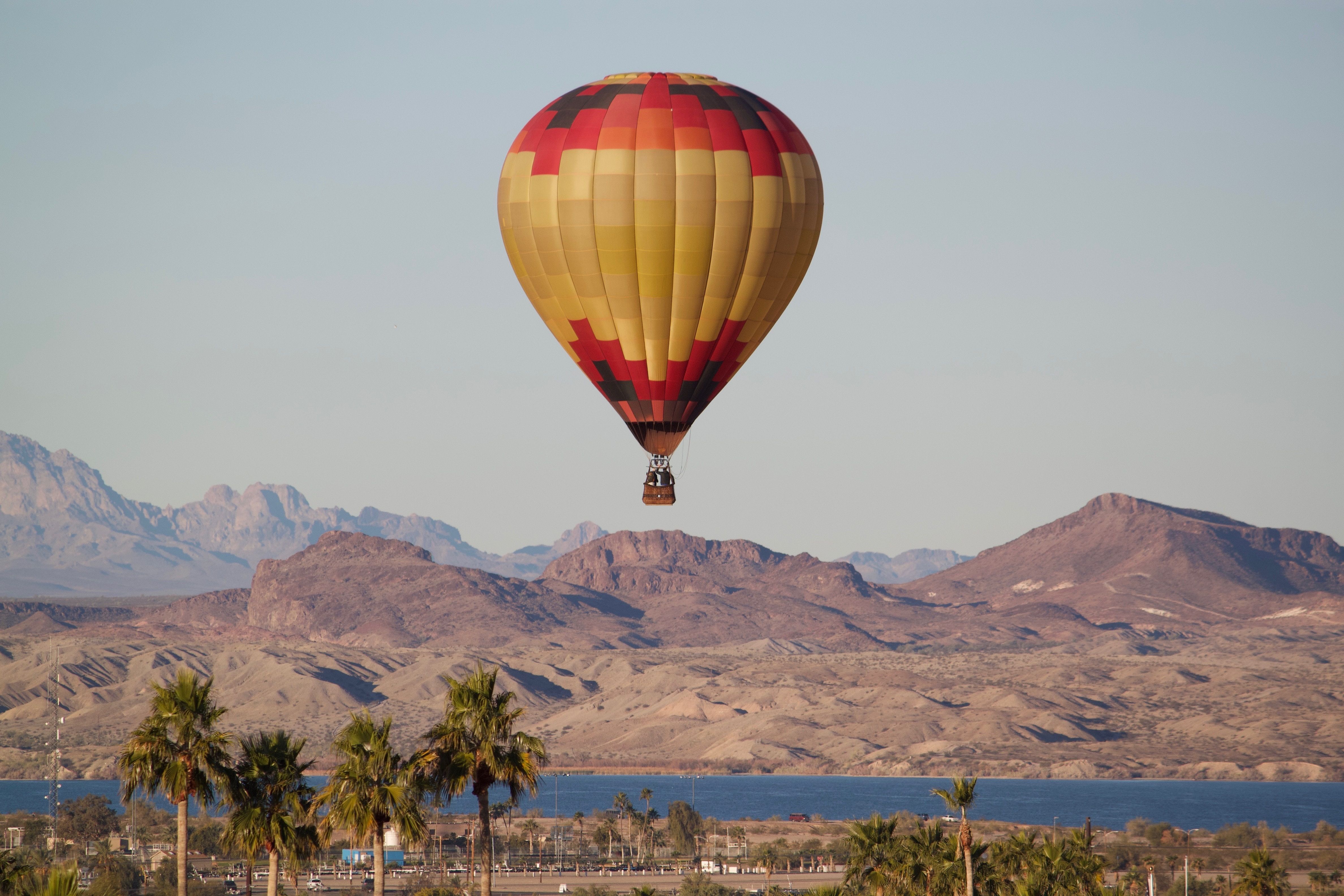 Havasu BalloonFest 2020. Hot air balloon over the lake.
For anyone wanting to watch hot air balloons soar through the sky, checking out the annual Havasu Balloon Festival might be a great idea. During this time (January 18th – 21st), tourists and locals can step outside and enjoy the balloons above Havasu Lake.
Because this event takes place in the sky, there isn't a charge to watch them set off. However, most people claim to see the most balloons near Lake Havasu State Park, Lot 2 (the main launch ramp and parking area), so that's a spot to remember when there.
10
Stop By The Lake Havasu City Visitor Center
People at Rotary Beach Park at Lake Havasu, Arizona
Conveniently located off London Bridge Road lies the Lake Havasu City Visitor Center. Here, tourists can find information on rentals, food, history, and other attractions they may want to experience during a vacation. This visitor center is open daily from 9 AM to 4 PM, so make sure to check everything out within that timeframe.
Again, if people need suggestions for accommodation, dining, shopping, sightseeing, etc., they can always check with locals at the various stores throughout town. The people of Lake Havasu City tend to be welcoming and happy to assist. This place is not too big, so there should not be an issue figuring out navigation.
11
Best Time To Visit Lake Havasu City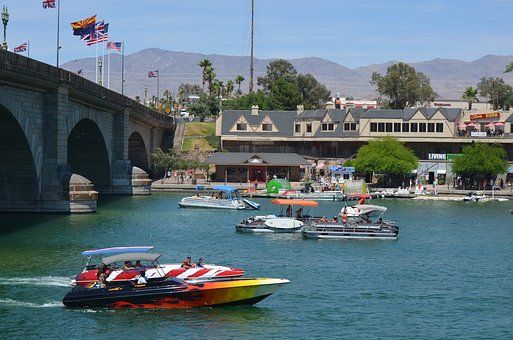 Boats under London Bridge, Lake Havasu
Lake Havasu City is a certified Spring Break destination, so most people will naturally suggest summer as the best time to go.
Day temperatures are sweltering, reaching a high of 110 °F and rarely dropping below 92 °F, while July is the hottest month with an average temperature range of 105 °F.
Meanwhile, summer is busy in the city, featuring large crowds, continuous parties, and free-flowing drinks. Party animals should definitely experience a Lake Havasu Spring Break!
But the offseason is a perfect time if tourists are not a fan of crowds and all the fracas. January to June sees a significant drop in crowd numbers and cheaper hotel room rates, although June can be incredibly hot in Lake Havasu City.
January is an excellent option in LHC for visitors who fancy festivities. The annual Balloon festival takes center stage, and the weather is cool and cozy, ranging between 65 °F and 69 °F.
Snowbirds dominate the winter months, and temperatures hover around 72 °F, with December being the coldest month. This also means there are a lot of activities going on in the city that should keep tourists entertained.
Spring
: March-May

Summer
: June-August

Fall
: September-November

Winter
: December-February
12
Best Ways To Get Around Lake Havasu City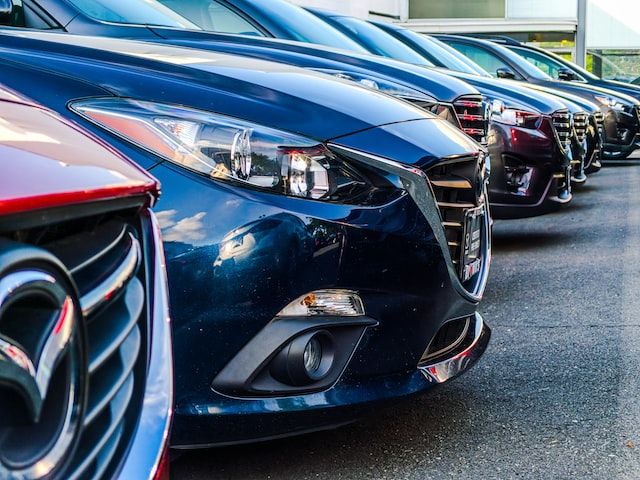 Cars lined up at a rental service
Lake Havasu City has a developed public transportation system that tourists can rely on to get around. Havasu Area Transit is the bus service charged with transporting locals and tourists, plying 4 distinct routes.
The bus routes feature stops in Desert Hills, Lake Havasu City, and the shops around Lake Havasu.
Operation hours
: Monday to Friday (6 am-7 pm), Saturday (8 am-6 pm), Sunday and all city holidays (closed)
For more convenience, guests can always get a taxi, which is more flexible compared to the bus. Several taxis are parked in busy areas like hotels, shops, and restaurants around London Bridge. Alternatively, tourists can call an Uber to schedule a ride.
Those who want to explore Lake Havasu City on two wheels should have no problem, given the city's several bike rental shops around town. This is an excellent option for shorter rides within the paved limits, and the slight elevation throughout the city makes the ride a walk in the park.
13
Where To Eat In Lake Havasu City
View from Arizona State University Havasu Campus
LHC may be famous for its waterfront and the original London Bridge, but visitors should not overlook its culinary culture. From local American dishes to exotic Italian cuisines, guests can choose from a list of restaurants and eateries in the city to entertain their taste buds.
Interestingly, most of the best eating spots in Lake Havasu City also serve alcoholic drinks, so patrons don't have to wander off to quench their thirst.
Check out these top food joints in Lake Havasu City:
Tourists looking for a chilled-out spot with a unique artsy interior and good food should stop by Cha-Bones. The joint specializes in American and local cuisines and serves sumptuous steaks.
Be sure to order Spanish tapas with friends; they have generous offerings that tourists should take advantage of.
Cha-Bones also doubles up as a bar, serving an assortment of alcoholic offerings that guests can indulge in after they've had their fill.
Tapas are half-price during happy hour
This hip pub with a rustic yet friendly atmosphere offers guests the best of both worlds with a combination of delicious meals with freshly brewed beer.
The food is sumptuous, from salted pretzels and Mac n Cheese to Italian pizzas. The menu is extensive enough to include all the favorite meals. They also serve special diets, including vegan and gluten-free options.
Meanwhile, the beer is handcrafted sustainably for a refreshing taste. After eating, guests can grab a glass and move to the patio, where the lake views are simply stunning.
Peggy's is the go-to restaurant for tourists looking for a refreshing first meal of the day. This popular breakfast and lunch joint serves some of the most affordable meals in the area without compromising the quality (or quantity).
Their menu is diverse, featuring everything from fresh coffee and wraps to delicious French toast. The atmosphere is quite welcoming, and the staff friendly, which is just the cherry on top after a hearty meal.
This family-owned brewery has been serving authentic West Coast brews from as far back as 1998. While it is more famous for its beer, Mudshark Brewery has a lot to offer in terms of American cuisine.
Their peppered tuna and veggie pizza receive a lot of praise, but the best part is the fresh beer. Choose between canned and in-house crafted beers to enjoy with friends or a Bloody Mary for a burst of flavors.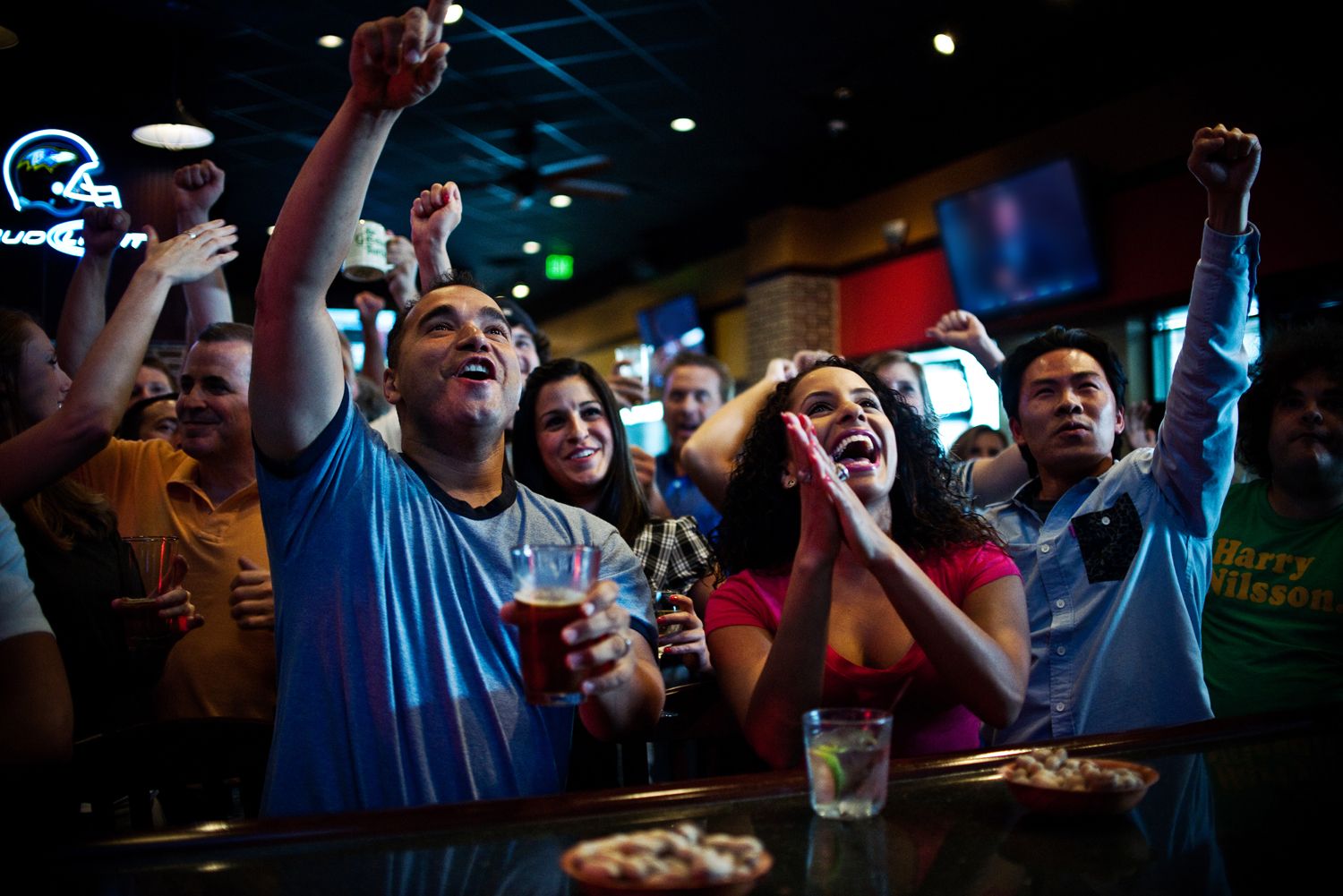 Revellers having fun in a sports bar, Lake Havasu
The Red Onion, interestingly, was initially a bank but later transformed into an eatery. Today, this brunch spot is popular among guests who like spicy meals.
The menu generally reflects its Latin American inspirations with tantalizing offerings like huevos rancheros among the crowd favorites. After their meals, guests can slide to the patio bar and sample the cocktail menu.
Overall, The Red Onion is the perfect spot for tourists searching for a traditional meal with a slight twist.
14
Where To Stay In Lake Havasu City
Person on a watercraft at Body Beach, Lake Havasu City AZ
Tourists have a couple of options for lodging and accommodation in Lake Havasu City. Whether searching for luxurious waterfront resorts or budget-friendly yet decent inns, there is something for everyone.
Most of these are conveniently located near the water, where tourists converge to take advantage of the beaches, restaurants, and other attractions.
Related:This Often-Overlooked Arizona Lake Is The Perfect Weekend Escape
To escape the crowds, guests should consider residential neighborhoods away from the lake, where they'll find comfortable vacation rentals, some big enough to accommodate whole families.
Premium Options:
Cost per night
: $223 for 2 adults

Amenities:
Free airport shuttle and Wi-Fi, separate sitting and dining rooms, breakfast buffet service, free guest parking, outdoor, fitness center, luxury spa treatment,
Cost per night:
$188 for 2 adults

Amenities:
Fitness center, Outdoor pool, Free airport shuttle, Bar/Lounge, Coffee machine, Room service, Free parking, Free Wi-Fi
Mid-range Options:
Holiday Inn Express & Suites Lake Havasu
Cost per night:
$170 for 2 adults

Amenities:
Outdoor pool, Free Wi-Fi, Fitness center, Tea/coffee maker, Cable or satellite TV, Business center, Free parking, Flat-screen TV
Budget Options:
Cost per night:
$112 for 2 adults

Amenities
: Private beach, Tea/coffee maker, Outdoor pool, Water slide, Room service, Bicycle rental, Water sports facilities (on site), Restaurant, Bar/Lounge, Free Wi-Fi,
Travelodge by Wyndham Lake Havasu
Cost per night:
$72 for 2 adults

Amenities:
Business center, free Wi-Fi, coffee machine, cable, satellite TV, hot tub, kitchenette,
15
Tips For Staying In Lake Havasu City
Parasailing at Lake Havasu
Lake Havasu City has plenty of attractions to keep vacationers preoccupied for the entire period of their stay. Tourists are surrounded by many entertaining pastimes, from venturing into the water by boat and hitting the beaten trails on two wheels to hiking into the great outdoors.
Some tips for people here include making reservations for food and lake equipment before the stay, as well as finding off-season times to stop by the charming town. Because many Arizonans come here to escape the sweltering valley, Lake Havasu City can get crowded. Therefore, coming to the city during winter or even towards the fall may be the best time, weather and price-wise.
Because Lake Havasu City is close to both Phoenix and Las Vegas, it may also be worth it to take a mini-road trip to either location. This is usually more of a stop than a final destination, although that's not to say one couldn't spend their entire week here.
Here are some of the attractions making Lake Havasu one of those Arizona cities tourists must visit.
Best Neighborhoods In Lake Havasu City
Lake Havasu City has a population of just under 60,000, with residents spread across different suburbs in the city. If tourists want to explore the area, Downtown Lake Havasu, along McCulloch Boulevard, is a great place to start. It has all the hallmarks of a downtown district, including shops, restaurants, and bars.
Moving northwards from Downtown Lake Havasu, tourists will come across Windsor Beach. It is an area of charming natural beauty by the shores of the lake and provides a tranquil atmosphere.
Related: Exploring Southwest Arizona: The Ultimate Travel Guide To Yuma & Things To Do
Lake Havasu State Park is also situated in Windsor Beach, highlighted by white sandy beaches, hiking trails, jetties, and diverse wildlife. The beach's location away from the busy side of the city means accommodation options are generally cheaper.
Another great area tourists might want to explore is Pittsburg Point. This scenic artificial island sits across the water from Downtown Lake Havasu and consists of gated communities.
Pittsburg Point offers the ideal weekend getaway for families looking for fun outdoor activities, and the surrounding scenes are a sight to behold.
16
How To Spend The Perfect Day In Lake Havasu City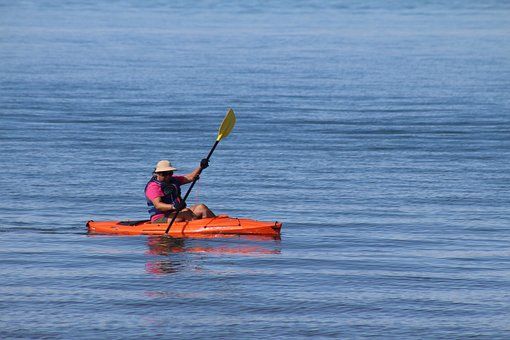 A man kayaking on Lake Havasu
"Arizona's Playground" boasts a range of attractions and exciting activities that any first-timer will be lucky to explore. Start the day at Lake Havasu State Park, a desert oasis surrounded by sandy beaches and lush plant life, culminating in panoramic scenes.
The time is also great to test the still lake waters on a jet ski or just relax on the sandy beach and take in the fresh breeze.
Related: 10 Unique Things To Do In Scottsdale
For lunch, tourists can head to the London Bridge area for a hearty meal in one of the many restaurants around before getting on the bridge for a laid-back stroll. The scenes are spectacular, and a selfie on this Insta-worthy bridge will do it justice.
An afternoon boat tour on the Dixie Belle is a great way to experience Lake Havasu while chatting up fellow tourists and adventurers before going Downtown to grab a Bloody Mary as travelers wait for the day to end.
FAQ
Q: Is Lake Havasu City worth visiting?
Lake Havasu City is the perfect destination for anyone looking to have fun in the middle of the desert. It oozes a chilled-out vibe that allows guests to relax on the water and take in the scenery.
The city boasts endless attractions, including the London Bridge, Lake Havasu State Park, SARA Park, etc. Lake Havasu Falls is also among the most beautiful waterfalls in the US.
Q: Does Lake Havasu Have a Downtown?
Downtown District in Lake Havasu City is situated on McCulloch Boulevard, sandwiched between Acoma Blvd and Smoketree Avenue. The area is famous for its vibrant nightlife and is home to some of the city's most popular pubs, bars, and restaurants.
Q: Is Lake Havasu City a good family vacation?
Lake Havasu City will enchant any family searching for an entertaining vacation destination. The different water activities on the lake are enough to keep the kids entertained for the day. They'll never get enough of the fun, from swimming and paddleboarding to boating. A family trip to Havasu Falls will be the icing on the cake!
Q: Is Swimming in Lake Havasu Safe?
Visitors can swim on Lake Havasu; there is a designated area for swimmers at the white sandy beach. However, swimming is restricted along the shoreline for safety reasons as the lake is massive, and venturing away from the shores can be dangerous.