An international vacation is what every family wishes for; however, children tend to get spiritless if there aren't activities or attractions of their interest. London is one destination offering heaps of entertainment for kids. There are a myriad of things to do in London with kids that their parents can also enjoy. From witnessing the marine life at SEA LIFE Centre London Aquarium to marveling at the wax figures at Madame Tussaud's to cruising on the River Thames, travelers in London are spoilt for choice. Here we have compiled a few cool things to do in London with kids that you must add to your itinerary!
Top 10 Things to do in London with Kids
No other destination matches the number of things to do in London with kids. Below are some that will make your vacation a joyful affair.
1. Experience the Magic of Harry Potter Studio Tour
Positioned within Warner Bros, The Making of Harry Potter features an exceptional exhibition of authentic costumes, sets, props and other elements used during the production of the Harry Potter series. Features like Hogwarts Great Hall, Forbidden Forest, Diagon Alley will take you back to the Harry Potter era. Moreover, kids can also relive the magic of the Hogwarts express or ride the broom stick. There are also behind-the-scenes areas that allow you to witness the hard work of the team in curating such a big blockbuster.
London Travel Tips: For An Amusing Vacation Experience Like Never Before!
2. Witness Marine Life at SEA LIFE Centre London Aquarium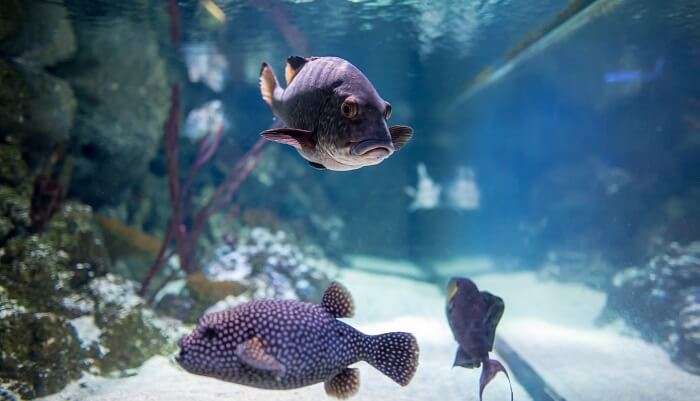 Home to an impressive range of aquatic species, SEA LIFE Centre London Aquarium is among the best places to visit in London with kids. The aquarium features 14 zones based on different themes. While the Shark Walk lets you walk over a glass window to witness the gigantic creatures, Polar Adventure allows you to experience the life of Gentoo Penguins under frozen extremities. Besides this, Atlantic Coasts, Ray Lagoon, Ocean Tunnel, Open Oceans, Shipwreck, etc. are other zones that will leave you completely spellbound.
3. Enjoy a Trip to the planet of Avora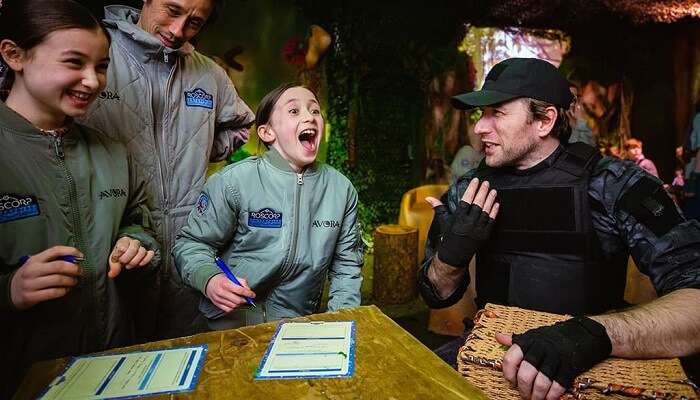 Image Courtesy: Avora Experience
The planet of Avora is one-of-a-kind space offering immersive adventure for families to experience enthralling sensory experiences. Although Avora is a cocktail bar, it also offers interactive activities for children over 6 years. From Interacting with a cast of talented actors to meeting with botanists and local Avorians to taking a journey to the magical planet of Avora, this peculiar spot lets you enter a new world altogether. Moreover, kids will also get to play an array of fun sensory games.
Top 14 Things To Do In London On Your Next Vacation
4. Spend fascinating day at Natural History Museum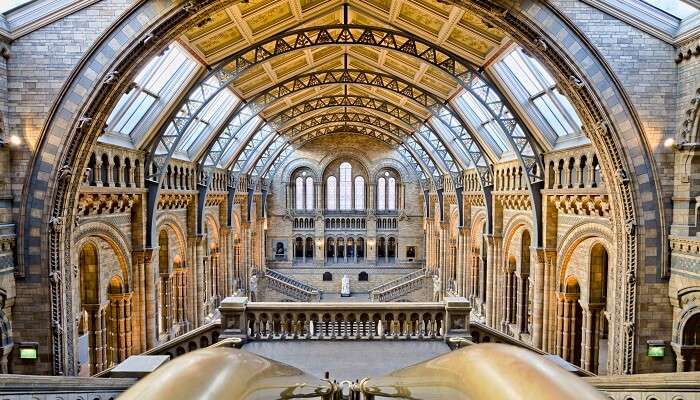 Image Credit: Mdbeckwith for Wikimedia Commons
Natural History Museum is an iconic tourist spot showcasing 80 million objects from the natural world. A 40-million-year old spider, the Dinosaur Gallery with gigantic skeletons, and life-sized blue whale are a few highlights of the museum. Moreover, a walk in the Butterfly Jungle and Wildlife Garden will make your visit all the more exciting. The interactive experience voiced by museum researchers and curators is another attraction of the museum. Don't forget to take a tour of a world-renowned exhibit displaying nature's charm through 100 photographs. So, if you are seeking free things to do in London with kids, plan a visit to this colossal museum.
5. Indulge in adventure at Hobbledown Heath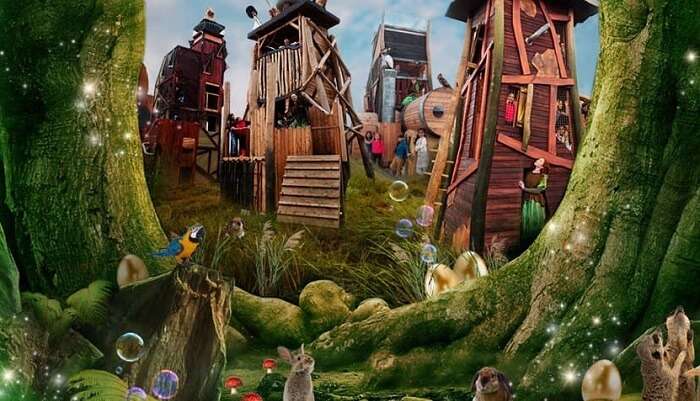 Filled with wonder and mystery, Hobbledown Heath is a unique adventure park and zoo where families can spend a fun-filled day. The four themed villages, indoor and outdoor playgrounds, along with several other enjoyment hubs keep kids and adults engrossed throughout the day. Additionally, once you get to see traditional farm animals and some exotic ones like highland cows, meerkats, goats, capybara, etc. in their natural habitat. Spending a cheerful day here is indeed one of the best things to do in London with toddlers.
A Mini Guide To London For First-Time Visitors
6. Visit the Madame Tussaud's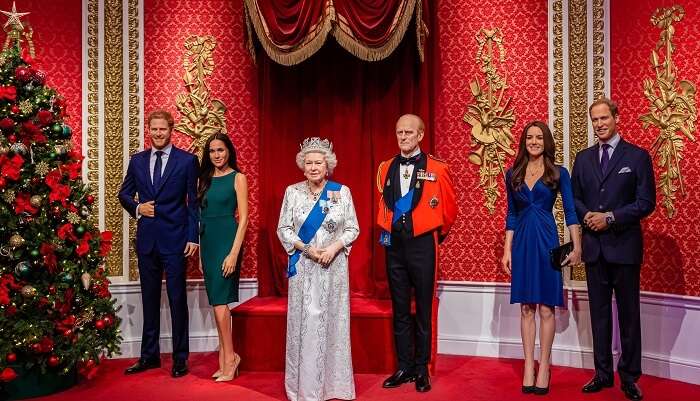 Founded 188 years ago, 1835, Madame Tussaud's is one of the most iconic museums around the world. The museum features 14 themed zones showcasing wax sculptures of prominent personalities from several fields including sports, music, politics, movies, and more. The wax figures of Rihanna, Taylor Swift, Ed Sheeran, and Marvel super heroes, Leonardo DiCaprio, Brad Pitt, and Priyanka Chopra Jonas are worth marveling at. There is also a space dedicated to Buckingham Palace allowing visitors to get into the royalty. From Prince and Princess of Wales to Queen Elizabeth II to Barack Obama, and Princess Diana. The museum receives a huge influx of visitors everyday, hence book the tickets online well-in advance.
7. Have endless fun at Legoland Windsor Resort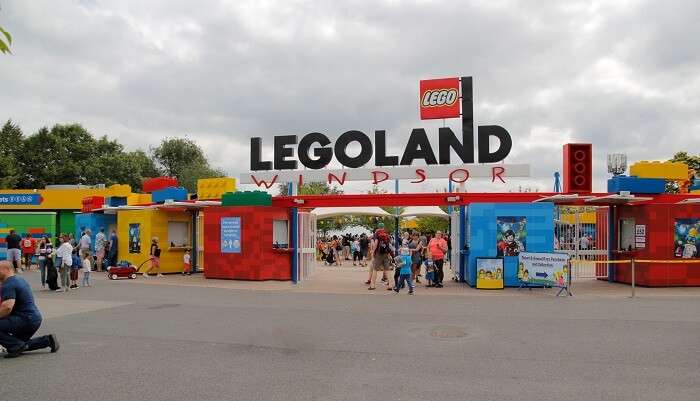 Opened in 1996, Legoland is a theme park based on the world-famous brand of toys, Lego. From enjoying around 55 rides to watching live shows and attending indulging events, and partaking in LEGO building activities, this park doesn't leave a stone unturned to leave visitors bewitched. Although Legoland lies around 40 km from London, it is a spot worth visiting if you want to treat your kids with fun activities. Moreover, adults will also get their hand on several activities to make the most of their visit here.
19 Best Places To Visit In London That Prove Why It Is The Most Iconic City In The World
8. Cruising at the River Thames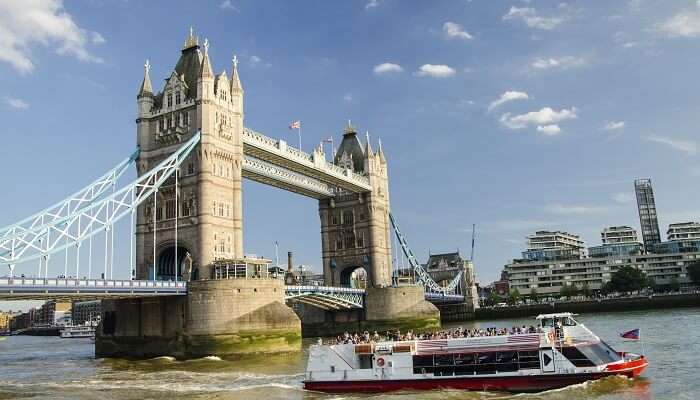 Cruising over the River Thames is an experience that families are bound to cherish. The cruise offers you a chance to catch a glimpse of capitals landmarks from a different view. The boats halt at four piers including London Eye, Westminster, Greenwich, and Tower. Enjoy breathtaking views of alluring spots like the world-famous Globe Theatre, Victorian Tower Bridge, St. Paul's Cathedral, the Tate Modern, The Shard, and more. One of the best things to do in London with Kids, cuisine over the River Thames will surely treat your senses.
9. Get closer to wildlife at the London Zoo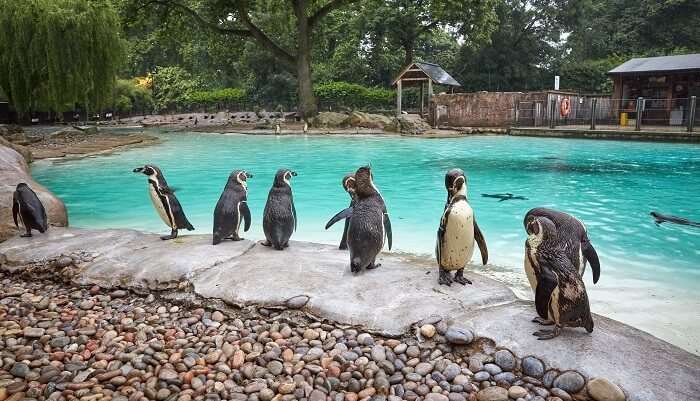 London Zoo or Regent's Park Zoo is one of the world's oldest scientific zoos founded in 1828. It houses approximately 14,926 species of animals, birds, reptiles, and amphibians. Abdim's stork, African wild dog, Asiatic lion, humboldt penguin, giraffe, llama, king cobra, okapi, Philippine crocodile, and Pygmy hippo are some species that captivate visitors. The zoo majorly emphasizes conservation, education, and breeding. Besides this, visitors will also get to enjoy fessing sessions and night stays in Gir Lion Lodge cabins.
10 Best Day Trips From London To Explore This Extravagant Capital City In England!
10. Explore major spots on a hop-on & hop-off bus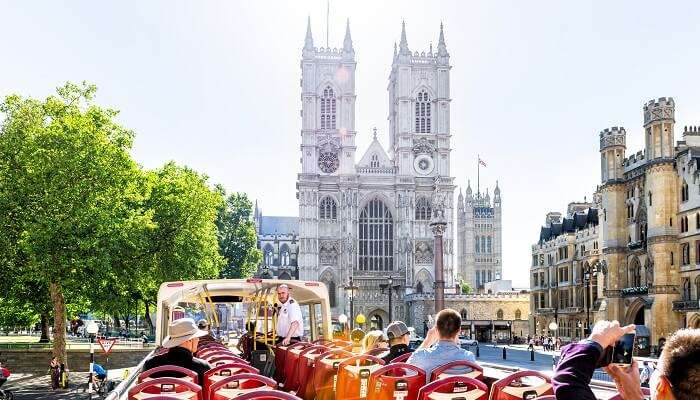 With attractions like London Eye, Westminster Abbey, London Dungeon, London Dungeon, National Gallery, Hyde Park, Buckingham Palace, Big Ben, and The Victoria and Albert Museum, the magnificence of London is boundless. While you're in the capital, a visit to the major tourist spots is a must. And, what's better than exploring them on a hop-on & hop-off bus tour. With an exciting bus tour, you will get to witness the charm of London's top landmarks. Moreover, the open bus will let you catch a glimpse of the daily lives of the locals.
Fascinated enough? Yes, we know! The above-mentioned things to do in London with Kids aren't only meant for children, parents can also enjoy most of them. So, here we just served a perfect recipe for a family international trip. Now, when you plan a London trip with your toddlers, incorporate these experiences to your itinerary. Happy holiday!
For our editorial codes of conduct and copyright disclaimer please click here.
Frequently Asked Questions About Things to do in London with Kids
Which are the best things to do in Londin with kids?
Here are some of the most fun things to do in London with kids:
1. Experience the Magic of Harry Potter Studio Tour
2. Visit the Madame Tussaud's
3. Have endless fun at Legoland Windsor Resort
4. Cruising at the River Thames
5. Get closer to wildlife at the London Zoo
Which are the best family hotels in London?
If you are wondering where to stay in London with kids, check out the best accommodation options below:
1. Wilde Aparthotels by Staycity London Paddington
2. Pan Pacific London
3. Bermonds Locke
4. The Londoner
5. Hart Shoreditch Hotel London
6. nhow London
7. The Resident Covent Garden
Can I visit London during the current Covid situation?
Yes, you can plan a visit to London during the current Covid situation. However, make sure that you are completely vaccinated and always carry your vaccination certificate. Besides this, you need to follow government protocols that include wearing a mask when in public, sanitizing hands at certain intervals, and maintaining social distance.
Which are the most popular attractions in London?
Some of the best places to see in London are:
1. London Eye
2. Warner Bros. Studio Tour London
3. Madame Tussauds London
4. Westminster Abbey
5. London Dungeon
6. Kew Gardens
7. National Gallery
8. Piccadilly Circus And Trafalgar Square
9. Buckingham Palace
10. The Victoria And Albert Museum
11. The British Museum
How many days are enough for a London trip?
A trip of 6-7 days would be enough to witness the best of London. To enjoy your vacation, you can go sightseeing and indulge in outdoor activities.
Which are some non-touristy things to do in London with kids?
Here are some non-touristy activities to enjoy with children in London:
1. Enjoy a walk through the street art in East London
2. Sample English delicacies at the local restaurants
3. Indulge in a retail therapy at at Broadway Market
4. Enjoy a picnic on Primrose Hill
People Also Read:
Things To Do In Crawford With Kids Things To Do In Maldives With Kids Things To Do In Hong Kong With Kids