Dipped in the richness of culture, Kolkata is a city boasting the fervor of festivals throughout the year. Although there are numerous cultural Festivals in Kolkata, the domains like film, art, music, and food are also equally celebrated. Whether you are a cinema-lover, music-buff, or a true epicure, the varied genres of festivals will leave you spoilt for choice. With festivals like Durga Pooja, Charak Puja, Dover Lane Music Festival, National Theatre Festival, and more, get immersed in the colors of Kolkata. Here is a list of some famous festivals in Kolkata you should not miss!
Cultural Festivals in Kolkata
Delicious meals, family gatherings, and heaps of happiness, festivals in Kolkata take celebration to another level. Here are some of the most celebrated ones that showcase the culture of Kolkata.
1. Saraswati Puja
Saraswati Puja is another famous festival of Kolkata celebrated on the 5th day of Magha month. Bengalis celebrate the homecoming of Goddess Saraswati who is also the goddess of education, music, and creativity. On this day the idols of Maa Saraswati are donned with colorful or white clothes and jewelry. The other rituals include reciting mantras, offering prayers, flowers, and fruits to the go goddess. The occasion is touted as one of the most auspicious days for children.
Date: February 14, 2024
33 Best Things To Do In Kolkata: Know What Makes It The City Of Joy
2. Bhai Phota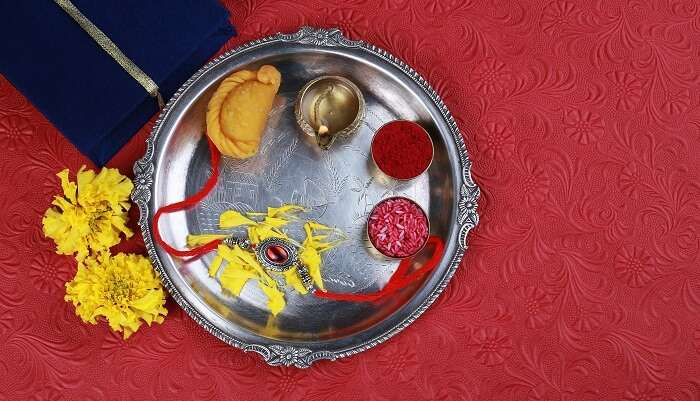 Also known as Bhai Dooj, Bhai Phota is a festival dedicated to brothers and sisters. Celebrated after two days of Diwali, Bhai Pota strengthen the bond between siblings. The sister ties mouli (sacred red thread) on her brother's wrist, puts the kumkum teeka on his forehead and offers him sweets. In return, the brother showers her sister with gifts and blessings.
Date: November 15, 2023
3. Jamai Shoshti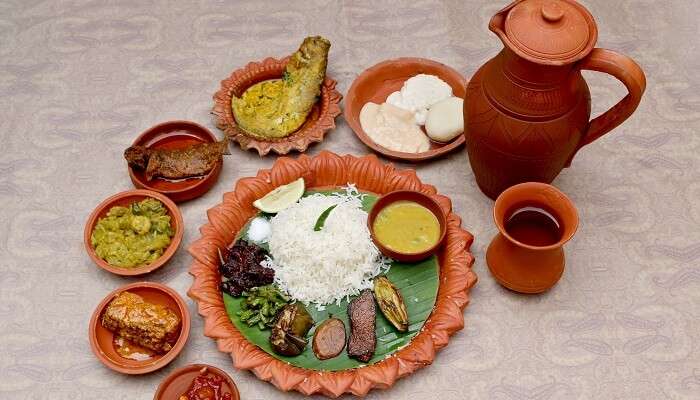 Jamai Shoshti is an exclusive festival in Kolkata commemorating liaison between a son-in-law and a mother-in-law. Celebrated on the sixth day of Shukla paksha in Jyestha month (May or June, the festival includes a grand welcome of the son-in-law. The mother-in-law prepares and serves a palatable feast that majorly comprises his favorite delicacies. Tying a sacred thread on the hand and presenting certain gifts are some of the rituals that take place on this day.
Date: May 25, 2023
60 Best Places To Visit In Kolkata That Reflect Its True Art
4. Durga Pooja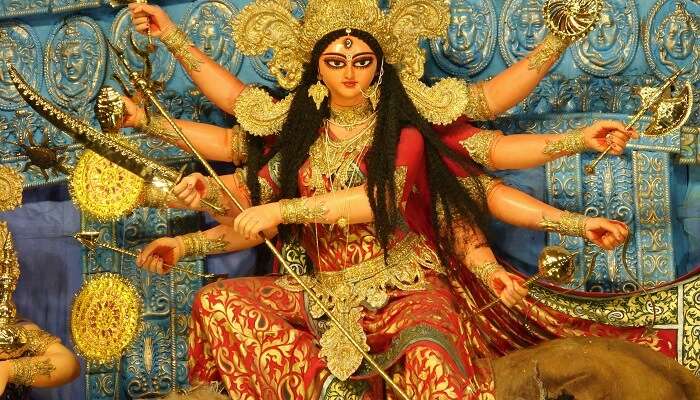 Celebrating the victory of the goddess Durga over the demon Mahishasura, Durga Pooja is one of the most revered festivals in Kolkata. The festival includes offering prayers to the Goddess Durga, wearing new clothes and visiting highly-embellished pandals, gorging upon scrumptious delicacies, and attending cultural events. The rituals also include immersing the idols in the river after a grand procession. On this auspicious day, married women play sindoor Khela for marital bliss. .
Date: October 20, 2023 to October 24, 2023
5. Charak Puja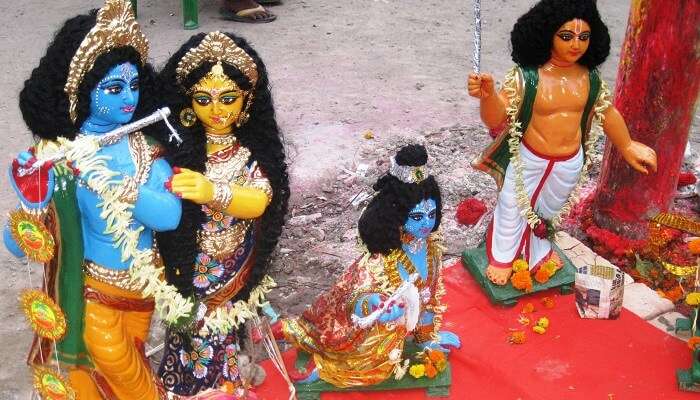 Image Credit: Salil Kumar Mukherjee for Wikimedia Commons
Held in honor of the deity Shiva, Charak Festival is a unique folk festival celebrated in West Bengal and Bangladesh. Majorly tribal people residing in villages and rural areas celebrate this festival. They wander in the nearby villages to obtain essentials for the ritual like oil, paddy, salt, honey, and money as well. Further, the folks assemble at the night of Songkranti and worship Lord Shiva and Ma Durga. Post completing the rituals, the prasad is distributed among the villagers.
Date: August 21, 2023
18 Historical Places In Kolkata That'll Walk You Through City's Artistic & Architectural Grandeur
Non-Cultural Festivals in Kolkata
If music, food, films, theater fascinate you, the below-mentioned festivals are just meant for you. Scroll down to know more.
6. International Foodtech Kolkata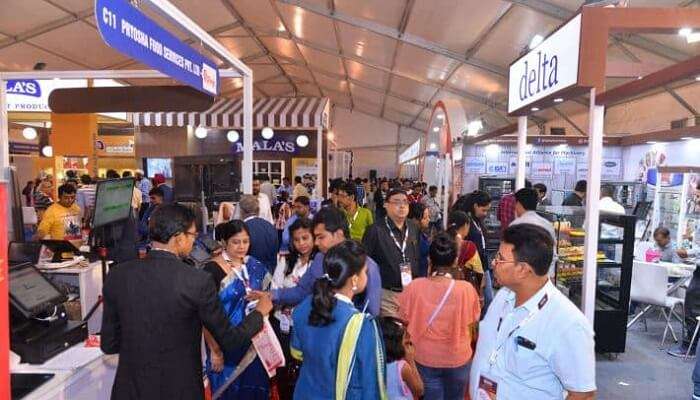 Image Courtesy: Global Trade Fairs
International Foodtech Kolkata is one of the largest trade shows in India offering an excellent platform for the Food & Hospitality fraternity in Eastern North Eastern parts of India. The 20th International Foodtech will aim at the bakery & confectionery, food processing & food service industry. The exceptional business event invites bakers, food makers, confectioners, restaurant owners, hoteliers, caterers, food retailers, and other industry professionals. This food festival in Kolkata is indeed a heaven for food lovers!
Date: August 18-20, 2023
Venue: The Milan Mela Exhibition Complex
7. Dum Dum Classical Music Festival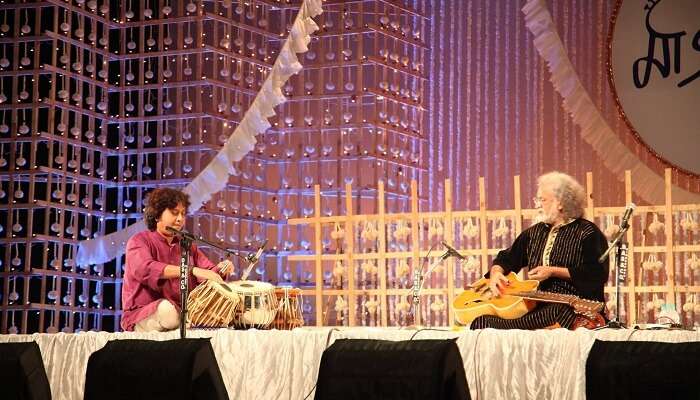 Dum Dum Classical Music Festival is a 2-day festival that commemorates Indian classical music. Get your soul rejuvenated with the melodious voice of vocalists like Ustad Rashid Khan, Armaan Khan, Vid. Kaushiki Chakraborty, and more. Besides this, you will also get to indulge in the celestial vibes of several musical instruments such as tabla, sarangi, flute, harmonium, percussion, sitar, sarangi, and so on. Furthermore, the entry ticket to the festival is INR 300 onwards.
Date: April 15-16, 2023
Venue: Rabindra Bhavan, Kolkata
Shopping In Kolkata: A 2022 Guide To Help You Spend Money On The Right Item!
8. Dover Lane Music Festival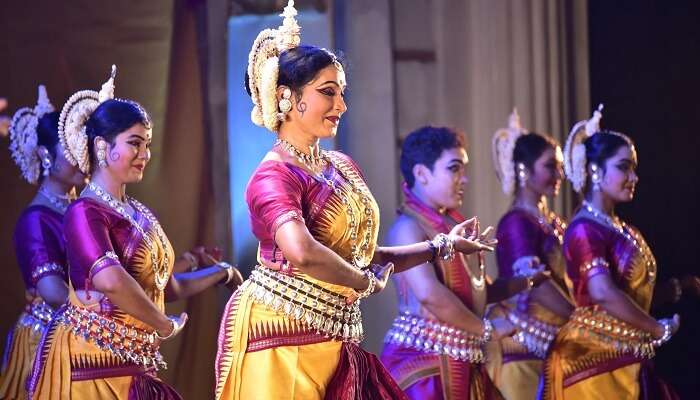 Image Courtesy: Dover Lane Music Conference
A paradiscal affair for all the musicophiles, Dover Lane Music Festival is one of the most revered music festivals in Kolkata that celebrates Indian classical with top-notch singers and musicians. Additionally, budding artists also get a chance to showcase their talent. This 3-night festival takes place every year in January at Nazrul Mancha auditorium. The 71st annual festival held on 22nd to 25th JAnuary, 2023 comprised vocal performances of artists like Pelva Naik, Rashid Khan, Rita Dev, Sabina Mumtaz Islam, Shubhada Paradkar, and more.
Date: TBA for 2024
Venue: Nazrul Mancha
9. National Theatre Festival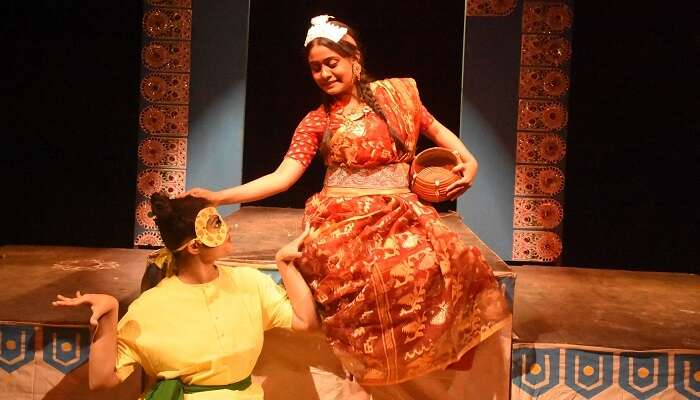 Organized by Nandikar Theatre Group, National Theatre Festival is an annual affair started in 1984. The festival takes place at Academy of Fine Arts Kolkata in December every year. The festival aims at showcasing cultural integration and incorporating diversity from all across the nation. Hence, you can watch stellar performances of theater artists from all over India. Besides this, the theater group also invites artists from countries including Switzerland, US, Pakistance, Bangladesh, and Nepal.
Date: TBA
Venue: Academy of Fine Arts, Kolkata
You Don't Need To Skip Office To Visit These 10 Amazing Places Near Kolkata
10. Unreal Film Fest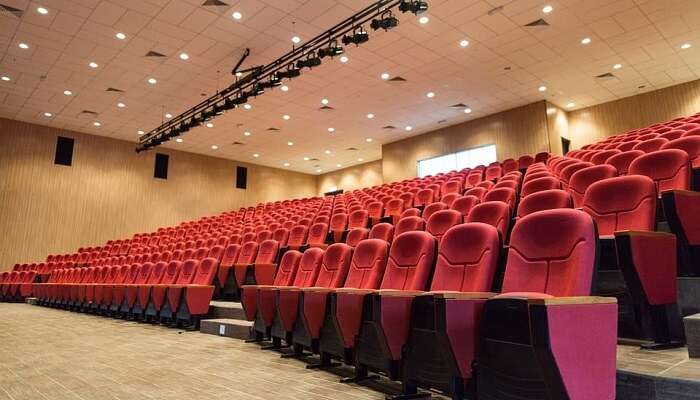 Hosted by Unreal Production, Unreal Film Fest focuses on the efforts of indie short filmmakers who create music videos, movies, and documentaries with limited resources and budget. This upcoming short film festival in Kolkata festival will showcase the works of artists from all across the globe. The USP of the fest lies in its diversity. Moreover, artists get a chance to present their work in front of top-notch directors, actors, music producers, and editors. So, if you are in search of upcoming festivals in Kolkata, book your tickets for Unreal Film Fest.
Date: May 20, 2023
Venue: Nalta recreation club, 3/1, Nalta, Rajbari, Dum Dum, Kolkata, West Bengal
If you are planning a trip to Kolkata anytime soon, don't forget to be a part of these festivals. Enjoy a glimpse of the vibrant culture of this vibrant capital. There are numerous other festivals in Kolkata, hence you can enjoy any as per your taste. So, get ready for a joyful trip to Kolkata and indulge in a feast of festivals.
For our editorial codes of conduct and copyright disclaimer, please click here.
Frequently Asked Questions About Festivals in Kolkata
Which are some cultural festivals of Kolkata?
Here is a list of some cultural festivals of Kolkata:
1. Laxmi Puja
2. Saraswati Puja
3. Durga Puja
4. Poila Boishakh
5. Jamai Shoshti
6. Kali Puja
7. Bhai Phota
Which are some non-cultural festivals and fairs to attend this year?
If you are interested in books, music, theater, food, and art, here are some festivals you must attend this year:
1. Dover Lane Music Festival
2. Unreal Film Fest
3. International Foodtech Kolkata
4. Dum Dum Classical Music Festival
5. National Theatre Festival
6. Calcutta Book Fair
7. National Theatre Festival
Which are some traditional foods of Kolkata?
Here are some traditional delicacies of Kolkata you must gorge upon:
1. Macher Jhol – Exclusive Fish Curry
2. Kolkata Biryani – Finely Flavoured Rice
3. Kosha Mangsho – Special Mutton Curry
4. Alur Torkari With Luchi – Kolkata Style Aloo Poori
5. Shukto – Bowl Of Veggies
6. Chelo Kebab – Unique Platter
7. Mochar Ghonto – Flavorsome Bites
8. Katla Kalia – Traditional Delicacy
9. Macher Muri Ghonto – Bowl For Health
10. Aloo Posto – For Potato Lovers
What is the traditional dress of Kolkata?
Traditional dress for women in Kolkata is saree with red border and for men, it is dhoti and kurta.
Which are some famous dances of West Bengal?
Here are some dance forms famous in West Bengal:
1. Brita Dance
2. Gambhira Dance
3. Chhau Dance
4. Tusu Dance
5. Lathi Dance
6. Baul Dance
People Also Read:
Festivals In Mumbai Festivals In Gujarat Festivals In Kerala