Nestled in the Nilgiri mountains of Tamilnadu, Mudumalai is a national park in an area with rich biodiversity, the Western Ghats, Home to numerous wild species of flora and fauna, the national park lies at a tri-junction between the states of Tamil Nadu, Karnataka, and Kerala. It also houses the famous Asiatic elephant and tigers and many other wildlife species such as common langoor, wild dogs, cats, and much more. While it's not only the national park that is worth exploring here, the other places to visit in Mudumalai will give you a glimpse into the rich biodiversity and scenic treasures of the destination. Mudmalai is also quite famous among the tourists for its tranquil surrounding and the dense greenery that follows. Read more to know about all the places to visit in Mudumalai on your next trip.
5 Best Places To Visit In Mudumalai
1. Maravakandy Dam
Image Credit: Ontario Power Generation for Wikipedia.org
The first one on our list of best tourist places in Mudumalai is Maravakandy Dam. Located in close proximity to Masinagudi, this place is perfect for all nature enthusiasts. Built-in the year 1951, the Dam is located close to the Moyar River surrounded by rich flora and fauna. One can easily spot deer, elephants, tigers, or various species of birds. What makes it special is the picturesque landscape of the Dam, with the river flowing on one side and lush greenery on the other.
Location: HMF2+HQ, Masinagudi, Tamil Nadu 643223
Entry fee: No entry fee
8 Guest Houses In Chennai To Stay During Your Tamil Nadu Trip
2. Mudumalai National Park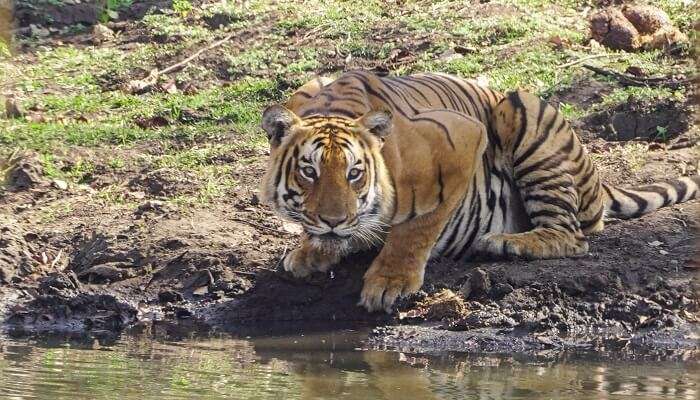 Image Credit: Timothy A. Gonsalves for Wikipedia.org
Spread across an area of 321 sq. km, Mudumalai National Park is a protected area in the Nilgiri mountain ranges of Tamil Nadu. Famous for its rich diversity and fun activities to do inside, this national park also harbors tropical and subtropical broadleaf forests. Great for indulging in activities like Jeep Safari, tiger spotting, and much more, Mudumalai National Park is one tourist place in Mudumalai that you cannot miss.
Location: NH 67, Gudalur NH 67, Gudalur, Devarshola
Entry fee: INR 30 per person
Timings: 7:00 A.M. to 9:00 A.M. and 3:00 A.M to 6:00 P.M
3. Theppakadu Elephant Camp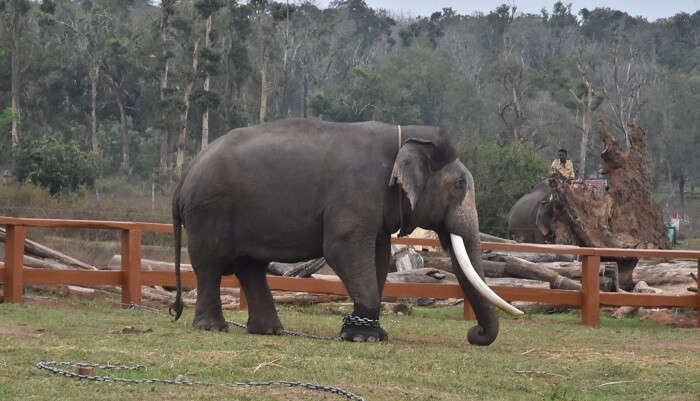 Image Credit: BHARATHESHA ALASANDEMAJALU for Wikimedia Commons
Training and housing center for Elephants, Theppakadu Elephant Camp was founded almost 100 years ago. It is located in close proximity to the Mudumalai Wildlife Sanctuary and Masinagudi and is also the oldest elephant camp in Asia. The elephants are available for a ride during the morning and evening hours. Tourists can come here and play and feed the elephants, some of the elephants are specially trained here to entertain the tourists.
Location: HHHM+HJV, Theppakadu, Tamil Nadu 643223
Entry fee: INR 25 per person
Timings: 8:30 A.M to 9:00 A.M and 5:30 P.M to 6:00 P.M
10 Hotels In Coonoor Amid The Lush Valleys Of Tamil Nadu
4. Bandipur Tiger Reserve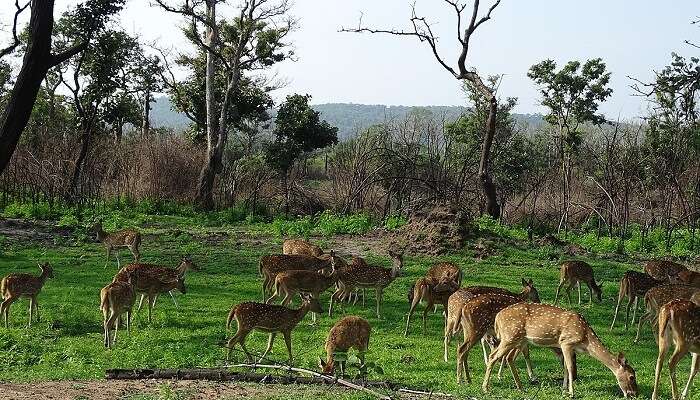 Image Credit: Manoj K for Wikimedia Commons
Nestled in the Nilgiri hills, Bangipur Tiger Reserve is home to tigers and Asiatic elephants with many old wild species of flora and fauna. This national park includes most of the forest area of Venugopala Wildlife Park. It has completed 50 years as a project tiger reserve and was launched in the year 1973. Located in one of the richest biodiversity, this reserve is a must-visit to explore the rich flora and fauna and to spend some time in nature.
Location: Bandipur Tiger Reserve, Coimbatore-Ooty-Gundlupet Hwy, Bandipur, Karnataka 571126
Entry fee:
Timings: 6:00 A.M to 9:00 A.M and 3:00 P.M to 6:00 P.M
5. Moyar River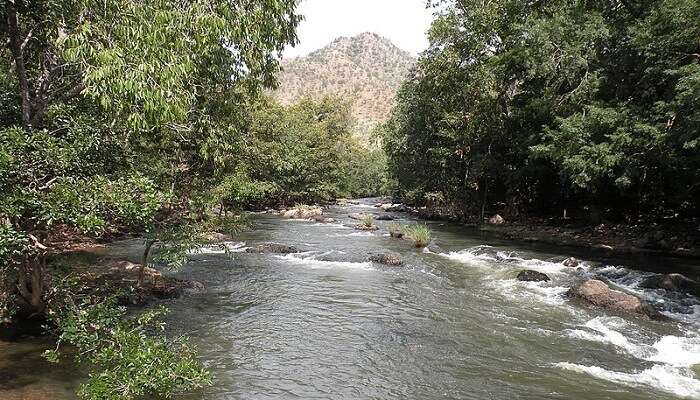 Image Credit: A. J. T. Johnsingh for Wikimedia Commons
Last but definitely and an important Mudumalai tourist place is the Moyar River. Originating from the town of Moyar alongside the Masinagudi-Ooty road, the Moyar River lies between the Mudumali and Bandipur tiger reserves. A good spot for picnics or to hang out with your friends or family, Moyar River is known for its picturesque surroundings and peaceful aura.
Location: Moyar, Masanguid-Ooty road
Entry fee: NA
Timings: NA
15 Kodaikanal Hotels To Pick From For Your Next Trip To Tamil Nadu
While these are a few of the best places to visit in Mudumalai, you can find many such great places to explore on your getaway. Without much delay plan a trip to Mudumalai and tap into the rich biodiversity and scenic beauty of the places.
Cover Image Credit: Kirtishankar075 for Wikimedia Commons
For our editorial codes of conduct and copyright disclaimer, please click here.
Frequently Asked Questions About Places to Visit in Mudumalai
Can we spot tigers in Mudumalai?
Yes, you can easily spot a tiger in the Mudumalai national park. Take a jungle safari which will take you to the core zone of the jungle where you can easily spot a tiger or other wildlife species.
What is Mudumalai Sanctuary famous for?
Mudumalai Sanctuary is famous for its rich biodiversity. It was started out under the project tiger to preserve this wildlife species. It also houses the Asiatic elephant and other wild flora and fauna.
Is Mudumalai and Bandipur same?
Both Mudumalai national park and Bandipur tiger reserve are administered separately but both are located in the lower reaches of the Nilgiri Biosphere Reserve which is part of the Western Ghats biodiversity hotspot.
What are the top 5 tiger reserves in Tamil Nadu?
The state of Tamil Nadu has 5 tiger reserves, 15 wildlife sanctuaries, 15 bird sanctuaries, and 2 conservation reserves. The top 5 tiger reserves to visit here are Annamalai, Kalakkad – Mundanthurai, Mudumalai, Sathyamangalam, and Srivilliputtur Megamalai.
People Also Read:
Things to do in Mahabalipuram Things to do in Madurai Things to do in Yeracud