With the onset of the summer season, most of us are looking for a relaxing getaway from the scorching heat of the cities. And there is no better way to do this than to unwind amid the lush green surroundings and panoramic views of hills, Valparai is one such destination to explore. A hill station and taluk in the Coimbatore district of Tamil Nadu, in the Anamalai mountain ranges of the Western Ghats, Valparai is a majestic town to explore for an offbeat travel experience. Surrounded by tea and coffee plantations, the place offers a wide range of sightseeing options. From waterfalls to dams to viewpoints, the varied tourist attractions here are ideal to enjoy the pleasant weather and scenic surroundings. Our handy guide to all the best places to visit in Valparai will help you decide for yourself.
7 Best Places To Visit In Valparai
From witnessing the panoramic views from the Nallamudi viewpoint to relaxing amid the dense greenery at Monkey Falls, our comprehensive list covers all the experiences and best places to visit here. Read further to know more!
1. Nallamudi View Point
Image Credit: Subramonip for Wikimedia Commons
The first one on our list of best tourist places in Valparai is Nallamudi View Point. Situated amid the expansive tea plantations, this viewpoint offers panoramic views of the Anamudi Peak, the tallest in South India. Located 15 km from the center, the viewpoint is a 1 km walk through the tea estate. The peaceful surroundings and breathtaking views of the surrounding waterfalls and mountain ranges. attract a large number of tourists, also making it a perfect outdoor spot to unwind and relax.
Location: 7W3P+728, Tamil Nadu 642117
Entry Fee: INR 30 per person
Timings: 9:00 A.M. to 4:00 P.M
10 Best Places For Solo Trip In South India
2. Anamalai Tiger Reserve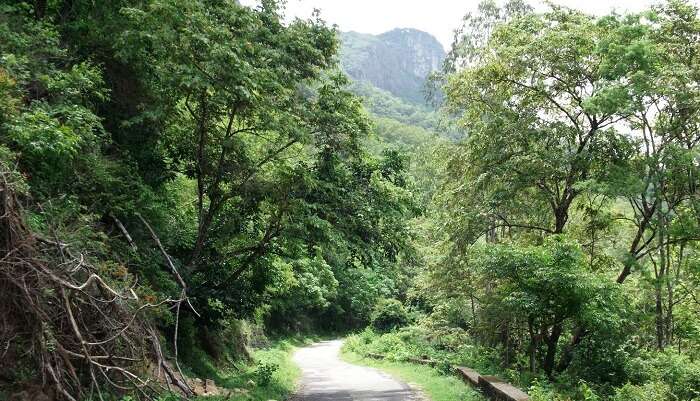 Image Credit: Jaseem Hamza for Wikimedia Commons
Perched on the western ghats region of the Pollachi, Valparai, and Udumalaipettai, at an altitude of 1400 meters, Anamalai Tiger Reserve is another one of the best Valparai sightseeing places. Also known as Indira Gandhi Wildlife Sanctuary, this protected area and also the largest sanctuary in the state. Home to almost 2000 species of Flora, various herbs, palms, and numerous species of fauna, this sanctuary is a must-visit for anyone visiting Valparai.
Location: C44H+9QX, Pollachi, Tamil Nadu 642101
Entry Fee: INR 30 per person
Timings: 7:00 A.M to 4:00 P.M
3. Sholayar Dam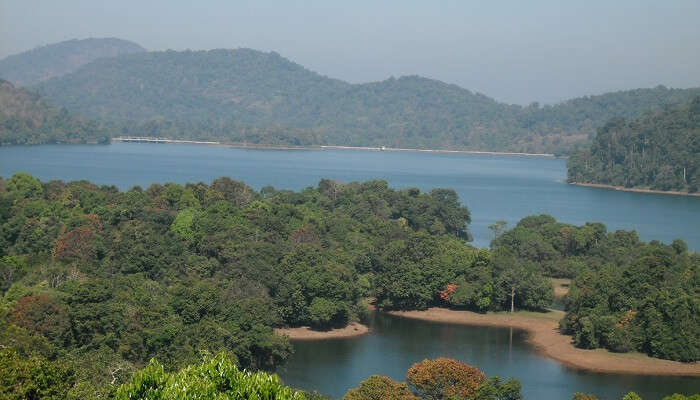 Image Credit: Jaseem Hamza for Wikipedia Org
Located at a distance of 20 km from Valparai, Upper Sholayar Dam is another one of the best places to visit in Valparai in 2 days. The dam is situated close to the Athirapally waterfalls on the route from Valparai to Athirapally. It is also a part of the hydroelectric project of Tamil Nadu, and what sets it apart is the scenic surroundings. It is also considered to be the second largest rock damn in Asia.
Location: Malakkappara, Thrissur India
Entry Fee: No entry fee
Timings: 8:00 A.M to 5:00 P.M
15 Kodaikanal Hotels To Pick From For Your Next Trip To Tamil Nadu
4. Chinnakallar Falls
Image Credit: Jaseem Hamza for Wikimedia Commons
Chinnakallar Falls is another one of the best places to visit in Valparai. Located at a distance of 14 km from the town of Valparai, the region of these waterfalls is known to receive the third-highest rainfall. Situated amid the dense forests, these waterfalls are reachable by a 600-meter hike through the lush green trails adding to the beauty of the visit. Its soothing surroundings and breathtaking views is what makes it a popular pick among tourists.
Location: 823H+3RP, Coimbatore, Tamil Nadu 642127
Entry Fee: INR 130 per person
Timings: 9:00 A.M to 4:00 P.M
5. Hornbill Viewpoint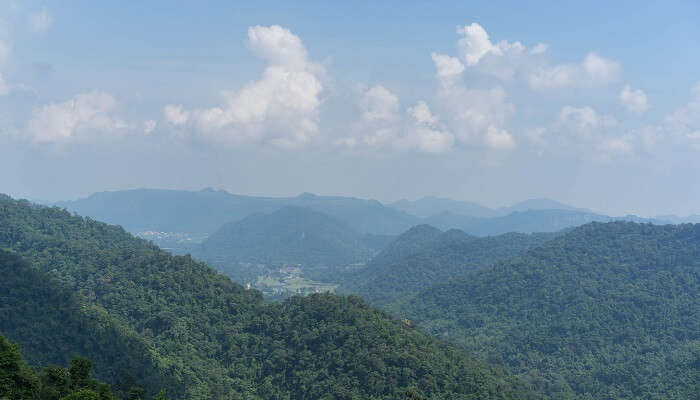 Situated at a distance of 8 km from Valparai, Hornbill Viewpoint is among the most beautiful tourist places in Valparai. Offering panoramic views of surrounding hills and roads, this place is quite famous among nature lovers for its tranquil surroundings. The viewpoint can be reached after a 500-meter hike and one can easily spot a hornbill on their way. It is located just opposite the Attakatti checkpost and also offers views of Aliyar Dam and Kadamparai Powerhouse.
Location: CXRP+V9M, Attakatti, Tamil Nadu 642101
Entry Fee: NA
Timings: NA
18 Pristine Beaches Near Coimbatore Which One Must Definitely Visit When They Are In Tamil Nadu
6. Koozhangal River View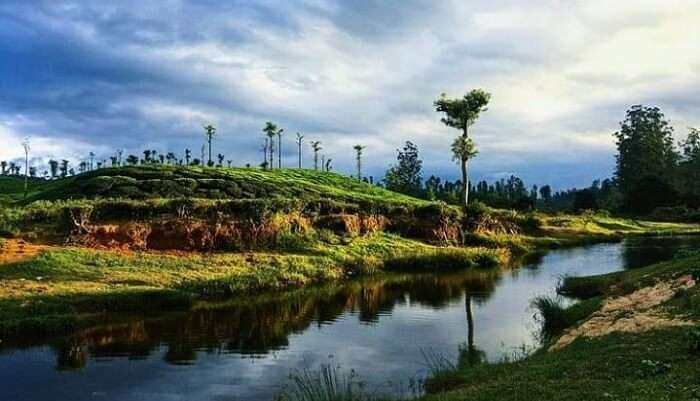 Image Credit: Facebook for Facebook
Among the best places to visit in Valparai in 2 days is Koozhangal River View is a famous picnic spot among tourists. Located at a distance of 2.5 km from the center, the lush green tea plantations, dense greenery, and shallow water make it a perfect spot for leisure. The river has fresh water and shallow which is ideal for swimming and indulging in water activities even with your children.
Location: 8X74+P8J, Sirikundra Estate Road,
Entry Fee: Free
Timings: 8:00 A.M to 6:00 P.M
7. Monkey Falls
Image Credit: Dilli2040 for Wikimedia Commons
Located at a distance of 5 km from the Aliyar Dam and 38 km from the city center, Monkey Falls is a natural waterfall surrounded by dense forests on three sides and a cliff on the other side. The place has a lot of monkeys around, hence the name Monkey Falls. Perched at a height of 60 meters the water cascades into the pool encircled by lush greenery and rocky cliffs, making it one of the best Valparia sightseeing places.
Location: FX59+4MM, SH 78, Coimbatore, Tamil Nadu 642101
Entry Fee: INR 30 per person
Timings: 5:00 A.M to 7:00 P.M
12 Honeymoon Places In Tamil Nadu For A Romantic Getaway
While these are just a few of the places to visit in Valparai, the hill station offers much more! From exploring the tea plantations, dense trails, and sightseeing, there are endless things to do here on your next getaway. Explore our Coimbatore tour packages to learn more.
Cover Image Credit: Thangaraj Kumaravel for Wikimedia Commons
For our editorial codes of conduct and copyright disclaimer, please click here.
Frequently asked questions about Places to Visit in Valparai
How many days are required to visit Valparai?
Ideally, you need about 1 to 2 days to visit all the major sightseeing points in Valparai. However, the duration of your trip will depend on the places you want to visit you can visit all the major attractions like monkey falls Koozhangal river view, Hornbill viewpoint, and Moneky falls in 2 days.
Why is Valparai called the 7th heaven?
Located 3500 feet above sea level Valparai is a town in the Annamalai mountain range. The pollution-free surroundings and picturesque views of the surrounding hills give it the name of 7th heaven.
What is the best time to visit Valparai?
September to March is considered the best time to visit Valparai, as the weather is cool and pleasant during these months. You will be able to explore all the major attractions and sightseeing points during these months.
What are the main tourist attractions in Valparai?
Nallamudi Falls, Monkey Falls, Annamalai Tiger Reserve, Hornbill View Point, and much more are some of the major tourist attractions in Valparai that you can explore on your next trip.
Which station is nearest to Valparai?
Palakkad railway station is the nearest to Valparai, it is located at a distance of 60 km from Valparai. Once after reaching the station one can take a cab or bus to reach the destination.
People Also Read:
Places To Visit In Yercaud Places To Visit In Munnar Places To Visit In Ooty