Located in the Pacific Ocean, Easter Island, or Rapa Nui, has attracted travelers worldwide for decades. Known for its mysterious Moai statues, the island boasts a rich and fascinating history waiting to be explored. Despite being a Chilean territory, Easter Island is geographically isolated, with over 4000 km separating it from the South American continent. This often confuses visitors, so that's something to remember before adventuring into the Pacific.
The local language, Rapa Nui, is still widely spoken here, adding to the island's unique cultural charm. For those planning a visit, there are countless things to do on Easter Island, from exploring ancient petroglyphs to soaking up the sun on pristine Anakena Beach. Some must-see attractions include Ahu Tongariki, Rapa Nui National Park, and Ahu Tahai. Whether someone has just a few days or a whole week to explore, Easter Island always has something new and exciting.
Things To Do
Easter Island has plenty to explore, whether someone is there for a few days or even a month. This article will explore eight unique attractions on Easter Island, so keep reading!
14
Watch The Sunrise At Ahu Tongariki
One thing to do while on Easter Island is catching the sunrise at Ahu Tongariki. Although Ahu Tongariki is located on the opposite side of the island from Hanga Roa (the main town on Easter Island), this location gives tourists a perfect view of the famous Moai statutes. These are believed to be the "aringa ora," the living faces of the ancestors.
It may also be fun to catch the sunset at Ahu Tongariki, so this doesn't only need to be a stop for early risers. Luckily, the view of the ancient Moai will be stunning at any time of the day.
It may be better to head to Ahu Tongariki in the earlier morning to avoid crowds and get a better glimpse of the sunrise behind the Moai statues. This is a popular destination on Easter Island, so the earlier or later one goes, the better.
13
Walk Around Rapa Nui National Park
Sofia Cristina Córdova Valladares from
Pixabay
"">
Rapa Nui National Park on Easter Island, Chile
The Rapa Nui National Park is a must-see for those wanting to reconnect with nature while on Easter Island. This park is a protected Chilean wildlife area, specifically preserving local vegetation, animals, and the legacy of the Rapa Nui culture.
Rapa Nui National Park is also a UNESCO World Heritage Site, making it an even more desirable destination for people wanting to explore historical locations. There are many mysteries regarding the statues throughout Easter Island, which can be found throughout Rapa Nui National Park.
How Much Do Tickets Cost For Rapa Nui National Park?
Admission to this park will cost non-Chilean people $80 or 54,000 pesos. Guests can also purchase their ticket for the park at the National Park booth after baggage claim at the Mataveri Airport.

How Big Is Rapa Nui National Park?
This national park is 17,000 acres: taking up nearly 43.5% of Easter Island.
Related: We're Explaining Why The Easter Island Statues Were Built
12
Relax And Unwind At Anakena Beach
Daniela Beleva on
Unsplash
"">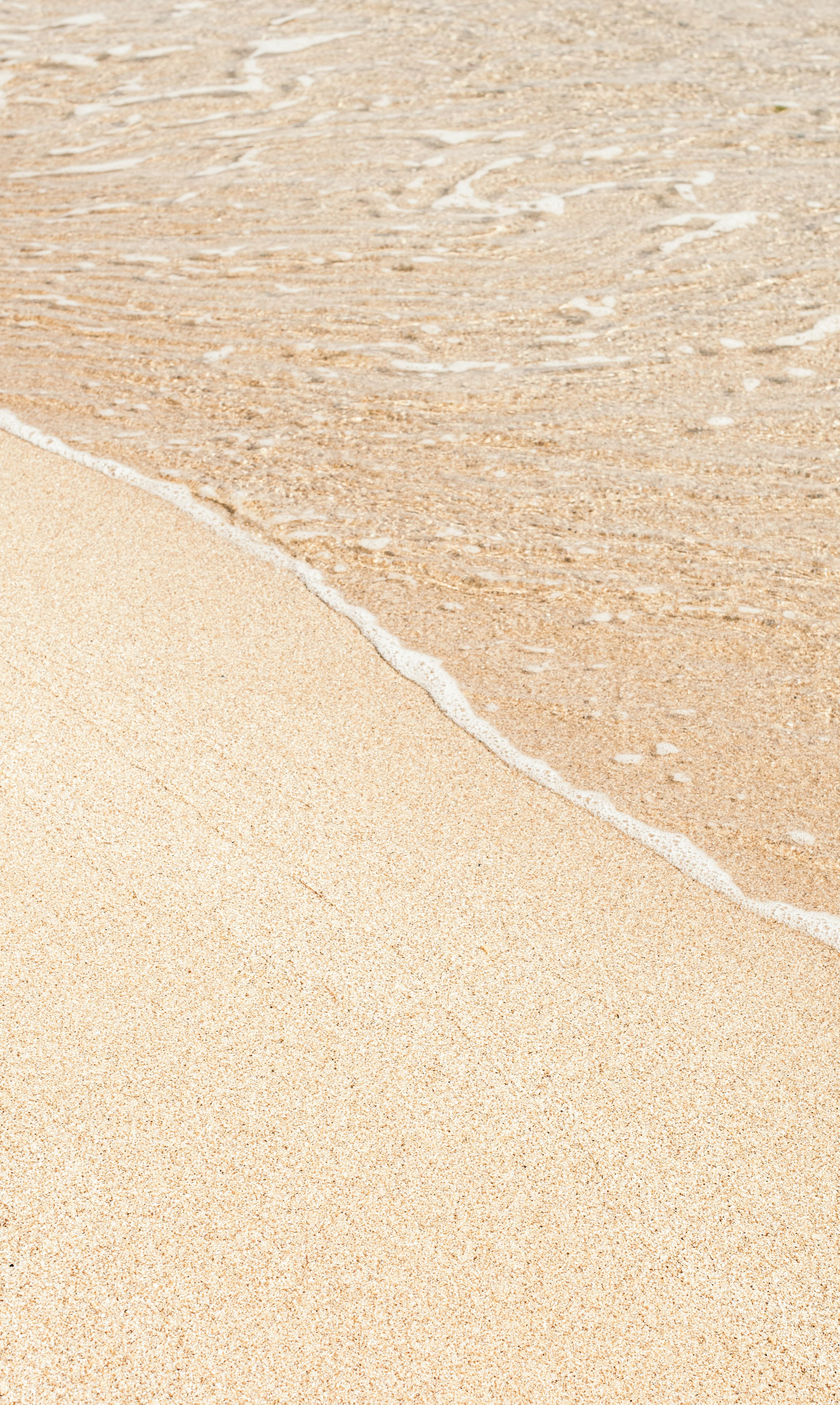 White Sand Beach Close Up
For people wanting to explore Easter Island's stunning beaches, Anakena is the perfect day trip. Besides being Easter Island's main and most beautiful beach, this location is also a white coral sand beach in Rapa Nui National Park. One of the main draws to Anakena Beach is its natural beauty and peaceful surroundings.
Easter Island consists mainly of black rock beaches, only having two that are sand. Anakena is the biggest and nicest of the two, making it better for a stop on the itinerary. Additionally, Anakena Beach features two ahus (platforms) and seven Moais.
This could be the perfect spot to relax, unwind, and take in the sights of Easter Island.
Anakena is one of the two white-sand beaches on Easter Island. All other beaches will have black rocks and be tricky to navigate.
11
Take In A Bit Of History At Ahu Tahai
Thomas Griggs on
Unsplash
"">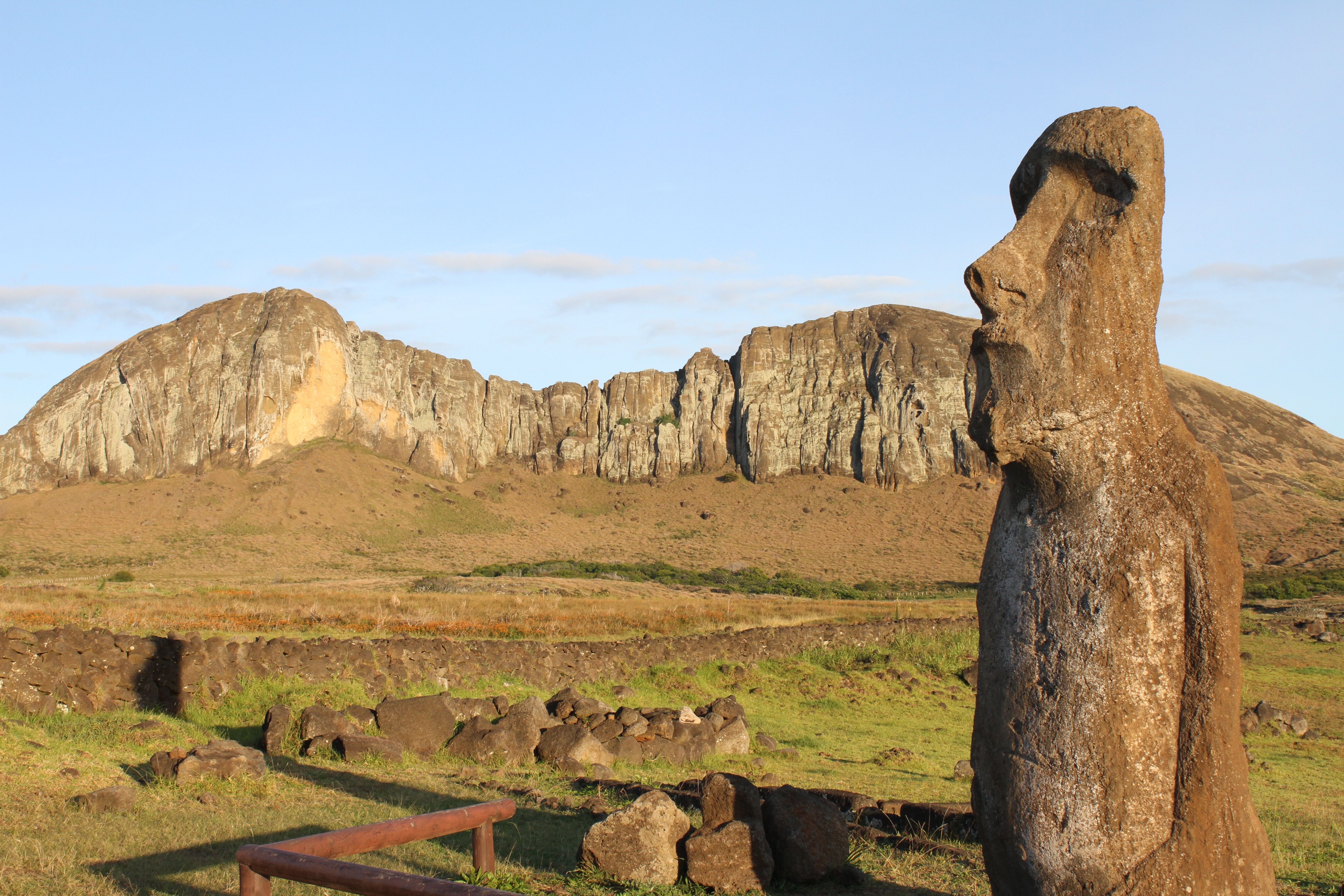 Easter Island Moai
The next stop tourists should take while exploring Easter Island is Ahu Tahai. This ancient ceremonial complex hosts rich historical artifacts and is an archaeological site on Rapa Nui. Ahu Tahai was restored in 1974 by American archaeologist William Mulloy, allowing it to reopen to the public in all its glory.
This location has three principal Ahu from north to south, including Ko Te Riku, Tahai, and Vai Ure. To find Ahu Tahai, visitors must head towards the town of Hanga Roa. It's also worth noting that Tahai is considered one of the oldest on Easter Island, dating back to AD 690.
10
View A Crater At Puna Pau
Livia Enomoto on
Unsplash
"">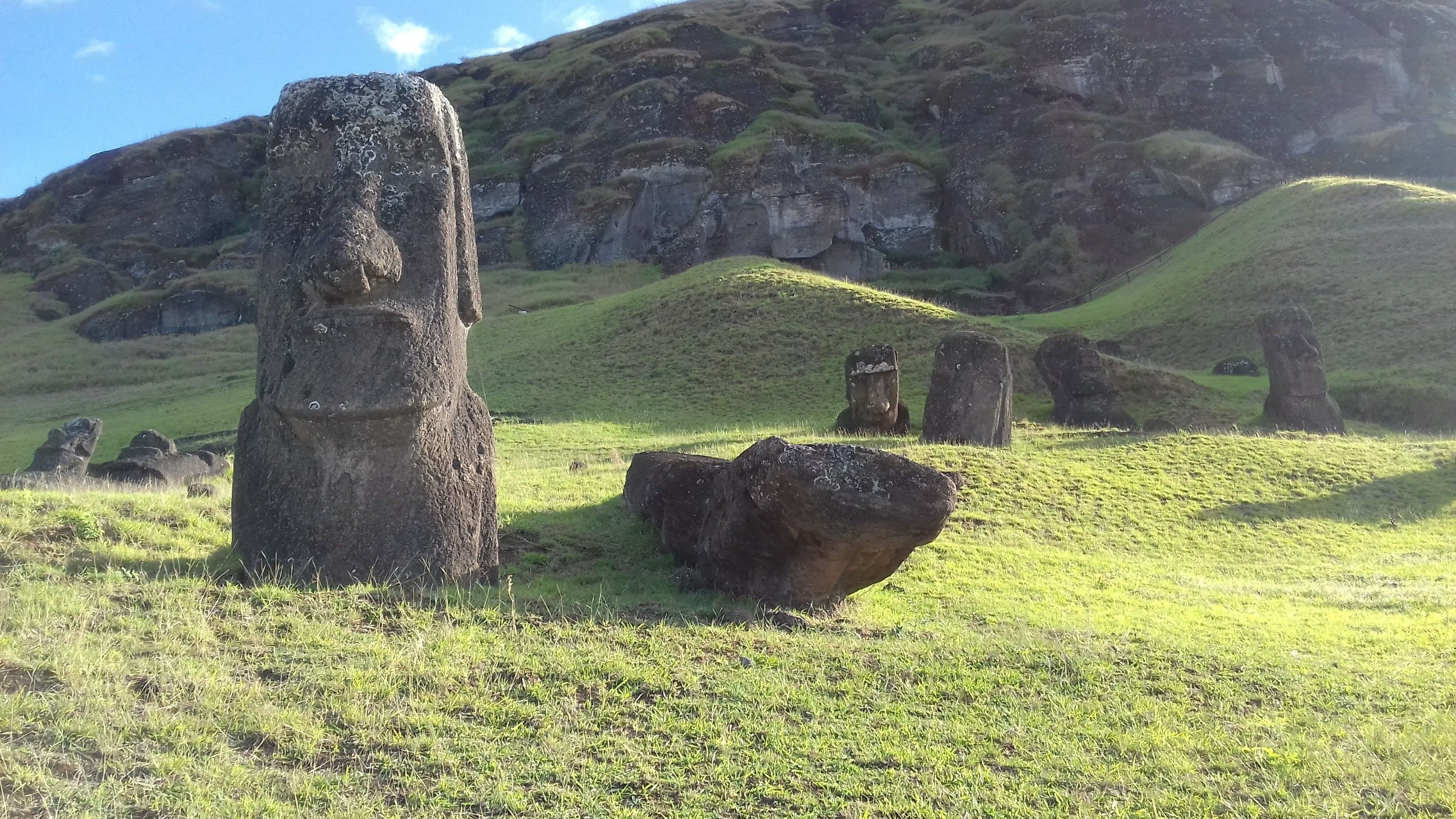 The statues of Easter Island, Chile
Easter Island also holds a small crater/cinder cone and prehistoric quarry on the outskirts of Hanga Roa. This is in the southwest of Easter Island and offers visitors a chance to view one of the seven Rapa Nui National Park regions.
Puna Pau is also where people can find the red stone for the pukao (topknot) of the various Moais throughout Easter Island, which is neat.
Remember, the Rapa Nui National Park takes up nearly half of Easter Island, so many things within that area are featured in this guide. Think of it as a one-stop-shop for all things historical Easter Island. The structures and craters throughout Easter Island still baffle travelers to this day.
When Is Puna Pau Open?
This area is open daily from 9 AM to 5:30 PM.
Depending on the time of year and if there's a holiday, Puna Pau may have shortened hours. Double-checking the attraction's website or calling the Rapa Nui National Park office is always a good idea before venturing out.
9
Explore A Sea Cliff Cave At Ana Kai Tanata
The sun setting over Easter Island
An adventurous destination on Easter Island for visitors is Ana Kai Tanata, a sea cave within a cliff near Mataveri. This sea cliff cave opens up to the surf, allowing tourists to view the beautiful waters of Easter Island.
Although it sounds intimidating, Ana Kai Tanata is easily accessible and has become one of the most popular attractions on the island.
Therefore, it may be a good idea to head out to Ana Kai Tanata sooner than later, as afternoons tend to get busy.
Related: Niue: Visit The Smallest Pacific Island Country With Less Than 2,000 Residents
8
Enjoy Nature At The Botanical Garden TauKiani
Kevin Saunders on
Unsplash
"">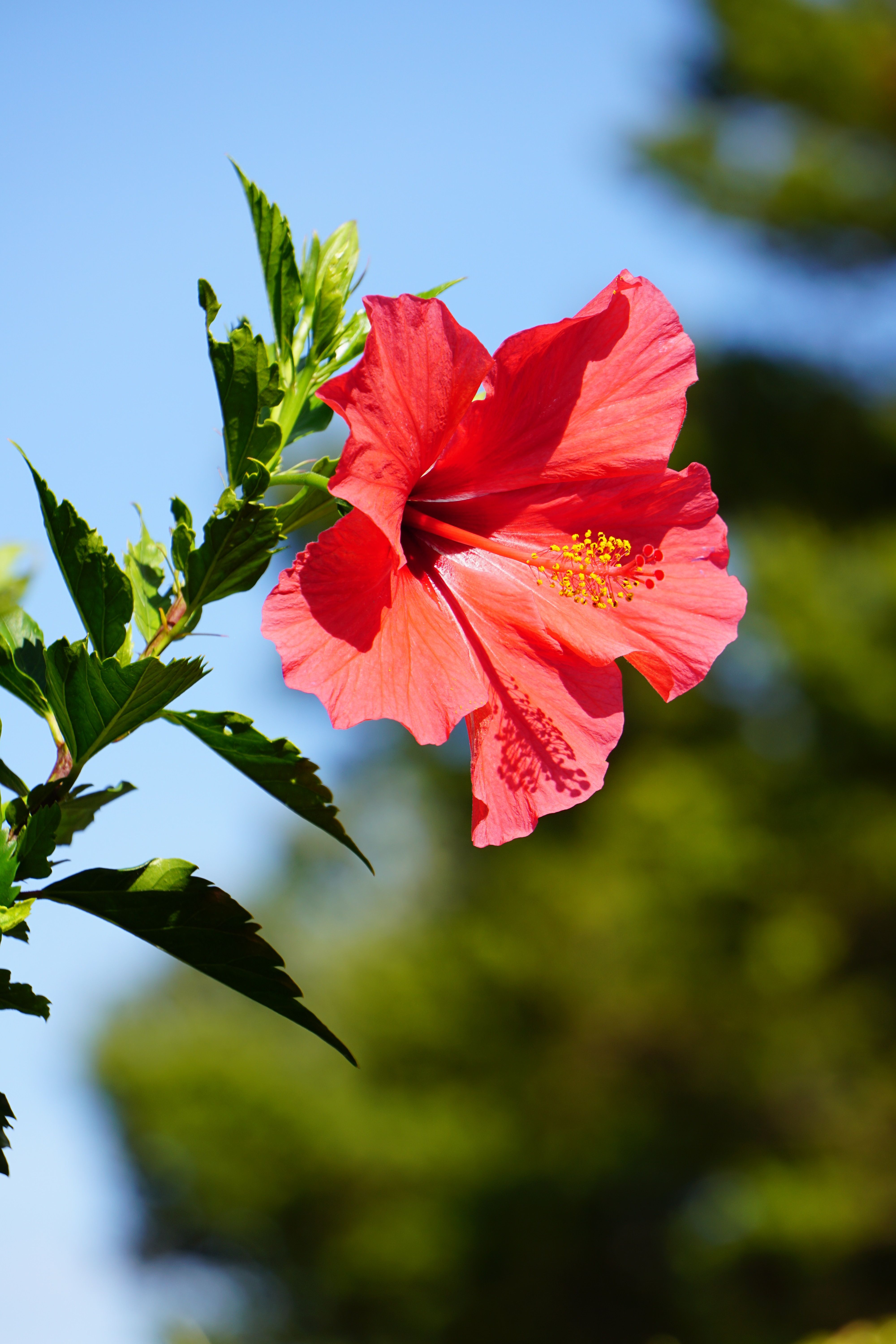 Close up shot of tropical Hibiscus flower
Another must-see while on Easter Island is the Botanical Garden TuaKiani. This luscious garden is located near a volcano, mainly focusing on preserving the island's natural vegetation and wildlife.
This is often considered one of the more peaceful stops on Easter Island, making it ideal for those wanting to catch a break from the hustle and bustle of other more-crowded destinations.
However, Easter Island, regardless of where someone is, remains one of the most secluded places in the world: so there are many places to enjoy peace and quiet.
How Big Is The Botanical Garden On Easter Island?
This garden is relatively small, occupying roughly 3,600 square meters. Most people only need an hour or two here.
7
Rapa Nui Stargazing
Kai Pilger on
Unsplash
"">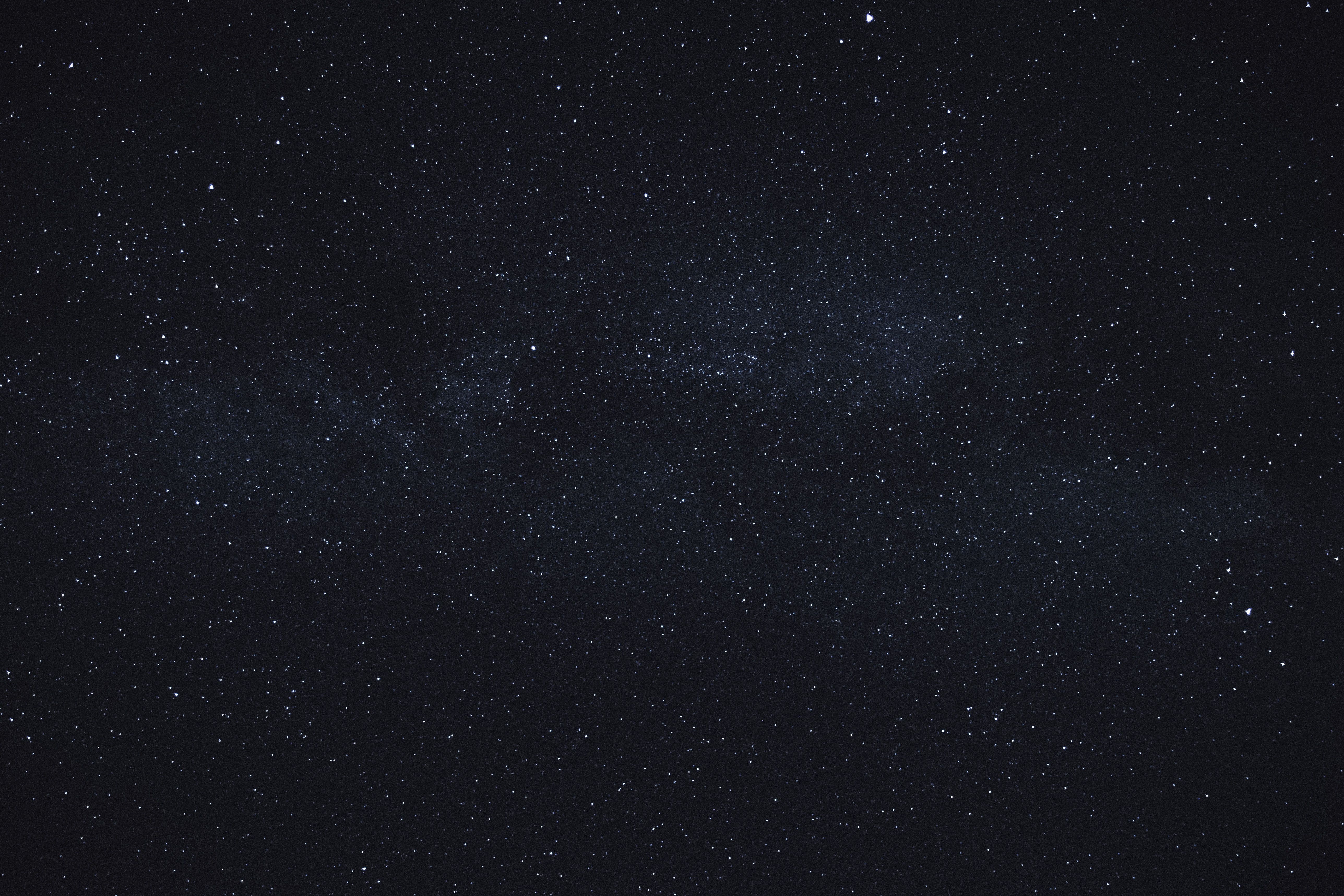 Aerial shot of star-filled sky at night
For those who prefer to explore Easter Island at night, stargazing at Rapa Nui is often considered one of the unique things to try while here. Because of Easter Island's location, watching stars each evening will be far easier than in a big city where pollution can block the sky.
Luckily, a tour company will take guests to the best sections of Rapa Nui for stargazing, following the history of the Polynesian voyagers on the island's only "hands-on" star tour.
6
Best Time To See Easter Island
Sofia Cristina Córdova Valladares from
Pixabay
"">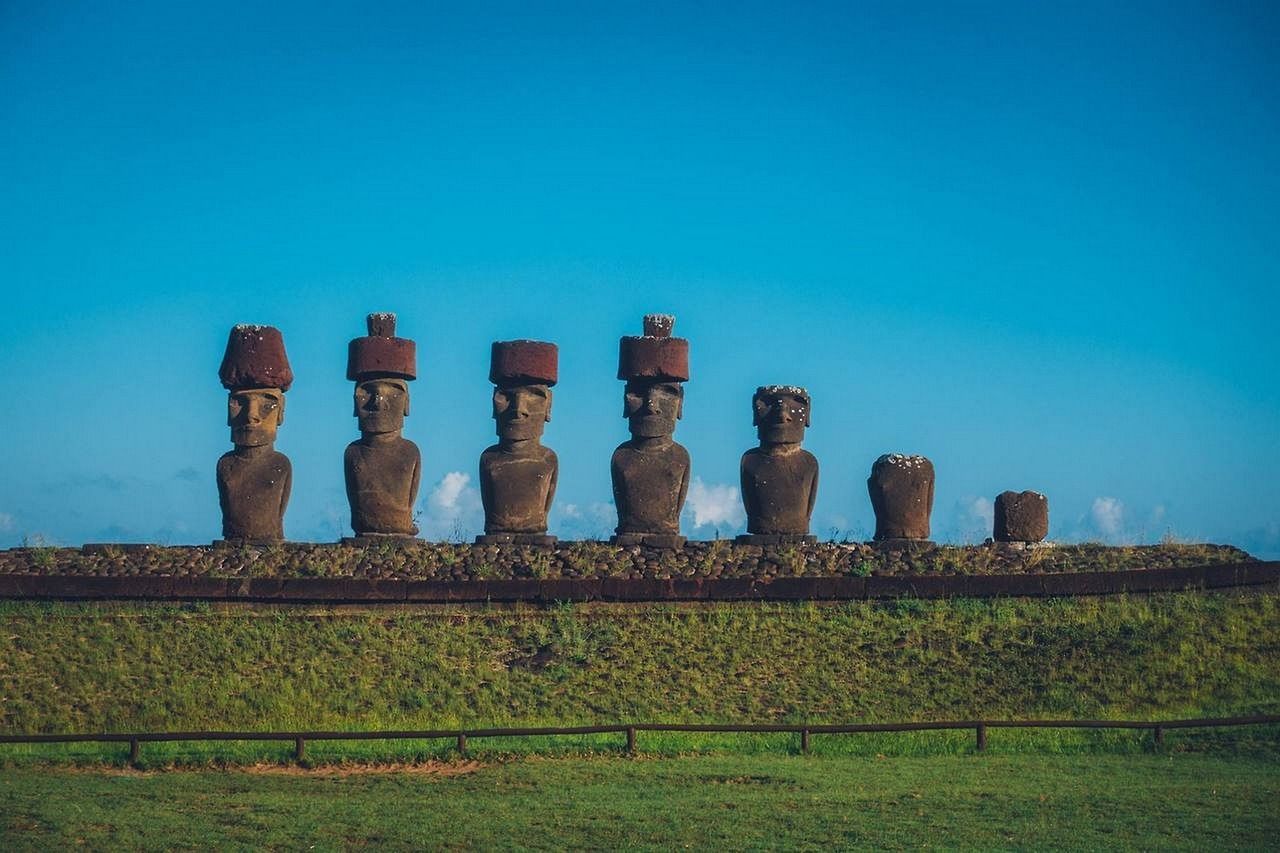 The Moai stone heads of Easter Island, Chile
April through June and October through December are the best times to visit Easter Island.
Winter temperatures in Easter Island are very mild, often providing a warm escape to those from cold climates.
Some of the best times to visit Easter Island are between April and June and October and December. These months are considered Easter Island's "shoulder seasons," offering fewer crowds and better rates throughout the island.
One bonus of traveling to Easter Island during the winter is that the weather will remain warm. Easter Island is often a great escape from colder regions of the world, which is an excellent incentive for those who get snow.
Related: 10 Things To Do On The Pacific Island Of Niue
5
Best Ways To Get Around Easter Island
Most tourists will want to walk or take taxis to get around throughout Easter Island. If someone stays in somewhat-populated sections of the island (i.e., Hanga Roa), they won't need to rely on vehicles to get them from point A to B.
However, traveling between the airport, national park, Moais, and other destinations may require guests to get a taxi or inquire about a shuttle. For example, most taxi services around Easter Island cost visitors roughly $2.44 (2,000 CLP), so this won't break the bank.
Hotels may also offer certain vehicle services to guests, so that's another idea to consider. Also, renting bikes, motorbikes, and cars to move around the island may be a good plan.
Arriving at Easter Island is a bit of a challenging process, though!
4
Where To Eat On Easter Island
Shutterstock
Even though Easter Island is pretty secluded, that doesn't mean travelers won't have great dining choices. Notably, here are a few top-rated restaurants around Easter Island to keep the entire group fed throughout the vacation:
Restaurant Haka Honu
– Upscale, waterfront

Au Bout Du Monde
– Polynesian cuisine

Te Moai Sunset
– Laid back, casual

Neptune's Island Restaurant
– Seafood, laid back

Kanahau
– Upscale, surf, and turf

Te Moana
– Waterfront, casual

Tataku Vave Restaurante
– Remote, upscale
It's worth noting that most, if not all, restaurants on Easter Island specialize in seafood. Many establishments will also be more casual, so that's something else to remember.
3
Where To Stay On Easter Island
There are countless hotels on Easter Island, ranging in price, amenities, and location.
Higher-end hotels may offer transportation to and from attractions on the island.
For those needing lodging for their stay on Easter Island, there are many hotels to choose from. According to past travelers, here are a few highly-rated options to consider for a trip:
Luckily, there are plenty of great hotels on Easter Island, all offering their own unique charm.
Related: These Asian & South Pacific Destinations Are Beginner-Friendly For New International Travelers
2
Tips For Staying On Easter Island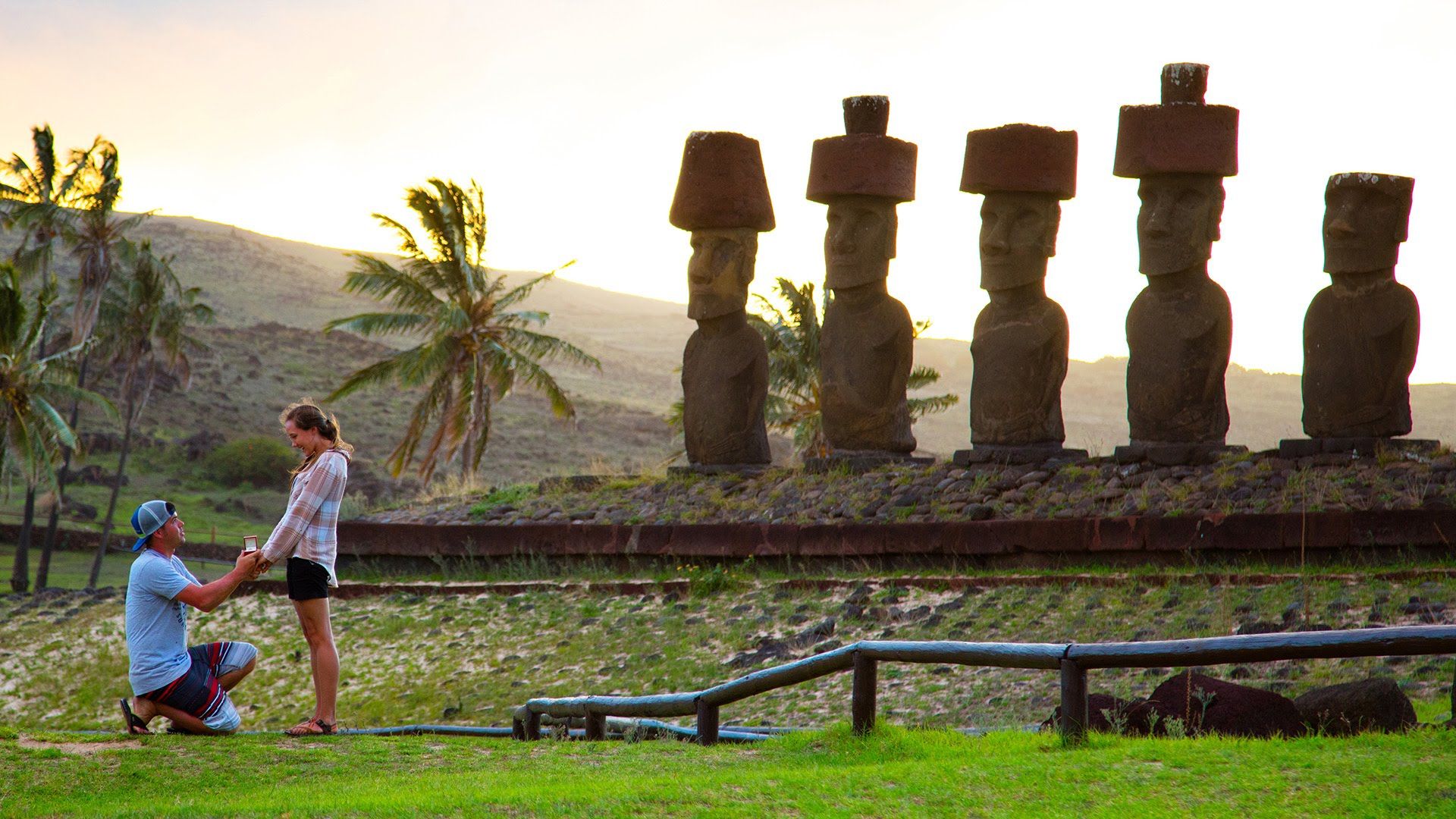 Although a trip to Easter Island should be pretty peaceful from start to finish, it's worth mentioning a few key factors to make a trip here unforgettable. First, bring plenty of Chilean pesos to Easter Island, as that is their official currency.
There are many things to be aware of before heading off the Easter Island, from money to history, to travel times, and more.
It's also good to know that the Wi-Fi can be spotty on Easter Island. Some fancier hotels and resorts may offer better Wi-Fi than those on the cheaper side, although even then: it's not always 100% certain. Therefore, people coming to Easter Island shouldn't count on having a fantastic signal.
Another tip for visiting Easter Island is that many sites require guests to avoid touching anything. For example, touching Moai is strictly prohibited. Since they are considered holy, avoid being too close or inappropriate around them.
1
How To Spend The Perfect Day On Easter Island
Hotel in Hanga Roa on Easter Island, Chile
The best way to create a perfect day on Easter Island is to start early. As mentioned, it might be worth catching the sunrise at Ahu Tongariki, witnessing the sun behind the various Moai positioned in a line. One of the most magical parts of Easter Island is the ancient structures and holy sites.
In the afternoon, someone can walk on Anakena Beach, one of the island's only white sand beach options. Here, visitors can relax, unwind, and get to know the perfect climate of the Pacific.
As the day goes on, people may be inclined to grab a bite to eat at one of the island's various local restaurants, then onto Rapa Nui for stargazing. Easter Island is one of the best options for a peaceful vacation since it's so remote.
FAQ
Q: How Much Time Should I Spend On Easter Island?
Most visitors to Easter Island typically spend five days to a week days exploring the various towns, sites, and beaches. With the effort of getting there, it's worth booking a longer trip!
Q: Do You Need A Guide On Easter Island?
No. Although hiring a guide to take people around the island can be helpful, this is not required. There are plenty of signs in and around hotels, businesses, and historical/cultural sights for tourists.
It is important to know about pricing, accommodations, and culture on the island before going, though.
Q: How Far Is Easter Island From Chile?
Although Easter Island is a Chilean territory, this remote island is roughly 2,200 miles (3,540 km) west of Chile.
Traveling to Easter Island is daunting: but everyone who visits returns with memories, cultural impact, and plenty of stories to tell. Chile is a land of contrasts and adventures, from the desert to the sea.