The small fishing village of Portofino, right on the Italian Riviera, is a devastatingly beautiful travel destination—that writers and historians have long celebrated—and frolicked in. Portofino's spectacular scenery ranges from the hair-raising—to the calm and tranquil. The picturesque scenes at almost every turn will make one experience alternating ranges of emotions in intense, nerve-tingling gushes. A visit to this seaside paradise is undoubtedly rewarding, if not downright therapeutic.
So, is Portofino worth visiting? Absolutely. Yet while Portofino, one of the prettiest destinations in Italy—is worth every dime and nickel, Portofino itself is a little pricey, especially in the main part of town. Here's why.
UPDATE: 2023/03/31 11:07 EST BY AARON SPRAY
Hire A Yacht And Explore The Portofino Coastline
If money isn't a problem, then one of the most rewarding ways to explore Portofino and the Cinque Terra coastlines is by hiring a private yacht for a few days. This article was expanded to include the option of hiring a yacht for as much as a week. There can be few more relaxing ways to explore Portofino than with a yacht.
UPDATE: 2022/12/01 11:22 EST BY AARON SPRAY
Airbnb Is An Option While Staying In Portofino.
While accommodation in Portofino is generally expensive, and it's cheaper to visit it on day trips, there are some Airbnb options that should be affordable for most travelers – at least for one or two nights. This article was updated with Airbnb suggestions for those who are interested in biting the bullet and staying the night in the stunning village.
UPDATE: 2022/11/11 12:30 EST BY AARON SPRAY
How Portofino Became Fashionable For The Aristocrats.
Portofino is one of the great coastal attractions of northern Italy – along with neighboring Cinque Terre. This article was updated to provide some history and context to how Portofino rose from a forgotten fishing village to a fashionable resort village for the Northern European Aristocrats.
A view of the seaside in Portofino, Italy
Why Is Portofino An Expensive Travel Destination?
"Is Portofino expensive?" many travelers hurriedly type into search engines as they contemplate their dream Italian vacation. For some perspective, an Espresso coffee in Rome goes for about a dollar. In many places, one can get it for less. On the other hand, Espresso coffee at an average Portofino restaurant will go for about 3-4 dollars. That's almost three times. And it's not just coffee. Gelato, one of Italy's most sought-after culinary offerings—will follow that trend. As with croissants. They'll cost about twice the country's average. Well, someone may say these are snacks. Full meals may be cheap in Portofino, and hence a tad gentler on the wallet.
The truth is, restaurant prices in Portofino are just as expensive. Lunch at a Portofino restaurant for a solo traveler will go for about $50. Of course, in the central square, What Italians call Piazzetta, one may even pay more. It boils down to the type of restaurant, the menu or food pick—and the location. At the La Terrazza, a dinner consisting of Piedmont beef rib, sprinkled with Bearnaise Sauce, taken together with grilled Belgian endive and some pieces of sweet potato, will go for €70.
And it's not just the food. For those seeking accommodation in Portofino, the least that one can work with is about $50 per night. In many cases, hotel prices in Portofino will range from $80 to $120. Yet even in this price range, competition is stiff and prices tend to respond by moving upwards, especially in summer. At the Hotel Piccolo Portofino, one of the most affordable hotels in the town, accommodation for a night is about $50, of course, depending on the room and the season.
Portofino vs. Cinque Terre
And when it comes to parking a car in Portofino, the problem is not just about the cost. Let's just say finding a parking space in Portofino is—for lack of a better word—difficult. One can go round in endless circles, and still miss space. Or, even if one gets space, paying €5.5 per hour as a parking fee in Piazza Della Libertà, one of only two parking areas within the attractive city, is not many people's idea of affordability.
The truth is, the city of Portofino is a nightmare when it comes to both the availability and affordability of parking spaces. This is because authorities discourage the use of cars. In the heart of the city, cars aren't even allowed.
Still, there's a way to take in the charm of this wonderland, without breaking the bank. Here's how to do it.
Related: 10 Etiquette Tips To Know Before Traveling To Italy
The Best Places To Stay In Portofino
Of course, Portofino is relatively small. So, when it comes to where to stay in Portofino, there aren't as many options as there would be in the more expansive tourist destinations in Italy. A packed hour or two—is all one may need to take a look at the popular attractions. However, Portofino is not just about natural or historical attractions to be seen or explored, but a memorable experience to savor. And for this, pitching tent somewhere slightly out of the city— may not only be more convenient, but also more affordable. And as we've seen, most hotels in Portofino are expensive. This is because most of them are luxury hotels that cater to the Kourtney Kardashians and Sienna Millers of the celebrity world (they seem to love Portofino!).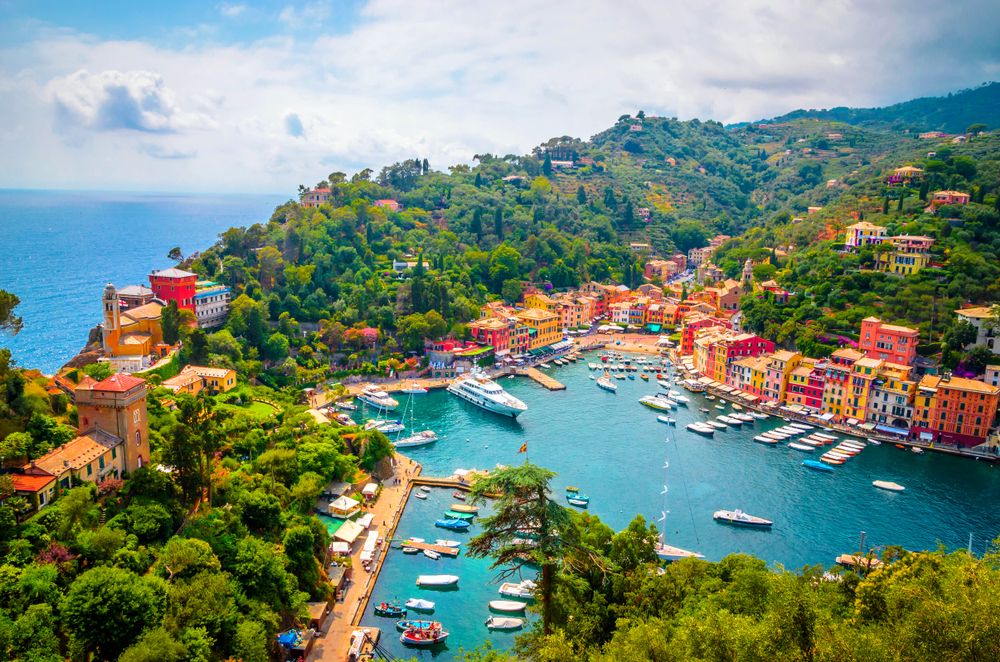 Portofino from above
Travelers should therefore consider alternative locations from which to access Portofino easily. One of these is Santa Margherita Ligure. Of all the surrounding cities, this charming little town is the closest to Portofino, and home to the nearest train station. Interestingly, Santa Margherita Ligure is a transit town to Portofino, and hence, for those headed there, a must-pass. Unlike Portofino, Santa Margherita Ligure has many hotels in the $50-$100 price range. Even if some of these hotels may not have the alluring sea-views of the Portofino seaside resorts and villas, they are just as enjoyable.
What Is The Distance From Portofino To Santa Margherita Ligure? The distance from Portofino to Santa Margherita Ligure is 4.3 miles and takes about 19 minutes by car.
San Lorenzo Della Costa, a 21-minute drive to Portofino—in the outskirts of the larger Santa Margherita Ligure area—is also a dream retreat. This small village has almost the same charming feel as Portofino and is even more laid-back and slow-paced. It's a fine area from which to explore Portofino. The village of Nozarego, also within Santa Margherita Ligure, is just as good.
Related: 10 Things We Wish We Knew Before Visiting Italy
Aside from Santa Margherita Ligure, the seaside town of Camogli, about 8.5 miles from Portofino on the northwestern side—is an attractive stay-over. From Camogli, one can find his way to Portofino by either train or ferry. There's a broad variety of accommodation options at Camogli which will cater to every taste and pocket. There's also Rapallo, the largest town in the area—and Sestri Levante, which sits between Portofino and Cinque Terre. For accommodation facilities, both these towns will rarely disappoint.
From whichever base or angle, Portofino is still worth a visit. The limited luxury hotels within it—should never hinder what should otherwise be a fairy-tale experience.
Related: Is Cinque Terre Really The Most Stunning Coastal Italian Area?
Yevhenii Dubrovskyi on
Unsplash
"">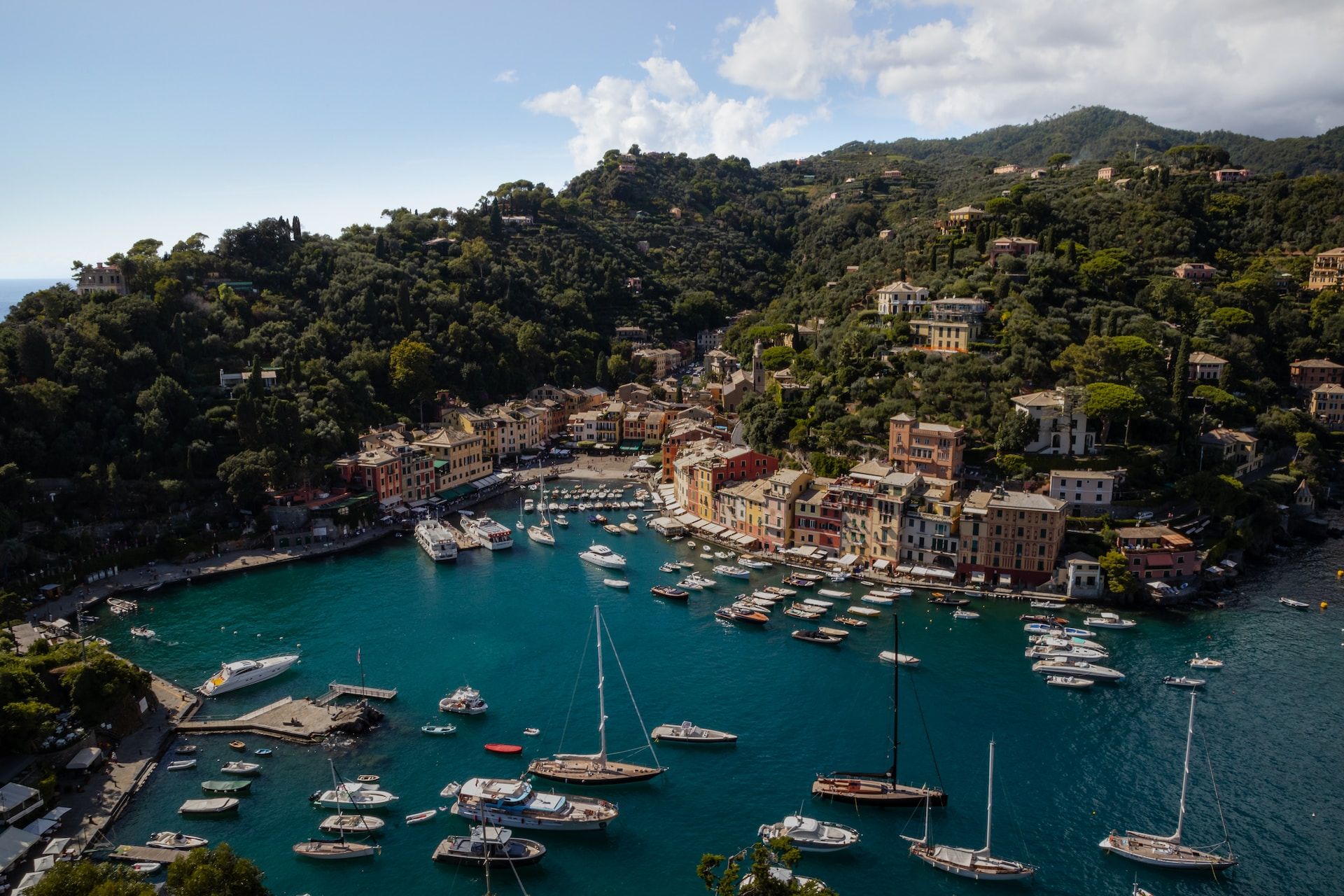 The harbour in Portofino, Metropolitan City of Genoa, Italy
But If One Does Want To Stay In Portofino, Consider Booking An Airbnb
What to do in Portofino if one's pockets aren't so deep? Perhaps surprisingly, there is quite a selection of accommodation options on Airbnb, and some of the accommodation is not so expensive. Forget the very limited and overpriced hotels; Airbnbs are the way to go.
The cheapest listings are for rental apartments and start at only around $145 per night and go up to around $650 per night for a more luxurious and spacious apartment with a stunning sea view. Although, these are the prices for December – the off-season. Summer may be much more expensive. It is possible to get a penthouse with a rooftop for a bit over $600 a night in Portofino.
Airbnb has somewhat affordable accommodation options for Portofino
Still, it is possible to get an apartment (very small apartment) in the high season for around $170 per night.
That means it is actually manageable to stay in Portofino – at least for a few nights. But accommodation in the tiny village is very limited and can easily sell out, so people are advised to plan well in advance to book an affordable Airbnb before they are all gone. Day trips are nice, but staying over night is even better.
Related: Have You Heard Of This Country Inside Italy? (It's Not The Vatican)
A view of Cinque Terre, Italy, from the marina
Background Of Portofino & How It Became A Top Italian Destination
Portofino is located in the stunning Italian region of Liguria – it is one of the regions where visitors can also find the famous coastal towns of Cinque Terre (which are some of Italy's oldest villages) and much more.
Portofino was ordinally a humble fishing village, but one with a rich history. It is a magical place deserving extraordinary attention. It is of archeological importance and has had a Roman marine village (called Portus Delphini). The village changed hands many times between 1200 and 1800 when it became part of the Republic of Genoa, Florence, the First French Empire, the Kingdom of Sardinia, and the Kingdom of Italy.
From the late 19th century, Portofino has been characterized by an influx of British and German visitors. It became an early destination for Northern European aristocratic tourists who made the village fashionable. Over time the expatriates built expensive holiday homes and tourism replace fishing as the main industry of the community.
How About Sleeping In A Yacht In Portofino Just Off Shore?
Most people think that only luxury vacation destinations like the Bahamas have amazing yacht rentals. However, Italy is also one of the best places in the world to go yachting – even Portofino. Another tantalizing option is to hire a yacht and explore the Portofino and Italian coast in it. There are plenty of small boats for day hire, but consider upgrading to a comfortable yacht with a kitchen, bedrooms, and showers.
Portofino's colorful houses and villas, luxury yachts and boats in little bay harbor, Liguria, Italy, Europe
Examples of yachts for hire are listed on different websites – including Airbnb. One example on Airbnb is a beautiful yacht that sleeps six in comfort. It is berthed at the prestigious marina, Porto Carlo Riva in the town of Rapallo – just around the corner from Portofino and Cinque Terra.
Cost: From $3,000 (For one Guest – $5,500 for Six Guests)
During the high season in summer, day charter with the crew is obliged.
Naturally, renting a yacht is one of the most luxurious things to do in Portofino, and it can come with a hefty price tag. Some people book even yachts like these for a whole week and explore the Italian coast. It really is a unique and relaxing way to enjoy the tranquility and peacefulness of this stunning section of the Italian coastline. Of course, hiring a yacht is likely to be much more expensive than renting an Airbnb.
Hiring a yacht is not only a great option for accommodation in Portofino; it is also one of the top things do to in Portofino, especially if one wants to vacation like the celebrities that grace this beautiful place in Italy.