Bali is one of the most popular islands in the world and certainly one of the most beautiful. Located in Southeast Asia and nicknamed the Land of the Gods, Bali is known for its beautiful beaches, ancient temples and lush landscapes. Its dramatic waterfalls, tropical gardens, iconic rice fields, lakes, rivers and canyons make Bali an instagrammer's dream.
And with so many fun and unique things to do in Bali, travelers are never short of attractions. From sunbathing on the sand to touring temples, hiking to waterfalls, shopping, and even taking a Balinese cooking class or wandering through a monkey forest—Bali offers travelers equal opportunities for relaxation and exploration. Add exceptional eateries, luxurious accommodations (as well as stylish budget-friendly options), and year-round warm weather to the mix, and Bali really is the ideal vacation destination.
Here is our complete guide and list of amazing things to do in Bali!
Top Things to do in Bali
Boats in the bay in Bali, Indonesia
n"" data-modal-id="single-image-modal" data-modal-container-id="single-image-modal-container" data-img-caption=""IzzetNoyan via Adobe Stock"">
Boats in the bay in Bali, Indonesia
There are so many fun things to do in Bali! Here is a list of some of our favorites.
14
Spend The Day At The Beach In Bali
Kal'vu0101n via Adobe Stock"">
Nusa Dua Beach in Bali, Indonesia
Bali's beautiful beaches are notoriously picturesque and known for their white sand, green cliffs, and beautiful blue water.
Batu Bolong is perfect for sunsets and surfers. Surfboard rentals are available, as are surf lessons. Batu Bolong's northern neighbor is Echo Beach, which is similar but less developed. And the waves are even better for travelers looking to surf. Other good beaches for surfers are Kuta, Balangan Beach, Uluwatu Beach, Padang Padang Beach, Nusa Dua Beach, and Medewi Beach.
Pantai Pasir Putih (or White Sand Beach) in East Bali is a "secret" beach, which isn't really so secret anymore. This laid-back beach has clear blue water, perfect for swimming and snorkeling. Other great beaches for snorkeling are Nusa Dua, Menjangan Island, Nusa Lembongan, Blue Lagoon, Amed, and Tulamben.
Thomas Beach in the south of Bali is a long white-sand beach accessed by steps, which may put some tourists off. Those managing the climb are rewarded with a less crowded space to enjoy a day at the beach.
13
Visit A Temple In Bali
Florian GIORGIO on
Unsplash
"">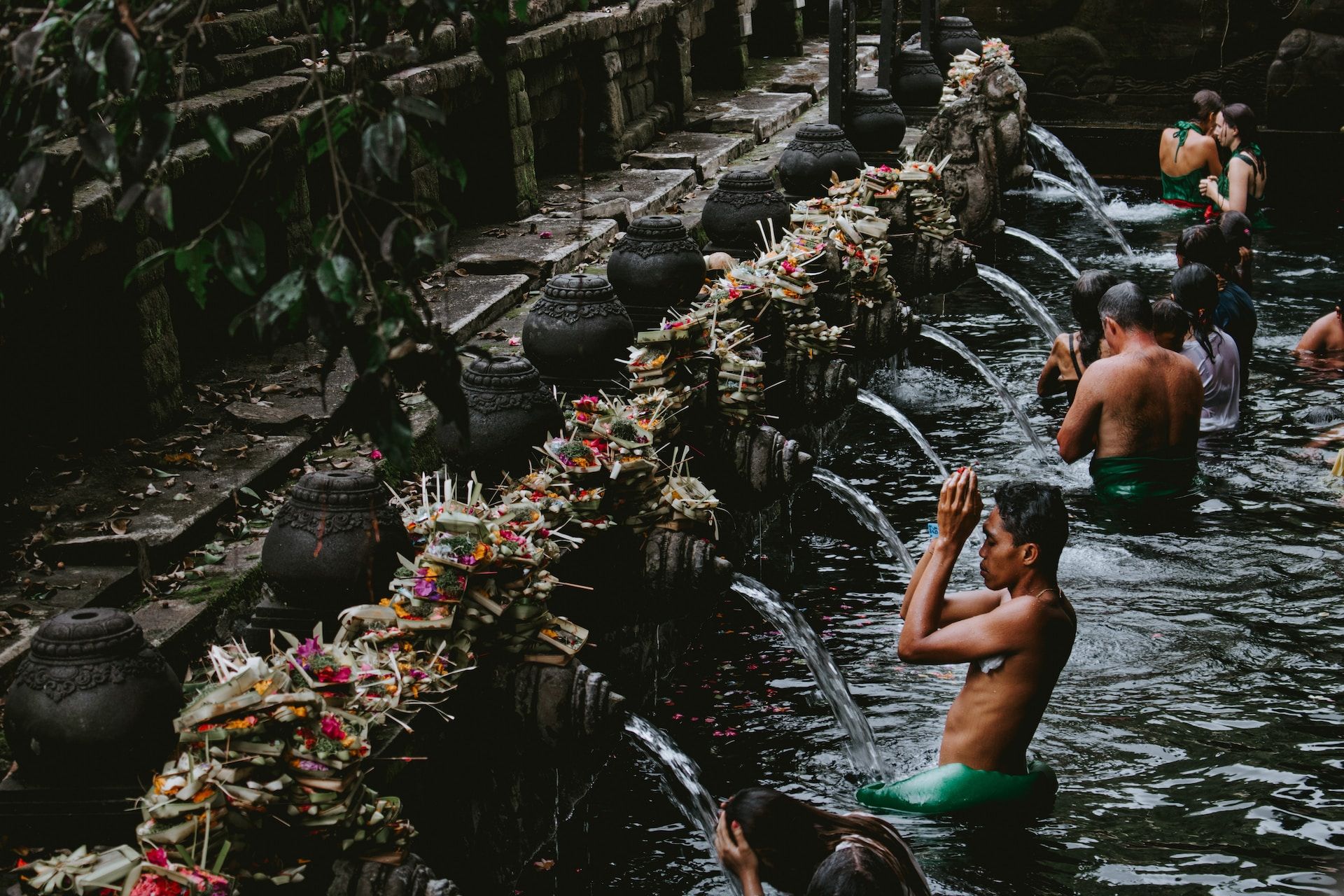 Pura Tirta Empul in Bali, Indonesia
There are tens of thousands of temples in Bali, and no visit to the island would be complete without visiting one of these spiritual sites. But it can be challenging to know which temple(s) to visit. Here are just a few options.
Lampang Temple is the highest in Bali and is framed by the famous "Gates of Heaven." Travelers can enjoy the temple and the views of Lemputyang, or climb the 1,700 steps to the peak. Climbers are rewarded with amazing views of Eastern Bali, sights of smaller temples, and maybe even a glimpse of a few long-tailed macaque monkeys.
Ulun Danu Beratan Temple is in the mountains near Bedugul on the shores of Lake Bratan and is one of the most beautiful in Bali. When the water rises, the 17th-century temple magically appears to float on the water.
One of the most iconic temples in Bali is Pura Tirta Empul. Here, travelers can bathe and bless themselves in holy spring waters spouting from carved stone.
A must-visit for history-buffs, the Taman Ayun Temple is the second-largest temple on the island and has incredible historical significance as it's the place where Mengwi kings and queens worshiped.
Pura Besakih is the "mother temple" and the largest and holiest Hindu temple in Bali. It's over 1,000 years old and only a one-hour drive from Ubud. This is definitely one to see!
12
Spend The Day At A Water Park
The lazy river at Waterbom Park in Bali
Waterbom Bali is a fantastic way to spend the afternoon in Bali. Fun for all ages, the park offers 22 water slides and attractions, including a swim-up bar, a lazy river, a Euro Bungy, and lots more!
With tons of food options and a gift shop for travelers who forgot any swimming essentials, travelers can easily spend the entire day at the park.
Address: Jl. Kartika Plaza, Tuban, Kec. Kuta, Kabupaten Badung, Bali 80361
Hours: Daily, 9 AM to 6 PM
Cost: Starting at $22 per person
11
Hike Mount Batur In Bali
Juan Cruz Mountford on
Unsplash
"">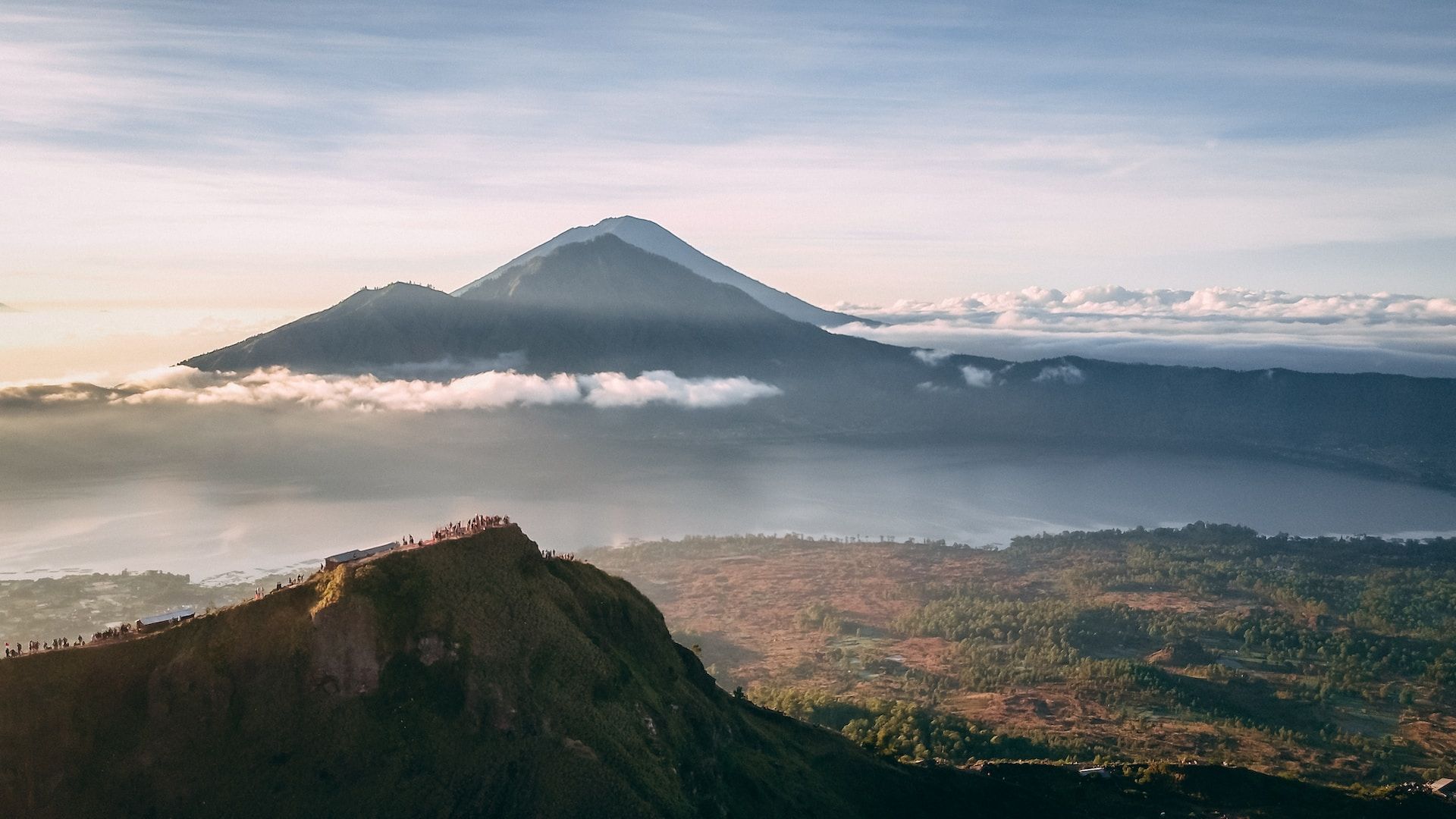 Mount Batur at sunrise in Bali
Mount Batur (or "Gunung Batur") is great for travelers seeking a physical challenge. With serene surroundings, the dramatic landscape of this natural beauty is picturesque and perfect for photographers.
Sunrise is a particularly beautiful time to go—the ascent takes about two hours, but definitely worth the trip!
10
Witness Waterfalls In Bali
Tegenungan waterfall in Bali, Indonesia
n"" data-modal-id="single-image-modal" data-modal-container-id="single-image-modal-container" data-img-caption=""ttinu via Adobe Stock"">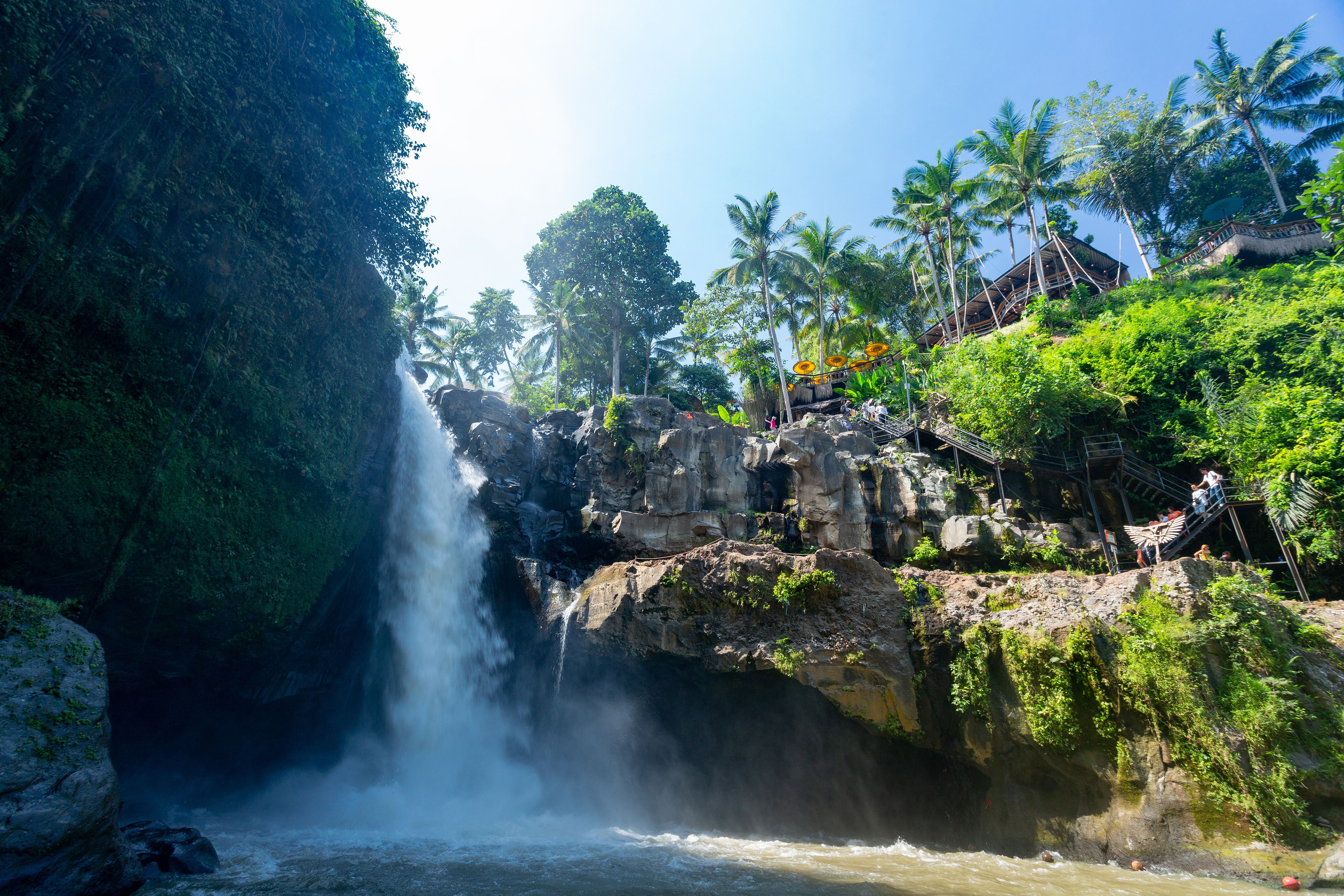 Tegenungan waterfall in Bali, Indonesia
Bali's waterfalls are hidden treasures (and great photo opportunities) that every traveler should add to their list of things to do in Bali. A few favorites include Banyumala Twin Waterfalls, GitGit Waterfalls, Nungnung, Sekumpul, Tegenungan, and SingSing.
Banyumala Twin Waterfalls are located in North Bali. After a trek, hikers are rewarded with 11-story tall twin waterfalls running down a rock face into a shallow pool, ideal for soaking.
Address: Jalan Tirta Kuning, Wanagiri, Sukasada, Buleleng, Bali 81161
GitGit Waterfalls is a popular spot and easily accessible via a wooden boardwalk over a gorge and streams. A 40-meter tall waterfall cascades into a rocky pool where tourists or more than welcome to plunge in.
Address: Jalan Raya Bedugul-Singaraja, Gitgit, Sukasada, Buleleng, Bali 81161
Nungnung is located in the mountains in central Bali. To reach the waterfall, travelers must hike hundreds of steps and cross a small bridge. The 50-meter-tall waterfall is worth the hike.
Address: Plaga, Petang, Badung, Bali 80353
Sekumpul is possibly the most beautiful waterfall in Bali. Located in North Bali, it requires about a one-hour hike, after which, travelers are rewarded with tropical landscapes and gigantic falls.
Address: Sekumpul, Lemukih, Sawan, Buleleng, Bali 81171
Tegenungan is easily accessible via car through green rice fields when driving from the southern resort areas. Parking is easy, and many nearby shops sell snacks and souvenirs. The waterfall is set among beautiful greenery, and visitors can take a swim in the plunge pool.
Address: Jalan Ir. Sutami, Kemenuh, Sukawati, Sukawati, Gianyar, Bali 80581
SingSing is located in North Bali and requires a roughly 20-minute hike through the countryside and along a forest trail. During the wet season, the waterfall cascades into a rocky pool, and a path over the waterfall leads to a creek with lava stone pools perfect for soaking in.
Address: Jalan Air Terjun Singsing, Tigawasa, Banjar, Buleleng, Bali 81152
Round rattan bags on sale at a street shop in Bali.
Bali offers unique souvenirs, fashion accessories, luxurious jewelry, household artifacts, and handcrafted artworks. Some great places to check out are the Ubud Market, the Sukuwati Art market, the Guwang Arts Market, the Tegallalang Handicrafts Centre, and the Celuk Village gold and Silver Centre.
Visitors can also buy handmade products from Balinese people at the Kuta Beachwalk.
Related: Discover The Impossible At The Sacred Mountains Of Bali
8
Take A Cooking Class In Bali
triocean via Adobe Stock"">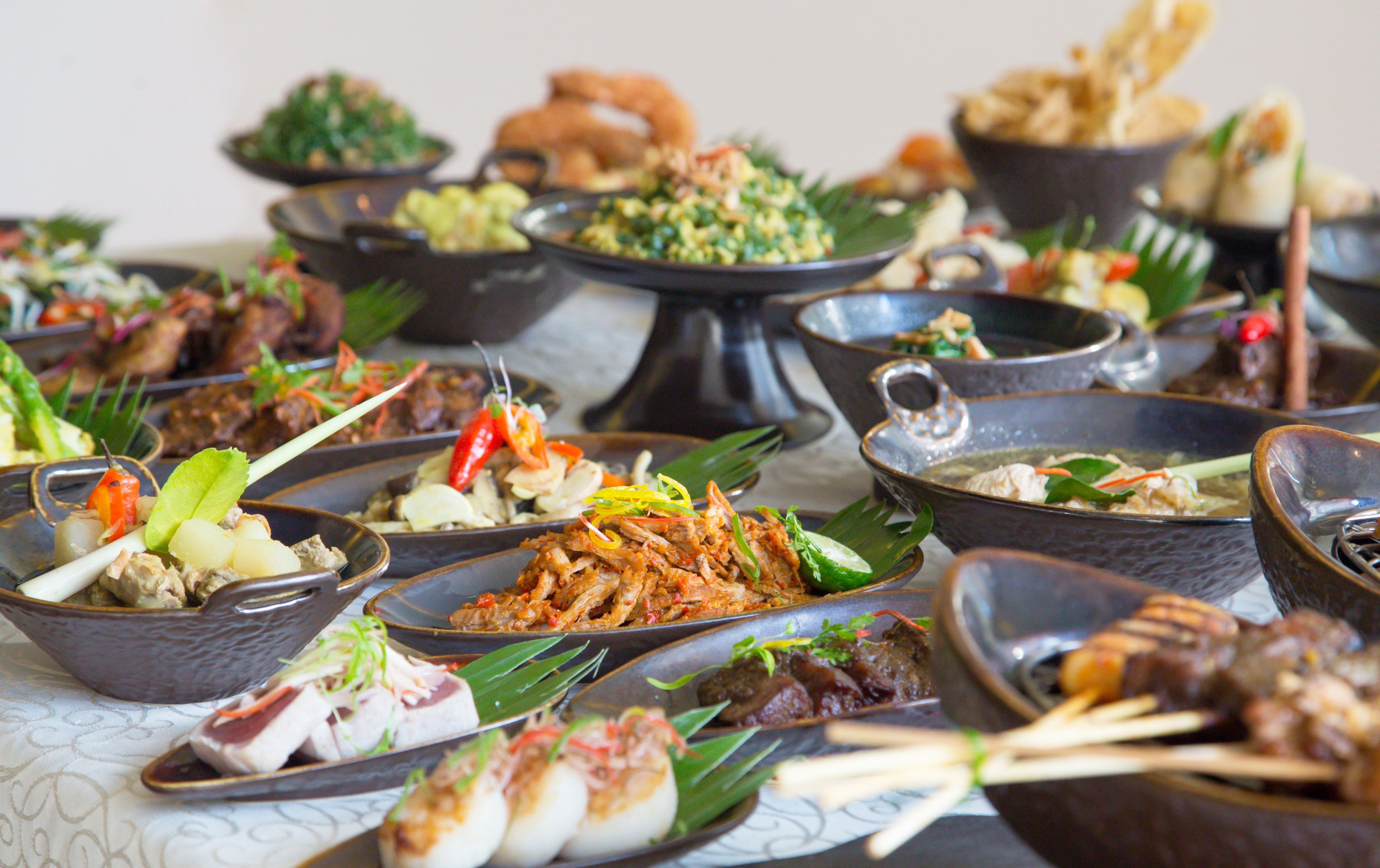 Traditional Balinese dishes on a table
The Four Seasons Resort Bali at Jimbaron Bay offers cooking classes so that travelers can take a taste of Bali home with them! There's no better way to learn the flavors and stories of delicious Balinese cuisine!
Chef Surya takes students on tours of Jimbaron fish markets before returning for hands-on instruction on Balinese cooking techniques.
7
Ubud Monkey Forest
A monkey holding a banana in the Ubud Monkey Forest in Bali
The Ubud Monkey Forest is popular among tourists, but it's also a holy site. Inside, visitors can see three temples: Pura Dalem, Holy Water Temple, and Cremation Temple. They can, of course, also see many Balinese long-tailed macaque monkeys and many different types of trees.
Located in the village of Padangtegal, the Ubud Monkey Forest is a fun and unique learning experience for all ages.
Address: Jl. Monkey Forest, Ubud, Kecamatan Ubud, Kabupaten Gianyar, Bali 80571
Hours: Daily, 9 AM to 6 PM
Cost: $5 per adult
6
See The Tegalalang Rice Terraces
Nick Fewings on
Unsplash
"">
Tegalalang Rice Terraces in Bali
There are many rice fields in Bali but the Tegalalang Rice Terraces are the most famous. This UNESCO World Heritage Site is lush, green, and simply stunning. But it's also a big tourist destination, so expect crowds, especially during peak hours.
Address: Jl. Raya Tegallalang, Tegallalang, Kec. Tegallalang, Kabupaten Gianyar, Bali 80561
Hours: Daily, 6 AM to 7 PM
The nearby Love Bali sign makes for a great photo spot!
5
Best Time To Go To Bali
Sebastian Pena Lambarri on
Unsplash
"">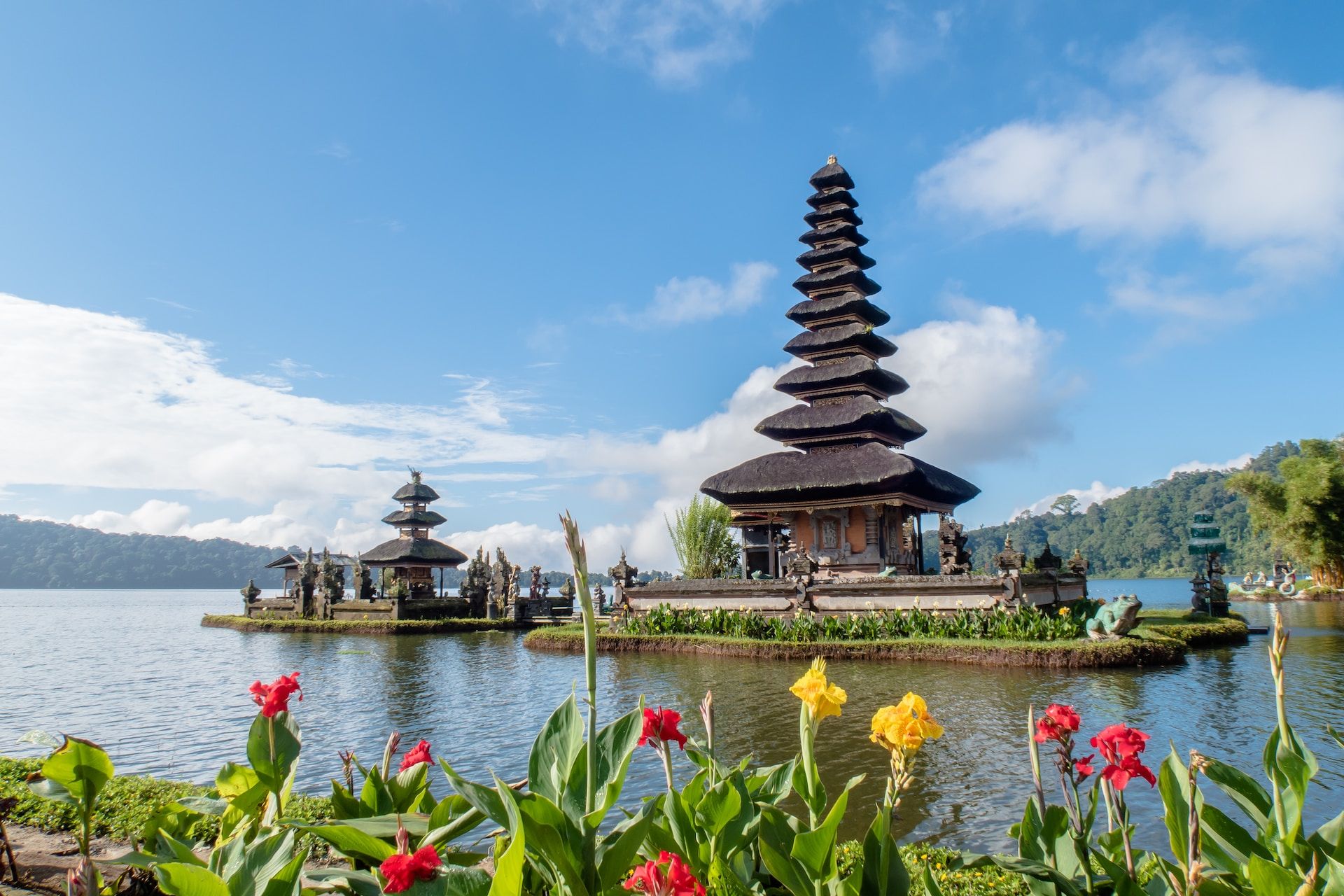 Temple on the water in Bali, Indonesia
Wondering when to visit Bali? Knowing what time to travel is the best way to prepare for an unforgettable trip!
Throughout the year, temperatures in Bali range only mildly between the mid-80s and the low-90s, but it's good to know that Bali has two distinct seasons: the wet (October through March), and the dry (April through September). While there isn't a bad time to visit Bali, the dry season is obviously the best bet for travelers looking to hike, swim, and sunbathe on the beach.
The dry season does have its drawback, though. It's the busiest time of year in Bali, which also means bigger crowds and higher prices for flights and accommodations. May, June, and September offer sunny weather with fewer crowds.
For travelers looking for a bargain, the wet season may be the perfect opportunity to avoid crowds and see Bali on a budget.
4
Best Ways To Get Around Bali
Corey Serravite on
Unsplash
"">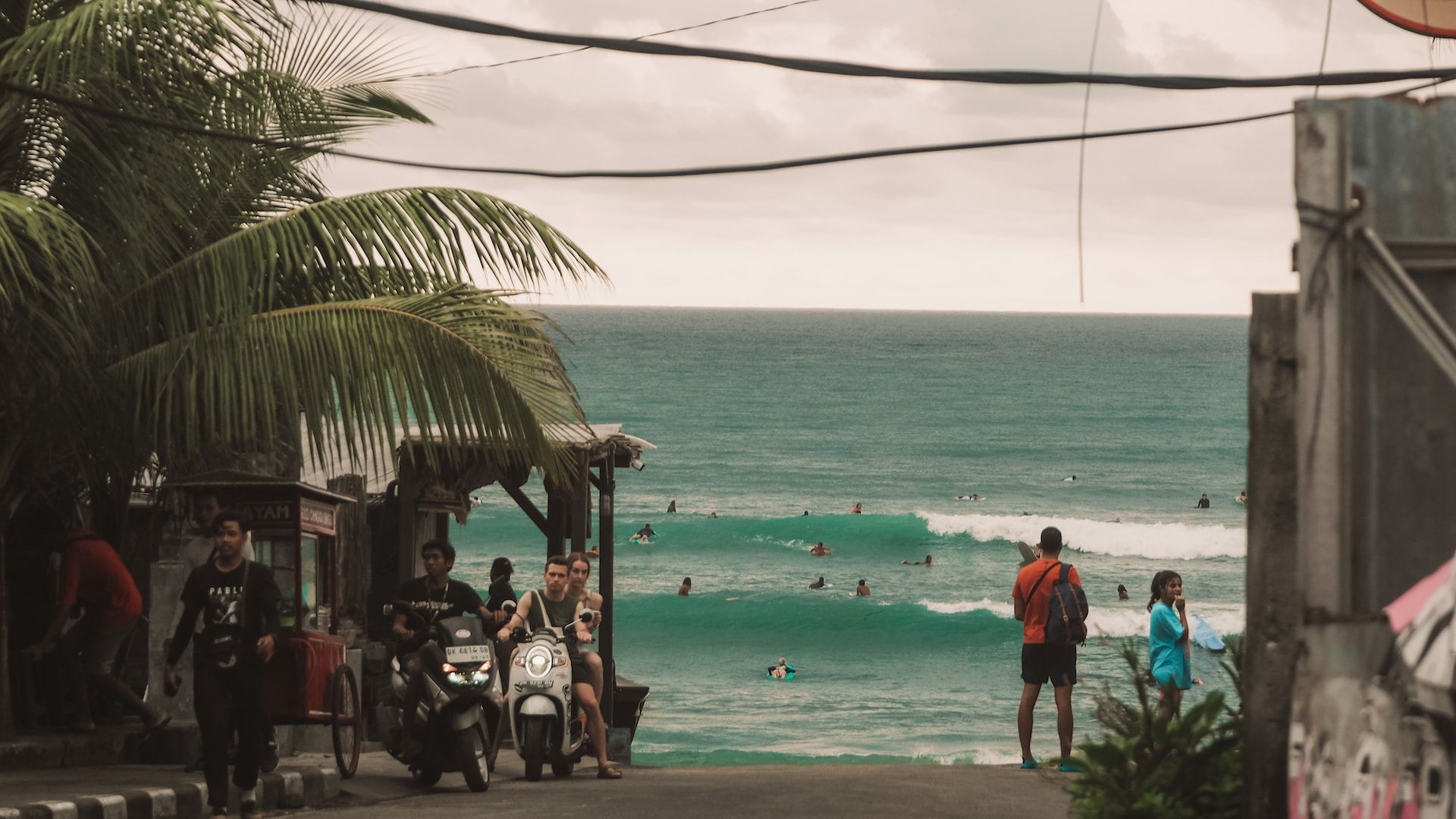 Motorbikes near the beach in Bali, Indonesia
Here's how to get around Bali, whether travelers want to play it safe or embark on an adventure every time they leave the hotel.
Car
Rental cars are a great way to get around Bali, but for tourists unfamiliar with the roads, consider hiring a car with a private driver. Many popular locations (Seminyak, Sanur, Ubud) have drivers who advertise transport. Drivers can be hired for a drop-off job or the entire day.
Motorbikes
They're everywhere. So much so that, at times, they seem like the primary mode of transportation. Bring a national car driver's license and an international driver's license. International driver's licenses acceptable by Indonesian authorities can be obtained in advance.
Motorbikes are available to book online through Bikago. This is a fun and cheap way to explore, but for tourists not familiar with motorbikes, consider alternative transportation methods.
Taxis
Before traveling to Bali, download transportation apps onto mobile devices. GoJek offers scooter taxis, while Grab is great for short trips. For longer trips, try GoCar. When flagging down a metered taxi in Bali, choose Blue Bird Taxis. They're the most reliable.
Related: This Tour Will Take You Through Bali's Most Famous Instagrammable Spots
3
Where To Eat In Bali
jakartatravel via Adobe Stock"">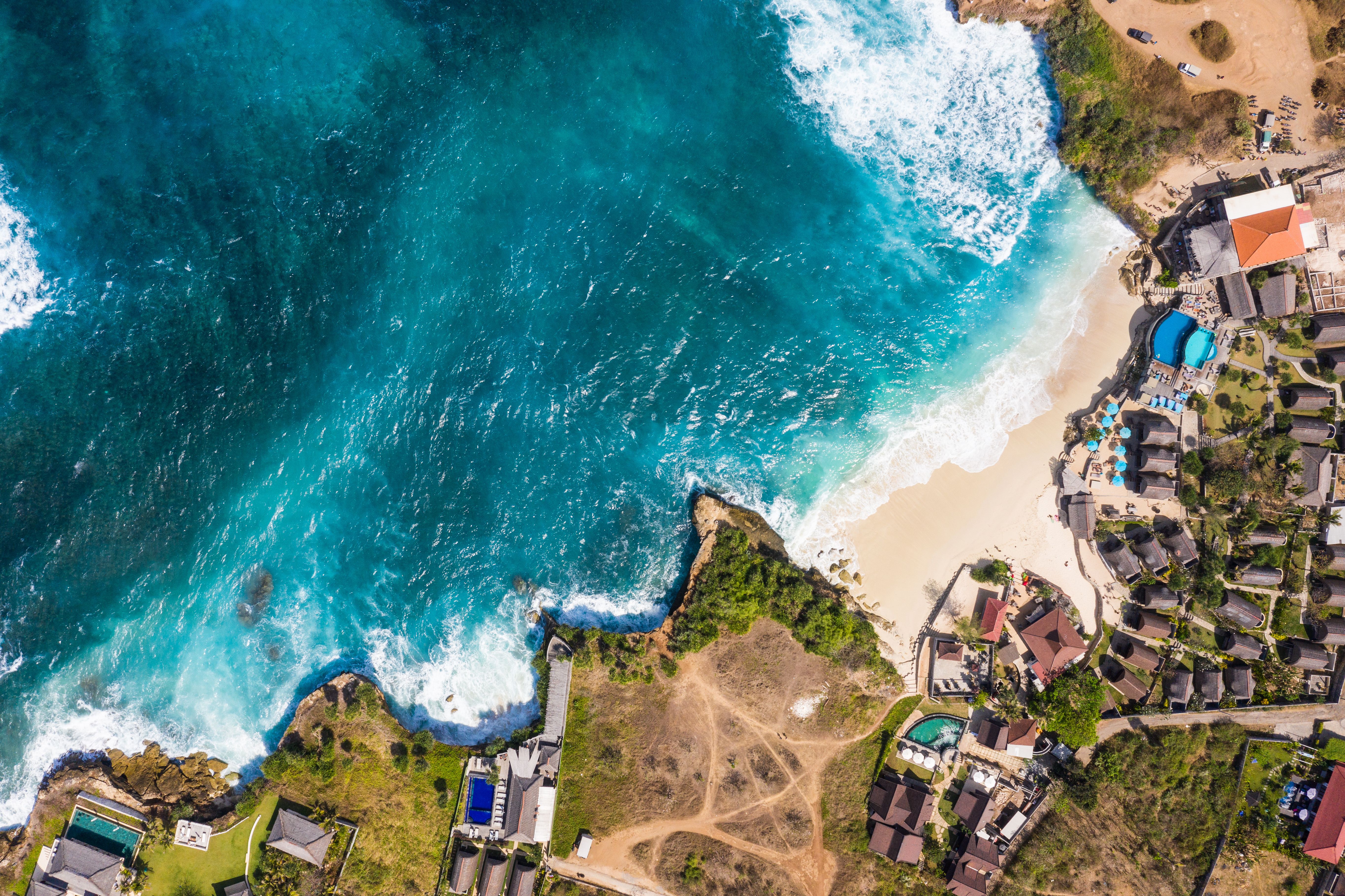 Aerial View of Bali, Indonesia
Prepare for a flavorful experience when eating out in Bali.
Breakfast
Watercress Cafe
Working together with local farmers, Watercress Café thoughtfully creates each delicious meal with sustainable sources and inspired flavors. This perfect breakfast spot has two locations.
Address: Watercress Cafe Seminyak; 21a Jalan Batu Belig, Kerobokan and Watercress Cafe Ubud, Jl. Monkey Forest, Ubud
Hours: Daily, 7:00 AM to 10 PM
Recommended: Try the Super Smoothies or the Smashed Avo and Watercress.
Lunch
Ely's Kitchen Ubud
Ely's Kitchen at the Adiwana Unagi Suite is a fantastic semi-outdoor dining spot that serves fresh dishes with herbs and vegetables from local farms.
Address: JI, Suweta No. 88, Bentuyung Sakti, Ubud, Gianyar Bali 80571
Hours: Daily, 7 AM to 11 PM
Recommended: the Pork Belly Rice Bowl (a staple rice bowl, stir-fried pork belly, chili scramble egg & local Ubudian chicharron)
Dinner
Mozaic Restaurant Gastronomique
With countless awards over the past 20 years, including the Les Grandes Tables du Monde (The Best Tables of the World), Chefs Blake Thornley and Chris Salans at Mozaic Restaurant Gastronomique offer a fine dining experience rooted in Balinese culture in a beautiful garden setting.
Address: Jl. Raya Sanggingan, Kedewatan, Kecamatan Ubud, Kabupaten Gianyar, Bali 80571
Hours: Monday through Sunday, 5:30 PM to 12:30 AM
Recommended: The Seasonal 8-Course Menu (with wine pairings)
2
Where To Stay In Bali
A guest at a hotel in Bali, Indonesia surrounded by jungle, palm trees and rice fields.
n"" data-modal-id="single-image-modal" data-modal-container-id="single-image-modal-container" data-img-caption=""Marta via Adobe Stock"">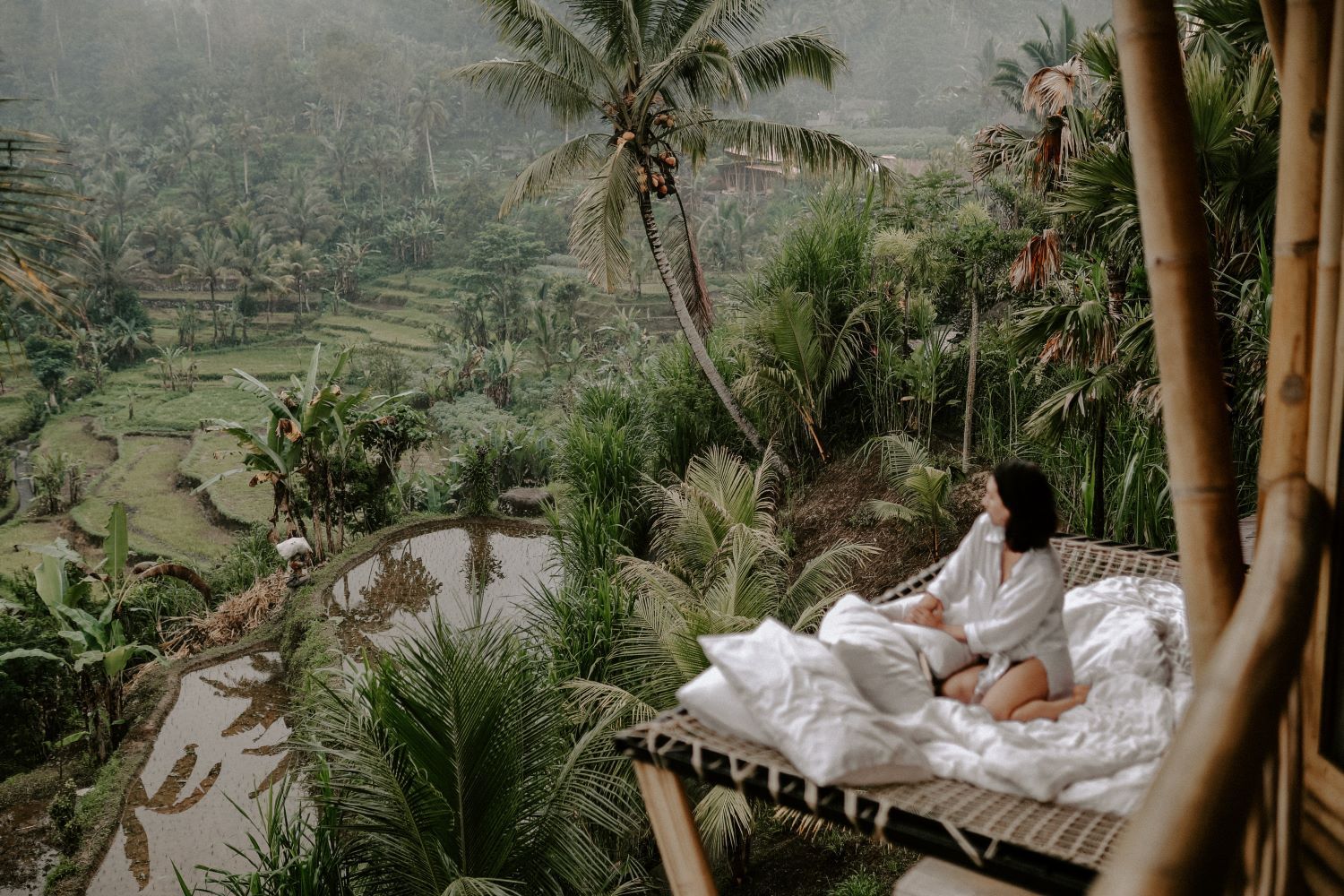 A guest at a hotel in Bali, Indonesia surrounded by jungle, palm trees and rice fields.
When it comes to accommodations in Bali, expect a variety of different sceneries and price points. For cliffside views, try Uluwatu. For coast-loving travelers, try Seminyak. And to be surrounded by rice paddies, try Ubud. There are thousands of fantastic hotel options in Bali!
Luxury
Bulgari Resort Bali
Bulgari Resort Bali is one of many wonderful luxury hotels in Bali! Located on a cliffside near the Uluwatu Temple, it offers stunning views of the Indian Ocean and a private beach only accessible via elevator nestled into the cliffs. The resort is adorned with Balinese antiques and art pieces, and all the villas have private pools, patios, and tropical gardens.
Address: Jalan Goa Lempeh, Banjar Dinas Kangin, South Kuta 80364
Amenities: private beach; infinity pool; fitness center; bar/lounge; Free-Wi-Fi; spa and wellness center; restaurant; room service.
Cost based on double occupancy: $$$
Related: Tips, Tricks & Advice For Traveling Solo In Bali
Mid-Level
Como Uma Ubud
This hilltop resort is a five-minute walk (or short shuttle ride) to the heart of town—Ubud, a cultural and arts hub. And all the gorgeous villas at Como Uma Ubud have private plant-rimmed pools.
Address: Jalan Raya Sanggingan,Banjar Lungsiakan, Ubud 80571
Amenities: spa and wellness center; restaurants; room service; pools; fitness center; bar/lounge; Free Wi-Fi
Cost: $$
Budget
Balangan Inn
With so many budget hotels in Bali and hostels perfect for backpackers, the Balangan Inn is a perfect budget-friendly option for travelers looking to explore Bali without breaking the bank. Balangan Beach and Jimbaran Beach are nearby and great for snorkeling.
Address; Jalan Pantai Balangan No.1, South Kuta 80361
Amenities: restaurant; room service; free parking; Free Wi-Fi; outdoor pool; bar/lounge
Cost: $
Related: 10 (Good) Reasons Why You Should Visit Bali
1
How To Spend The Perfect Day In Bali
Sunset at a pool at a hotel in Seminyak Beach, Bali, Indonesia 
Start the day with a healthy breakfast at Watercress Café. Grab a Super Smoothie to go and head to the beach before it gets crowded.
While many people could spend the entire day soaking up the sun, snorkeling, surfing, or reading a book on the sand—a perfect day in Bali includes seeing some of the sights, but not before a quick dip in the hotel pool!
In the afternoon, rent a motorbike, or rent a car with a driver for a safer option, and check out all that Bali has to offer. With so many things to do in Bali, deciding which attraction to see will be hard.
Visit a nearby temple, hike to a nearby waterfall, go shopping at a local market; and for travelers interested in cooking, why not sign up for a Balinese cooking class? The options are endless!
At sunset, head to Kuta Beach. Grab dinner and a drink with a view and watch the sky color as the sun slips out of sight. Bali is truly a one-of-a-kind vacation destination.
FAQ
Q: What is Bali known for?
Bali is known for its beautiful beaches, ancient temples, waterfalls and lush landscapes. It's the perfect place for outdoor adventure, and while Bali is known for its luxurious resorts, there are a lot of ways to travel to Bali on a budget.
Q: How many days in Bali is enough?
Ten days is enough time in Bali to experience the many things to do. For travelers wishing to explore more than one part of the island, it's recommended to spend at least five days in Bali.
Q: What activities does Bali have?
There are so many things to do in Bali! From spending the day beachside to visiting temples, waterfalls, a monkey forest or even taking a cooking class—visitors are spoiled for choice. Bali also offers great restaurants, shopping, and accomodations.