Jersey City is a picturesque metropolis nestled on the banks of the great Hudson River and the second most populous city in the state of New Jersey. It traces its history to the early 1600s when a group of Dutch immigrants landed on the territory, later building Newkirk House, which is currently the city's oldest structure. Today, Jersey City is a buzzing destination with some of the state's top attractions, ranging from scenic state parks, world-renowned landmarks, iconic theaters, and world-class museums to vibrant entertainment venues.
When it comes to the bar and restaurant scene, JC needs no introduction. Sitting less than a kilometer from the Big Apple, the city has no choice but to try and match its famous neighbor's hip vibe.
Considered among the most diverse cities in the U.S., Jersey City's multicultural influences can be seen in its assorted culinary offerings and vibrant entertainment scene. Chilltown is also perfectly positioned to offer the most breathtaking views of the glorious Statue of Liberty and the Manhattan skyline.
For those craving an escape from their mundane daily life routine, Jersey City is the perfect spot for a riveting rendezvous by the river. Here is a complete guide to all the awesome things to do in this Garden State City.
Top Things To Do In Jersey City
New Jersey boasts a handful of beautiful towns worth visiting, but Jersey City is definitely among its top destinations. This is because it provides tourists with all-around entertainment that will leave them with lasting memories of the beautiful city.
Whether a food enthusiast, art connoisseur, sports fan, or outdoor explorer, JC promises the ultimate New Jersey adventure for first-timers. These are the best activities to indulge in when in Jersey City.
13
Wander The Lively Streets Of Downtown Jersey City
Downtown Jersey City, New Jersey
Also known as Historic Downtown, Downtown Jersey City rests by the waterfront and features rows of low-rise 19th-century buildings. The bustling district boasts cozy tree-lined streets and awe-inspiring architecture that takes visitors back to when the buildings were constructed.
Here, guests can explore multiple indie shops, trendy restaurants, vibrant bars, electric music venues, quaint boutique stores, and upscale hotels. Roaming the bustling corridors of Downtown JC is an excellent way of sampling the city's cultural vibe, with a chance to partake in its most revered pastimes.
12
Honor The Departed At Empty Sky Memorial
Low-angle view of walls of Empty Sky Memorial, Jersey City, NJ.
The Empty Sky Memorial is a serene monument dedicated to the more than 700 innocent lives from New Jersey that were unfortunately lost during the devastating September 11th terrorist attack. It comprises two towering stainless-steel walls of equal measurements engraved with the victims' names.
Visitors can follow a granite path between the walls directing them toward Ground Zero, where the World Trade Center once stood. Pay homage to the departed by observing a moment of silence and preserving the memory of the tragic event.
Hours
: Open daily, 6 am – 10 pm
11
Engage The Brain At Liberty Science Center
nPanoramic Jersey City skyline"" data-modal-id="single-image-modal" data-modal-container-id="single-image-modal-container" data-img-caption=""Depositphotos"">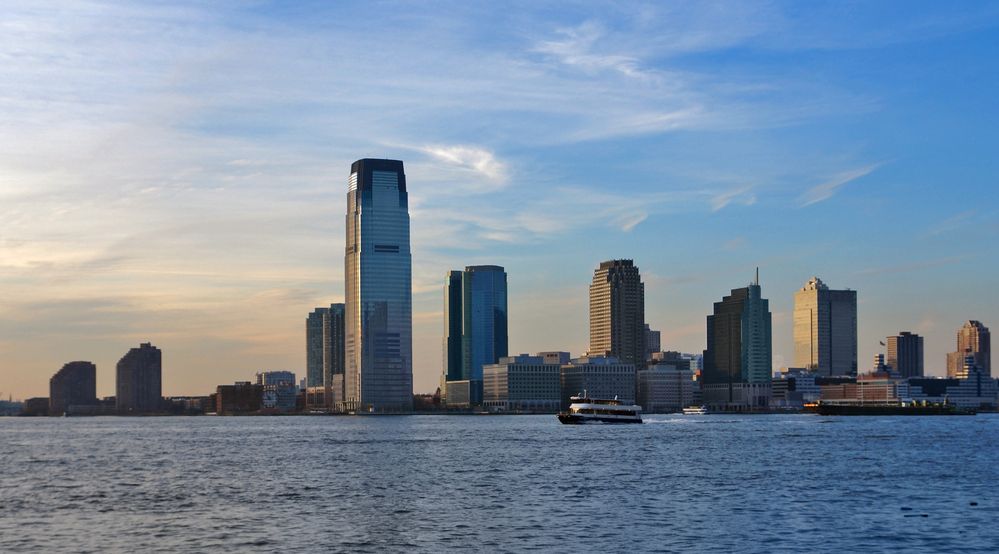 Panoramic Jersey City skyline
The Liberty Science Center is an awesome educational facility where visitors can learn about the fascinating world of science. Established in 1993, it is among the earliest science museums in New Jersey and the perfect place to introduce kids to engaging science lessons through fun and interactive exhibits.
One of the highlights of the visit is the Honey Bees exhibit, which consists of an indoor bee colony that allows tourists the rare opportunity to witness the queen bee laying eggs, larvae growing to maturity, and worker bees converting nectar into honey. The facility also houses an IMAX DOME theater showcasing cool films on a giant screen.
Admissions
: Kids (2-12) $26.99, Adults $31.99

Hours
: Wednesday to Friday (10 am – 4 pm), Saturday & Sunday (10 am – 5 pm)
Related: Discover The Jersey Shore: 10 Must-See Stops On A Road Trip From New York To Atlantic City
10
Let Loose At The White Eagle Hall
Jersey City skyline at night
White Eagle Hall is an iconic entertainment venue in Jersey City housed in a historic structure built in the 1910s. The restored old-day theater is a go-to spot for visitors seeking live entertainment and hosts electric shows, such as music concerts, live stage performances, and comedy gigs.
The venue can accommodate as many as 800 standing guests during a music concert, and the atmosphere is always high octane. Alternatively, it can hold up to 250 guests for a sit-down dinner show. White Eagle Hall's historic features, like the wrought-iron balcony and stained-glass atriums, blend seamlessly with modern lighting and sound equipment to deliver a unique vibe that spurs its popularity among party animals in Jersey City.
Admissions
: Check their website to see the events schedule and corresponding ticket prices

Hours
: Open 24/7
9
Explore The Vast Liberty State Park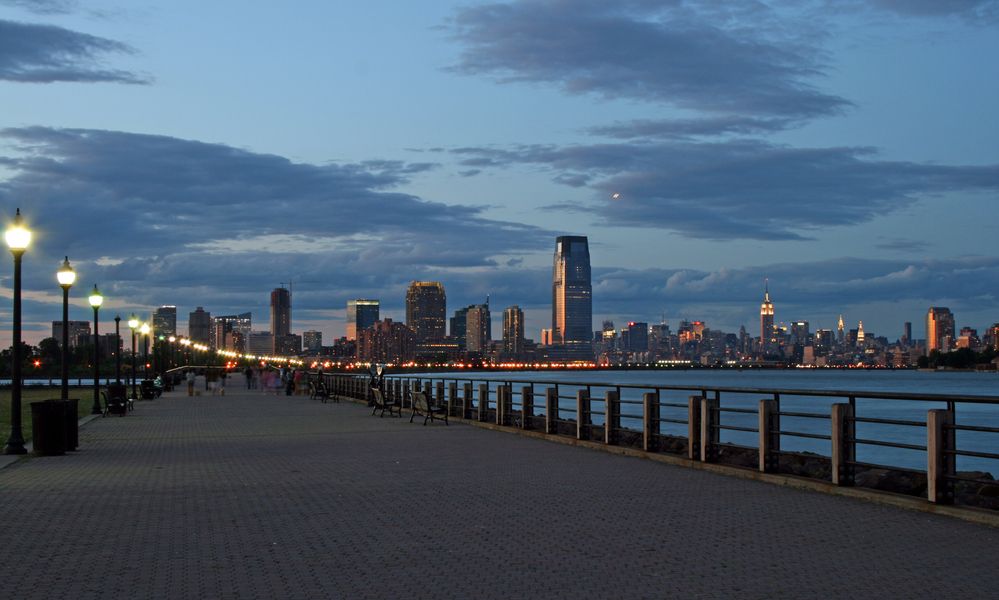 Jersey City Skyline from the Liberty State Park
Liberty State Park is a gorgeous green oasis set on a sprawling 1,212 acres of land. Welcoming approximately four million visitors annually, it is among the most popular state parks in New Jersey. It is also surrounded by water on three sides, making for the perfect location to take a stroll or casual bike ride while enjoying the fresh air and waterfront views.
Alternatively, sit on the green grass for a picnic with friends or family, unwind on the tranquil River Hudson shores, and savor the scenic sights of the Manhattan skyline, Statue of Liberty, and Ellis Island. Those in the mood to exercise can take on Liberty Walk, an easy-going 2-mile promenade linking the New Jersey Terminal to the picnic area.
Also, a ferry ride from the Liberty State Park to the Statue of Liberty costs only $6. This is an excellent opportunity to visit the world-renowned monument and experience the country's most iconic landmark.
Admissions
: Free

Hours
: Open daily, 6 am – 10 pm
8
Sit Back And Relax At Van Vorst Park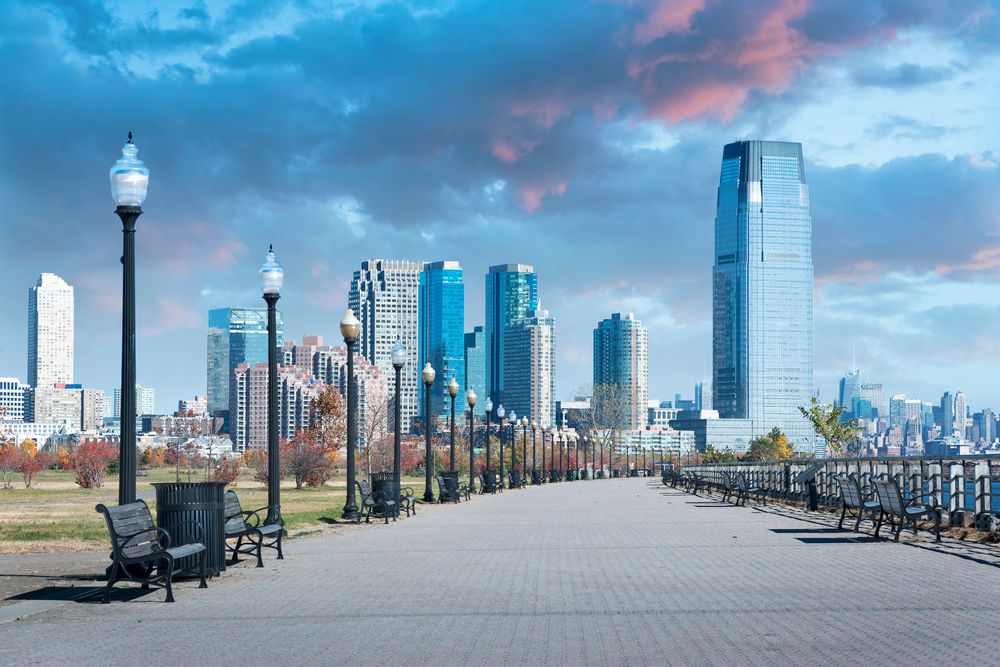 Liberty State Park in Jersey City, New Jersey
Van Vorst Park is a lovely green space in Jersey City's historic district. The 1.8-acre park was donated to the city by Cornelius Van Vorst in 1848 and features multiple brownstones from the 19th century. The rejuvenated space is a popular spot for locals and visitors to admire the well-manicured gardens and enjoy a laid-back experience in the heart of the busy Downtown.
Two playgrounds on the site allow kids to break a sweat, while paved walkways, community gardens, and a gazebo provide an excellent way to take it easy while enjoying the park's amenities. Van Vorst Park also hosts various exciting events in the city, including Shakespeare in the Park, a farmers' market, and a flea market.
Admissions
: Free

Hours
: Open daily, 6 am – 10 pm
7
Shop For Souvenirs At Artist And Maker Market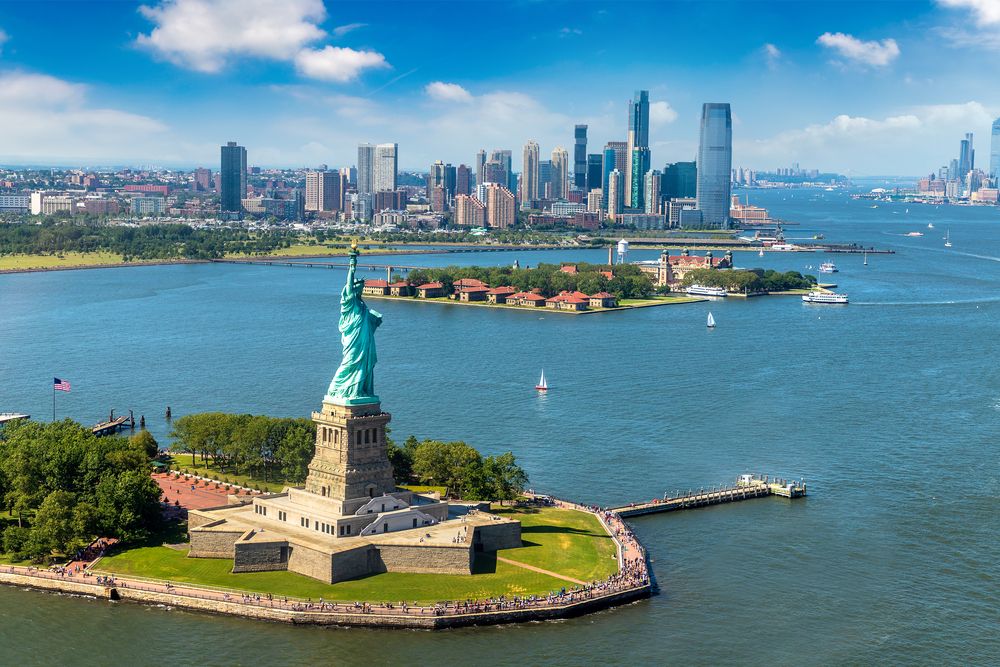 Aerial view Statue of Liberty and Jersey City and Manhattan cityscapes
A summer hotspot for art lovers in Jersey City, Artist and Maker Market is an open-air marketplace at Grove Street selling hand-crafted goods and locally-made fine art pieces. The market was established in 2015 to encourage artists and creatives to showcase and sell their works.
It runs every Wednesday, Friday, and Saturday from May through September and is the ideal place for tourists to hunt for cute memorabilia to take back home after the holiday. The market also holds special events like Christmas stalls and live music performances.
Hours
: Wednesdays 3 pm-8 pm, Fridays & Saturdays 12 pm-6 pm
6
Have Fun On The Water With The Sea The City Tours
Cruise wash foam in Hudson river and Panoramic view of Statue of Liberty and Manhattan and Jersey city
One of the most fascinating ways of discovering Jersey City and neighboring Manhattan is to take advantage of the surrounding waters. Thanks to Sea The City Tours, guests can slip into their favorite swimsuits to enjoy a unique adventure. These local guides offer jet ski tours traversing famous sights like the Statue of Liberty, Brooklyn Bridge, Ellis Island, and Governor's Island.
The tours are curated to cater to learners as well as veteran riders, and guides are always happy to halt the tour for a snap session on one of the most photogenic bridges in the country or to answer questions from tourists.
Tickets
: Solo tours $169 (weekdays) and $199 (weekends), tandem tours $219 (weekdays) and $249 (weekends)
Target summer to experience the best of Sea The City Tours and take advantage of early bird tickets not to miss out on the fun.
Related: New Jersey Is Beautiful In The Winter, And This Reservation Is Proof
5
Best Time To Visit Jersey City
nFall at Liberty State Park. Jersey City."" data-modal-id="single-image-modal" data-modal-container-id="single-image-modal-container" data-img-caption=""Shutterstock"">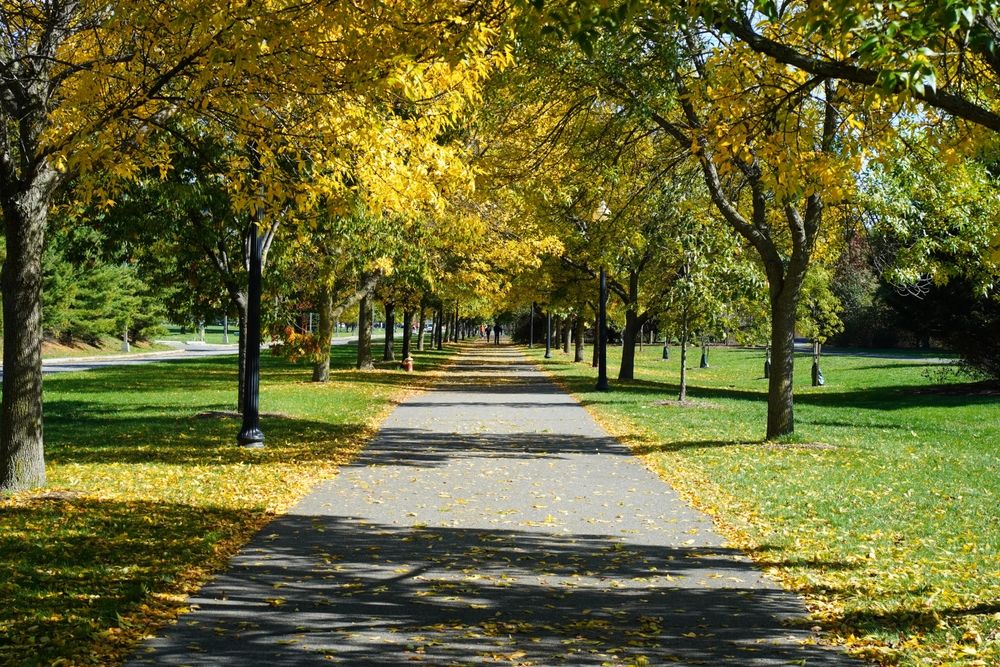 Fall at Liberty State Park. Jersey City.
The best time to visit Jersey City is May through September when the weather is just right for both indoor and outdoor expeditions. Tourists can get a piece of all the action Chilltown has to offer.
Spring offers optimal conditions for an outing, especially with the temperatures warming up after the winter chill. Guests can use this chance to survey the parks in JC and revel in the beautiful spring bloom.
Summer is the peak tourism season, and the warm weather is perfect for all outdoor activities. With temperatures hovering in the 80s-degree Fahrenheit range, visitors will have a blast basking in some of New Jersey's top beach shores and cooling off with a dip in the water.
Hotel prices rise drastically during the peak season, but travelers can avoid the increased expenditure by booking months before coming to town.
Those who prefer to steer clear of crowds can target the shoulder and off-seasons between October and April when tourist numbers drop. They can also take advantage of accommodation discounts as hotels try to attract the few visitors remaining in the city.
Winters in Jersey City are best avoided as temperatures constantly fall below freezing point. The cold conditions also mean that guests miss out on most of the fun outdoor activities. On the flip side, lodges offer generous deals, and tourists can look to options like skiing and skating to pass the time.
4
Best Ways To Get Around Jersey City
nCentral Railroad of New Jersey Terminal in Jersey City, NJ, USA"" data-modal-id="single-image-modal" data-modal-container-id="single-image-modal-container" data-img-caption=""Shutterstock"">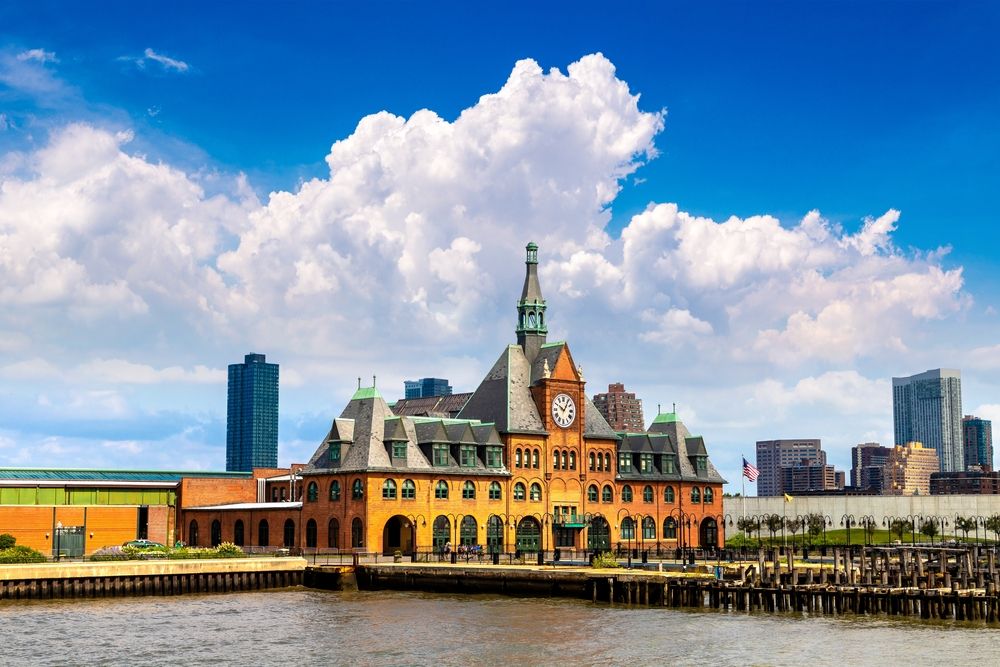 Central Railroad of New Jersey Terminal in Jersey City, NJ, USA