As you pack your bags, put down that shirt you bought three years ago (with the tags still on) and consider our list of must-bring items when visiting this European gem. While they might seem obvious, we're going to tell you exactly why you need them.
1: A hearty appetite
This is probably the most important advice you'll get for travelling around Portugal: eat everything. Available basically everywhere are pastéis de nata, otherwise known as Portuguese custard tarts. This mouthwatering treat is rich egg custard nestled into a buttery crispy pastry. Trust us when we say you won't be able to have just one. For the best of the best, take a short bus ride from Lisbon and visit Pastéis de Belém, a bakery that's been perfecting this recipe since 1837. If you're feeling extra indulgent, order a creamy hot chocolate for dunking. Recommended but not required.
And if you're hankering something savoury instead, Portugal's got you covered. One of the most popular dishes in this country are sardines. They're filled with omega-3 fatty acids, vitamin B2 and B12, and they come in a variety of flavours (garlic, hot sauce, tomatoes). They basically have it all. Portuguese sardines are typically tinned and considered works of art with generations of artists creating illustrations that adorn the exterior. While you can find them all over, keep an eye out for specialty stores in Lisbon and Porto and be sure to toss a few into your luggage for home.
---
2: Comfy (walking, dancing, and whatever) shoes
You're not hiking any mountains here, but it may feel like it as you climb the hilly cobblestone sidewalks. Comfortable shoes are highly recommended for this beautiful (yet uneven) terrain found all over the country. One Lisbon neighbourhood in particular that requires a "slight" uphill trek is Bairro Alto. Known for its lively nightlife, there are ample options for cocktails, fresh grilled fish and typical Portuguese steaks, and best of all, dancing. But you have to get to the top first. Once there, head to Park bar for the best lookout. It's unconventionally located on the 6th floor of a parking garage and the rooftop terrace is lush, vibrant, and offers sweet sunset views.
Not a fan of hill walks? You can still get there by hopping on the Glória funicular. This is not your typical public transportation. A funicular is a car attached to a cable that gets pulled up an incline and there are three in Lisbon: Bica, Lavra, and Glória. It'll only take a few minutes to make the 800-foot long journey to the top. And honestly, funiculars don't have fun in the name for nothing so jump on and enjoy the ride.
---
3: Camera and a back-up camera
This one may be obvious but when you're visiting the Porto Cathedral, Coimbra University, and Batalha Monastery, you're going to want to snap some pics. The Porto Cathedral is located in the historical centre of (you guessed it) Porto. Construction of this cathedral began in the twelfth century but was renovated many times throughout the centuries. Entrance is free but going into the cloister will cost you €3, and it's worth every cent.
Coimbra University, one of the oldest universities in the world, began in Lisbon in 1290 and has been in its current location since 1537. It boasts over 25,000 students, 16 libraries, 2 museums, and even a botanical garden. And while you can't photograph Biblioteca Joanina, it's without a doubt one of the highlights of this historic campus. You need a ticket so grab it first before exploring the rest of the grounds.
If visiting UNESCO World Heritage Sites is your thing, Batalha Monastery is one to check off the list. A masterpiece of gothic art, this impressive monument was built to commemorate the victory of the Portuguese at the battle of Aljubarrota in 1385. Spend a couple of hours exploring the exterior, church, cloisters, and chapels and take in the stunning carved arches, stone statues, and stained glass windows.
---
4: A few just-in-case layers
The best time of year to visit Portugal is in the springtime, between March and May. It's warming up, the country is blooming, and the days are getting longer. It might not be quite swimming weather, but you still need to check out the golden beaches in Porto. Praia dos Ingleses, Gondarém Beach, Praia de Leça da Palmeira. There's an abundance of choice and with an average of 300 days of sunshine per year, every day is a beach day. Just bring a light sweater as the ocean breeze can get a bit chilly.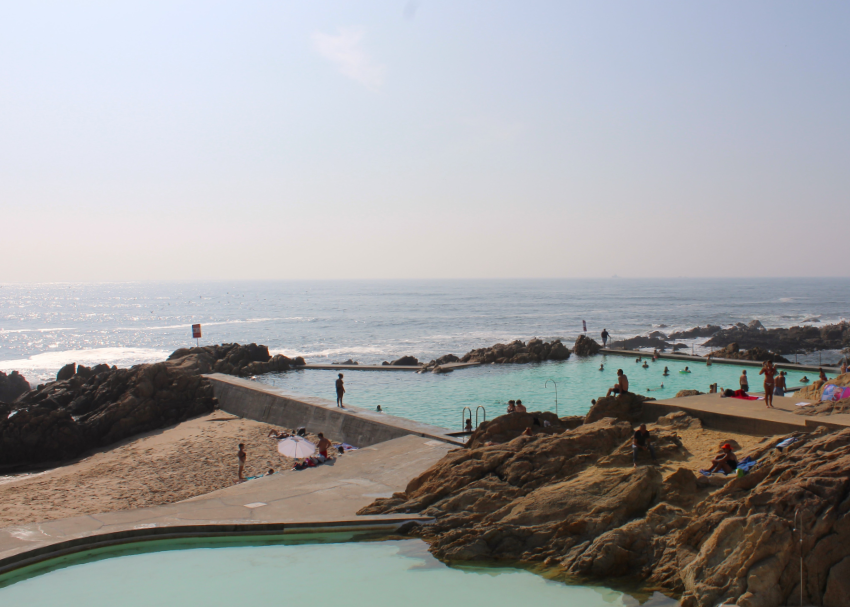 The same advice applies for cool evenings spent along the Cais da Ribeira, the street that runs along the Douro River in Porto. This riverfront promenade is lined with restaurants and bars, and is one of the liveliest parts of town. You may pay a little more for a meal in this area, but it's worth it for the spectacular views of pastel-coloured stacked houses and the Dom Luís I Bridge sparkling at night.
---
5: Your tasting notebook
You don't need to be a wine connoisseur to enjoy Portugal's finest Ports. Produced exclusively in the Douro Valley, Port is made from fermenting hand-picked grapes with a splash of Brandy to fortify the wine. There are several different types, with the most common being Ruby, Tawny, and White port. Spend an evening visiting the cellars, learning about the history, how it's made, and end your tour with a delicious tasting.
---
Getting there
Feeling ready to fill your pockets with sardines (in the tin, preferably) and your heart with endless Portuguese memories? Check out some of our top tours:
Highlights of Portugal
Discover Portugal
Hiking the Azores