Welkom in Kaapstad! Or if you don't speak Afrikaans, Welcome to Cape Town! While it's unlikely to see everything this vibrant city has to offer in a mere 24 hours, we've highlighted some must-sees and must-dos if you had one full day to run around Cape Town.
Morning
Rise and shine! Tie up your laces and get an early start as you head to Lion's Head right smack dab in the middle of the city. Peaking at 669m (2,195 ft) above sea level, this mountain is part of the stunning backdrop of Cape Town and you don't want to miss the views from the top. Hiking boots aren't a must, but make sure to wear closed toe shoes with a good grip, and don't forget the essentials: water, sunscreen, hat, and most importantly, your camera. Pack it all into a daypack because there are two ladders you'll need to climb.
Once you've conquered Lion's Head, get ready to refuel and reward yourself. Head on over to Kleinsky's Delicatessen in Sea Point for the best bagels found in this foodie city. They've got everyone covered with meat, vegetarian, vegan, and gluten-free options. Smooshed Avo everything bagel, anyone?
Next up on the list: Boulders Penguin Colony, and yes, there are penguins! At Boulders Beach in Simons Town your heart will melt as you observe a colony of African penguins waddling on the sand. Stroll around the boardwalks and the viewing area to get a close up look at this endangered species. Since 1956, breeding pairs have decreased by more than 80% due to a variety of causes. Don't worry though, visiting the penguins here is done responsibly. Enjoy the opportunity to learn more about how you can help them recover.
---
Afternoon
Who's up for a snack? It's not a trip to South Africa without a proper indulgence in biltong. If you've never heard of, or tried, biltong, you are in for a treat. This dried cured meat is made without any sugar, preservatives, or additives. Various types of meats are used from beef to ostrich. Wash it down with a rooibos red cappuccino and get ready for your next stop.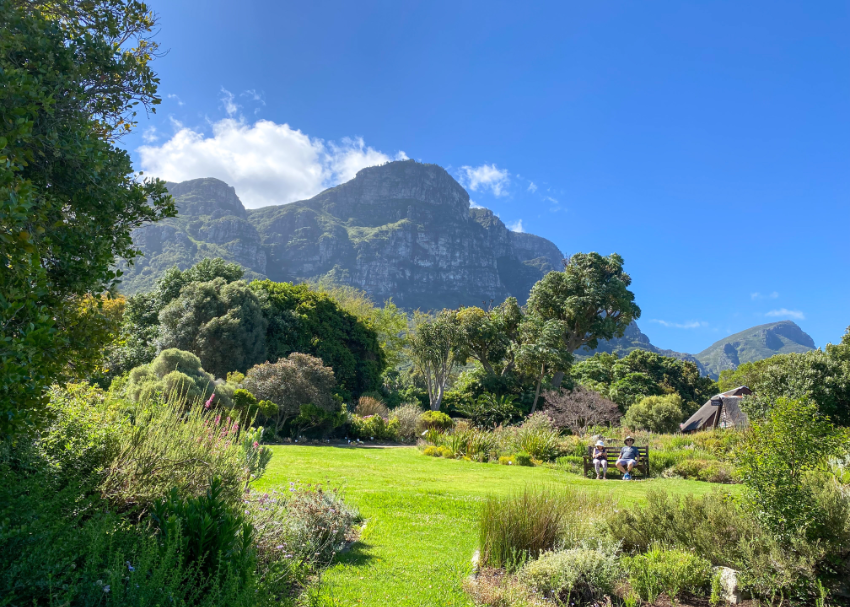 It's a busy afternoon for you. It's time to go to Kirstenbosch National Botanical Garden, nestled at the foot of Table Mountain. Take a free guided tour (approximately 90 minutes) or wander the gardens on your own. Look out for birds, lizards, snakes, frogs, and butterflies as you explore the 528 hectares of natural forest and fynbos (distinct vegetation found only on the southern tip of Africa).
Next, hop in the car to Chapman's Peak, a mountain on the western side of the Cape Peninsula, for what is considered to be one of the most spectacular ocean drives in the world. With a speed limit of 25m/h (40 km/h), you'll snake through a total of 114 curves with views overlooking Noordhoek and Hout Bay. Keep your eyes on the road but take time to pull over at the designated viewpoints to take in the scenic wonder.
---
Evening
It's time for dinner! Luckily, your drive ends in Camps Bay. With a plethora of bars and restaurants, you'll have no trouble finding good food, good drinks, and good music. End your day with a stroll along Camps Bay beach before heading back to your room for a well-deserved rest. And that's just one way to enjoy a jam-packed 24 hours in Cape Town. You can easily adjust this itinerary to what suits YOUR needs and vacation timeline.
But wait, there's more! If you have time, you could walk in the blue waters of Clifton beach but prepare yourself for frigid temperatures, even during the height of summer. And don't worry, we didn't forget about wine country. Go tasting in Stellenbosch with the very convenient hop-on, hop-off wine tours. You can even book a standard tasting, 6 wines and 6 cheeses, at Fairview for only R50/person. That's $2.75 USD. And don't overlook a longer visit to Robben Island Museum. You can take a 3.5 hour guided tour and learn about the island's 500-year-old history.
---
Getting there
Cape Town is just one of the scenic South African cities you can start or end an adventure with us. Here are just a few of the tours we'd recommend to get you there:
Highlights of Southern Africa
Cape and Namibia Adventure
Cape & Dunes Discoverer
Dunes, Deltas & Falls Discoverer
Classic Cape Town Mini Adventure
Cape Town Day Tour: South African Wine (full day)