There is a select but growing group of airlines offering double beds in their First Class or Business Class on long-haul flights. Here's what to know.
Boeing 777 Qatar Airways flying
What's not to like about flying First Class around the world? While only a few travelers can ever afford it, everyone else can dream about it. The world's top-ranked airline is Qatar Airlines, the top airport in the world is Qatar's hub at Doha, and the top-ranked American plane (although it scores poorly internationally) is Delta Air Lines. But it may come as a surprise not all the top-ranked airlines offer double beds in their First Class seats.
It turns out that double beds are very rare in the skies, with fewer airlines than one can count on their fingers offering double beds on their flights. Double beds are only offered on long-haul flights – the longest long-haul flights can be as much as 18 hours long.
A seat in Emirates first-class on the plane
How Etihad's Residence Took First Class Luxury To A New Level
Some of the few airlines that offer double beds include Etihad, Qatar, Singapore Airlines, and China Eastern. It seems that Germany's Lufthansa is soon to join the select club. These are some of the airlines with some of the most deluxe First Class seating.
Etihad – along with some other luxury long-haul carriers – has a reputation for luxury. In 2014, they unveiled their uber-first-class concept – The Residence. Their Residence included a living room, bathroom, and bedroom on the A380 – the largest passenger aircraft in the world. The cost of these flights is somewhere in the ballpark of $26,000 for two people from London to Abu Dhabi on a return ticket.
But this design featured two single beds. Etihad Residence is more of a quasi-double bed than a double bed. This is because there is a partition that partly divides the beds, making it a little difficult to snuggle.
Related: What We Know About Delta's First Service From Los Angeles To Auckland
Emirates First Class
The Select Few Airlines Offering Double Beds On Long-Haul Flights
Later, the rival airline, Qatar Airways, upped the ante by adding the Qsuite on its B777s, complete with double beds. It was also cheaper – costing something like $19,000 for two from New York to Doha return.
"Our first fully lie-flat double bed promises you and your travel companion the ultimate journey in Business Class. Our bespoke turn down service complete with pillows, a quilted mattress, and a soft, plush duvet is now complemented by The White Company sleepwear and slippers…" – Qatar Airlines
More recently, Singapore Airlines also entered the fray with its new cabin products on its A380s. Their "Suites" are available on select routes and were designed by the French luxury yacht designer Jean-Jacques Coste. The Singapore flights have six Suites on the aircraft. To have a double bed, passengers need to book two adjacent Suites. The oversized armchairs convert into beds that can be put together to form a double bed. It works by having a middle wall retracted and the flight attendants adding a mattress pad and linens to create a first-class double bed.
Airlines With Double Beds: Singapore Airlines, China Eastern, Qatar Airlines, Etihad (Quasi Double Bed)
One of the very few airlines that offers a true double bed is, perhaps surprisingly, China Eastern. In bed mode, the seat measures some 26.5 inches wide and 79 inches long. Each of these suites comes with a sliding door for extra privacy and snuggle time. China Eastern may be far from the top-ranked airline in the world, but it does offer some pretty spiffy luxury products and services.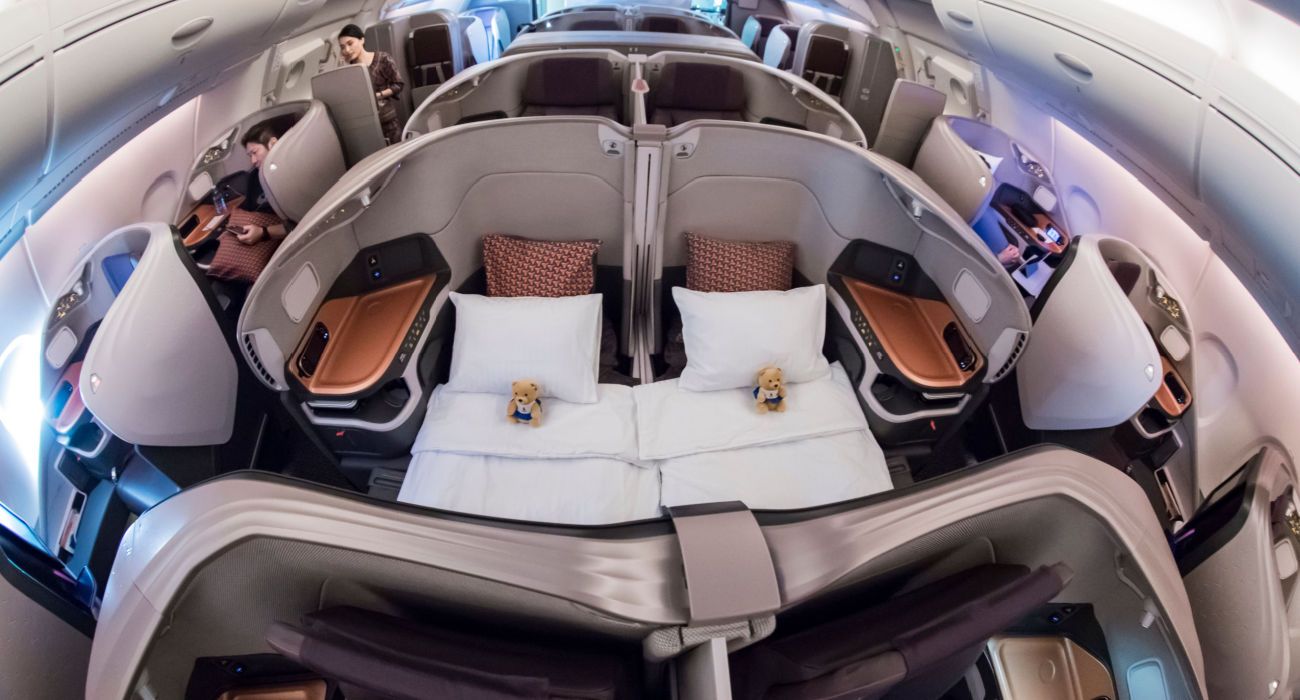 Double Bed On Singapore Airlines
Related: 15 Tips For Surviving Long-Haul Flights In Economy Seating
More Airlines To Offer Double Beds Soon
Lufthansa announced in late 2022 that they are planning to spend billions in products and services by 2025. This major project will include the replacement of around 30,000 seats in its long-haul aircraft. One of the eye-catching details of the announcement is that by the autumn season of 2023, passengers will be able to snuggle on select long-haul flights.
Lufthansa business class will offer double beds and will be perfect for couples traveling on a long-haul flight. People will be able to book double seats that can transform into comfortable double beds. The transformation comes with the touch of a button. There is a barrier that can be erected or retracted depending on if passengers would like to snuggle with their adjacent passengers or have their own privacy.
Lufthansa is not alone with plans to bring in double beds. The national carrier of Switzerland – SWISS – is also planning to introduce double beds onto their new planes in 2025. The exact design of these double beds is to be revealed in the coming months.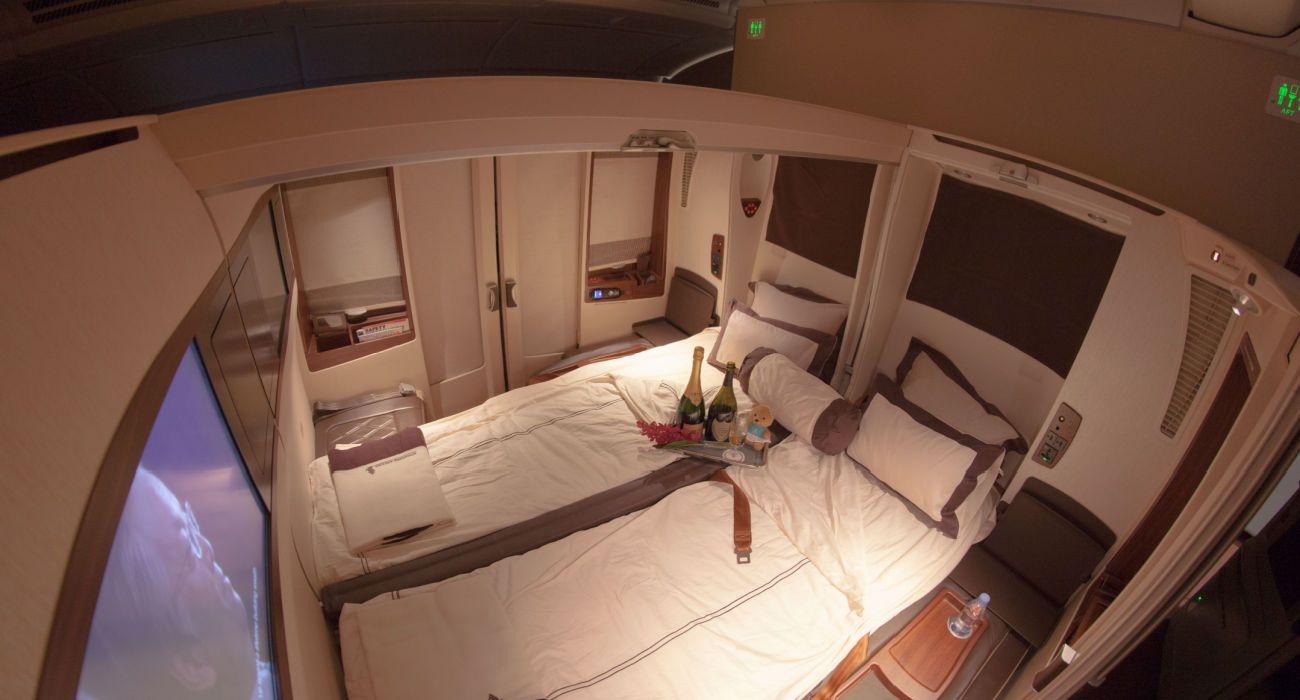 Suite Class Cabin on Singapore Airlines
There seems to be a growing trend for airlines to install double beds on their long-haul night flights. So those on honeymoon or those who would just like to snuggle with their partner will soon have an option to really share the experience of flying together.