Quick Links
Chile entices wanderlusting globe-trotters with vibrant culture, rich history, colorful architecture, and mouthwatering cuisine. Travelers indulge in abundant opportunities to immerse themselves in experience here. Outside the bounds of city life and beach bumming, outdoor-oriented tourists enjoy some of the most magnificent sights Chile offers.
The country's diverse landscape is its most significant draw for international travelers, who come in search of the picturesque vistas that leave them drooling over their Instagram feeds. A sprawling wonderland for expeditionists of all persuasions, the best of Chile includes hiking near Santiago, the world-famous W Trek in Patagonia, wild camping in the Atacama Desert, and so much more.
Camping In Chile
From Patagonia to the Atacama Desert, opportunities for camping in Chile are endless.
Glamping In Patagonia
EcoCamp in Patagonia, Chile, is the world's first geodesic dome hotel. It combines the adventurous spirit of traditional camping with all the comfort and amenities of a luxury hotel.
After a full day in Torres Del Paine National Park, guests are treated to an artisan meal and cozy bed.
Cost: Starting at $193 per night, minimum three-night stay
Getting There: Free transfers to EcoCamp Patagonia from Punta Arenas or Puerto Natales
Dome types:

Standard Dome: 108ft² (10m²). Includes warm bed, fleece blanket, skylights,
Superior Dome: 250ft2 (23m²). Includes warm bed, fleece blanket, heater, private bathroom with composting toilet, safe box
Suite Dome: 300ft2 (28m²). Includes warm bed, fleece blanket, low-emission wood stove, private bathroom with hot water and composting toilet, safe box, locally made decor
Suite Dome Loft: 398ft2 (37m²). Includes amenities of Suite Dome plus added loft with private terrace. Ideal for groups and families.

Amenities: park entrance fee included in cost, free transfer from Punta Arenas or Puerto Natales, meals on site prepared with locally sourced ingredients, bar, yoga classes
Tour packages include 5 & 7 day guided tours of the W Trek, wildlife safari, puma tracking, trekking, kayaking, horseback riding, mountain biking, and glacier trekking
Moon Valley, Atacama Desert, Chile
Outdoor Adventures By Day, Wild Camping By Night, In The Atacama Desert
Opportunities for wild camping in Chile are abundant in the Atacama Desert. Campers are welcome to make home base anywhere they can pull off the side of the road in this world-renowned stargazing destination. While the sun is up, choose from a plethora of outdoor activities in the Atacama Desert.
Where else in the world can campers see geysers in action, try sandboarding, watch flamingos in the wild, soak in hot springs, summit a volcano, and explore Valle de la Luna?
Travelers who wish to wild camp in the Atacama should consider renting a campervan, allowing for more freedom in exploring this vast desert and providing shelter from its sweltering days and bitter cold nights.
In San Pedro de Atacama, Wicked Campers is an excellent option for all wild camping needs.
Costs:$50- $85 per day
Getting There: Fly into Calama Airport and taxi to San Pedro de Atacama for about $30 to $40. San Pedro de Atacama will serve as the home base for all visitors' desert adventures. While here, stock up on gas, groceries, and equipment rentals.
Amenities: gas stove, water container, cutlery, pots & pans, internal table and lounge area, comfy bed, storage area
Tips For Camping In Chile
Campers will require a sturdy, weatherproof tent for camping in Chile. Storms occur in wilderness areas during all four seasons.
Avoid pulling campers into soft sandy areas when wild camping in the Atacama Desert, as tires often get stuck.
Carrying camping gear in Patagonia can save travelers money on accommodations. Many hostels offer camping on property for discounted rates.
Wild camping is NOT permitted in Torres Del Paine National Park. Check with the local governing agencies before wild camping in Chile.
Equipment rentals are widely available in outdoor towns bordering wilderness areas.
Booking.com and Tripadvisor are excellent resources for booking campsites in Chile.
Best Day Hikes In Chile
Is Chile Good For Hiking?
The best hiking in Chile offers opportunities to explore everything from hanging waterfalls and sprawling glaciers to the driest desert in the world. Hiking in Chile allows experiences in wildlife viewing, hot spring soaking, guided glacier exploration, and unparalleled stargazing.
Tips For Hiking In Chile
The best time of year for hiking in Chile is summer. Plan a trip for December to February.
Even in the summer, hikers can expect to experience all four seasons in a single day. Pack accordingly, and always check local weather conditions before hitting the trail!
Always apply sunscreen when traveling in wilderness areas.
Carry trekking poles for steep trail climbs.
Appropriate footwear is crucial when hiking in Chile.
Pack at least a half liter of water for every hour of hiking in Chile. Purchase or rent a water filter to cut down on pack weight.
Check the CONAF website for temporary trail closures before hiking in Chile's national parks.
Check operational hours and entrance fees before traveling to each new wilderness area. National Park entrance fees are often paid in cash or by reservation only.
Guide services are available in many towns neighboring national parks and wilderness areas.
Best Hiking In Santiago, Chile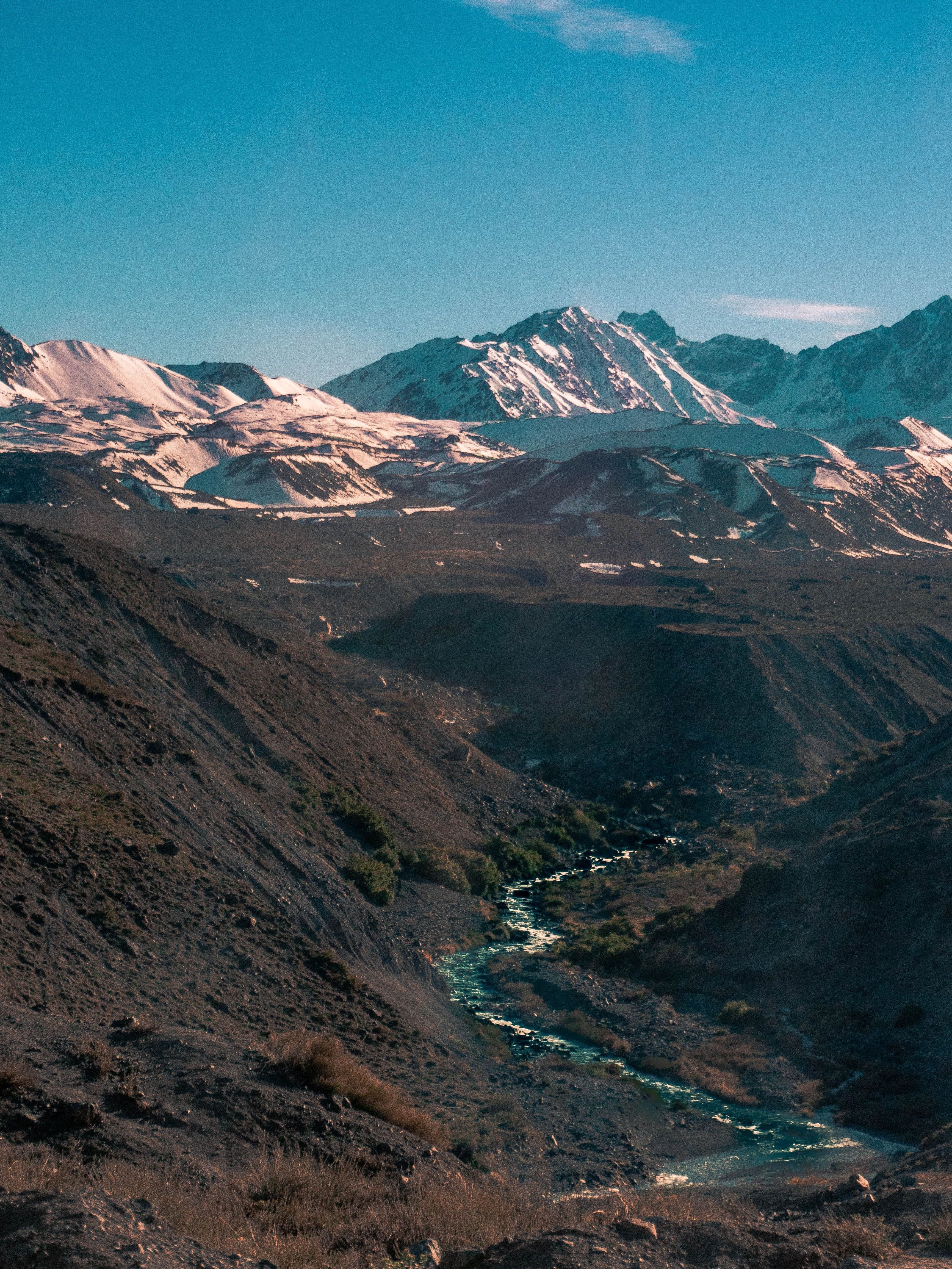 Views of el Cajon de Maipo and the Maipo River while hiking near Santiago, Chile
Glaciar San Francisco
One of the most popular Santiago hikes for visitors and locals alike, this trail offers remarkable mountain views, abundant wildflowers, and a stunning lagoon pit stop en route to the glacier.
Just a 1.5-hour drive from Santiago, the natural beauty of Cajón de Maipo provides a welcome respite from the bustle of the city. Travel to Monumento Natural El Morado is best accomplished by rental car or private tour.
Distance: 9 miles (16 km)
Difficulty: Hard
Hiking Time: 4 hours
Park Hours: Tuesday to Sunday, 8:30 AM to 5:30 PM
Due to recent rockfalls, partial closures exist on this trail. Visit CONAF for updates.
Best Hiking In The Atacama Desert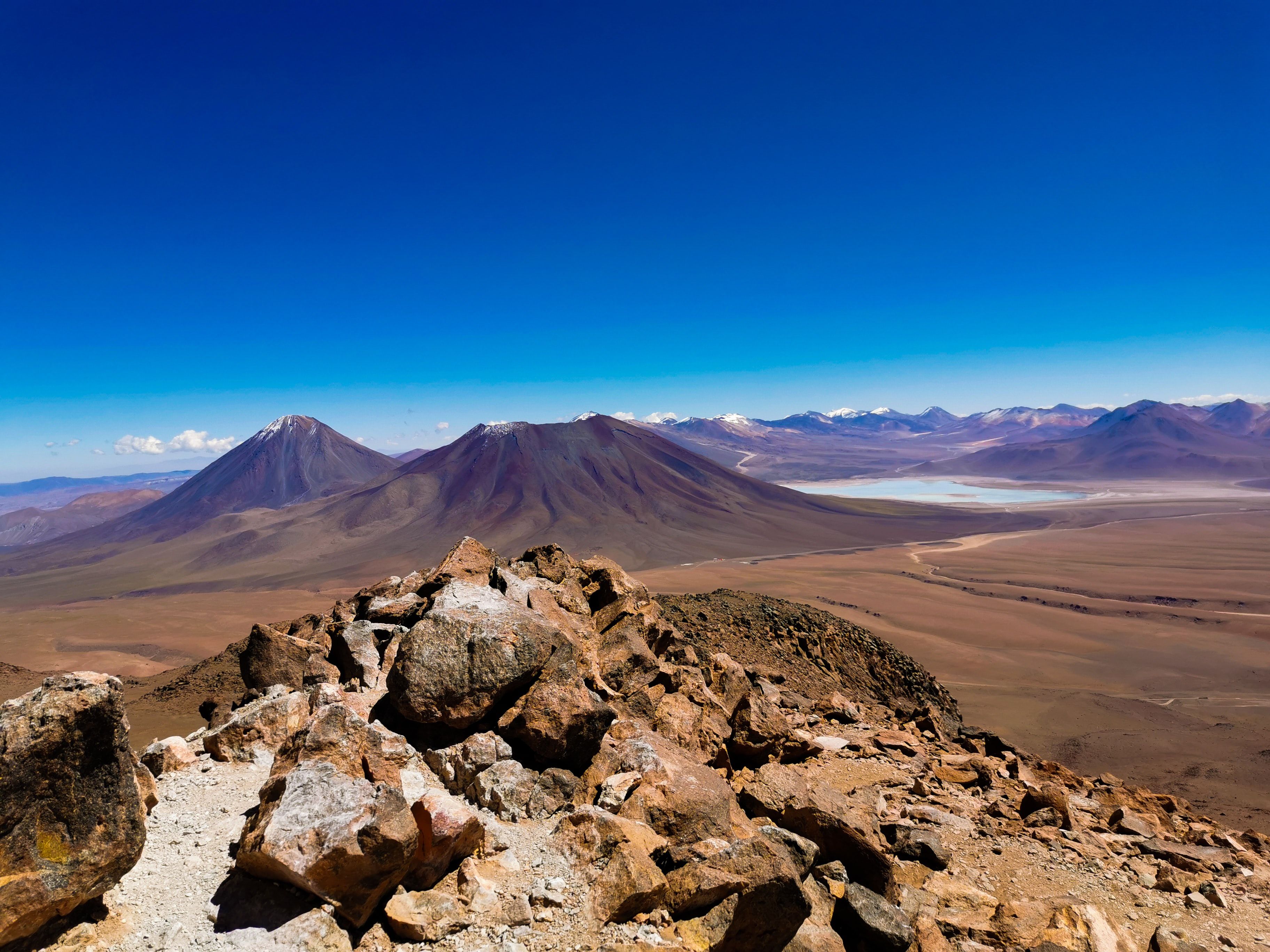 From the summit of Cerro Toco, snowcapped peaks are seen in the distance with the vast Atacama Desert below.
Cerro Toco
Cerro Toco is a dormant stratovolcano in the Atacama Desert near the border of Chile and Bolivia. At 18,386 feet (5,604 meters) in elevation, this hike in Chile offers panoramic views of the Atacama Desert and surrounding peaks.
Though not technically complex, this high-altitude ascent requires several days of prior acclimatization in the area, as altitude sickness on this hike is common. Private tours are available in San Pedro de Atacama.
Distance: 2.7 miles (4.3 km)
Difficulty: Hard
Hiking Time: 3-4 hours
Best Hiking in Torres Del Paine National Park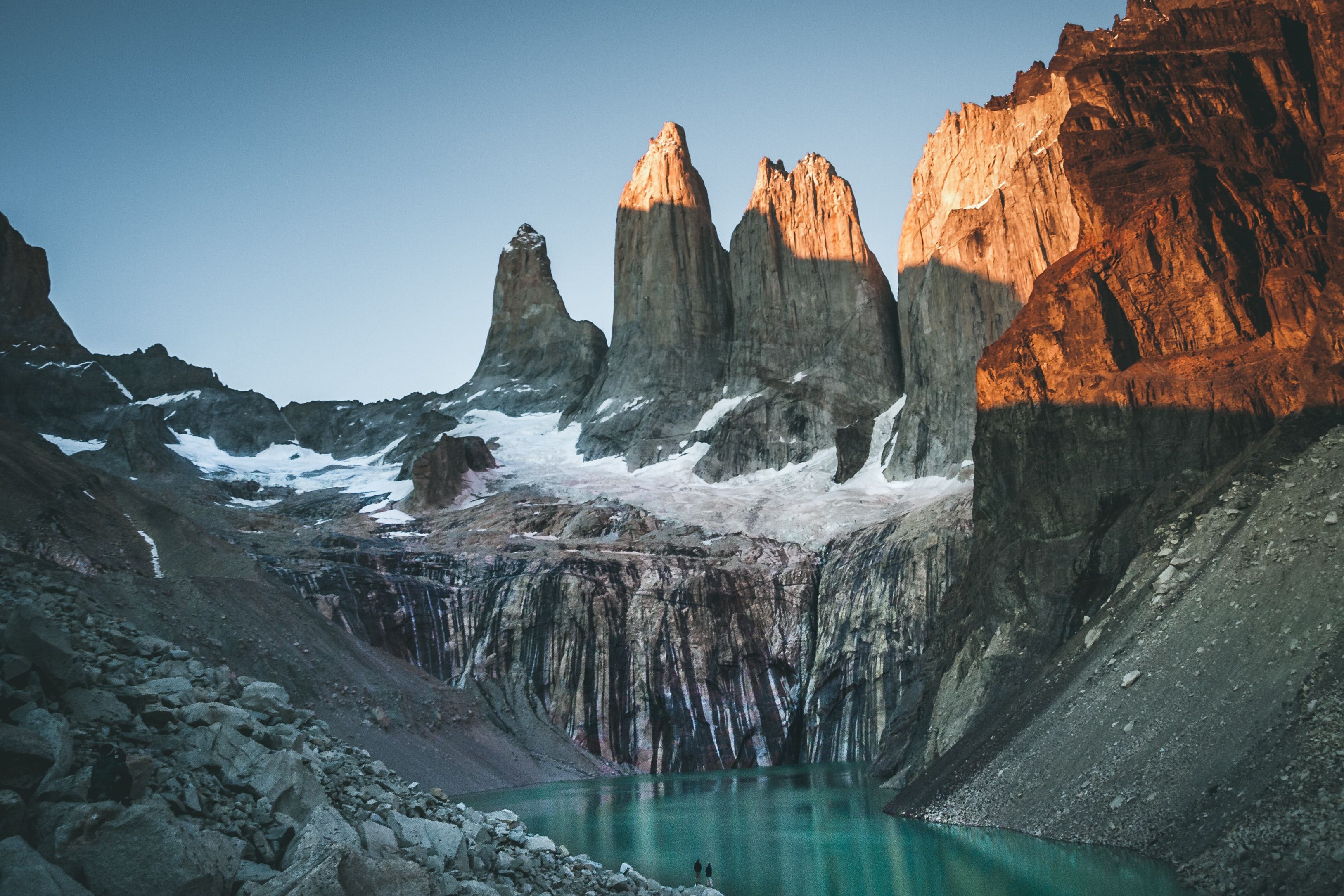 Sunrise on the towers that lend Torres del Paine National Park its name. 
Mirador Base De Los Torres
One of the most iconic views in Patagonia, Torres del Paine is not only the namesake of this national park but also one of the most famous hikes in Chile. Jagged granite towers rise from beyond turquoise waters to reward hikers at the end of this can't-miss Patagonia hiking trip.
Distance: 12.5 miles (20 km)
Difficulty: Hard
Hiking Time: 7-8 hours
Park Hours: Monday to Sunday, 7 AM to 9 PM
Amenities: Refreshments available for purchase at Refugio Chileno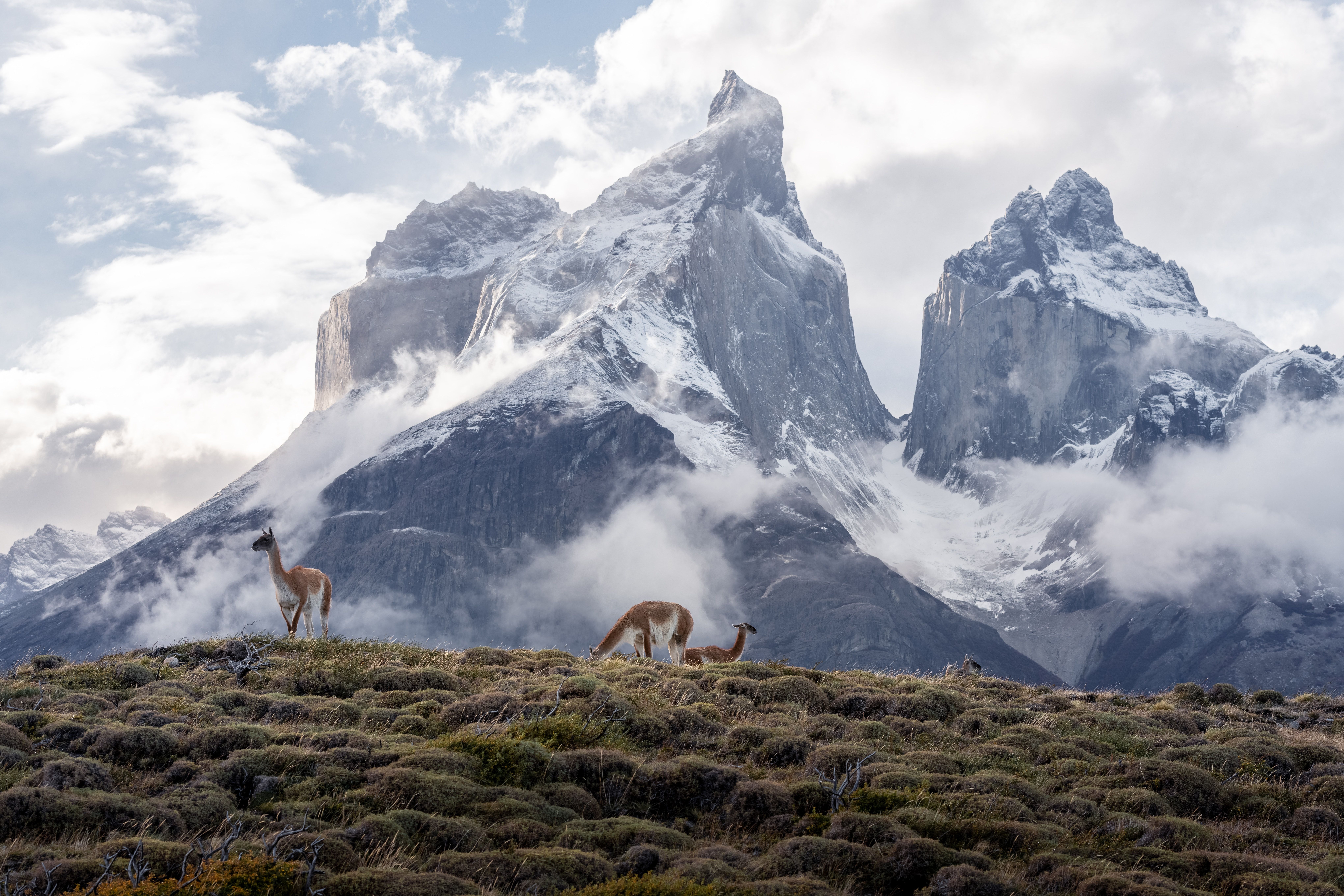 Two guanacos grazing in the brush with Los Cuernos in the background. 
Mirador Los Cuernos
Patagonia's hikers will love this short, flat trail that reaps BIG rewards. At the end of this pleasant excursion, astonishing views of Lake Nordenskjöld and the Cordillera del Paine await.
Distance: 4 miles (6.4 km)
Difficult: Easy
Hiking Time: 2 hours
Park Hours: Monday to Sunday, 7 AM to 9 PM
Related: Explore The Patagonian Fjords Of Chile
Best Hiking In The Aysèn Region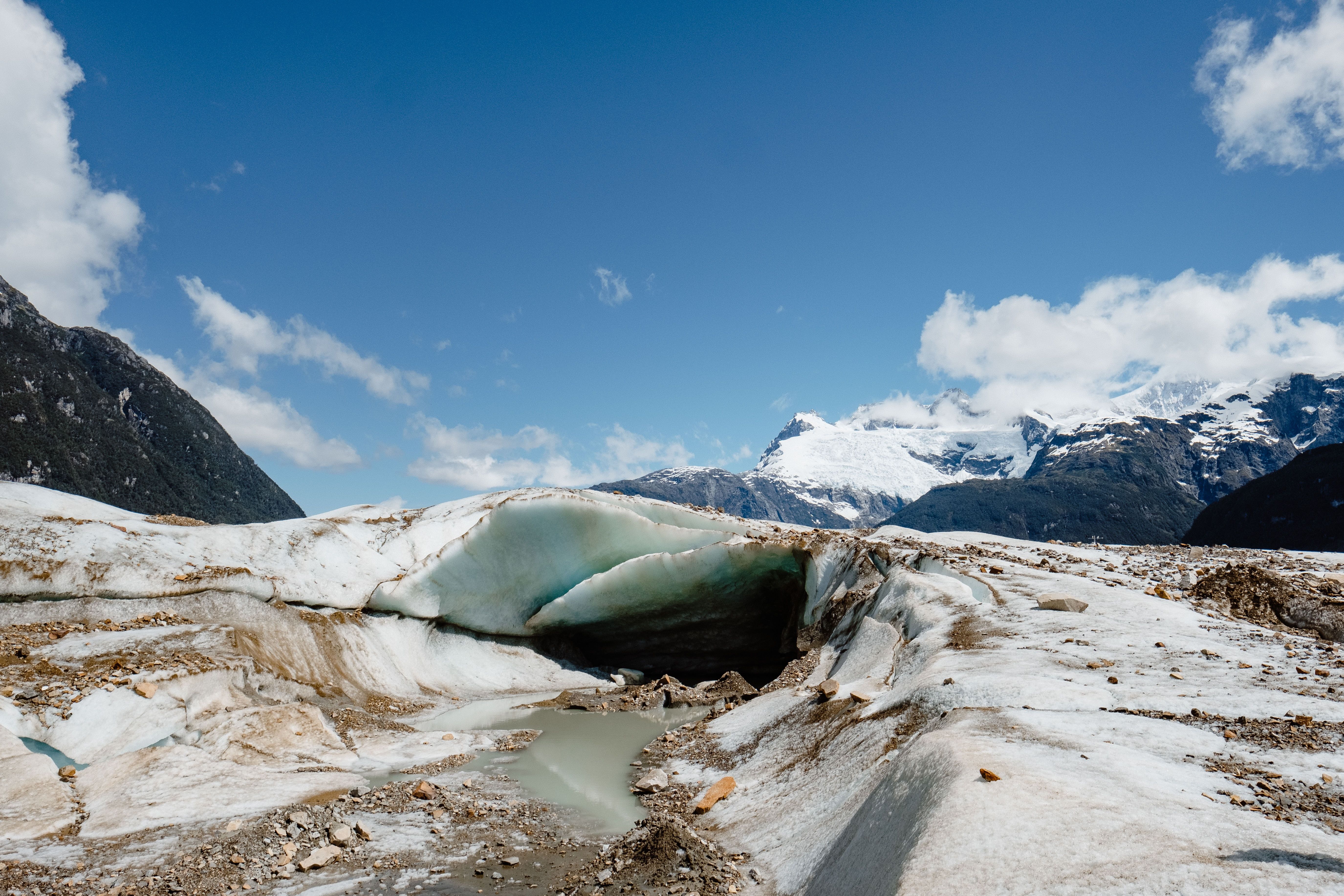 Ice caves on the Exploradores Glacier
Exploradores Glacier
Strap on some crampons and get up close and personal with a glacier on this hike in Laguna San Rafael National Park. A guide is required on this once-in-a-lifetime adventure to explore the Northern Patagonia Ice Field.
Walk beneath Mount San Valentín, explore ice caves, and take in views of glacial lagoons on this epic hike in Chile.
Distance: 5.4miles (8.7 km)
Difficulty: Moderate
Hiking Time: Guided excursions last about 10 hours
Park Hours: Monday to Sunday, entry from 8:30 AM to 10 AM for Exploradores Glacier permit holders. Tuesday to Sunday, self-guided travel is open for entry from 8:30 AM to 1 PM.
Multi-Day Trekking In Patagonia
Toomas Tartes on
Unsplash
"">
Backpackers hiking the W Trek in Chile, with beautiful mountains in the background
Trekking in Chile allows travelers the experience of a lifetime, and setting out on a multi-day backcountry hike brings a deeper connection with the land and more exciting adventure opportunities.
The W Trek, Torres Del Paine National Park
The quintessential Patagonia hiking trip, this route is ideal for novice trekkers. On the W Circuit, hikers will explore the Asencio Valley and the base of the famous Torres del Paine, the French Valley, Glacier Francés, and Lago Grey. Shared dorm-style accommodations are available in wilderness lodges called refugios.
Camping is also offered at each refugio, and tents are available for rent. A more extended version of this route, the O Circuit, is best attempted by more experienced trekkers.
Distance: 43.1 miles (69.4 km)
Difficulty: Hard
Hiking Time: 4-5 days
Getting There: Take the earliest bus from Puerto Natales to the catamaran at Pudeto in Torres Del Paine National Park. Purchase tickets in person at the ferry port, then take the catamaran across Lago Pehoe to Paine Grande, where hikers will begin their trek.
How To Reserve Refugios: Camping or dorm accommodations are available for Torre Central, Torre Norte, Chileno, and Domes Frances, and separate reservations are required for Paine Grande or Refugio Grey. Costs vary based on season, accommodation type, rental equipment needed, and selected meal plan.
Free camping operated by CONAF is closed for maintenance during the 2022-2023 season.
Tips for The W Trek
Book early. Campsites on the W Circuit fill up months in advance.
Book a Torres del Paine entrance ticket in advance and download it to show at the park entrance station at Laguna Amarga. Pay fees in cash upon arrival. (44,000 CLP or $58 USD)
Campsites along the W Circuit are owned and operated by three different entities. (Las Torres, Vertice, and CONAF). Visitors will need to book separately through each of them.
To save money, shop for food in Puerto Natales rather than purchasing goods from the refugios.
Expect crowds. Hikers looking for solitude should research elsewhere.
Winds are highly volatile in Patagonia. Keep this in mind when making wardrobe and gear selections.
Carry dehydrated and dried foods to save pack weight on a hike.
Related: Costs To Budget For The W Trek In Patagonia
No matter where travelers stay or explore in Chile, the experience is unmatched!