Planning a trip to Glasgow in spring? It really is the best time of year to visit. With flowers blooming, great deals on airfare and hotels, and the chance to beat the summer crowds, springtime visitors are in for a real treat. Glasgow has so many things to do. And while some of the top attractions in spring are indoors (temperatures are warmer than winter but still chilly), many of the city's attractions are enjoyed outside in the crisp air.
Tourists can cheer on the Scottish Premier League's finest at a football match, follow the magnificent mural trail through the city center, or explore the gothic Glasgow Cathedral and nearby Necropolis. Throw in world-class museums, iconic music venues, unique shops and a historic brewery, and tourists will fall in love with Glasgow no matter the season. But spring really is something special!
There are many reasons why Scotland is one of the most beautiful countries in the world, and Glasgow is a big part of that. In no particular order, here are ten unique things to do in Glasgow this spring.
10
Kelvingrove Art Gallery And Museum
White heads suspended from the ceiling at the Kelvingrove Art Gallery and Museum, Glasgow
The Kelvingrove Art Gallery and Museum is one of the many free things to do in Scotland and one of the most popular museums in the U.K. With 22 themed galleries and over 8,000 objects, the collections are wide-ranging and suited for all ages and interests.
Built in 1901, the impressive Spanish Baroque-style red sandstone building is as impressive from the outside as it is inside. Expect to see a Spitfire jet hanging from the ceiling as well as a floating heads installation, art from many time periods, and antique arms and armor. The museum's most famous piece is the Christ of St. John of the Cross by the great Salvador Dalí.
Address:
Kelvingrove Art Gallery and Museum, Argyle Street, Glasgow

Hours:
Monday through Thursday & Saturday, 10 AM to 5 PM; Friday & Sunday, 11 AM to 5 PM
9
The Riverside Museum Of Transport And Travel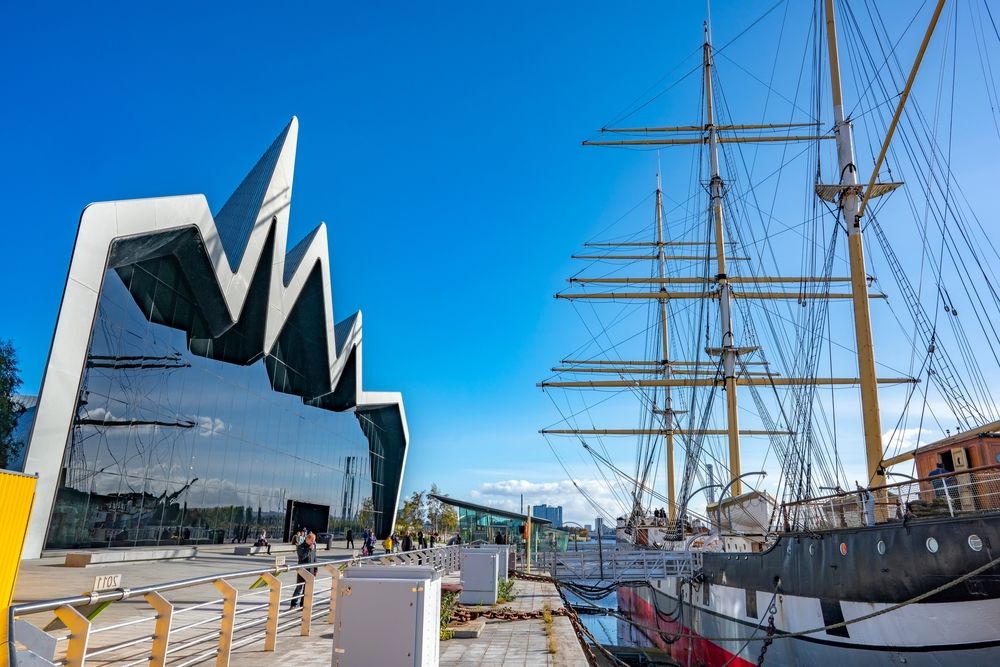 A boat on the river next to the Riverside Museum of Transport and Travel in Glasgow
Glasgow's contributions to transport played a significant role in the world's shipbuilding, train manufacturing and engineering industries. The Riverside Museum of Transport and Travel showcases that contribution and houses a fantastic collection of over 3,000 objects, some of which are interactive. Expect to see exhibits from around the world, including prams and skateboards to steam trains and historic cars.
The building was designed by Dame Zaha Hadid, an internationally renowned architect. The exterior and the exhibits inside exemplify the city's continued contribution to innovation. This unique museum is definitely worth a visit!
Address:
100 Pointhouse Road, Partick, Glasgow

Hours:

Monday through Thursday & Saturday, 10 AM to 5 PM; Friday & Sunday, 11 AM to 5 PM
Related: 10 Of The Top Islands Of Scotland To Check Out This Year
Celtic and Rangers are the two big teams in Glasgow. Celtic play at Park Head in the east end, and Rangers play at Ibrox Stadium in the city's south side. Tourists who get a ticket to watch either Glasgow team are in for a show. Check the schedules (Celtic; Rangers), book tickets in advance, and then follow the swarm of supporters through the turnstiles and into the stadium. The atmosphere is as unique as the warm meat pies and the boiling cups of Bovril that the supports devour to stay warm.
If no matches work with tourists' schedules, don't worry! One can get their football fix (and a ton of Scottish football facts) at the Scottish Football Museum at Hampden Park. And for an equally exciting event and quality football, check out the Celtic and Rangers women's teams.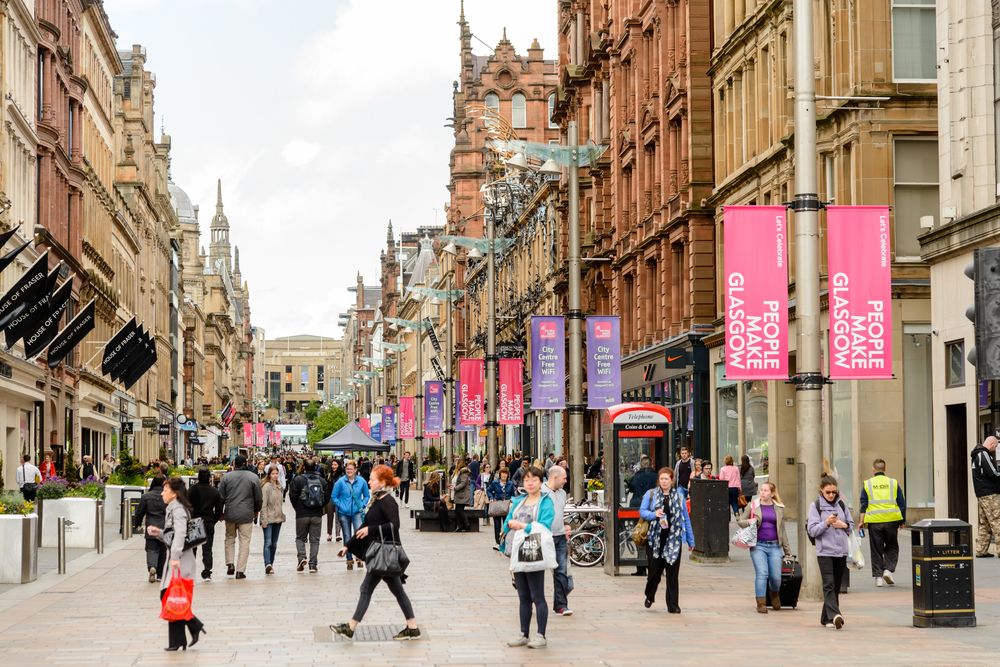 Daytime shoppers on Buchanan Street, Glasgow
But not just on Buchanan Street. Argyle Street, Sauchiehall Street and the West End offer a wide selection of luxury items, high-street stores, and vintage shops. Buchanan Galleries, located at the junction of Buchanan Street and Sauchiehall Street, offers about 80 shops, including John Lewis, H&M, Mango and Next. The St. Enoch Centre, located at the opposite end of Buchanan Street, offers another shopping center with a ton of stores, including JD Sports, The Body Shop and Boots.
In the middle of Buchanan Street is Princess Square. Inside this elegant shopping center with the gorgeous glass roof, tourists will find top brands like Ted Baker and Kurt Geiger. For incredible deals and great finds, head to Sauchiehall Street for TX Maxx and Primark. For quality vintage shops, try the West End, and for a historic shopping experience—head to the Barras Market for open stalls selling a variety of second-hand goods.
6
Wellpark Brewery
The historic Tennant's Wellpark Brewery has been a part of Scottish culture for generations. The first days of brewing at Wellpark began in 1556, but Hugh Tennant first brewed the famous Tennant's Lager in 1885. At the time, the newspapers described it as a "madman's dream." But now, it's one of Glasgow's most popular beers.
At the brewery, a guided experience is offered by The Tennant's Story Heritage Centre. The brewery tour take visitors through the history of the Tennant's site, through the brewing process and offers a few masterclasses from beer to gin. And the best part—a nice cold pint at the end of the tour!
Address:
161 Duke Street, Glasgow

Hours:
Tours run Wednesday to Sunday from 12pm
Related: Brochs: The Ancient Skyscrapers of Scotland
5
Glasgow Cathedral And The Necropolis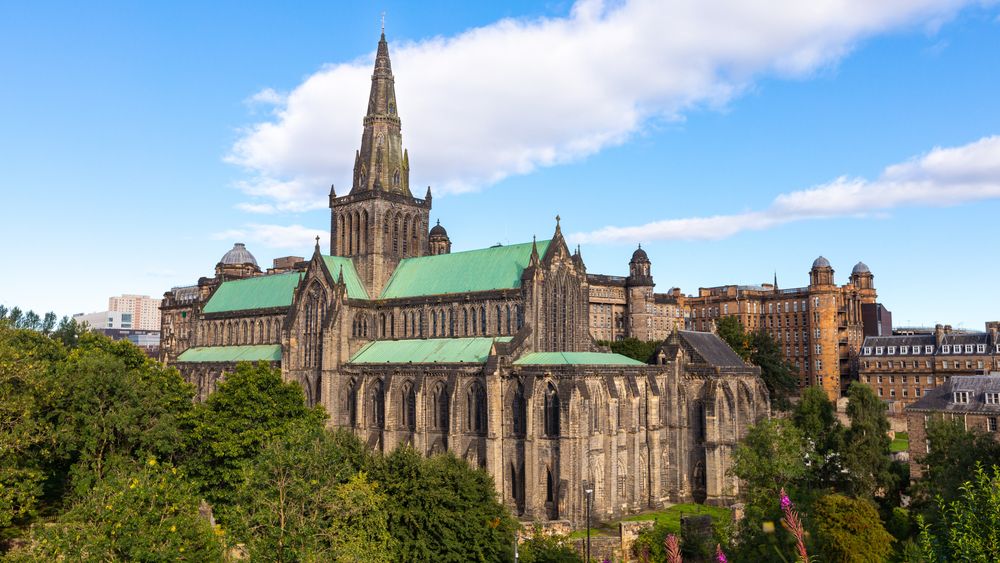 The Glasgow Cathedral in Glasgow, Scotland
With its signature spires, stained-glass windows, and green roof, the big gothic cathedral, consecrated in 1197, is an impressive architectural feat. The oldest building in Glasgow took 350 years to finish, and no wonder why! And the inside is just as impressive. The Glasgow cathedral is dedicated to the patron saint of Glasgow, Saint Mungo, whose tomb sits at the center of the building.
After exploring the Glasgow Cathedral, head east to the Necropolis. It's a Victorian cemetery with over 3,000 monuments that meanders uphill to a prominent summit that offers fantastic views of Glasgow.
Address:
Glasgow Cathedral, Castle Street, Glasgow

Hours:

April 1, 2023 to September 30, 2023: Monday to Saturday, 10 AM to 5 PM; Sunday 1 PM to 5 PM
October 1, 2023 to March 31, 2023: Monday to Saturday, 10 AM to 4 PM; Sunday 1 PM to 5 PM
4
Glasgow Botanical Gardens
Statue and greenery at the Glasgow Botanical Gardens
Scotland is full of green places, but the Glasgow Botanic Gardens is not just full of greenery—it's a unique and historic building full of beautiful and exotic plants. Located in the West End since 1842, the gardens consist of several glass houses.
The most notable is Kibble Palace, which was erected in this West End spot in 1873, followed shortly after that by the Main Range teak glasshouse. Beautifully preserved, the Glasgow Botanic Gardens offer tourists a chance to explore the space and witness a variety of plants from tropical rainforest to arid lands.
Address:
730 Great Western Road, Glasgow

Hours:
7 AM to Dusk, all year.
After a stroll through the Glasgow Botanic Gardens, walk just a little bit further (seven minutes to be exact) to find The Oran Mor at the top of Byres Road. Formerly the Kelvinside Parish Church, this stunning spot is a great stopover for dinner, drinks or live music. It's internationally famous for its fun and filling lunchtime theater A Play, a Pie and a Pint.
3
City Center Mural Trail
The Mural Trail in Glasgow's City Centre consists of unique and inspirational art which enriches the city and brings color to Glasgow's buildings and vacant sites. The first piece, produced in 2008, started a major impact in brightening the streets and encouraging people to visit and support Glasgow local businesses.
The Mural Trail is a great option for travelers looking to experience the best of Scotland on a budget. It features a diverse range of pieces, all within easy walking distance to the city center. Tourists can follow the Mural Trail Map and see how many they can discover in one afternoon.
2
Barrowland Ballroom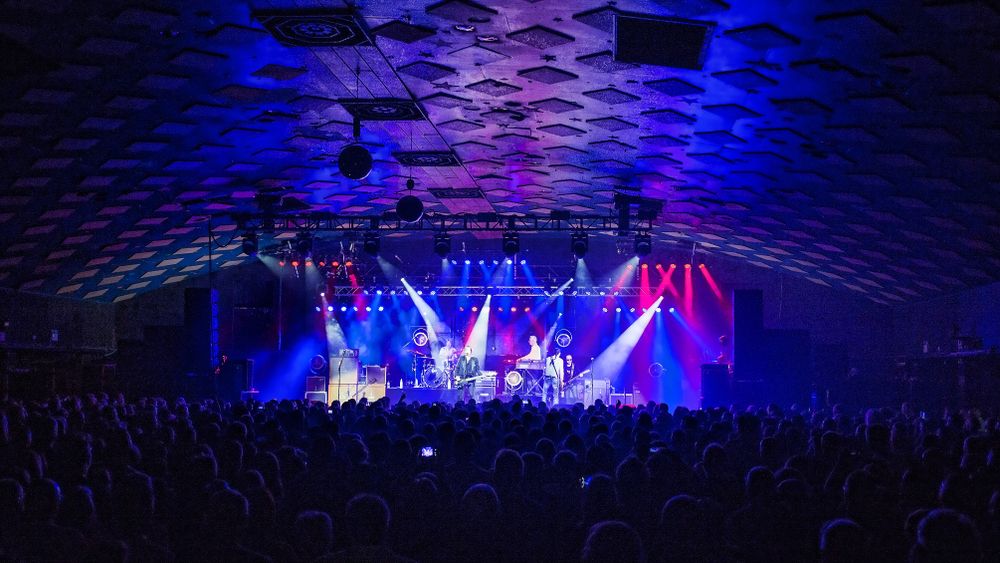 Crowds watching a band at The Barrowland Ballroom, Glasgow
Watch a gig in one of the most iconic music venues in the world. Originally opened in 1934, the building was mostly destroyed in 1958 due to a fire. It reopened in 1960 on Christmas Eve. Nowadays, the Barrowland Ballroom is a main concert venue with a capacity of around 1900 people. It's known for its acoustics and sprung dance floor. World-famous bands, like Oasis, U2, Foo Fighters and The Smiths, have all performed at the legendary venue. Tourists can attend a gig in any genre, from classical to rap, and everything in between!
Address:
244 Gallowgate, Glasgow
Related: 10 Of Scotland's Most Stunning Beaches To Add To Your List
1
Glasgow's Gallery Of Modern Art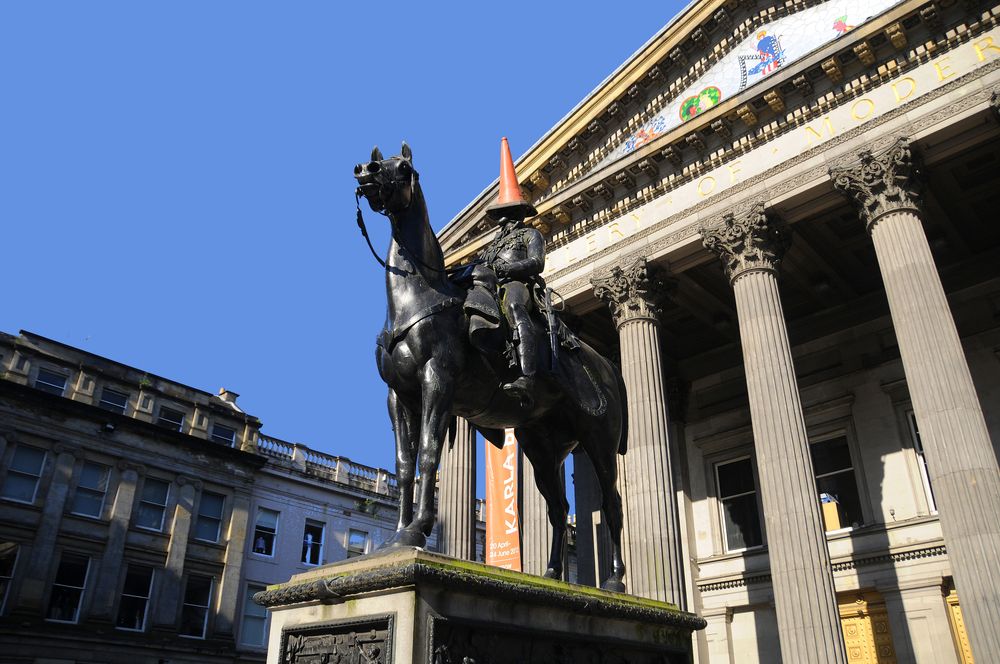 The Duke of Wellington statue in front of Glasgow's Gallery of Modern Art
Located just off Buchanan Street in Royal Exchange Square, the Glasgow Gallery of Modern Art is the city's center for contemporary art. Expect to find local and international pieces among its four galleries, a library with free internet access, a gift shop with quirky souvenirs, and a café with delicious pastries.
Outside the museum, look for the Duke of Wellington Statue. He'll most likely be adorned with a bright orange cone. An iconic Glasgow emblem, the traffic cone hat sums up the humor of the city's population. This is a great attraction to add to the itinerary when planning a first trip to Scotland!
Address:
111 Queen St, Royal Exchange Square, Glasgow

Hours:
Monday through Thursday & Saturday, 10 AM to 5 PM; Friday & Sunday, 11 AM to 5 PM