Everything is perfect and picturesque in Kerala. From breathtakingly beautiful backwaters, lush green hills, buzzing beaches, temples, churches, museums, forts, gorgeous waterfalls to the vibrant culture, traditions and terrific hospitality, Kerala has the best of everything. But Kerala in June is extra special making it a perfect delight for travellers, who plan to explore God's own country during the rainy season.
Kerala weather in June is extremely pleasant for sightseeing. The charm of the monsoon makes the place looks refreshing and green and there are quite a few things to indulge in June, that make the sojourn fascinating and exciting. So, while you plan a vacation in Kerala during the monsoon, take a look at the list of things to do in Kerala in June, that will make the most of your holiday.
Kerala Weather In June
Monsoon stays in Kerala from June and continues till September. In June, the temperature varies between 19 degrees Celsius to 30 degrees Celsius and this is the wettest month of the year with average rainfall being more than 350 mm. Being a tropical destination, Kerala receives heavy splashes of monsoon shower, hence the rainy season is considered as an off-season for tourists. But if you are a nature admirer, probably, the monsoon is the best time to explore Kerala. Hence, the best time to visit Kerala with family is the monsoon!
One can enjoy heavy discounts on hotels and activities in Kerala. But there are some precautions one should take into account while considering Kerala for a holiday. You may experience frequent showers, while on a sight-seeing tour in Kerala, so carry an umbrella, raincoat, adequate dresses and appropriate footwear if you're visiting Kerala in June. Do not try any water sports, swimming and surfing in June in Kerala. These are not at all recommended in the monsoon season in Kerala. Off-season in Kerala is from April to May.
Best Things To Do In Kerala In June
A soothing holiday in June requires a perfect itinerary that will help you have a fun-packed experience in this land of India. Scroll down to know what all awaits you here!
1. Watch Champakulam Boat Race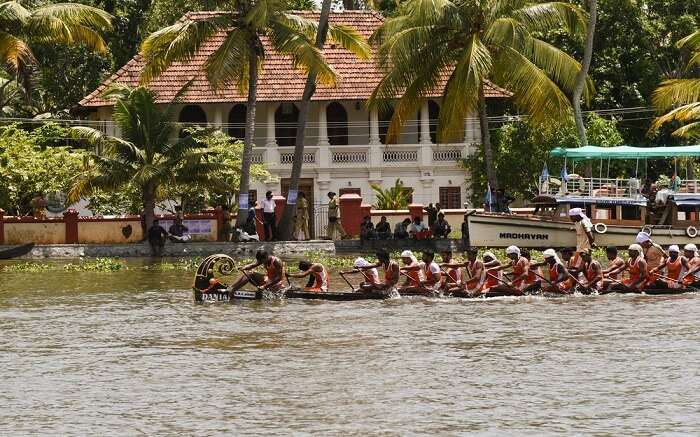 Kerala is globally renowned for boat races and Champakulam Boat Race commences the season of this sport, and it is among the most exciting things to do in Kerala in June. Starting in the 3rd week of June, every year, this is a famous and thrilling event on the Pamba River in Alappuzha district, where boatmen in snake boats, Beppu, iruttu and kuthi compete with each other for Rajpramukh trophy. With foot-tapping tunes, cheerful crowd and thrill in the air, witnessing Champakulam Boat Race is just amazing. One can even rent a boat to enjoy a close view of the race.
Location: Champakulam, Kerala
Price: N.A
Famous For: Boat Race
 Monsoon In Kerala: Explore The Coastal Gem Like Never Before
2. Luxury Houseboat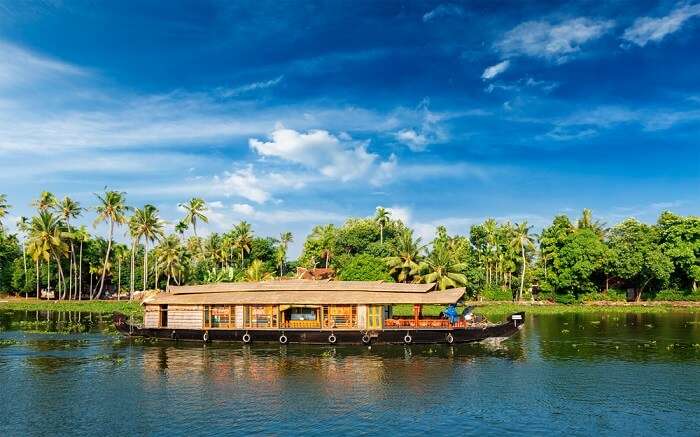 Staying in a luxury houseboat and enjoying world class amenities, authentic Kerala food and unmatched hospitality is one of the most desired things to do in Kerala in June. The surrounding looks lush green and invigorating during monsoon and sailing across the connected canals, lagoons, rice estates and palm plantations is an absolutely surreal experience for all.
Location: Alleppey, Kerala
Price: INR 4500 (approx)
Famous For: Luxury amenities at the houseboat
3. Athirappilly Waterfall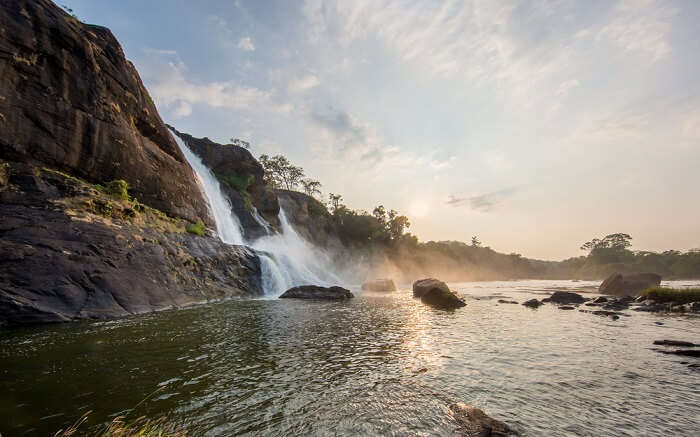 Every waterfall in Kerala looks gorgeous and stunning during monsoon and Athirappilly is not an exception. This gigantic cascade in Thrissur, Kerala, plunges down in great volume and vivacity during the rainy season and the stunning scenic beauty and serenity of the place make it a perfect choice for peace seekers, photographers and nature buffs.
This multi-tiered waterfall drops from an altitude of 80 feet and people enjoy trekking to this place through lush green forests. Visiting this place for a day picnic, excursions and hiking tour is another popular experience in Kerala in June. This place is also famous for bird watching and wildlife.
Location: Pariyaram, Kerala 680724
Price: N.A
Famous For: The beauty of the falls
Top 28 Honeymoon Places In Kerala For A Bewitching Escape In 2022
4. Munnar Road Trip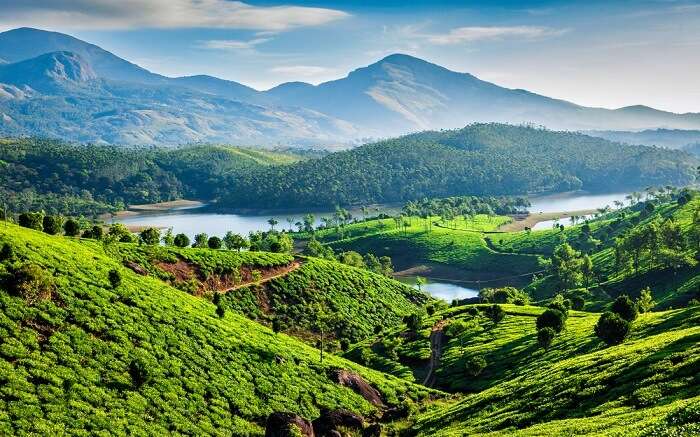 Munnar looks absolutely green, luxuriant and refreshing in June. The lush green hill town is one of the best places to visit in Kerala in June. The aromatic tea estates, spice plantations, waterfalls, hills, and lakes look vibrant and one can chill out in the hill station, trek up to Anamudi or enjoy the voluminous cascade of Attukad Falls. If you wish to know Munnar weather in June, it is surely going to be pleasant and the temperature between 17 to 22 degrees.
Location: N.A
Price: N.A
Famous For: The beauty of the hills
5. Veli Tourist Village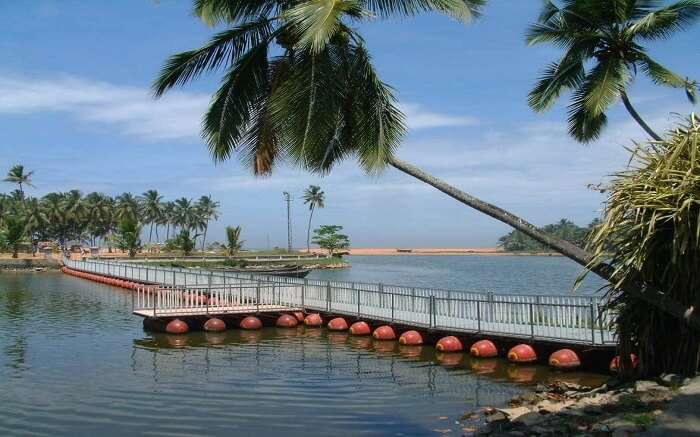 About 8 km from Trivandrum, Veli Tourist Village offers amazing scope to enjoy in Kerala in June. Other than strolling on the beach and walkway and enjoying boating in Veli Lake, one can see an array of birds there. There are many cafeterias and food stalls in Veli Tourist Village but if you wish to entice your culinary delights, step in at the floating restaurant, run by KTDC for some mouth-watering Malabar delicacies.
Location: Perumathura Rd, Madhavapuram Colony, Veli, Thiruvananthapuram, Kerala 695021
Price: For entrance, one needs to pay INR 5/person.
Famous For: Boating in the Veli Lake
 20 Beach Resorts In Kerala – 2022
6. Periyar Wildlife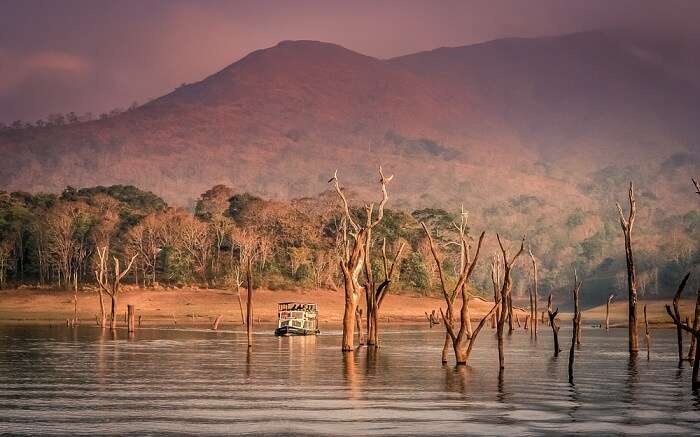 Spotting wildlife at Periyar, Thekkady is one of the best things to in Kerala, particularly during summer and monsoon. Animals are frequently spotted near the lake and at the forest periphery region. Bamboo rafting, night patrolling and boat safari make the trip to Periyar exciting and delightful and one can easily consider doing this in Kerala in June.
Location: Idukki and Pathanamthitta, Kerala
Price: INR 25 person
Famous For: Boat safari
---
Planning your holiday in Kerala but confused about what to do? These Kerala travel stories help you find your best trip ever!
---
7. Beaches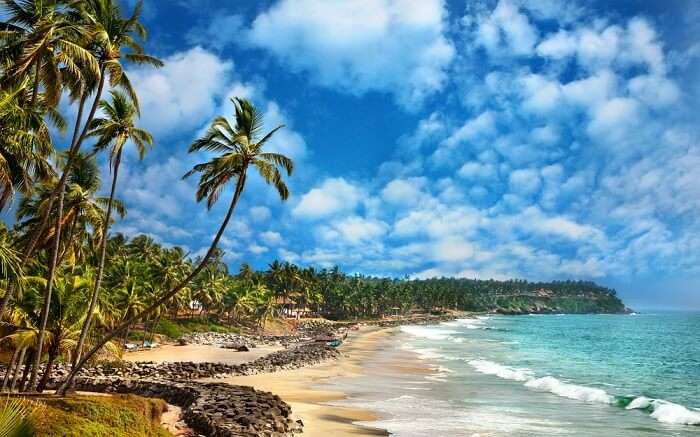 Kerala beaches are mostly deserted and less crowded during June as monsoon hits the coastal state by then and people largely avoid swimming and water sports. But for those who are planning for honeymoon in Kerala in June to enjoy some cozy private time at the beaches; there is nothing better than exploring the beaches in June in Kerala. Away from hustles and bustles, honeymoon couple can indulge in cozy romance, walk hand in hand and relish the stunning beauty sunset and sunrise views.
Location: Kerala
Price: N.A
Famous For: Water sports
 4 Best Airports In Kerala: Designed For A Smooth Flying Experience
8. Spice Tour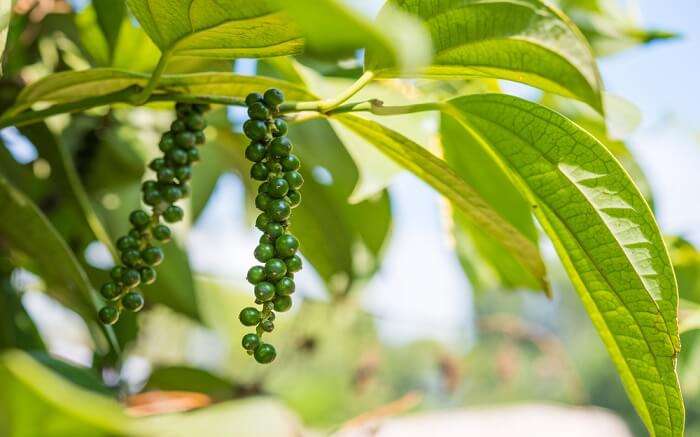 Kerala is all about the variety of spices. And there is nothing more enticing than to join a spice walk through the lush green aromatic spice estates. Most of the hotels and resorts include spice tour as a part of the package, but you can customize your own tour as well. This is one of the most refreshing things to do in Kerala in June. From cardamom, cinnamon, cloves, to exotic black pepper and vanilla, you can find everything and the fresh aroma here is not only pleasant but equally intoxicating for all. The spice gardens are also among the most photogenic places to visit in Kerala in June.
Location: Kerala
Price: N.A
Famous For: Spice gardens
9. Tree Houses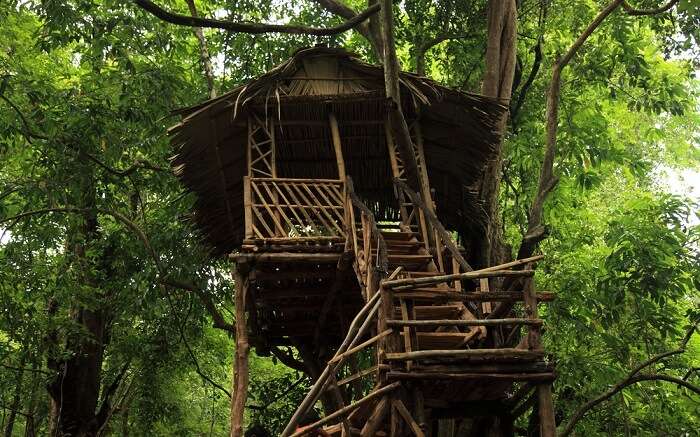 If you are visiting Kerala in June and not staying in a treehouse, you are missing something important. Live closer to nature and wake up to the chirping of birds while booking a stay at a tree house in either Munnar, Wayanad or Thekkady. Surrounded by lush green forests, these tree houses are perfect for a cozy and comfortable stay and if you plan this during monsoon, in Kerala, it's a soothing treat to your eyes, mind, and soul. If you are a nature lover then it's one of the most wonderful things to do in Kerala in June.
Location: Thekkady, Kerala
Price: INR 2500 (approx)
Famous For: House in the middle of lush green forest
18 Amazing Things To Do In Kerala In December That Will Leave You In Love With This Place
10. Coffee Tour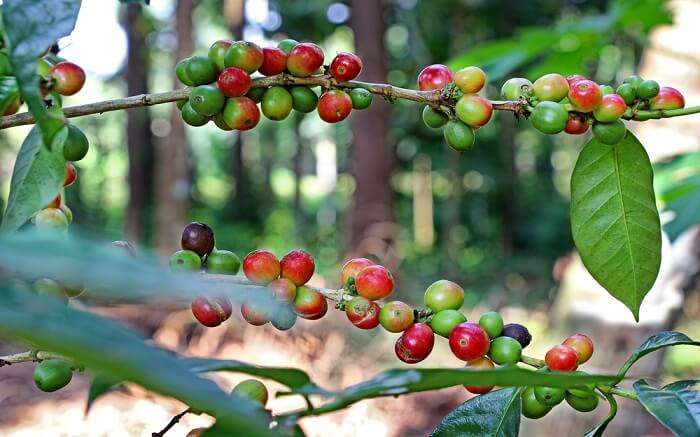 Wayanad is known to be the largest producer of coffee in Kerala, but you can see sprawling coffee estates in Munnar, Thekkady, Cochin, Periyar, Vythiri, Thirunelli, Mananthavady and Sulthan Bathery. And June is the season for growing coffee in Kerala and other southern states of India, so coffee estate tour is one among the most popular activity in Kerala, during monsoon. Have an awesome experience by seeing the huge plantations, understanding their growth and processing methods and tasting the freshly brewed Robusta variety of coffee. Whether organized by hotels or customized by you; a coffee estate tour is the most exciting thing to do in Kerala in June.
Location: Wayanad, Kerala
Price: INR 10
Famous For: Coffee estates
Kerala looks stunning, fresh and reinvigorating with the advent of monsoon in June and with the list of exciting and fascinating things to do in Kerala in June, you are surely going to have a terrific vacay in God's Own Country. So, plan a trip to Kerala for an amazing holiday experience in the mesmerizing land of Kerala.
For our editorial codes of conduct and copyright disclaimer, please click here
Frequently Asked Questions About Kerala In June
Is it safe to visit Kerala in June given the current situation of Covid-19?
Yes, it is perfectly safe to visit these places as the place has a relatively low number of cases. But don't take our word for it: check up on the latest travel advisory, Covid-19 measures, and the number of cases before your departure. It is safer to undertake solo travel or with a small group of people to somewhere that is not overly crowded at the moment.
Which are some of the safest places to visit in Kerala in June?
If you are planning to visit Kerala in the month of June, some of the safest places to visit are 1. Munnar · 2. Wayanad · 3. Thekkady · 4. Alleppey · 5. Idukki · 6. Ponmudi · 7. Kochi · 8. Kovalam.
Which are some of the must-visit places in Kerala in June?
Some of the must-visit places in Kerala in June are Cherai Beach, tea gardens of Munnar, Paradesi Synagogue, Fort Kochi, Edakkal Caves, Mattancherry Dam, Lighthouse Beach, Alleppey Backwaters, Samudra Beach, the Santa Cruz Basilica, Jew Town, Chinese Fishing Nets, Rajarajeshwari Temple, and Kolukkumalai Tea Estate.
What is the average budget to visit Kerala?
The cost of a Kerala is between 24,000 to 1,00,000. However, this will vary depending on the cost of travelling modes, stay and the places you want to visit while on a trip to Kerala.
How many days are sufficient for the Kerala tour?
The suggested days to visit in Kerala are 30 days but there are a few Kerala tour packages which offer 10 to 15 days trip.
Is it good to visit Munnar in June?
June to September is considered as the season of monsoon and a great time to visit the hill station of Munnar if you are looking out for a quiet vacation.
What are the cheap things to do in Kerala?
Some of the cheap things to do in Kerala which are budget-friendly are: Visit tea gardens in Munnar, Guruvayur Temple, Magic Planet Theme Park and more.
Is a Kerala tour affordable?
Yes, you can plan a budget-friendly trip to Kerala by following tips like always plan in advance, choose economical hotels, plan an itinerary, make use of public transport wherever possible.
---