Saratoga Springs, New York, is renowned for its natural beauty and healing waters. Nestled within the 2,000-acre Saratoga Spa State Park lies Orenda Spring, one of the many beautiful mineral springs that have made this part of the state so appealing to nature lovers. A trip to this wellness retreat is perfect for anyone wanting to connect with the Earth and see some incredible multicolored mounds formed by the mineral deposits, no matter the time of year. The state park also boasts an interesting history, which makes it a favorite among nature enthusiasts and history fans (and ghost hunters, too).
Where Is Orenda Spring?
The leaves changing colors around the Hudson River in Saratoga Springs
Orenda Spring is located in Saratoga Springs, New York
Travelers can find this natural spring within the 2,000-acre Saratoga Spa State Park
It has been a spa destination since the 19th century
This gorgeous mineral source and tufa are tucked within Saratoga Springs, New York, for those unfamiliar with where Orenda Springs is. As mentioned, this spring is located in a state park, so the parking and accessibility should be easy to maneuver. Tourists may want to park near the performing art center or nearby lots.
Related: How To Reach Wyoming's Hot Springs (& What To Do When You Get There)
What Is The History Of Saratoga State Park?
History-wise, Saratoga's history as a health and spa destination dates back to the 19th century when people flocked to the city to experience the healing properties of its carbonated waters. The entire Saratoga area is rich in culture and history, so there's much to see and do. Some even claim this upstate New York town is haunted, so that's something to keep in mind for visitors who enjoy (or fear) some potential spooky stories.
What Is Orenda Spring Known For?
n "" data-modal-id="single-image-modal" data-modal-container-id="single-image-modal-container" data-img-caption=""Photo by
Harry Gillen
on
Unsplash
"">
The battlefield of Saratoga in late fall, Saratoga Springs, New York

 
Orenda Spring, in particular, is known for its high magnesium, calcium, and potassium levels, which are believed to have therapeutic benefits. But the appeal of Orenda Spring extends far beyond its healing waters. The spring's stunning tufa formations, created over thousands of years as minerals in the water have solidified, make it a truly breathtaking sight.
Another unique characteristic of this natural spring is that Orenda Spring has a domed formation. Visitors can take a flight of stairs to the dome, making it a fairly accessible attraction. Orenda Spring has also formed a limestone tinder dome from deposits on Geyser Creek, which is why many choose to venture off into the state park to view it.
Related: Visit Natural Hot Springs And More At Colorado's Buena Vista
How To Get To Orenda Spring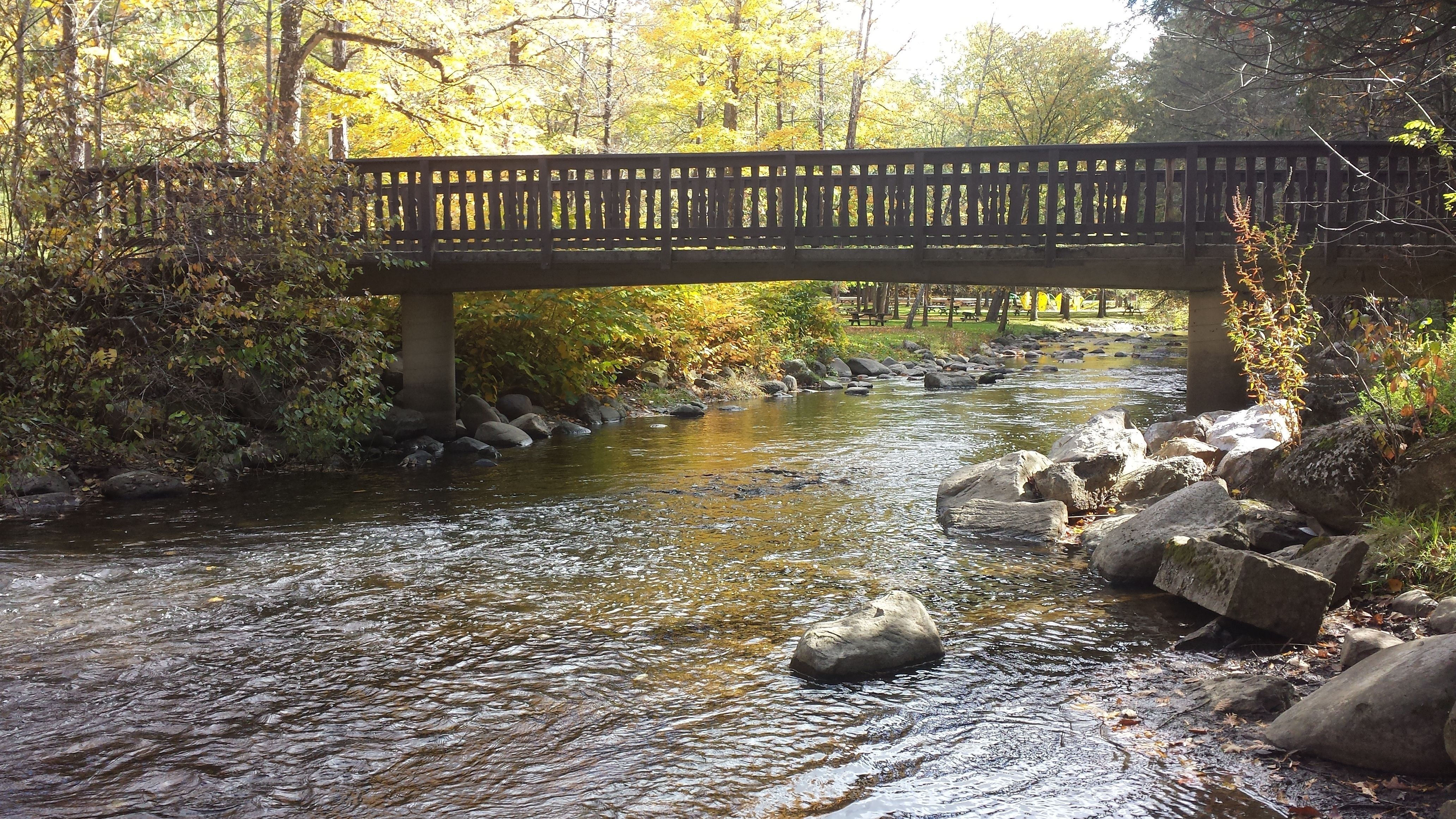 A gentle stream runs under a bridge in a forested area of Saratoga Springs State Park, New York
For travelers wanting to find an easy way into the Orenda Spring, this won't be too difficult. Since this beautiful spring is located within the 2,000-acre Saratoga Spa State Park, tourists need to park in a specific area to avoid endless walking. According to past travelers who've visited before, the Saratoga Performing Art Center (SPAC) parking lot is the closest and easiest way to park up and get to the Orenda mineral spring.
From the SPAC parking lot, visitors can view the tufa formation from the end of the pedestrian bridge; that could also be a nice spot to take photos. However, those making their way into the state park in a vehicle may be able to find a spot there, which is free outside of peak season. Of course, that only applies during the off-season, typically after the May-September peak. If travelers enter to see Orenda Spring from May through September, they can expect a vehicle fee to enter the park.
Visitors may also want to try parking near the Hathorn 3 Spring (South Route 50 Park Entrance) to get to Orenda Spring, as this is a recommended area by frequenters. Additionally, travelers can see the Hayes Well Spring before entering the Orenda Spring trail. This entire area is perfect for viewing (and even tasting) clear, pure water, so don't be afraid to bring a bottle!
Remember, visitors going to Orenda Springs will likely have to pay to enter the park with their vehicles between May and September.
Can You Hike To Orenda Spring?
Orenda Spring is a must-visit for anyone traveling to the area, and a stroll along the 2.9-mile Geyser Trail is the perfect way to experience it. Also, there is an opportunity to view the Island Spouter Spring while walking around this plot of land, so that's another stop on the itinerary.
Furthermore, hikers can walk to Orenda Spring from the Roosevelt Baths & Spa parking lot; there's a hill at the back of the lot, opening up a short 0.5-mile loop to the Vale of Springs Trail, along which Orenda Spring can be seen. A
Related: 10 Natural Springs In Florida That Are Perfect For Swimming
Is It Free To Go To Orenda Spring?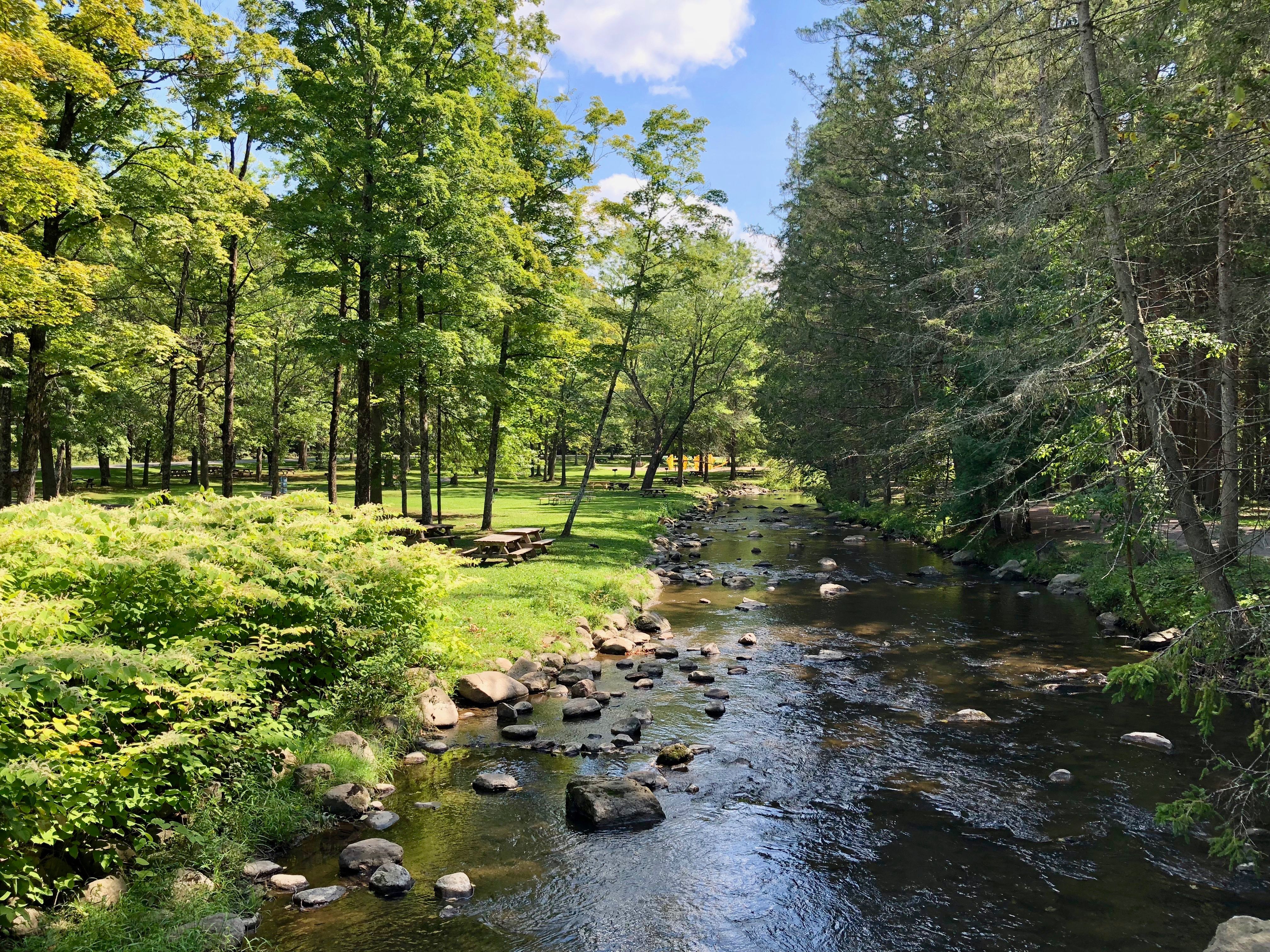 Picnic area next to a brook in Saratoga Spa State Park
This can be hit or miss when it comes to free parking and visiting the Orenda Spring. Although, as mentioned, it does seem that vehicle entry fees are in place during the busy season from May to September. Remember, if it's busier at Saratoga Spa State Park, those entering will likely have to pay a parking fee.
According to the park's website, here are some prices that may apply to visitors:
Basic entrance: $10 per vehicle
Special event: $10 per vehicle
Non-profit bus: $35 per vehicle
Commercial bus: $75 per vehicle
So, there are different prices depending on the size of a vehicle. Again, visitors may be able to find nearby parking at the performing art center or nearby lots mentioned earlier, but that's not to say they won't charge a fee either. Plus, these spots are likely to fill up, especially when it's busy during peak season and on weekends.
Still, don't be afraid to call ahead to ensure there is enough space and to be aware of potential parking fees. It never hurts to be 100% certain.