Watch the Klondike gold rush come alive with a Cancan show in Canada's most famous gold rush boom town.
Can Can Dance live Show
Canada's Dawson City is perhaps the most notable and famous of all gold rush boom towns. It was at the epicenter of the massive Klondike Gold Rush between 1896 and 1899. The news of "there's gold in them there hills" triggered a stampede of around 100,000 prospectors to the Klondike region of Yukon. Of these, around 30,000 of the prospectors reached Dawson City transforming it from a remote outpost to the largest city in Western Canada overnight.
Today Dawson City proudly preserves its frontier gold rush heritage and visitors can not only see the heritage buildings and old mining operations but also shows of the period. Next time in Dawson City, see a Cancan show of gold rush-era dancing girls. Dawson City and its period attractions are an essential part of any ultimate travel guide for the Yukon Territory.
Dawson City – The Iconic Frontier Boom Gold Rush Town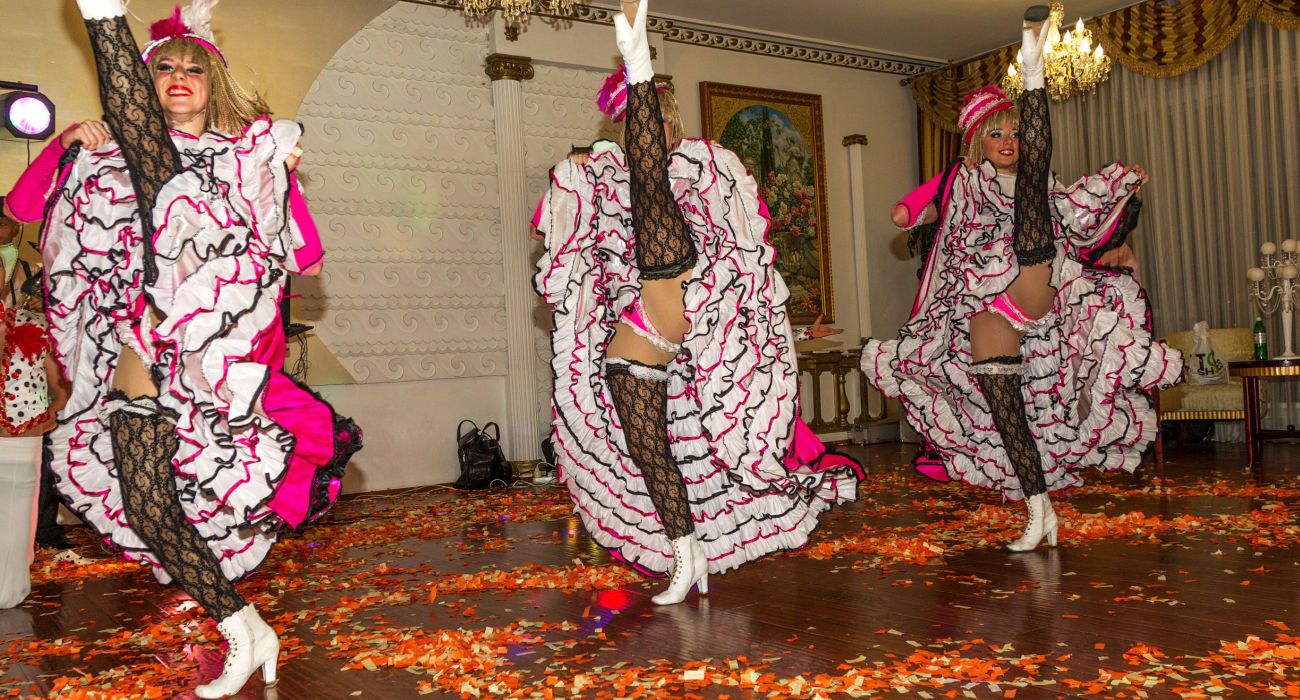 Dancers In A Cancan show
At its peak, Dawson City had a population of 20,000 to 30,000 inhabitants and had all the comforts and merchandise one would expect of a city of that size at the turn of the century.
At the time, Dawson City was larger than any other city west of Winnipeg and north of Seatle. Imagine that — the Yukon Territory only has a population of around 44,000 and yet it once had a city larger than anything in British Columbia, Alberta, or Saskatchewan.
Related: Visit Reed Gold Mine: The First Gold Mine In The United States With A Fascinating Origin Story
Following the gold rushes the population collapsed with Dawson City becoming nearly a ghost town with a population of only around 700. Today it has somewhat recovered to around 1,500 and is one of the Yukon Territory's top tourist destinations.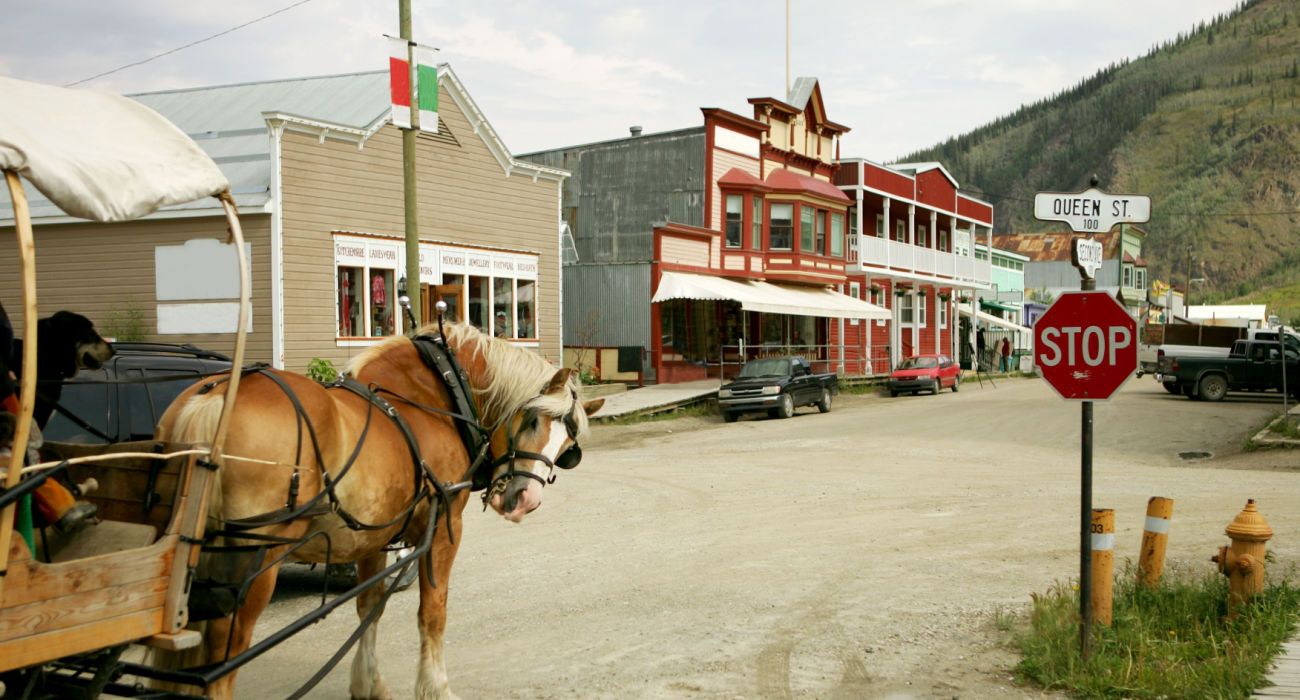 Horse buggy in Dawson City, Yukon
The days of Dawson City and the Klondike Gold Rush have been immortalized in popular culture and film (including The Call Of The Wild). Dawson City may be the most famous near-ghost town that Canada once had its own gold rush, but it is not the only one.
The ghost town of Barkerville in British Columbia is yet another reminder of those wild frontier days of gold fever.
Today visitors can drive to Dawson City and even take the first road all the way to the Arctic Ocean via the Dempster Highway.
Diamond Tooth Gerties – The Gambling Dance Hall Where The Gold Rush Lives On
One of the main attractions in Dawson City today is Diamond Tooth Gerties. It is the oldest operating casino in Dawson City and is famous for its old-timey Cancan shows.
Gerties offers three different shows a night during summer. They have a cast of professional singers and dancers with live music and the songs and dance shows are all Klondike themed.
Come at these times and one will find oneself singing and dancing along with Gertie and the other Goldrush Girls all through the night.
Related: How To Plan A Trip To Canada's Yukon Territory Before It Gets Too Cold
Sit back and be fascinated as Diamond Tooth Gertie dazzles the audience with her wit, charm, and powerful vocals. See the highkicks, splits, colorful skirts, hootin' & hollerin' iconic of the Gold Rush Girls.
Diamond Tooth Gertie's Shows & Operating Seasons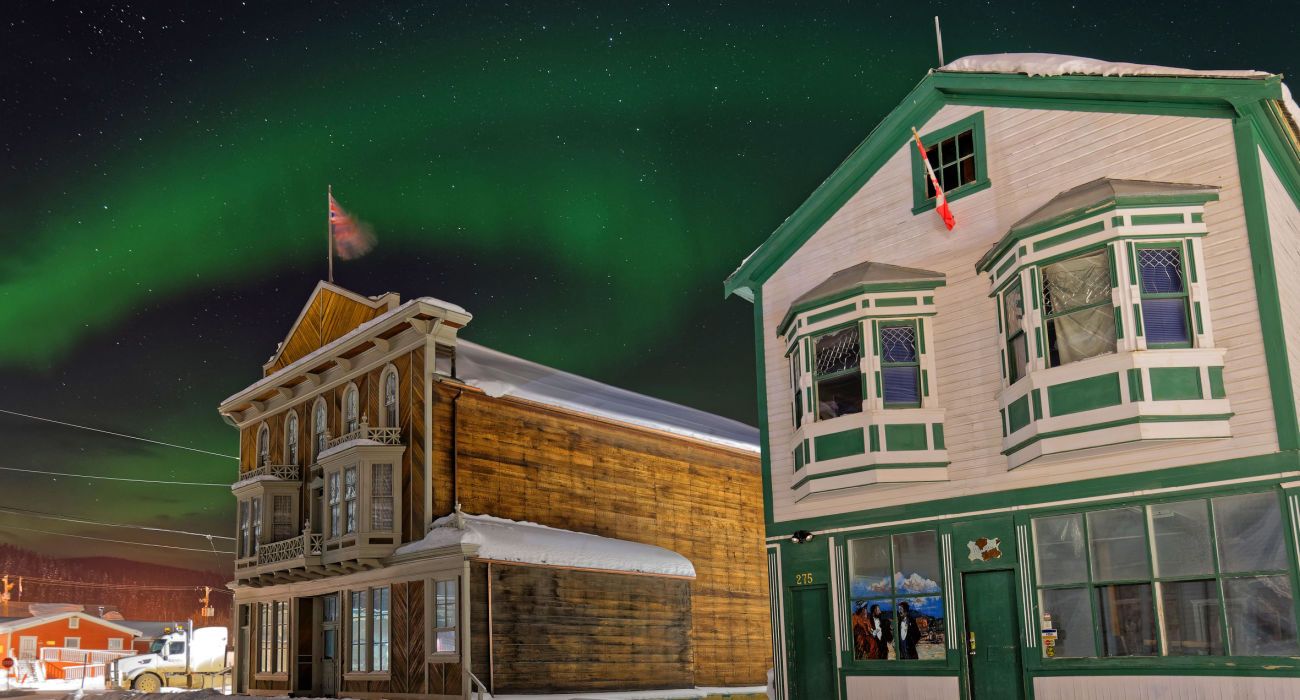 Northern Lights above the old houses Dawson City
The Cancan shows are only available during summer and are one of the reasons why one should visit the Yukon in the summer. Still, the casino and dance hall are open year-round and there is at least some entertainment most nights.
Winter Season:
Dates: January 27 to April 15
Days: Fridays & Saturdays (7.00 pm to 1.00 am)
Note: No Cancan Shows
Summer Season:
Dates: May 12th to September 23th
Days: Seven Days A Week (7.00 pm to 1.00 am)
Fall Season:
Dates: September 29 to October 21
Days: Fridays & Saturdays (7.00 pm to 1.00 am)
Note: No Cancan Shows
When Gertie's is open there are table games, poker, slots a bar, and concessions available. Note that it is cash only.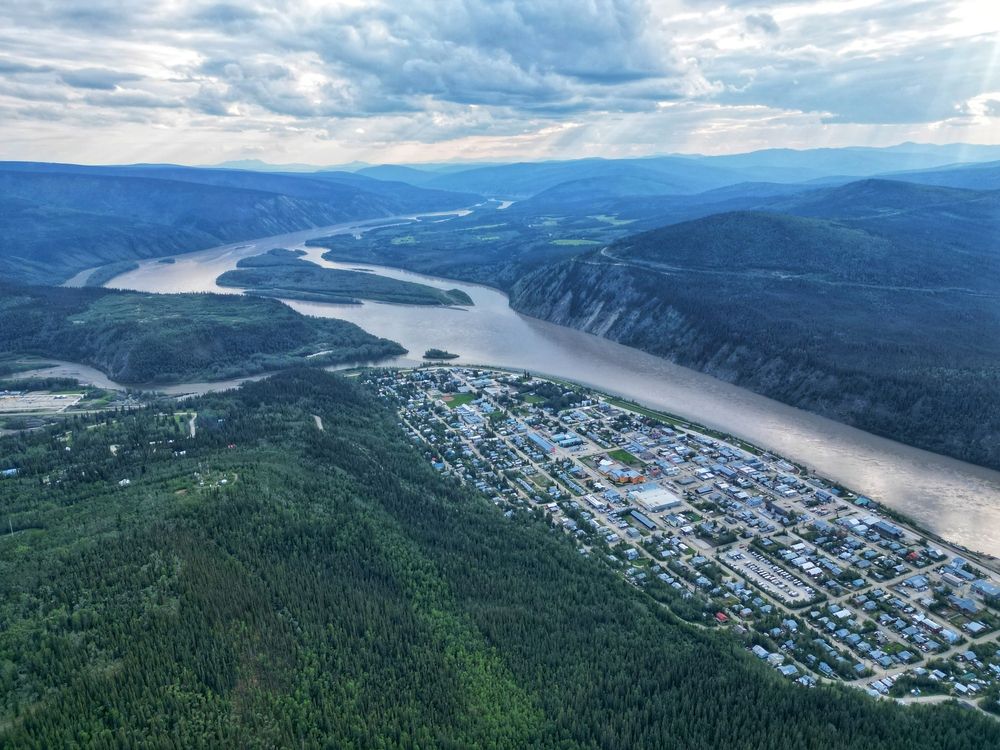 Aerial view of Dawson City Yukon Canada
Gerties Dance Hall Follies:
The first gold rush girl show is the Gerites Dance Hall Follies at 8.30 pm. With this show, visitors step back in time for a traditional Cancan show inspired by 1898's dance halls and saloons.
J'Taime Dawson City:
The next show is the J'Taime Dawson City show at 10.00 pm. It is a Cabaret-style show that combines moments of the Moulin Rouge with the famous French Can Can together with the glamor of iconic Vegas showgirls.
The Gold Show:
Following along at midnight is The Gold Show and this finale is the ultimate end to the night (or the beginning of a more modern party for those with the energy).
Diamond Tooth Gerties suggests visitors make a full night of it and stay to watch all three shows (complete with table service, games of chance, and more).