Italy is a boot-shaped peninsula that finds its glory in its stellar art, architecture, music, and tempting cuisine. Especially when it comes to the most famous foods of Italy like pasta, bottarga, risotto, carbonara, and lasagna, gastronomes are in for an ultimate treat. A partial Mediterranean cuisine, Italian food primarily focuses on uncomplicated preparation with pronounced flavours. Italian food recipes usually consist of staples like olive oil, garlic, basil, oregano, fresh tomatoes, and so on. From appetizers to entrées to desserts, all kinds of delicacies follow a thumb rule—simple recipes with fresh ingredients. So, if your palates like to play with flavours, here are some traditional foods of Italy you can count on.
8 Famous Foods Of Italy To Treat Your Taste Buds
Have a look at this comprehensive list of traditional foods of Italy and embark on a culinary trip.
1. Lasagna
Lasagna is a wide and flat type of pasta, a popular food of Italy. The classic baked lasagne alla bolognese features layers of ragù which is a meat-based bolognese sauce, béchamel sauce that is a roux & milk combination, and cheese that is either parmigiano reggiano or mozzarella, or a fusion of both. Another variant is the lasagne napoletana which comprises meatballs, sausages, red sauce, mozzarella and ricotta cheese. Other key ingredients like Italian seasoning, garlic, basil, and oregano truly enhance the flavour of lasagna.
Where to try: Ristorante Diana, Trattoria Anna Maria, Antica Corte Pallavicina
8 Cafes In Naples Where You Can Enjoy A Cup Of Authentic Italian Coffee
2. Spaghetti alla Carbonara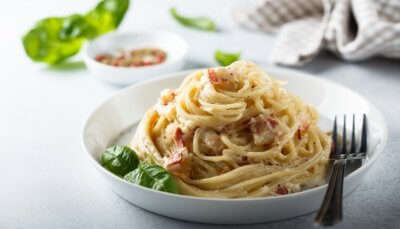 Spaghetti alla carbonara is a simple yet delectable Italian delicacy that requires minimal ingredients including spaghetti, guanciale (pork cheek or jowl), eggs, pecorino or parmesan cheese, and freshly-crushed black pepper. Originating in Rome, you can find this easy-to-cook and evergreen spaghetti in almost all parts of the world. Unlike other Italian dishes, spaghetti alla carbonara does not require any kind of sauce, milk, or cream.
Where to try: Taverna Romana, Checco Er Carettiere, Renato al Ghetto
3. Napoletana Pizza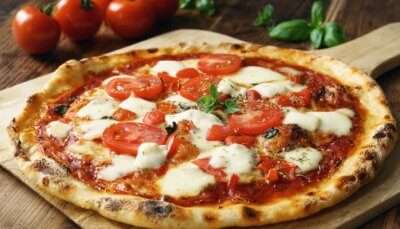 Napoletana Pizza is one of the most famous vegetarian Italian delicacies that is famous for being a classic peasant dish from Naples. Much famed as margherita pizza, this toothsome recipe consists of flatbread topped with fresh tomatoes, mozzarella cheese, and extra virgin olive oil. Either San Marzano tomatoes or Pomodorino del Piennolo del Vesuvio come in use to give pizza its authentic taste. Notably, the art of making Napoletana features on UNESCO's list of intangible cultural heritage.
Where to try: L'antica Pizzeria da Michele Forcella, Carminiello, La Masardona
6 Best Resorts In Italy That Will Leave You Spoilt For Choice
4. Ravioli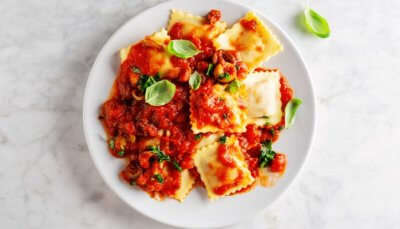 Ravioli is a kind of pasta ripiena or stuffed pasta that encases diverse varieties of fillings including meat, cheese, vegetable, and, traditional herbs, depending on the region. These square or round pillow-shaped Italian dumplings are commonly served with tomato or cream-based pasta sauce. Sweet ravioli is another popular variant which is a deep-fried dumpling filled with custard. Although Ravioli is widely known to be the main course dish, restaurants/cafes serve it as an appetizer.
Where to try: Piccolo Arancio, La Taverna dei Fori Imperiali, Caffè Propaganda
5. Fiorentina Steak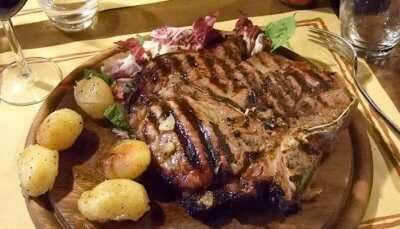 Image Credit: Mike Packard for Wikimedia Commons
Fiorentina Steak, also famed as Bistecca Alla Fiorentina, is a T-bone beef steak that has its origins in Florence. The classic steak includes basic Italian ingredients like thyme, sage, rosemary, salt, and pepper. The authentic meat for the dish comes from an ancient breed of Tuscan cattle namely, Chianina which is primarily famous for its rich flavours. Traditionally grilled over an open flame, fiorentina steak is one of the best Italian dishes you can try.
Where to try: Ristorante Del Fagioli, Buca dell'Orafo, Regina Bistecca
6 Stunning Churches In Italy That Look Straight Out Of An Artist's Dream!
6. Risotto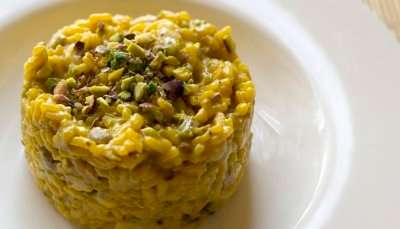 Image Credit: Luca Nebuloni for Wikimedia Commons
Risotto is a traditional Italian dish made with either Carnaroli or Arborio rice varieties found in Northern Italy. One of the top 10 Italian dishes, Risotto has a soft & creamy texture and requires a stringent cooking process. Although risotto is a first course or primo dish in Italian meal structure, individuals like to enjoy it as a side dish tool. A concoction of good-quality rice, chicken broth, butter, cheese, wine, onion, basil, and garlic allows you to taste the authentic risotto.
Where to try: Trattoria al Gatto Nero, Antica Bottega Del Vino, Trattoria dalla Marisa
7. Bruschetta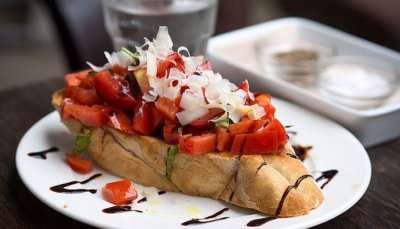 Image Credit: Takeaway for Wikimedia Commons
An antipasto or a starter dish, bruschetta is a famous Italian dish that originates from ancient Rome. The traditional bruschetta comprises basic Italian ingredients like grilled/toasted bread, fresh tomatoes, olive oil, basil, garlic, and salt. Sometimes, the bread comes topped with prosciutto, cheese, salami, and vegetables. However, tomato bruschetta remains the most-loved variant.
Where to try: Ai Troeggi, Dar Poeta, Pizzeria da Remo, Il Secchio e l'Olivaro
10 Best Hostels In Italy That Are Perfect For An Affordable Sojourn
8. Tiramisù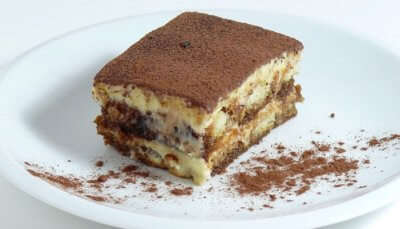 Image Credit: Raffaele Diomede for Wikimedia Commons
Tiramisù is a famous coffee-flavoured Italian dessert made from sweet savoiardi or ladyfinger sponge cookies soaked in espresso and rum. Minimal ingredients like coffee, cheese, biscuits, cocoa powder, and sweet cream make up this simple, yet delectable Italian dessert. Treviso, a city in northeastern Italy is the birthplace of Tiramisù. However, it has now become a well-known dessert throughout the world. Fun fact—Every year on March 21, sweet-tooths all over the globe celebrate International Tiramisu Day.
Where to try: Le Beccherie, I Tre Mercanti, Trattoria Tiramisù
Prepared with the finest and freshest ingredients, the famous foods of Italy possess unique flavours. No matter which country you travel to, you will find world-class restaurants serving authentic Italian cuisine. However, experiencing the culinary joyride in Itself is one experience that will be etched in your memories. So, plan a trip to Italy with TravelTriangle for an exquisite dining experience and satiate your taste buds with rich flavours.
For our editorial codes of conduct and copyright disclaimer, please click here.
Frequently Asked Questions about Famous Foods of Italy
What is the famous food of Italy?
There are numerous famous foods of Italy that are famous throughout the world. Some od the best ones are autare lasagna, ravioli, pizza, pasta, ribollita, arancini, carbonara, risotto, ossobuco, and bottarga. You will find all these delicacies at any Italian restaurant.
Which are some staple ingredients used in Italian food recipes?
There are several essential ingredients that give Italian cuisine its authentic flavour. Some of these include balsamic vinegar, olive oil, garlic, pasta, fresh tomatoes, basil, oregano, capers, pasta sauce, porcini mushrooms, and more.
Is it safe to visit Italy during the current Covid situation?
Yes, you can plan a trip to Italy however, you need to follow all the mandatory protocols stated by the government. Moreover, while in public, always remain masked and maintain required social distancing. Don't forget to take both doses of vaccination before planning your trip and undergo a Covid test 48 hours before travelling.
Which are the best Italian restaurants in Rome?
To enjoy flavoursome Italian dishes, you can stop by these restaurants: Trattoria Luzzi Antico Forno Roscioli Trattoria Dal Cavalier Gino Fiaschetteria Marini Restaurant Nonna Betta Ristorante Chiaroscuro
Which are some famous Italian desserts?
Here are some Italian desserts that can satiate your sweet tooth: Strawberry gelato pumpkin-gingersnap tiramisù Chocolate-and-pistachio biscotti Zabaglione with strawberries Raspberry jam bomboloni White peach tart
People Also Read:
Ukrainian Cuisine Portuguese Cuisine Croatian Cuisine
Comments
comments