The capital of Italy is one of the world's busiest cities, making it a unique place with countless things to do in Rome at night. Whether you're looking for a romantic getaway, a shopping adventure, or just want to explore Italy's most famous city, there's something for everyone. One of the things that makes Rome so special is its diverse range of attractions. Whether you're after history, culture, shopping, or food, there's something for everyone in Rome. Of course, the Eternal City isn't just about attractions; it's also an excellent place to relax and unwind. So if you're looking for a great place to visit or activities to participate in after sundown, Rome should definitely be on your list.
7 Popular Things To Do In Rome At Night
If you're looking to get out and explore the recommended things to do in Rome at night, check out some of the city's famous landmarks. Many of them are open late, so you can take in some of the city's best sights while enjoying the cool, quiet atmosphere. Plus, you'll avoid the crowds and the high prices associated with many of Rome's attractions during the day. Read on to learn about some of the best experiences you can enjoy in this charming city.
1. Light show at the Forum of Augustus
Image Credit: NikonZ7II for Wikipedia
The Forum of Augustus was intended as a central meeting place for citizens to discuss public affairs and hear speakers. The building was decorated with marble statues and other artwork and had two open areas that could be used for displays or events. It often hosted gladiator fights and other events that could draw large crowds. The forum eventually fell out of use as Ancient Rome grew larger and moved closer to its centre, but it has since been partially restored. Today the remains of the forum can be seen in several areas of modern-day Rome, including Piazza del Campidoglio (the Capitoline Hill) and the Corso Vittorio Emanuele II (the main street) showcasing a light performance created by Piero Angela and Paco Lanciano. Don't forget to pre-purchase the tickets online as they can fill up quickly during peak season and enjoy the show after sundown.
12 Things To Do In Rome: Voyage To This Historic City For A Memorable Vacation
2. Night tour of the Roman Catacombs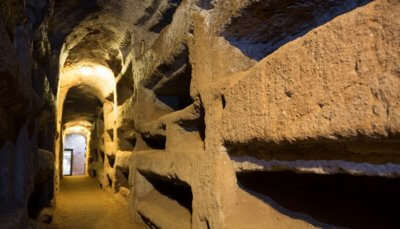 The ancient Catacombs of Rome are an incredible place to explore at night. The underground tunnels, which cover over 4 million square feet, were built in the 1st century AD. The Catacombs of Rome contain more than 650 miles of tunnels that stretch beneath the city. These tunnels were used for burials and later for shelter during times of conflict. Today, these are popular tourist attractions and are a great place to explore on your next trip to Rome.
3. People watch after sundown from the Piazzas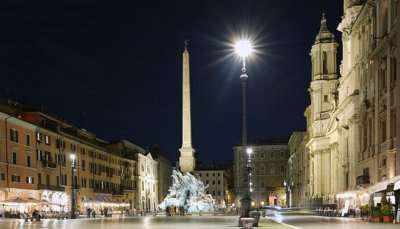 Image Credit: NikonZ7II for Wikimedia Commons
Rome is a city of many great piazzas. Not only are there the iconic Piazza Navona and Campo de' Fiori, but there are also the narrow passageways of Garboli, the grand plaza of Piazza del Popolo, and the east-west thoroughfare of Via del Corso. There is a piazza for every taste in Rome: from restaurants and bars to markets and parks. Some are only open at certain times of day, while others are open all day.
Shopping In Rome: 18 Places In 2022 That Will Delight The Shopaholic In You!
4. Climb up the Castel Sant'Angelo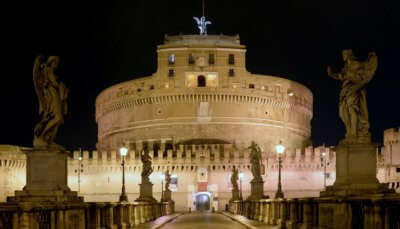 Image Credit: Livioandronico2013 for Wikimedia Commons
The climb up the stairs to Castel Sant'Angelo is one of Rome's most iconic sights. It's located on the eastern side of the city near the Tiber river and provides a beautiful view of the cityscape, including the Vatican. It was built as a fortification in AD 609 and has been used for a wide range of purposes over the years, including prison and military headquarters. Today it houses a museum with paintings, sculptures, and other artefacts from all over Italy and beyond. The best part about visiting Castel Sant'Angelo is that you can walk right up to the top of the hill for stunning views of Rome.
5. Take a night tour of the Colosseum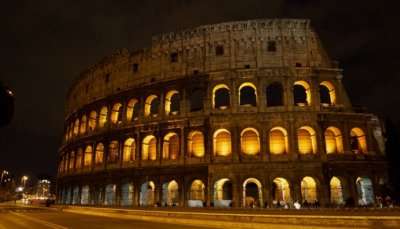 Image Credit: Square Lab for Unsplash
This is a great way to get introduced to Rome's Colosseum for free and see it at night. You'll be picked up at the very front of Stazione Termini by a friendly local guide in a comfortable, air-conditioned minivan. They will take you on a 45-minute tour of the Colosseum and explain what makes it so impressive. After, they'll take you back to the station where you will be able to hop on any of the city's many public transit lines.
8 Day Trips From Rome To Take In 2022 To Savour The Timeless Charm Of Italy!
6. Visit Vatican City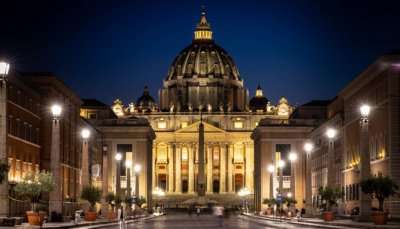 Image Credit: Karim Ben Van for Unsplash
The Vatican city at night. It's a sight to behold. The lights of the city shine brightly, illuminating the ancient buildings and monuments that line the streets of Rome. The grandeur of this place is truly breathtaking, and it's easy to get lost in the sights, sounds and smells as you walk around. The city itself has a lot to see. There are plenty of museums and cathedrals to visit, as well as beautiful gardens and parks where you can relax after your tour of Rome or even just take a walk through Vatican museums which are only open at night on Fridays.
7. Eat out on a food tour in Trastevere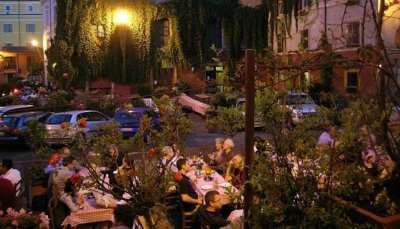 Image Credit: wiccahwang for Wikimedia Commons
If you're looking for things to do in Rome at night, don't miss out on this night food tour! This tour is perfect for anyone who is interested in learning about the history of Trastevere and seeing how it has evolved over time. You'll learn about the important role that trattoria owners have played in the community, and how they've helped to shape it into what it is today. You'll also get a chance to see some of the best restaurants in Rome, including some that are not open to the public.
You're Missing The Chance To See The Famous Cobblestone Streets Of Rome For The Last Time!
While most believe that Rome's sunshine land of architecture and Italian cuisines are best enjoyed during the day, there's a certain allure that comes with nightfall that is worth exploring on your next trip. Planning a trip in the upcoming days or months and keen to enjoy Rome at night? Learn more about our Rome tour packages here.
For our editorial codes of conduct and copyright disclaimer, please click here.
Cover Image Credit: Photoholgic for Unsplash
Frequently Asked Questions About Things to Do in Rome at Night
Are museums free in Rome?
Museums in Rome are free. Make sure to go to the Vatican Museum and the Sistine Chapel.
What is Rome in Italy known for?
Rome is often related to the country's history. Italy is home to some of the world's oldest civilizations and was once considered the center of the ancient world. Its capital city of Rome is often called the "Eternal City" due to its long history. Today, Italy is still a country known for its culture, art, food, fashion, music, sports, and tourism.
What are the current restrictions on travel to Italy?
There are currently no restrictions on travelleing to Italy as an international traveller from India.
How would you describe Italian cuisine?
Italian cuisine is famous for its hearty meals. Pasta, bread, rice, pizza, meat, fish, vegetables, fruits, and desserts are staples in the Italian diet. A typical meal consists of appetizers (cold cuts, cheese, pickled vegetables, etc.), pasta or polenta as a carbohydrate, a protein-based entrée (meat, poultry, seafood), and a side dish (vegetables, salad). Desserts are commonly cakes, cookies, ice cream, and gelato. Italians enjoy their food; eating out is a favorite pastime, and they eat at least five times per week.
What are some of the best places to visit in Rome?
Rome may be the perfect place to start exploring Italy. Not only does it have some of the world's best museums, but you can also visit ancient ruins. There are many places to explore including the Colosseum, Ancient Forum, Roman Forum, Pantheon, Trevi Fountain, Spanish Steps, St. Peter's Basilica, and much more.
People Also Read:
Things To Do In Prague At Night Night Treks In India Beaches In Italy
Comments
comments