Every trek that you can conquer solo on earth, no matter how long it is gives you a sense of inspiration and learning as no other adventure can. Some treks will teach you about resilience, independence and the sheer joy of owning your own travel journey. Others will become a proud memory you look back on because of the sheer amount of effort and endurance required to complete them. Some solo trekkers enjoy the journey rather than the destination, while others prefer the reverse. It doesn't matter where you go on the trek; what matters is your journey with others, having fun, and that is exactly what these exciting solo treks in India offer every free spirit.
6 Best Solo Treks In India
Looking for inspiration to plan your first solo trek in India? Here are some of the best destinations that we absolutely recommend to begin your adventure.
1. Nag Tibba Trek
Image Credit: Paul Hamilton for Wikimedia Commons
The Nag Tibba trek is a great way to experience the thrill of Garhwal in Uttarakhand in just a weekend. Just a three-four hour drive from Dehradun, Nag Tibba is the highest summit in its range of Garhwal. This trek is a favourite for solo trekking in India because of its fantastic setting and thrilling adventure. The trail starts from Pantwari in Pantwari village, 100 kilometres from Dehradun. The route takes you over multiple ridges, through dense forests, to glimpse breathtaking mountain layers. With sunset views, the campsite at Nag Tibba is renowned for its stunning views. The stargazing on Swargarohini, Bandarpoonch, Kala Nag, and Gangotri is excellent at night. The summit of Serpent Peak affords the most spectacular views of Swargarohini, Bandarpoonch, Kala Nag, and Gangotri, making it a memorable experience in just a weekend. It is also the reason why Nag Tibba is a well-recommended solo trek in Uttarakhand.
Trekking Near Dehradun: 14 Places You Must Trek To With Your Pals In 2022!
2. Prashar Lake Trek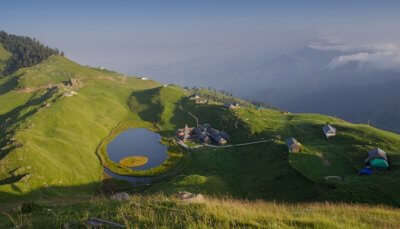 This trek provides breathtaking panoramic views of the Himalayan ranges, making it one of the best treks for solo trekkers in India. It is possible to see the Dhauladar ranges, Rohtang Pass, and mountain ranges of Kinnaur and Shimla from the summit. Named after the sage Prashar who was claimed to have meditated here in ancient times, the temple and an oval-shaped lake, is also located here. Prashar lake is famous for its temple, which is a brilliant example of architectural design. A small circular island on the lake's surface constantly changes its location, locals say. A mystery surrounds the movement of the island, they say.
3. Beas Kund Trek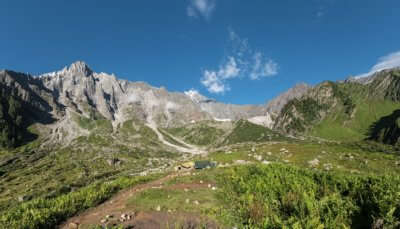 From Solang Nallah, an epic journey winds through the picturesque Solang Valley before reaching Beas Kund. It is one of the most picturesque short treks in Himachal Pradesh. In addition to paragliding and ski slopes, Solang valley is also renowned for its lush green meadows, glaciers, and snow-capped mountains. It's an awesome and easy trek that is suitable for beginners and veterans alike. If you are looking to hop on your first solo trek in India, Beas Kund is a highly recommended destination.
10 Routes For Trekking In Turkey For Both Beginners And Advanced Trekkers In 2022
4. Hampta Pass Trek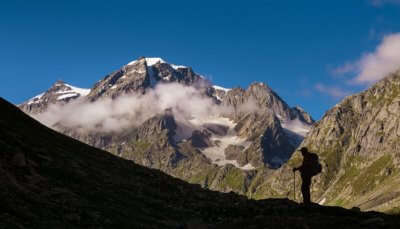 The Hamta Village at 14,010 feet in the Pir Panjal region is responsible for giving Hampta Pass its name. It's a popular trekking route, and the Pir Panjal mountains are an impressive sight as you journey from Manali to Chandra Tal Lake. The moderate climb and subsequent steep uphill trek make for a once-in-a-lifetime trip on this four-day trek. When trekking in Manali in June, the Hampta Pass is among the best times to complete this route. The natural splendour on this trek, in addition to the significant volume of snow, makes it a must-do trek in July. In July, the valley becomes greener as the snow descends, making the experience all the more special.
5. Sandakphu Trek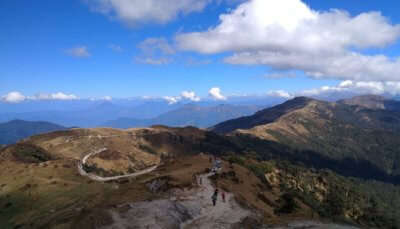 The Sandakphu climb, which is rightly recognised as Singalila National Park's highest mountain, offers stunning views of the world's four tallest peaks, Mt. Kanchenjunga, Mt. Makalu, Mt. Lhotse, and Mt. Everest. On this walk, you can enjoy these magnificent views in pristine conditions. You'll be well prepared for your Sandakphu trek by your Sandakphu tour guide, who will assist you in discovering this lovely region. Sandakphu is a nature preserve drawing backpackers and hikers from all over the world, providing you with a lifetime of experiences.
10 Amazing Places For Hiking Near New York: Get Your Hiking And Camping Gear Ready!
6. Chokramudi Trek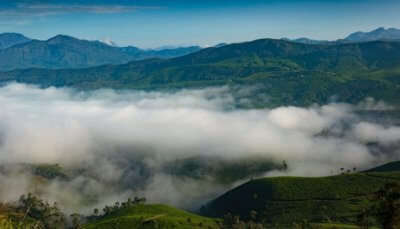 Before starting the hike to Chokramudi Peak, the Forest Department will have to complete some formalities. The mountain located in the Eravikulam National Park is filled with lush evergreen Shola forest, and Nilgiri Tahrs, Gaurs and Asian Elephants are among the park's inhabitants. It is one of the largest animal populations and if you are planning to explore this region through your photography as you trek this is a great location to begin your adventure. If you're solo trekking in India, this location is ideal. It is advisable to bring lunch or something to eat for the afternoon as it may take between 4 to 6 hours to complete this popular solo trek in India.
With a return to travel and a more connected world that makes it easier than ever to enjoy destinations by yourself, trekking solo can be a refreshing and powerful experience for those who enjoy being in nature. Want to learn more about how to plan your first solo trek in India? Explore our best-selling trekking tour packages to learn more.
For our editorial codes of conduct and copyright disclaimer, please click here.
Frequently Asked Questions About Solo Trekking in India
How do you prepare yourself for solo trekking?
Taking a solo trek can both physically and mentally affect you. To begin, you should do short treks to test the waters and get a sense of your strengths as a solo traveller. You'll learn how to pack properly through a short trek as well.
How do you pack for solo trekking in India?
Always remember to trek light. No one will be there to help you, so make sure you only bring the essentials. Prioritize what you need for your trek and only bring them. Do not bring extra stuff. If you are visiting an area that is cold, pack winter gear. When trekking, make sure to pack your sunscreen.
Can we do the Nag Tibba trek in one day?
It is said that the Nag Tibba trek can be completed in one day. However, most trekkers prefer to spend the night in the camp on the way back, allowing them to relax and unwind before heading to Dehradun. You can enjoy bonfires and other activities as well.
People Also Read:
Trekking in Norway Trekking In Andaman Trekking In Nagaland
Comments
comments