Camping is an inexpensive therapy that takes you on a soul detoxification tour while getting close to the treasure trove of nature. Offering globetrotters an excellent escape from mundane life, the best camping places in India offer spellbinding experiences. Spending nights under the blanket of twinkling stars and getting carried away in the lap of nature is everyone's wish.
With destinations like Spiti Valley, Kullu, Goa, Ladakh, Rishikesh, Puskar, Sonmarg, and Sikkim, India is brimming with a plethora of camping spots. Whether you are planning a camping trip alone or with a companion, you can expect an expedition with unforgettable memories. We have compiled an ideal list of top camping places in India that will help you plan a trip soon.
6 Best Camping Places In India
If you're all set to indulge in some adventure, check out the list of camping places in India and plan a trip to the place that resonates with you the most.
1. Rishikesh
Image Credit: Sahil Lodha for Wikimedia Commons
Positioned in the Himalayan foothills, beside the sacred river Ganga, Rishikesh is a place with sheer serenity. Popularly known as the Yoga capital of the world, Rishikesh poses as a perfect destination for adventurers as well as peace-seekers. Whether you are looking for a budget-friendly camp or a luxurious one around the river beaches or the lush green forest, you can expect a surreal camping experience.
The camps are quite safe and offer all the required amenities along with food. When it comes to outdoor activities, you are spoilt for choices in Rishikesh. Apart from camping, river rafting, trekking, rock climbing, and paragliding are other adventures you can indulge in. Shivpuri, which is around 15 km from Rishikesh also houses many campsites offering a spectacular location along with the required amenities.
Camping sites: Sompho Forest Camp, Cradle of Life Camp, Camp Aspen Rishikesh
Approximate cost: ₹1,000
Best time for camping: March to November
6 Best Places For Camping In Nagaland In 2022 For All The Offbeat Travelers Out There!
2. Tso Moriri, Ladakh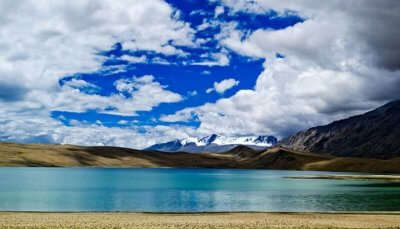 Image Credit: Raghavan37 for Wikimedia Commons
Sitting at a height of 13,123 ft., Tso Mori les in Ruoshu Valley in Leh. While being one of the highest lakes in the world, Tso Moriri truly deserves to be one best places to camp in India. This spectacular lake entices a wide range of birds and animals including marmots, Tibetan Wolf, bar-headed geese, chukor partridge, Himalayan griffin vultures, etc. Since the lake lies near the Line of Actual Control (LAC), you need an Inner Line Permit to enter the area.
Tro Moriri remains frozen from January to March due to extreme cold weather and it gradually starts melting in April. . May. To enjoy an exciting camping experience, you can plan a visit between May to September which also marks the peak season. From experiencing the pleasures of the tent stay to marveling at the sunrise or trekking to the nearby places, you have a myriad of enjoyment options.
Camping sites: Tsomoriri Camps and Resort, Nomadic Life Camp, Golden Mark Camps
Approximate cost: ₹4,500
Best time for camping: May to September
3. Spiti Valley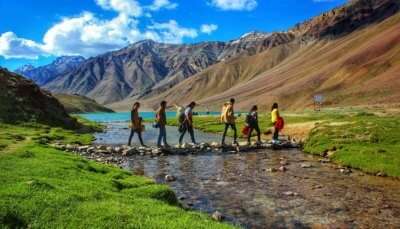 Nestled in the Keylong district of Himachal Pradesh, Spiti Valley is a cold desert mountain valley that possesses an untouched charm. The destination is home to scintillating lakes, lush valleys, soulful monasteries, and unparalleled vistas to die for. The valley lies on the route from Manali via Rohtang Pass.
Chandratal Lake and Kaza are touted as the main campsites in the valley. Whether you're travelling solo or with a group, experiences like a bonfire, stargazing, and trekking are worth a try in Spiti. This also makes it one of the best places for night camping in India.
Camping sites: Sangla, Rakcham, Chitkul, Nako, Tabo, Chandratal, Batal
Approximate cost: ₹1,500
Best time for camping: March to June
Camping In Leh 2022: Sleep Under The Stars & Wake To The View Of Himalayas!
4. Goa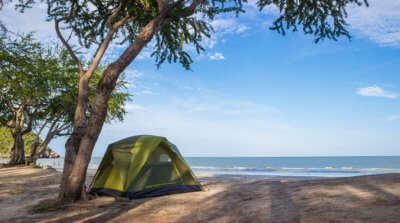 Goa is always a go-to choice for globetrotters owing to its scintillating beaches, lavish cruises, lively nightlife, and laid back vibe. Beyond all this lies the camping experience that one must try in Goa. While Cola Beach, Goa Velha, Mandrem, Talpona Beach, and Calangute are some of the most popular camping areas, Anjuna beach is one spot that truly stands out.
The glimpses of Goa's hippy culture, sunrise and sunset vistas, beach parties, and bonfire nights along with music are some elements that enhance your camping experience in Goa. So, if you are seeking self camping places in India, Goa could be your best bet.
Camping sites: Goa Velha, Madrem, Cola Beach, Anjuna Beach
Approximate cost: ₹1,500
Best time for camping: January to April and September to December
5. Jaisalmer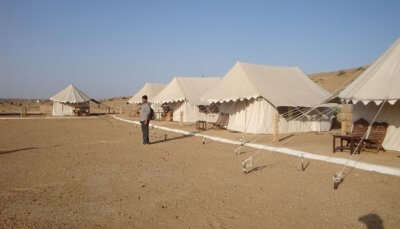 Image Credit: Sanjeew Singh for Wikimedia Commons
Positioned in the heart of the Thar Desert, Jaisalmer is one of the best camping areas in India. From basic tents to ultra-luxurious desert camps, you will find several options to make the most of your camping experience. Sam and Khuri are the two most popular sand dunes that feature most of the campsites.
While basking in the glory of golden sand dunes, you can enjoy jeep safaris, camel rides, and dune bashing which is exclusively available in Jaisalmer. From cultural music & dance performances to culinary delights, the campsites take care of all your comforts and entertainment. Since Jaisalmer experiences harsh summers, camping during winter is highly recommended when the temperature remains between 10 to 27 degrees Celsius.
Camping sites: Rajputana Desert Camp, The Mama's Resort & Camp, Pal Rajah Resort, Damodara Desert Camp,
Approximate cost: ₹2,000
Best time for camping: October and March
Camping In Shimla: 15 Places To Go For An Adventure Instilled Romance In 2022
6. Rann of Kutch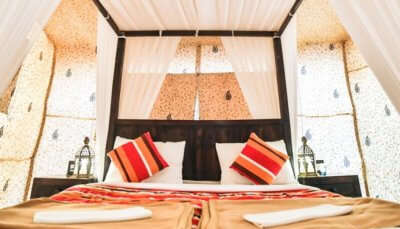 Famous for being one of the largest salt deserts in the world, Rann of Kutch is a salt marsh in the Thar Desert. The desert comes to life during the winter months when Rann Utsav is celebrated. This White Desert Festiva is a carnival of dance, music, culture, and oodles of natural charm that you can enjoy from your luxurious camps.
To make the most of the experience, plan an itinerary during the full moon nights. From basic non-AC tents to premium AC tents, numerous camps are available to suit all kinds of travelers.
Camping sites: White Rann Camp, Rann Utsav Camp, Wildlife Camp at Infinity Rann of Kutch
Approximate cost: ₹6600
Best time for camping: November to February
Whether you are a thrill seeker or a nature lover, camping is one activity that you must try at least once in a lifetime. Staying amid the raw nature and waking up to the breathtaking vistas is indeed a soul-filling experience. To live this magical experience, you can visit any of these best camping places in India while opting for the best domestic tour packages and gather wonderful memories.
For our editorial codes of conduct and copyright disclaimer please click here.
Frequently Asked Questions About Best Camping Places in India
Which are the best forest camping places in India?
The most popular forest camping sites in India are:
1. Citrus Thekkady Wild Corridor, Thekkady, Kerala
2. Bundela Safari Lodge, Kanha National Park, Madhya Pradesh
3. Bheemeshwari Jungle Lodge, Halagur Hubli, Karnataka
4. Eco Camp, Nameri National Park, Assam
5. Camp Potters Hill, Shimla, Himachal Pradesh
6. Jungle Livinn, Chail, Himachal Pradesh
When is the best time for camping in Jaisalmer?
The months between November to February are ideal to enjoy an exquisite camping experience in Jaisalmer owing to its favorable weather conditions.
Which are the most essential items for self-camping?
Here are some essentials you must carry while camping:
Camping tent, sleeping bags or sleeping mats, sturdy shoes, torch or head torch, hat and sunglasses, mini first-aid kit, water bottle, trashbag, mosquito repellant, sunscreen, and backpack.
Which are the top winter camping sites in India?
If you are planning winter camping in India, these destinations are perfect for you:
1. Sonmarg, Jammu & Kashmir
2. Mussoorie, Uttarakhand
3. Solang Valley, Himachal Pradesh
4. Kaudiyala, Uttarakhand
5. Rishikesh, Uttarakhand
What is the average cost of camping in India?
The cost of camping depends on several factors such as the destination, type of camp, season, duration of your stay and more. However, the average price ranges from 1,000 to 5,000.
People Also Read:
Camping In France Camping In New Zealand Camping In Hong Kong
Comments
comments