The cities in Switzerland are known for their scenic beauty, from the Alps in the south to the Jura Mountains in the north to the bustling centre of Geneva to the quiet locales of Bern. The country is also famous for its high-quality products like chocolate, watches, and cheese. In addition to its natural beauty and rich history, Switzerland is also a scenic winter holiday destination that is much recommended for a visit. No matter where you are in the country or learning about a different city every week, here's an expert-curated guide to help you explore the best places to wander through during your next visit.
7 Best Cities In Switzerland
From Interlaken to Geneva, we have rounded up the best cities in Switzerland that have long attracted travellers from all over the world. Read on to learn more.
1. Interlaken
Hailed as one of the most popular cities that you can explore in Switzerland, this serene metropolis is a postcard destination. 'Eiger, Mönch and Jungfrau' are the world-famous mountains that form the Interlaken touristic centre. One of the top cities in Switzerland, the Interlaken region is a world-renowned adventure sports destination, and here you will find a variety of activities. The journey through the tunnels is a journey through history as well as nature. The two tunnels, which allow you to see the Eiger north wall and the surrounding Alps glacier world, are particularly stunning.
Post Covid Switzerland Tourism Guidelines: An Ultimate Gateway To A Stress-free Vacay In 2022
2. Zürich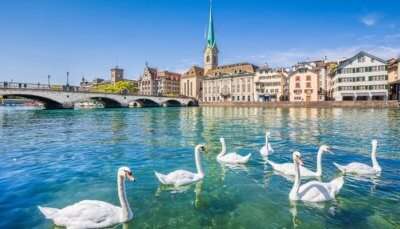 The bustling city is located close to the Alps, and therefore it is often referred to as 'the Portal to the Alps.' Zurich is renowned for its cleanliness and efficiency, in addition to its popularity as a tourist destination. Zurich has gained notoriety in the last decade for its cosmopolitan culture, nightlife, and cuisine along with some of the best restaurants in the world. The financial centre of Switzerland, Zurich is home to all of Switzerland's major companies and media organisations and the country's financial centre. It is also renowned for its Swiss chocolates—something that you can learn about during your time in the city.
3. Geneva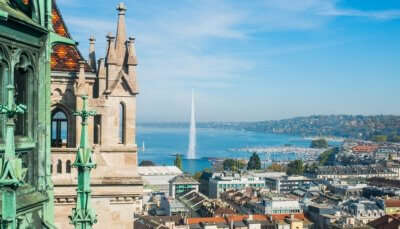 Geneva is the capital of Switzerland's Geneva Canton in the southwesternmost part of Switzerland. The city is situated on the shores of Lake Geneva (Lac Léman), the province's largest body of water, and is bordered by the Jura Mountains to the west and the French Alps to the east. Geneva has a stunning view of Mont Blanc, which is about an hour away by car, from its downtown. The city is only two hours away by plane from most European places and is a hub for commerce.
Head To The Switzerland Mountains For A Dreamy Alpine Vacation In Europe
4. Lausanne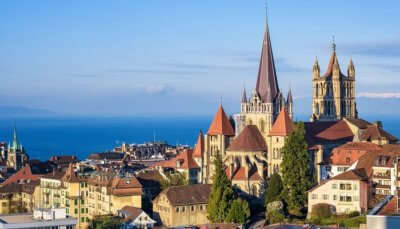 Lausanne is situated on the northeasterly shore of picturesque Lake Geneva, the largest on the western European continent, it is the capital of Vaud and Switzerland's fourth largest city. The city has a lengthy and extraordinary history, beginning when the Romans settled and camped nearby Vidy, turning it into an active and attractive tourist destination and home to a variety of significant institutions, including the International Olympic Committee and the Federal Tribunal. Lausanne, in addition to its picturesque old town with its narrow alleys, boutiques, and cafe life, has several significant institutions including the Olympic Museum, with its fascinating museum, the Olympic centre with its fascinating museum, and the Ouchy area with its lively cafes and renowned gourmet restaurants.
5. Bern
Switzerland's often-overlooked capital has a wealth of modern and historic landmarks, from its medieval Old Town to urban swimming in the Aare River, from its capital's wealth of attractions to its government buildings and Parliament. The city is also the location of Switzerland's government and houses of parliament. The centre of Switzerland's intellectual life, Bern is a relaxing place to unwind and have a leisurely holiday. It is a destination for avid thinkers, especially Albert Einstein. Its cafés and pretty neighbourhoods are ideal for kicking back and grasping modern masters. It is also considered one of the most beautiful cities in Switzerland.
8 Enticing Festivals In Switzerland For Mirth And Merriment In 2022!
6. St. Gallen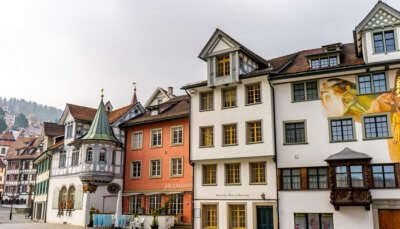 With just under 75,000 inhabitants, St. Gallen is ranked eighth in Switzerland, when it comes to population size. Home to a lot of things to see and do culturally, as well as making a name for itself in the textile business. Abbey Library and Olma Bratwurst are just two of the delicious treats this city has to offer. St. Gallen is positioned perfectly between Lake Constance and the Alpstein mountains, making it an ideal spot for day trips. There are many things to see and do in this city, and it's well worth a visit.
7. Winterthur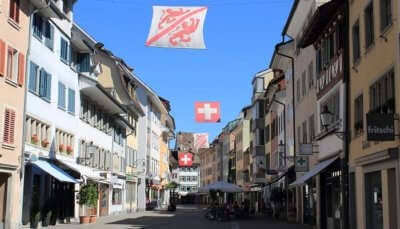 Image Credit: Patrick Nouhailler for Flickr
Winterthur is a bit offbeat and often overlooked by travellers when visiting Zurich. Winterthur is a magnificent natural environment, art, and historical site all in one place. Even so, it takes at least one or two days to explore it properly. It's the sixth-largest city in Switzerland. Winterthur has a medieval old world feel with a busy, bustling city centre. It has a high-tech industrial satellite town in Zurich canton.
Top 18 Places To Visit In Switzerland In Winter 2022 For A Memorable Vacay
The awe-inspiring beauty of Switzerland can often be seen reflected in the many cities that are sprawled across this place. Visiting one or more of these destinations can help you learn about the culture, destination and history of this iconic country. Looking for inspiration to plan your itinerary? Learn more with our Switzerland Tour Packages.
For our editorial codes of conduct and copyright disclaimer, please click here.
Cover Image Credit: Christian Regg for Unsplash
Frequently Asked Questions About Best Cities to Visit in Switzerland
What is the best time to visit Switzerland?
April and May are the months of the spring season. Most of the snow has cleared by now and one can easily go hiking on the most gorgeous hiking trails in Switzerland. During these months one can get cheaper hotels and tickets as the tourist's footfall is less.
Which city is recommended for visiting Switzerland?
While the above-mentioned cities are all worthy of a trip, if you are visiting Switzerland for the first time you can start your journey from the capital city of Bern.
What is the distance between Bern and Interlaken?
The distance between Bern and Interlaken is approximately 56 kilometres which you can cover by Swiss Railways in less than an hour.
People Also Read:
Cities Of India Europe's Most Crowded Cities Cities In The World
Comments
comments