The public transportation in Toronto is one of the finest transportation systems in North America. Within Toronto and some surrounding communities, the Toronto Transit Commission (TTC) operates the transit system. With easy-to-navigate buses, subways, and street cars in the city, exploring the city and nearby places is a cakewalk. Whether you are a traveler or a local, these three modes cater to all your transportation requirements with spectacular connectivity. To reach the famous neighborhood, Toronto Islands, Toronto Island Ferry operates local ferries. Read on to know more about public transportation in Toronto, Ontario to enjoy smooth and safe travel.
6 Modes of Public Transportation in Toronto
Here's a round-up of all the modes of public transportation in Toronto, Canada that help you witness the unparalleled charm of the city.
1. Bus
With extensive connectivity, Toronto's bus system allows you to explore every nook and corner of the city. You can either buy a Toronto public transport card called the PRESTO Card available at subway stations or buy a token or use the exact change to complete the ride. Regular buses run every few minutes from 6:00 a.m. to 1:00 a.m. on weekdays and Saturdays. Whereas, on Sundays, buses run between 8:00 a.m. to 1:00 p.m. The bus drivers do not sell tickets, hence make sure to get one before you board if not having a PRESTO Card.
10 Best Restaurants In Toronto To Explore The Gourmet Scene Of Canada
2. Subway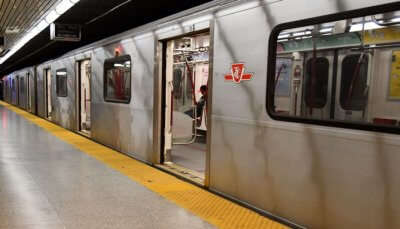 Using a TTC Subway is one of the fastest ways to get around the city at economical prices. There are 4 subway lines that connect the entire region—Yonge-University, Bloor-Danforth, Scarborough, and Sheppard. Besides this, Eglinton and Finch West are the other two under-construction lines. The trains arrive at the stations every 5-6 minutes which makes it easy for travelers to calculate the total traveling time and plan their day accordingly. Buying a day pass with unlimited travel on TTC is the smartest option if you wish to explore the destination on public transportation. So, if you are seeking a cheap or affordable public transport in Toronto, subway is a great option.
3. Streetcar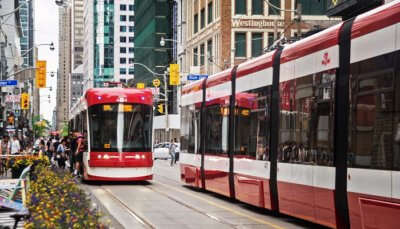 Streetcars are a great option to get around downtown Toronto. This public transportation in Toronto is significantly faster than buses and is comparatively more spacious. Since the rails are embedded in the street, they offer passengers a smooth ride. There are in total 13 streetcar routes out of which 8 have regular service and one has limited service. The rest four fall under the Blue Night Network which offers overnight service between 1:30 a.m. to 5:30 a.m.
Toronto Food: 9 Iconic Dishes You Cannot Leave Canada Without Tasting
4. Ferry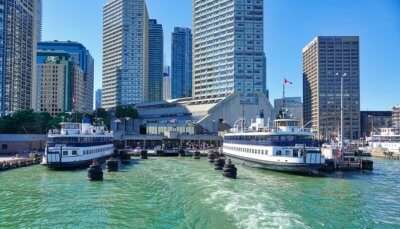 The Toronto Island Ferry operating outside of the TTC runs ferry service to commute between the mainland and the Toronto Islands which are 3.9 km apart. Daily ferries leave from Jack Layton Ferry Terminal, at the foot of Bay Street and Queens Quay. The timings of the ferries depend upon the season and the destination. Once you buy the ferry ticket, you can visit three major islands in Toronto Island Park: Centre Island, Ward's Island, and Hanlan's Point. The cost of a round-trip ferry is $8.70 for adults, $5.60 for senior citizens(65+), $5.60 for young between 15-19, and $4.10 for children aged 2-14. You can buy the tickets from the on-site ticket booths or from fare vending machines placed at all terminals.
5. Taxi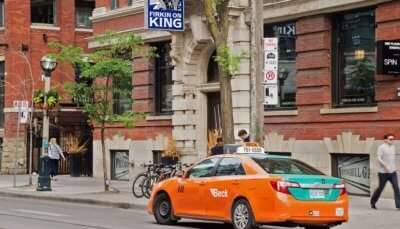 Taxi is another best transportation in Toronto which is available 24/7. You can easily spot taxis running around the city, hence you can easily hail one to reach your destination. The metred fares bank on the distance and traffic. You will find more taxis line up near the major hotels. Drivers typically accept credit or debit cards however, it's always wise to keep some cash handy. Lyft, Uber, Taxify, Beck, Diaming, Royal, etc. are some of the best taxi and ride-sharing companies in Toronto.
Toronto In October 2022: A Personal Guide For An Extraordinary Holiday Experience
6. Bike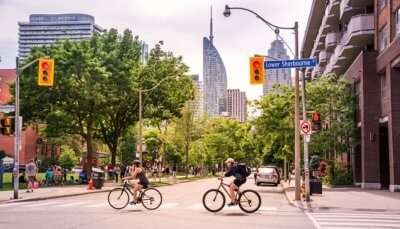 Cycling is one of the most fascinating ways to explore Toronto while glancing at the local lifestyle. Bike Share Toronto is a bike-sharing program that offers easy access to 7,185 bikes and 630 stations across the city. A one-way trip costs $3.25 for 30 minutes. For travelers buying a 24-hour or 3-day access pass is a great option that cost $7 and $15 respectively, charges for rental bikes range between $25 to $150 depending upon the bike type and duration. You can conveniently drop off the bike at any of the docking stations once the ride is complete, it doesn't need to be the same from where you picked the bike.
TTC fares and passes: Essential Details
| | | | |
| --- | --- | --- | --- |
| Fare Type | Adult | Senior (65+) or Youth (13-19) | Children 12 or under |
| Cash | $3.25 | $2.30 | Free |
| Presto one-ride ticket | $3.25 | $3.25 | Free |
| Presto two-ride ticket | $6.50 | $6.50 | Free |
| Presto day pass ticket | $13.50 | $13.50 | Free |
Toronto city is all about high rise buildings, skyscrapers, museums, amusement parks, and oodles of entertainment. Exploring all of it becomes easy with the public transportation in Toronto. So, when planning a trip to Toronto, make sure to get this guide handy and have a wonderful international vacation with TravelTriangle.
For our editorial codes of conduct and copyright disclaimer, please click here.
People Also Read:
Public Transportation in Paris Budget Transportation Hacks Uncommon Modes of Transportation
Comments
comments