The Sultanate of Oman is an Arabian country lying on the southeastern coast of the Arabian Peninsula. Blessed with scenic mountain ranges, historic forts, and a spectacular desert, the destination makes a perfect pick for a long international vacation. While visiting this less-explored destination, one can surely witness the unique fusion of ancient and modern eras through its various mosques, forts, and old ruins. The luxurious resorts in Oman offer travellers a once-in-a-lifetime experience with their top-notch amenities, great location, and unmatched hospitality. Check out the best ones below to make the most of your Oman trip.
7 Best Resorts in Oman
Whether you are traveling solo or with your family or partner, you are bound to experience a posh treatment at the luxury resorts in Oman. So, here we have compiled a list of the top-rated properties that will take your vacation to the next level.
1. Intercontinental Muscat
Intercontinental Muscat is a beachfront property that pampers its guests with numerous luxuries such as a fitness center, swimming pool, lounge area, business center, and more. The resort features rooms under three categories: Executive, Standard, and Suites. Each one is well-equipped with all the comforts such as free wifi, refrigerator, air-conditioning, flat-screen TV, tea/coffee-making facilities etc. While offering babysitting services, the property makes a perfect fit for vacationers traveling with children. One of the best beach resorts in Oman, Intercontinental Muscat houses five on-site eateries and a pub where you can relish local as well as international delicacies along with some luscious drinks.
Location: Al Kharjiya Street Al Shati Area, 114, Oman
Tariff: ₹14,533 per night approximately
Website
10 Breathtaking Places To Visit In Oman That Are Pure Architectural Masterpieces!
2. Al Baleed Resort Salalah by Anantara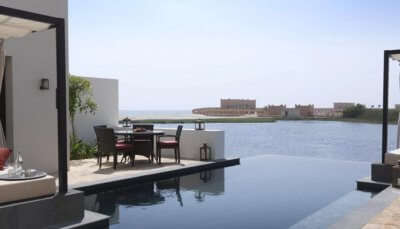 Al Baleed Resort Salalah By Anantara lies between a private beach and a freshwater lagoon offering vacationers the charm of nature. It is the first and only luxury pool villa resort among Salalah hotels. The impressive architecture of the resort showcases a strong inspiration from the iconic coastal fortresses. The elements like a private 250-meter beach, tennis court, fitness center, infinity pool, and spa & wellness area make Al Baleed one of the resorts in Oman, Salalah. The property also offers easy access to attractions like Al Baleed Archaeological Park and the Museum of the Land of Frankincense.
Location: PC 214, Al Mansurah Street, Al Baleed, Salalah 360, Oman
Tariff: ₹38,053 per night approximately
Website
3. Anantara Al Jabal Al Akhbar Resort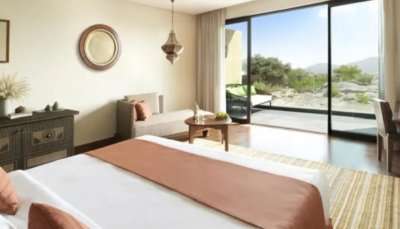 Anantara Al Jabal Al Akhbar Resort is one of the best resorts in Oman that lies on the iconic Green Mountain offering enthralling canyon views. Just a two hours drive from Muscat, this 5-star property features 82 canyon-view rooms and 33 private pool villas. From indulging in Hamman and spa rituals to gazing at the canyon from the viewing platform where Princess Diana once stood, you can enjoy several soul-soothing experiences here. Archery, yoga classes, cooking classes, bicycle rides, Jabal activity wall, Asfour Kids Club are some other features of the resort that keep vacationers entertained at all times. So, if you are seeking the best resorts in Oman with a private pool, Anantara Al Jabal Al Akhbar Resort could be your best bet.
Location: No 110, Al Jabal Al Akhdar, Nizwa 621, Oman
Tariff: ₹61,206 per night approximately
Website
15 Best Things To Do In Oman For An Extravagant Holiday In This Middle East Gem In 2022
4. Al Nahda Resort & Spa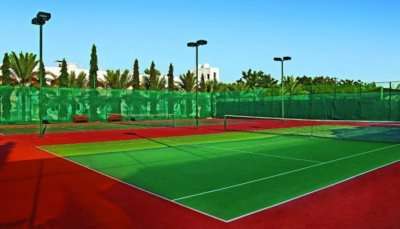 Al Nahda Resort & Spa is a 5-star property that enjoys the vicinity of sprawling greens and clusters of mango trees. Offering travelers a soul-soothing holiday experience, the resort offers 65 rejuvenating treatments at the on-site spa and wellness center. The accommodation features 109 rooms further categorized as apartments, free-standing villas, and bungalow styles. The on-site gymnasium allows fitness lovers to keep up with their exercise routines with the help of the latest equipment and professional gym instructors. The restaurant and two bars serve a wide range of culinary delights to satiate your palates.
Location: Al Nahda Resort & Spa Barka OM OM, 320, Oman
Tariff: ₹8,622 per night approximately
Website
5. Barceló Mussanah Resort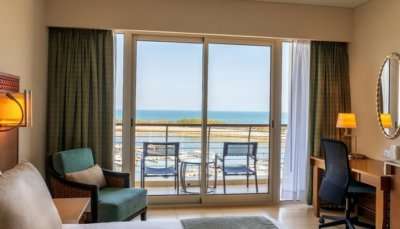 Barceló Mussanah Resort enjoys a beachfront location in the south of the Al Batinah region. This contemporary-styled accommodation is just a 45-minute ride from the International Airport and the capital, Muscat. This lavish beach resort comprises 234 rooms and 74 luxury apartments, most of which offer splendid sea views. The kid's swimming pool, four other pools overlooking the Gulf of Oman, close proximity to the private beach, 10 cabanas, and Zayna Spa & Health Fitness Club are other highlights of this 4-star property that completes your fun-filled vacation.
Location: Rd 1 Wudam Al Sahil Mussanah Al Mudayq, 300, Oman
Tariff: ₹14,482 per night approximately
Website
6 Best Oman Beaches That Deserve Your Rightful Attention In 2022
6. Shangri-La Al Husn, Muscat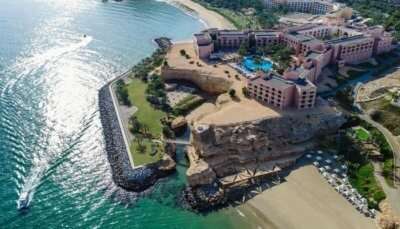 Shangri-La Al Husn, Muscat is an exclusive clifftop retreat overlooking the turquoise waters of the Gulf. While offering a wide range of high-end facilities and amenities like the infinity swimming pool, butler service, on-site spa, 24-hour business center, hospitality lounge, library, and more, the resort leaves no stone unturned to impress its guests. From relaxing on a secluded private beach to indulging in some soothing spa sessions, there are numerous experiences to try here. The property houses one restaurant and two bars offering delightful culinary experiences.
Location: Muscat 100 Muscat Muscat، 644, Oman
Tariff: ₹36,540 per night approximately
Website
7. Sama Heights Resort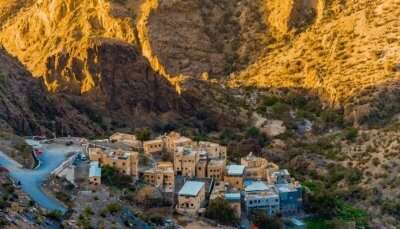 Positioned on the Saiq Plateau of the Green Mountains of Oman, Sahab Resort & Spa is a boutique hotel that offers vacationers a unique experience. Since the property lies on the canyon edge of Al Hajar Mountain range at 6561.68 ft. above sea level, you are bound to enjoy the lap of nature. This luxurious retreat offers rooms under 3 categories including Family Suite, Deluxe Suite, and Studio Rooms. The resort offers both indoor as well as outdoor dining experiences while serving an array of international delicacies. Also, the bar serves a wide range of rejuvenating drinks.
Location: Sahab Resort and Spa-Jabal Al Akhdar
Tariff: ₹14,045 per night approximately
Website
Oman In December 2022: Check Out The Best Places To Visit And Things To Do On Your Trip
Oman is a destination you must visit at least once in a lifetime. So, if you are planning an international gateway to this spectacular country, make sure to incorporate any of the above-mentioned resorts into your Oman trip package. All the best resorts in Oman aim at offering the best experiences to their guests with numerous facilities, high-end amenities and sheer hospitality. So, don't forget to make your trip a memorable one with TravelTriangle.
For our editorial codes of conduct and copyright disclaimer, please click here.
Frequently Asked Questions About Resorts in Oman
Which are the best resorts in Oman?
Some of the top-notch resorts in Oman are:
1. Al Nahda Resort & Spa
2. Barceló Mussanah Resort
3. Shangri-La Al Husn, Muscat
4. Sama Heights Resort
5. Jawharat Bidiah Resort
6. Al Baleed Resort Salalah by Anantara
7. Intercontinental Muscat
Which are the top-rated attractions in Muscat?
Oman's port capital, Muscat features several tourist attractions that you must visit. Some of the best ones are:
1. Sultan Qaboos Grand Mosque
2. Mutrah Corniche
3. Mutrah Souq
4. Qurum Beach
5. The Royal Opera House
6. Qurum Natural Park
7. Wadi Bani Khalid, Mutrah Fort
8. Yiti Beach
9. Al Alam Palace
10. Al Mirani Fort, Muscat Gate Museum
Can I visit Oman during the current Covid situation?
Yes, you can plan a visit to Oman during the current Covid situation. However, make sure that you are completely vaccinated and always carry your vaccination certificate. Besides this, you need to follow government protocols that include wearing a mask when in public, sanitizing hands at certain intervals, and maintaining social distancing.
What is the best time to visit Oman?
You would want to avoid the scorching summer months, from June to August. The ideal time to plan a visit to Oman is between October and April when the temperatures range between 17°C to 35°C and the weather is suitable for sightseeing and outdoor activities.
How many days are enough for exploring Oman?
A trip of 5-6 days would be enough to witness the best of Oman. To enjoy your vacation, you can go sightseeing and indulge in outdoor activities.
People Also Read:
Resorts In Florida Resorts In Kandy Resorts In Colombo
Comments
comments