South Korea is full of culture, history, and stunning natural beauty. It's also a country known for its innovation and modernity, which is reflected in the many fun things to do in South Korea. From visiting traditional temples and palaces to trying out new technologies, there's something for everyone in South Korea.
This article will explore 11 of the most fun and unusual things to do in South Korea, ranging from outdoor adventures to indoor activities. Whether you're an avid traveller looking for new experiences or just looking to add some excitement to your vacation, this list has something for you. So come along as we take you on a tour of some of the most unique and exciting activities South Korea has to offer.
The 11 Fun and Unusual Things To Do In South Korea
There are many fun and interesting things to do that will allow you to fully experience all that this amazing country has to offer. Here are a few ideas for fun things to do in South Korea:
1. Ride the world's first battery-charged eco-friendly train
The Haeundae Beach Train, officially called "Blue Line" is a popular tourist attraction that operates on a 4.8-kilometre rail track running from Mipo to Cheongsapo and Songjeong. The train offers beautiful coastal views and takes passengers to some of Busan's top destinations, including the Dalmaji Tunnel, Daritdol Skywalk, and Cheongsapo. The interior of the train is reminiscent of a fairy tale, with 12 wooden benches that can seat up to eight people each. All seats are arranged to face the sea, allowing passengers to fully appreciate the seascapes. The bench on the second row is elevated to give all passengers an unobstructed view of the wide-open sea. Since its opening, the Haeundae Blue Line Park beach train has become a top tourist spot in Busan.
Location: 116, Cheongsapo-ro, Haeundae-gu, Busan
Timings: 09:30 – 19:00
2. Drink wine inside an abandoned cave in Jeollanam-do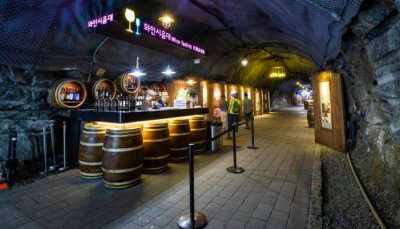 Gwangmyeong Wine Cave is a cultural and art complex located in a renovated railway tunnel that offers wine and art experiences to visitors. The complex houses a wine bar called the Wine Cave, which boasts an impressive selection of 170 different wines from 50 wineries in 27 cities across South Korea. All of the wines sold at the Wine Cave have undergone blind tasting tests and have been carefully vetted through on-site inspections of the wineries and production processes. The Gwangyang Wine Cave is the hub of Korean wines and is the perfect place to relax and enjoy a variety of international and local wines in comfort.
Location: 33, Gangjeong-gil Gwangyang-eup, Gwangyang-si, Jeollanam-do
Timings: 10:00 – 16:00
3. Experience high-end healing products at the Sulwhasoo Flagship Store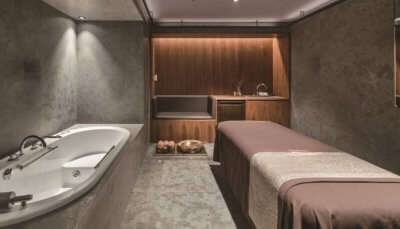 Sulwhasoo is a highly regarded herbal cosmetics company in Korea that produces high-quality products that are popular both domestically and internationally. The Sulwhasoo Flagship Store was opened in Seoul, near Dosan Park, and features a luxurious spa, exhibition space, and a Sulwhasoo boutique where customers can experience and purchase products. The spa at the Flagship Store brings traditional Asian beauty practices into modern life, providing warmth to tired skin, holistic therapy to balance the body, and traditional rituals to restore mental stability and inner beauty. The programs offered at the spa are either seventy or ninety minutes long. Products purchased at the Flagship Store are adorned with hanbok ribbons and wrapped in exclusive Sulwhasoo patterned cloths, known as jihambo (meaning wisdom, same, and bojagi cloth). This cloth is truly one-of-a-kind.
Location: Gangnam-gu, Seoul
Top 10 Reasons To Visit South Korea & Have A Blast With Your Family In 2022!
4. Try the exclusive Medicinal Herbal Foot Baths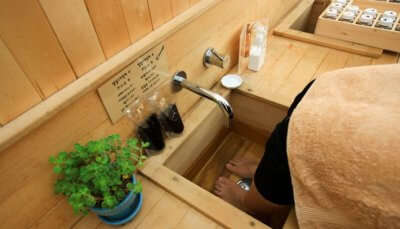 The Korean Medicine Experience Town offers a variety of paid activities centred around oriental medicine, including medicinal herbal foot baths, oriental medicine and beauty experiences, and more. For those who want to try oriental medicine for free, the ICT Korean Medicine Experience Hall offers a range of programs and activities, including VR and AR experiences like Sasang constitution diagnosis, chiropractic healing, and Chi exercise. The medicinal herbal foot baths are available in both wet and dry versions, with the wet option boosting body temperature and the dry option using far-infrared radiation instead of water. The oriental medicine and beauty programs include acupressure beds, cautery, and skincare treatments like facial masks. No matter your age, the ICT Korean Medicine Experience Hall has something for everyone to conveniently experience the benefits of Korean oriental medicine.
Location: 45, Jungang-daero 77-gil, Jung-gu, Daegu
Timings: 10:00 – 17:30, Closed Mondays
5. Attend the Boryeong Mud Festival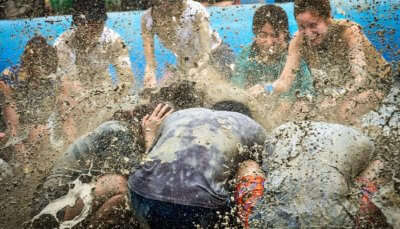 Daecheon Beach in Boryeong, Chungcheongnam-do is a popular summer destination in Korea. Each summer, the Boryeong Mud Festival draws the largest number of international visitors to the beach. The festival is a major attraction for tourists, who come to experience the benefits of Boryeong's mud and have a great time. Visitors fully immerse themselves in the mud and the festival atmosphere, enjoying various activities and programs.
Location: Areas of Boryeong Mud Theme Park
8 Scenic Beaches In South Korea That Will Soothe Your Mind, Body, And Soul!
6. Practise the value of slowness at Jeonju Hanok Village (Slow City)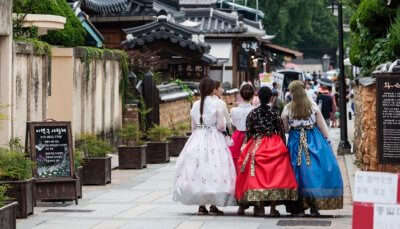 Jeonju Hanok Village is located in the city of Jeonju and encompasses the neighbourhoods of Pungnam-dong and Gyo-dong. The village is home to 735 traditional Korean hanok houses, which have been preserved while the rest of the city has become industrialized. Another characteristic of hanok houses is their use of ondol, a unique floor heating system. Since Koreans enjoy sitting, eating, and sleeping on the floor, the floor needs to be kept warm in the winter. To experience what it is like to live in a hanok house, visitors can either book a hanok accommodation or visit the Hanok Life Experience Hall.
Location: 99, Girin-daero, Wansan-gu, Jeonju-si, Jeollabuk-do
7. Try convenience store food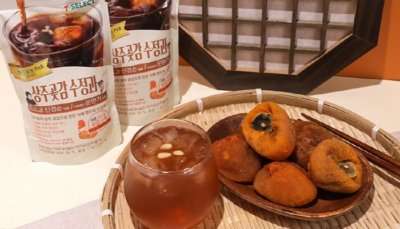 Convenience stores in South Korea, also known as "c-stores," offer a wide range of food and drink options, including sandwiches, pastries, snacks, and hot and cold beverages. Many convenience stores also offer ready-to-eat meals such as instant noodles, rice bowls, and kimbap (Korean sushi rolls). For cup noodles you can try different spice levels such as Jin Ramen (mild), Tempura Udon Noodle Soup, and Sari Gomtang Noodles. These meals are often kept warm in a heating cabinet or can be microwaved in-store. Convenience stores in South Korea are a popular destination for a quick and convenient meal or snack and are open long hours, often 24 hours a day.
28 Stunning Places To Visit In South Korea In 2022
8. Visit Hyundai Motorstudio & Samsung Innovation Museum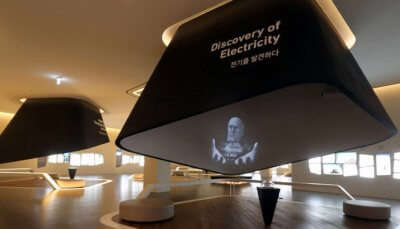 Experience the world of automobile manufacturing and its future at Hyundai Motorstudio Goyang! This special destination features: Robotic arms that paint and assemble cars and airbags that light up when touched, "Smart moving" technology that clears the way for futuristic cars and people to pass by, and numerous aluminium poles that transform into various shapes in response to music. Samsung Innovation Museum is an electronic industrial museum operated by Samsung, a major global company based in South Korea. The museum is divided into three main sections, where visitors can learn about the history of Korea's electronic industry and the past, present, and future of the semiconductor, display, and mobile industries, where Samsung has made significant achievements. The museum also has an education facility called Children's Display Research Institute.
Location(s):
129, Samsung-ro, Yeongtong-gu, Suwon-si, Gyeonggi-do
738 Eonju-ro, Nonhyeon-dong, Gangnam-gu, Seoul, South Korea
9. Take a walk on the Skybridge at Lotte World Tower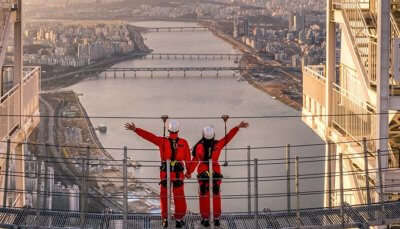 The Sky Bridge Tour, a new attraction, was launched on July 24, 2020. This tour allows visitors to walk on top of the Seoul Sky Observatory, which is connected to the Lotte World Tower's two structures at the peak. The outdoor bridge provides breathtaking 360-degree views of Seoul and is 11 meters long and 541 meters above the ground. Visitors start the tour at the Sky Station on the 117th floor, where they receive safety instructions and gear before heading outdoors. The Sky Bridge Tour is located near several other attractions, including the Lotte World Amusement Park and the Olympic Park, which have nine interesting photo-taking spots, such as the One Tree Hill, Rose Plaza, seasonal wildflower garden, sculptures, fortress walking paths, lake, and musical fountain.
Location: Lotte World Tower, 300, Olympic-ro, Songpa-gu, Seoul
26 Places To Visit In Korea During Winter 2022 That Would Hook You With Their Charm
10. Go on a K-Pop tour of your favourite idols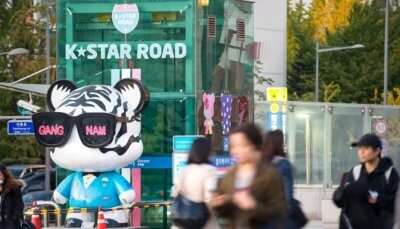 During a K-pop tour, participants can have the opportunity to visit the offices of major K-pop agencies such as SM Entertainment, JYP Entertainment, and YG Entertainment, and see where K-pop idols train and rehearse. They may also visit the MBC World theme park, which is dedicated to K-pop and Korean dramas, and the K-Pop Museum in Seoul, which showcases the history and evolution of K-pop. In addition to these activities, K-pop tours may include the opportunity to attend K-pop concerts and other events featuring popular K-pop artists. Some tours may also include visits to other popular attractions in South Korea, such as Gyeongbokgung Palace, the Namsan Tower, and the Myeong-dong shopping district.
11. Relish incredible tea flavors, quality, and experiences in a tea house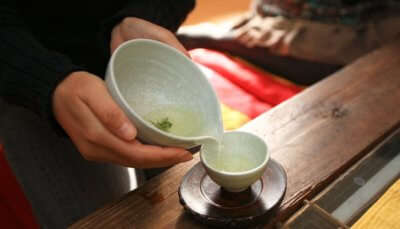 Traditional herbal tea is well known for its various health benefits, including preventing colds, improving fatigue recovery, promoting blood circulation, and providing skin care. Tea Therapy is a rustic and quaint teahouse located in a renovated hanok house, which is a cultural heritage site, where visitors can enjoy traditional herbal tea in a convenient and elegant way. The O'sulloc Tea Museum in Jeju is another popular attraction for tea lovers. In addition to the museum itself, many people visit the Seogwang Tea Plantation, which is located just next to the museum. The plantation is one of three locations where O'sulloc grows tea, and it is the most representative location.
Location: 15, Sinhwayeoksa-ro, Seogwipo-si, Jeju-do
5 Places Worth Exploring On Korea Tour-Land Of Morning Calm
In conclusion, this country is rich with amazing and arguably underrated culture and history, and there are many fun things to do in South Korea that will allow you to fully experience all that this amazing destination has to offer. So don't be afraid to step outside your comfort zone and try something new—you never know what amazing experiences and memories you'll create in this vibrant and exciting country. Visit Namaste Korea to learn more.
For our editorial codes of conduct and copyright disclaimer, please click here.
Frequently Asked Questions About Fun and Unusual Things to Do in South Korea
Do I need a visa to travel to South Korea?
This depends on your country of citizenship and the length of your stay. Some nationalities are able to enter South Korea without a visa for stays of up to 90 days, while others may need to obtain a visa in advance. It's a good idea to check with the South Korean embassy or consulate in your country to determine what the requirements are for your specific situation.
Is it safe to travel to South Korea?
Overall, South Korea is a very safe country to visit. Crime rates are low, and the people are generally friendly and welcoming. However, as with any destination, it's always a good idea to be aware of your surroundings and take basic precautions to ensure your safety.
How can I get around South Korea?
There are many ways to get around South Korea, including trains, buses, taxis, and rental cars. The country also has a comprehensive subway system that covers most major cities, making it easy to get around.
What is the currency in South Korea?
The currency in South Korea is the Korean won (KRW). Credit cards are widely accepted in major cities, but it's a good idea to have some cash on hand for smaller transactions or when visiting more rural areas.
What should I pack for a trip to South Korea?
Some essential items to pack for a trip to South Korea include comfortable walking shoes, layers of clothing to accommodate the changing weather, sunscreen, a hat or umbrella, and any necessary medications. It's also a good idea to bring a power adapter if you're planning to use electronic devices, as the electrical outlets in South Korea are different from those in some other countries.
Comments
comments