Times Square in New York City sees approximately 330,000 pedestrians daily, making it the city's bustling heart. It draws nearly a million visitors each year to watch the legendary New Year's Eve ball drop among other things to do in Times Square. It is also the beating heart of New York City's entertainment industry, located adjacent to and promoting the Theater District. Those visiting New York for the first time almost always end up at the Times Square address: Broadway and 7th Avenue intersection, extending from West 42nd to West 47th streets. Surprisingly, this "Crossroads of the World" is not a square at all, but two triangles in a saddle shape, which is oddly appropriate for such a stylish, glitzy institution.
The 5 Popular Things To Do In Times Square In New York City
From iconic theatres and towering skyscrapers to world-class shopping and dining, there's something for everyone in this vibrant neighbourhood. This blog will highlight some of the top things to do in Times Square, whether you're a first-time visitor or a seasoned New Yorker.
1. Take in a Broadway show
Image Courtesy: Alevision.co for Unsplash
Times Square is home to many of the city's most iconic theaters, and seeing a Broadway show is a must-do for any trip to New York. From classic musicals to cutting-edge dramas, there's a show for every taste in Times Square. The term "Broadway" is often used to refer to the entire theater industry in the United States, but it specifically refers to the 40 professional theaters with 500 or more seats located in the Theater District in Midtown Manhattan. Broadway productions are known for their high production values, talented casts, and memorable music. Some of the most famous and beloved Broadway shows include "The Phantom of the Opera," "Les Misérables," "The Lion King," "Wicked," and "Hamilton." Many Broadway shows have also been adapted into films, television shows, and other media.
2. Explore the sights and sounds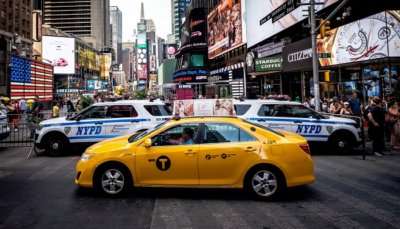 Image Courtesy: Taton Moïse for Unsplash
This place is a sensory overload, with towering billboards, street performers, and endless crowds, which makes people watching one of the best things to do in Times Square. Take a stroll through the area and soak up the energy, or grab a spot on one of the iconic red steps to people watch. So if you're in the mood to sit back and observe the sights and sounds of the city, grab a spot on a park bench or find a café with a good view, and take in all that New York has to offer.
3. Eat and shop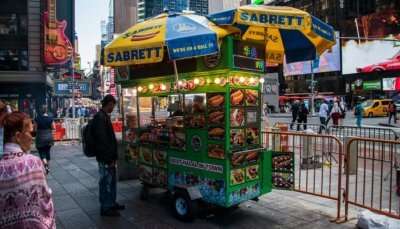 Times Square is home to some of the city's best restaurants and shopping. Whether you're looking for a quick bite or a sit-down meal, you'll find plenty of options in the area. And if you're in the mood to splurge, there are plenty of high-end stores to browse as well.
Some of the best places to eat and shop in the area include:
Junior's Restaurant: This iconic restaurant is known for its delicious cheesecake and classic diner fare.
Carmine's: This family-style Italian restaurant serves up huge portions of classic dishes like pasta and meatballs.
Ellen's Stardust Diner: This retro diner is a Times Square institution, known for its singing waitstaff and classic American fare.
Hard Rock Café: This popular chain restaurant serves up classic American food and drinks, as well as a collection of rock and roll memorabilia.
4. Check Out Madame Tussauds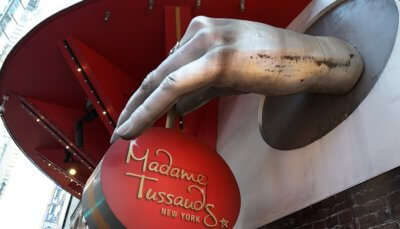 Madame Tussauds is a museum in Times Square, New York City, that is famous for its collection of wax figures of famous people. One of the popular things to do in Times Square, the museum was founded by Marie Tussaud, a French artist who was known for her ability to create realistic wax models of famous people. The museum in Times Square is one of several Madame Tussauds locations around the world, and it is a popular tourist attraction in New York City. Visitors to the museum can see wax figures of celebrities, politicians, historical figures, and other notable people, and can even take photos with the figures. The museum also often has special exhibits and interactive experiences, such as a 4D movie theatre and a virtual reality experience.
5. Try cocktails at one of the rooftop bars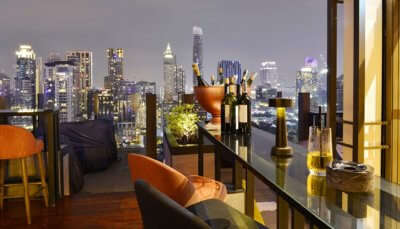 Rooftop bars in Times Square, New York City, offer a unique experience with panoramic views of the city skyline and the famous Times Square neighborhood. Many of these bars are located atop hotels or restaurants and offer a range of drinks and appetizers. Some popular rooftop bars in Times Square include:
The Sky Room: Located on the 33rd and 34th floors of a hotel, The Sky Room offers 360-degree views of the city and serves a variety of cocktails, wines, and beers.
Bar 54: Located on the 54th floor of a hotel, Bar 54 has a rooftop deck with views of the Hudson River and serves a range of cocktails and small plates.
St. Cloud: Located on the rooftop of a hotel, St. Cloud has a garden-inspired design and serves cocktails, beers, and wines, as well as small plates.
The Press Lounge: Located on the 16th floor of a hotel, The Press Lounge has views of the Hudson River and serves a range of cocktails and small plates.
Rare View: Located on the rooftop of a hotel, Rare View has views of the Hudson River and serves a range of cocktails and small plates.
These are just a few examples of the many rooftop bars in Times Square. Many of these bars have dress codes and may have age restrictions, so it is important to check their policies before visiting.
In conclusion, you can enjoy some of the best of the best things to do in Times Square's vibrant and exciting neighbourhood that offers a wide range of activities and attractions for visitors. Whether you're interested in seeing a Broadway show, taking in the sights and sounds of the city, or enjoying a meal at a world-class restaurant, Times Square has something for everyone. Each of these activities offers a unique and memorable experience that you won't find anywhere else. So if you are planning to book one of our New York tour packages, be sure to make a stop in Times Square and experience all that it has to offer!
Cover Image Credit: Anthony Rosset for Unsplash
For our editorial codes of conduct and copyright disclaimer, please click here.
Frequently Asked Questions About Best Things to Do in Times Square
What is the best time to visit Times Square in New York City?
There is no one 'best' time to visit Times Square in New York City, as the neighbourhood is bustling and vibrant all year round. However, the weather and other factors can affect the experience of visiting Times Square. The weather in New York City can vary significantly depending on the season. Summer is generally warm and humid, while winters are cold and often snowy. Spring and fall can be pleasant, with mild temperatures and fewer crowds.
What should you not miss in Times Square?
If you're visiting Times Square around New Year's Eve, be sure to catch the iconic ball drop at midnight. The ball drop has been a Times Square tradition since 1907 and is a must-see event.
How long should you spend at Times Square?
The length of time you should spend at Times Square in New York City will depend on your interests and how much you want to see and do while you're there. On average a 3 to 4-hour duration is a good amount of time.
People Also Read:
Things To Do In Portland Things To Do In Austin Things To Do In Alaska
Comments
comments