Meghalaya is one of the "Seven Sisters in India" that showcases the dramatic scenery of the North-Eastern Region. Be it the rich traditional festivals, enchanting monsoons, varied biodiversity, or famous foods of Meghalaya, each element of the place narrates its vividness. Whether exploring the magnificence of Shillong or getting drenched in Cherrapunji, you must sample the local delicacies. Since there is a significant influence of the three major tribes, Khasi, Jaintia and Garo, the locals of Meghalaya have a distinctive cooking style. Here is a well-crafted list of 7 dishes you must try on a food spree in Meghalaya.
7 Famous Foods of Meghalaya
If you are seeking a destination to treat the foodaholic in you, Meghalaya is one destination that you can count on. Whether you are fond of vegetarian or non-vegetarian delicacies, the cuisine leaves you spoilt for choice. So, while exploring this heavenly above, don't forget to try these below-mentioned dishes.
1. Pumaloi
Pumaloi is a steamed rice dish that majorly the Khasi people of Meghalaya have in their breakfast, lunch or dinner. The recipe includes special powdered rice that is cooked on medium heat in a unique black terracotta pot called Khiew Ranei. Since the dish does not have any spice, natives like to team it with a wholesome gravy that includes pork, chicken, or vegetables.
31 Popular Places To Visit In Shillong In 2022
2. Jadoh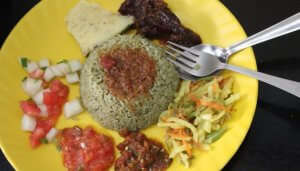 Jadoh is a renowned street food of Meghalaya that gives you the rich flavour of red rice cooked with meat, chopped vegetables, pork, and some aromatic spices. So, if you have a fetish for biryani from North India, you are most likely to get head over heels with Jadoh. Further, this toothsome dish enjoys an egg or fried fish garnish.
3. Na'kam Bitchi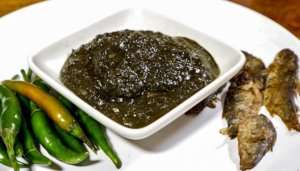 Image Credit: Snigdha's Bioscope for YouTube
Hailing from the Garo community of Meghalaya, Na'kam Bitchi is a scrumptious soup dish that is a perfect option for those who have a soft spot for spices. Mainly taken prior to a meal, the soup is made from a special kind of dry fish and a heavy amount of chillies along with pepper.
Caves in Cherrapunji: Crawl Through The Longest Mystical Caves In India
4. Momos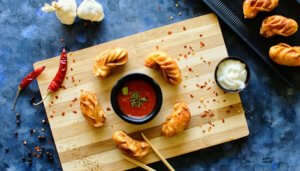 Almost all parts of India offer various kinds of momos, but you will find the most authentic ones in Meghalaya. Local food stalls are spread all over the state where non-vegetarians can enjoy momos with chicken or pork filling, and vegetarians can gorge upon vegetable momos. ML 05 Cafe, Lamee Restaurant, House of Momo, and Tibet Kitchen Restaurant are some of the best spots in Shillong offering these appetising dumplings.
The Famous Cherry Blossom Festival Is Ready To Paint Shillong With Hues Of Pink & White
5. Tungrymbai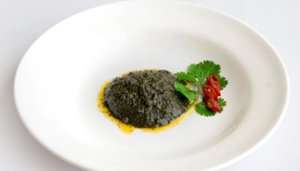 Tungrymbai is a major Khasi delicacy that is a sautéed fermented soybean dish prepared with pork chunks, ginger, garlic, onions, black sesame, spices, and some local herbs. Post adding all the ingredients, they are sautéed together till the time a rich flavour comes out. To enjoy this traditional food of Meghalaya, you can team it up with a bowl of hot rice.
8 Homestays In Meghalaya In 2022 – Your Humble Abodes In The Clouds
6. Pukhlein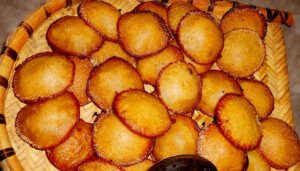 Pukhlein is a flavoursome sweet dish that is specially made during Wangala Festival. One of the best vegetarian foods in Meghalaya, Pukhlein is prepared with only two ingredients: rice powder and jaggery. The mixture of these is fried together to make the golden brown crispy bread. You can enjoy this perfect evening or post-meal snack with a hot pipping cup of tea or coffee.
7. Kyat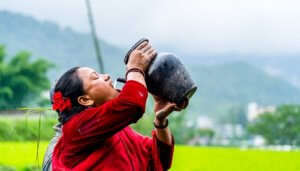 Kyat is a popular Meghalaya party drink, a beer that is made from fermented rice. For preparation, the ingredients are put to a boil in water that intensifies its unique flavour. Further, the drink is garnished with local ingredients. Although Kyat is available in almost all parts of the state, Shillong is one place that has umpteen spots serving Kyat.
10 Restaurants In Shillong Where You Can Eat Your Way Through The Culture Of The City
Aren't the above famous foods of Meghalaya drool-worthy? So, while you plan a trip to this captivating destination, dive into several local tastes and add some dishes to your favourites list. Book yourself a cheerful trip to Meghalaya with TravelTriangle to engage in the soul-gratifying experiences that this place has to offer.
For our editorial codes of conduct and copyright disclaimer, please click here.
Frequently Asked Questions About Famous Foods of Meghalaya
Which are some famous foods of Meghalaya?
Some of the most-loved foods of Meghalaya are: Doh-Khlieh (a pork salad) Nakham Bitchi (dry fish and vegetable soup) Pudoh (steamed rice with pork) Sakin Gata (white rice cake) Bamboo Shoots
Which are some vegetarian delicacies of Meghalaya?
If you wish to enjoy some vegetarian dishes of Meghalaya, you can try the following ones: Pumaloi (a dish with powdered rice) Pukhlein (a rice flour bread) Tungrymbai (a dish with fermented soybeans) Vegetarian momos Sakin Gata (white rice cake)
Can I visit Meghalaya during the current Covid situation?
Yes, you can plan a visit to Meghalaya during the current Covid situation. However, make sure that you are completely vaccinated and always carry your vaccination certificate. Besides this, you need to follow government protocols that include wearing a mask when in public, sanitizing hands at certain intervals, and maintaining social distance.
When is the best time to visit Meghalaya?
The ideal months to visit the destination are between November to June when the weather is favourable for sightseeing and outdoor activities. From November to February, the temperature ranges between 4 to 15°C and from March to June, it's approximately 15-25 °C.
Which are some popular places to eat in Shillong?
Here are the best restaurants or cafes in Shillong where you can enjoy a hearty meal: City Hut Family Dhaba Dejavu Cafe Shillong Ginger Restaurant Heritage Club – Tripura Castle Lamee Restaurant Madras Cafe Qzine Trattoria Dylan's Cafe
People Also Read:
Gangtok Food Karnataka Food Amritsar Food
Comments
comments