It's one thing for a hotel to serve fine locally-produced wines. Yet it's another for a hotel to host a winery or vice versa, but the present-day travel and hospitality sector seems to be uncorking this possibility. As wine-related tourism continues to cultivate visitors to the major wine-producing regions, there are hotels based within destinations that are lesser known or seen for their winemaking. These properties are not only aiming to entice oenophiles to stay within these untapped regions but also offering them epicurean-related experiences.
Here is a list of 10 hotels within innovative wineries in destinations around the world.
Related: Sip Your Way Along the Wine Trail In Northern Virginia's Wine Country
10/10
Locanda La Raia, Gavi, Italy
Locanda La Raia, Gavi, Italy
Locanda La Raia is a 12-room luxury boutique hotel, spa, biodynamic farm and winery, and contemporary art destination situated in Gavi in the countryside between Milan and Genoa. Gavi is a small town marked by its lush landscape of rolling hills and vineyards, known for its Barolo wine (one of Italy's top white wine appellations), and during autumn, as a mecca for truffle foraging. The grapes of Gavi grow alongside Roman ruins, historic sites, world-class galleries, and stunning hospitality hideaways characterized by their Ligurian-Piemontese classical architecture.
Locanda La Raia is a labor of love of the Milanese Rossi Cairo family, who transformed the 180-hectare estate and mansion into a "slow hospitality" ecosystem. As part of its commitment to the surrounding environment, the biodynamic La Raia Winery produces three kinds of multi-awarded Gavi D.O.C.G. – Gavi, Gavi Riserva Vigna della Madonnina and Gavi Pisé – and two kinds of Piemonte D.O.C. Barbera.
In March 2021, La Raia acquired 136 kWp of photovoltaic panels (equal to an area of about 700 sqm) for annual production of approximately 160,000 kWh. The installation is on two of the three roofs of the winery, while the third has been insulated with raw earth since 2003, the year of the renovation of the building and the construction of the wall with the ancient pisé technique by the Austrian architect Martin Rauch.
The choice of biodynamic cultivation was the first step taken 20 years ago by the Rossi Cairo family. This decision has determined the quality, character, and recognizability of the wines, certified by Demeter since 2007. The work in a harmonious, balanced setting has contributed to the conservation of this portion of the Gavi landscape. At La Raia, the woods, meadows, and cultivated fields surround the vineyards, fostering a variety of flora and fauna and safeguarding biodiversity. The hedgerows that offer small birds and mammals shelter and enrich the habitat as a whole have been maintained, as narrated in the book Alla scoperta della biodiversità by Renato Cottalasso.
Accommodation:
Locanda La Raia

Amenities:
All rooms and suites differ from one another and are furnished with pieces that reflect the taste of the property; they include contemporary and ancient pieces. Tommaso Arrigoni, a Michelin star chef who owns Innocenti Evasioni in Milan, oversees the Locanda La Raia's restaurant menu. The restaurant seasonally interprets the ancient tradition of Gavi cuisine. The SPA overlooks the Cortese vineyards, offering various massages and a body scrub treatment. Other features include a sauna, steam bath, heated indoor and outdoor swimming pools, and a gym.
9/10
Chateau Burea at Lopota Lake Resort & Spa, Kakheti, Georgia
n
n
n
n
n
n
Chateau Burea at Lopota Lake Resort & Spa
n
n
n
n
n
n
n"" data-modal-id="single-image-modal" data-modal-container-id="single-image-modal-container" data-img-caption=""Courtesy of Chateau Burea at Lopota Lake Resort & Spa"">
Chateau Burea at Lopota Lake Resort & Spa
Georgia has a long history with winemaking, with archeological evidence dating back more than 8,000 years, and with a claim of having the oldest heritage of this kind in the world. The Georgian region of Kakheti has emerged as a wine destination with more than 200 indigenous wine varieties of this region. The Georgian grape types found here extend to Rkatsiteli, Kakhetian Mtsvane, Khikhvi, Kisi, and Saperavi.
Oenophiles can see and stay in Kakheti and in timing with the Rtveli grape harvest at Lopota Lake Resort & Spa. This revamped family-owned property features 232 rooms and suites, an indoor spa and wellness center, as well as an on-property wine chateau, multiple restaurants, a horse stable, and vineyards that are home to the Châteu Buera, the property's onsite winery, and event space.
And, of course, wine is essential. At Château Buera at Lopota Lake Resort & Spa, guests can enjoy breathtaking views of the Caucasus Mountains while sipping authentic Georgian wine, tour the wine cellar where the wine is produced according to traditional Georgian methods, and taste the delicious Georgian-European fusion cuisine in the restaurant and terrace. In addition to its on-site winery, Lopota Lake Resort & Spa offers wine tours throughout the region in local wineries, family wine cellars, and chateaus, where centuries-old unique Georgian traditions of wine-making are being prolonged in modern times.
As a spa amenity, Lopota offers a special "Elixir of Youth Treatment." It starts with a vinotherapy wine bath on a terrace overlooking Lopota Lake and continues with a deep tissue massage, hydration facial, and hot stone therapy.
Accommodation:
Lopota Lake Resort & Spa

Amenities:
Restaurant Château Buera has a cozy lounge area and an open terrace with views of the Caucasus Mountains. Its wine-tailored menu is a fine selection that matches with their dishes. Accommodations range from junior, executive, and duplex suites, to room categories including premium twin room, superior family triple, superior triple rooms, superior king rooms, and standard double, family, and twin rooms. Wellness amenities extend to three spas, eight outdoor swimming pools, a fitness center, and a sauna.
8/10

Pałac Mierzęcin Wellness & Wine Resort, Lubusz Voivodeship, Poland

n

n

n "" data-modal-id="single-image-modal" data-modal-container-id="single-image-modal-container" data-img-caption=""Courtesy of Pau0142ac Mierzu0119cin Wellness & Wine Resort"">
Pałac Mierzęcin Wellness & Wine Resort
Located halfway between Poznań and Szczecin, Mierzęcin Palace is home not only to a manor, which is the third largest vineyard in Poland, but also a winery, a stud farm, and the Grape SPA. The Neo-Gothic-era palace and the renovated buildings of the old manor hold 76 well-appointed rooms and suites.
The property's first grape seed planting happened in the autumn of 2004, and 35,000 grape trees were planted along a vast, gentle slope directed due south, southwest, and on a flat terrain 60 meters above sea level.
Currently, Mierzęcin grows 19 grape types, mainly varieties of white grapevines, including Kernling, Riesling, Solaris, and Seyval blanc. Red grapevines consist of Rondo, Regent, and Zweigelt. There are also small amounts of hybrids such as Sibera, Bianca, Hibernal, Muscat Odesski, Biona, and Merzling.
Mierzęcin Palace Wellness & Wine Resort is the only resort in Poland with its own vineyard, a processing plant, and a wine cellar. Their grapes also constitute an integral element of beauty and care treatments at the Grape SPA, the first SPA in Poland based upon fruits from their vineyard.
Accommodation:
Palac Mierzecin Wellness & Wine Resort

Address:
Mierzęcin 1 66-520 Dobiegniew

Amenities:
Room categories consist of Twin Deluxe and Twin Classic, Double Room LUX – Palace, Single, Double/Twin Standard, Suite Apartment Superior, and Studio Room Comfort. Activities include a bowling alley, a fitness center, and two tennis courts. There are children's attractions such as a playground, a shallow zone within the Wellness Zone, and an aviary with a menagerie of peacocks, pheasants, doves, and hens.
7/10
Clos Apalta Residence, Santa Cruz, Chile
n "">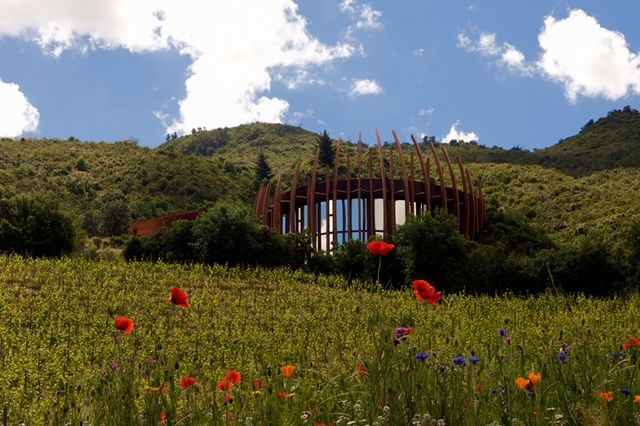 Clos Apalta Residence
Alexandra Marnier Lapostolle, great-granddaughter of Jean-Baptiste Lapostolle, the creator of Grand Marnier, is the force behind Viña Lapostolle. It is a winery and hotel nestled in the hills overlooking Chile's Apalta Vineyards in the Colchagua Valley.
This unique setting combines a respect for nature with cutting-edge design. A team of chefs prepares a special menu for each wine, using organic vegetables from the garden and seasonal products. Activities are linked to wine, beginning with a tour and private tasting in the hotel's winery. Guests can also bike through the vineyards, and trekking the trails of the native forests are a good complement to the activities linked to wine, beginning with a tour and private tasting in the winery.
A Relais & Châteaux property, Lapostolle Residence hotel involves four little homes surrounded by hills and untouched forest, each of which contains a suite with private terraces offering an uninterrupted view of the vines and mountains. Each suite is decorated according to one of the grape varieties that make up the famous wine, Clos Apalta.
Clos Apalta Residence practices an ambitious environmental policy involving measures against food and energy waste and the recycling of waste and water. Operations have been designed in order to minimize the environmental impact, such as the use of compost, water treatment plants that are 100 percent organic, and energy savings. Finally, the establishment also has a waste management program throughout its domain, minimizing liquid and solid waste and imposing the sorting of plastic, glass, and cardboard waste.
Accommodation:
Clos Apalta Residence

Amenities:
There's a gourmet restaurant whose cuisine reflects the terroir; a tasting room is equipped with state-of-the-art equipment and can be used for conferences and seminars. Accommodations consist of four luxury casitas in this hillside nature reserve. Wellness experts teach yoga or guests can explore the vineyards on horseback or mountain bike or via hiking.
6/10
Bruma Valle De Guadalupe, Baja California, Mexico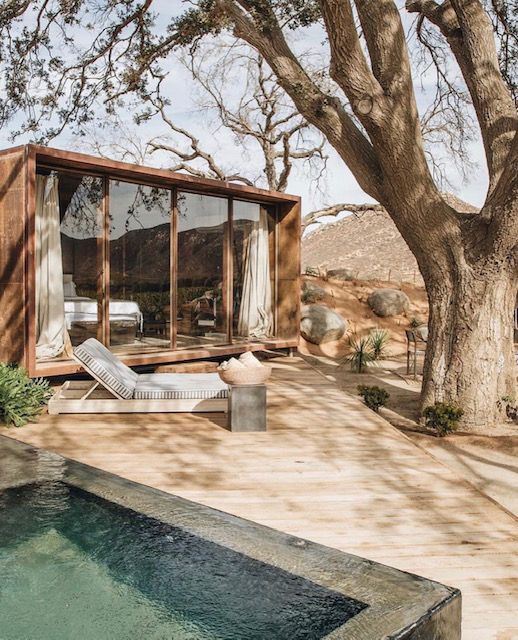 Bruma Valle de Guadalupe
Mexico's arid desert region outside of Guadalajara may not be known as the premiere destination for oenophiles, but the property's Casa 8 is pushing the ball forward with its innovative Bruma project and in-house winery. Each of the casa's eight rooms is unique, amalgamates the best of traditional and contemporary Mexican design, and proudly supports local brands and communities; amenities include Baja Botanica products made with the region's iconic lavender. Casa Burman consists of nine dark-colored blocks and a forest clearing that acts as a courtyard for this home by Mexican architects Fernanda Canales and Claudia Rodríguez. The number eight still has much significance here. The in-house winery and label, "Ocho," consists of eight different wine types that reflect the terroir and atmosphere of the Mexican desert landscape, including the Tinto 2018, which is based upon 50 percent cabernet sauvignon grapes and 50 petite Syrah, resulting in a deep purple color and a nose with licorice, chocolate, tobacco leaf, and graphite.
Accommodation:
Bruma Valle De Guadalupe

Amenities:
The property's eight room-suites, joined by the main house that has a common area, has a kitchen, living room, pool, and deck, along with an outdoor living room and, in general, a direct view of the property's vineyard.
Related: Arizona Has Its Own Wine Country & These Are The Vineyards To Visit
5/10

RISONARE Yatsugatake, Yamanashi, Japan

​​​​​​​In Japan's Yamanashi region, a premier wine destination that boasts the highest number of wineries in the country, lies the wine resort, RISONARE Yatsugatake. This family-friendly resort offers not only variations of wine but also wine-focused programming. At their Wine School, guests will learn all about Yatsugatake's wineries, partake in a blind tasting, and match wines based on the seasons or customize their own wooden Vino Box, where they choose a favorite wine from the Yatsugatake Wine house. They will also curate the perfect snack pairings for a picnic on the grounds. For relaxation, book the spa's Vino Scrub Pack. It consists of a scrub utilizing red wine grapes from Domaine Mie Ikeno, a local winery, and aims to brighten and smooth skin. The property is located on the border between Yamanashi and Nagano Prefectures, which are major wine-producing areas in Japan. Based upon their scheduling, guests can experience Vineyard Apéro, which honors this pre-dinner time with wine and snacks amid the vineyard. Youngsters can have some fun, too; there's Pool "il Mare," a kids' water park.
4/10

The Citizen Hotel, Tucson, Arizona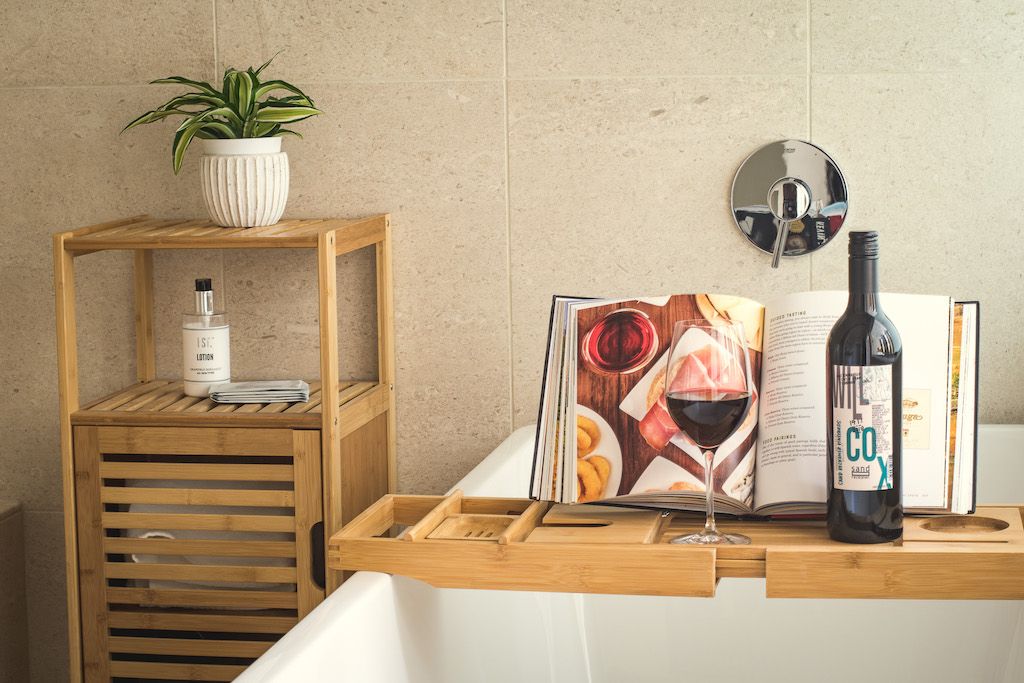 The Citizen Hotel
In early 2022, Tucsonan Moniqua Lane opened her second hotel property and Tucson's first wine hotel, The Citizen Hotel. The 10-room boutique property opened in the historic 1913 "Tucson Citizen" building that was once home to the city's oldest newspaper. However, the spirit of the publication lives on in the halls of The Citizen Hotel today. During the renovation, Lane and her team discovered newspapers from the 1820s that were stuffed into the walls as installation. Her team restored and photographed the newspapers and used them as the facade of the lobby bar to represent the building's storied past. Today, the basement of the building features a 5,000-square-foot wine cellar with exposed rock serving as the walls. The boutique hotel features a robust partnership with local wine producer Sand-Reckoner Vineyards and offers regular wine tastings, on-site wine barreling, cellar tours of the original basement, and excursions to the nearby wine country. In-room guests will find wine amenities, including a wine fridge stocked with a selection of Sand-Reckoner wine, a wine opener and glasses, and a bath tray to hold your glass while taking a soak.
3/10

Meneghetti Wine Hotel & Winery, Istria, Croatia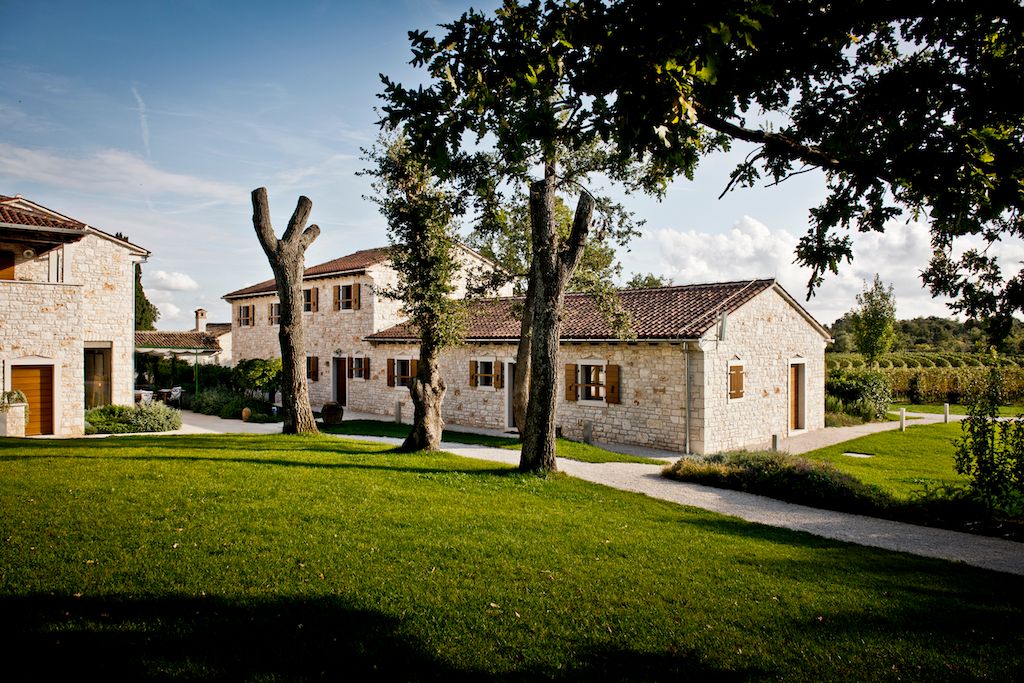 Meneghetti Wine Hotel & Winery
A member of Relais & Chateaux, Meneghetti Wine Hotel & Winery is a boutique 40-room hotel made of century-old stone and located on the Istrian peninsula of Croatia). In the spring of 2022, Meneghetti opened its 160,000-plus-square-foot winery and wine complex, consisting of a wine cellar in the form of a military hangar as an homage to the historical forts surrounding the estate. The property is a symbol of luxury, an oasis of peace surrounded by vineyards and olive groves, an outstanding restaurant providing highly personalized service, and premium, world-renowned, and award-winning wines and olive oils. The Meneghetti wine complex includes a private VIP tasting room, space for Meneghetti archive wines and olive oils, a tasting room, and a wine production site. Meneghetti produces 10 wine labels, with an annual production of over 100,000 bottles, as well as five olive oil labels. It's also home to a private beach, beach club, fitness center, and spa.
In 2022, Meneghetti Wine Hotel & Winery opened five new villas as part of the continuous development of the property. In keeping with the property's aesthetic, Mediterranean elegance and elements of the Istrian region and traditional architecture are seen throughout the luxurious villas. Each accommodation features space for four to nine guests, a kitchen or kitchenette, a walk-in bar, and a dining area to enjoy all that Meneghetti offers from the comfort of the villa. The new accommodations feature butler service and access to an "experience ambassador" to custom-tailor each guest's stay. All villas have direct access to their gardens, pools, and spacious sunbathing areas, with easy access to Meneghetti's private beach area.
2/10

TWP Winery and Farmhouse, Clifton, Colorado
TWP Winery and Farmhouse
The magic of Colorado's Western Slope comes alive in the TWP Winery and Farmhouse's cozy South African-inspired retreat, surrounded by the beautiful Book Cliff mountains and one of the nation's premier up-and-coming wine experiences. The property features four luxurious garden rooms with a private, personal atmosphere surrounding the great room that opens up to the edge of a lake. Guests have the opportunity to reserve the entire house or individual rooms. Not only do they offer outdoor adventures on the property, but they also offer amazing food as well as a winery and tasting room featuring property wines as well hand-selected wines from Colorado's master vintners. Tastings are paired with finely curated meats, cheeses, and accouterments to enhance the wine experience. They also make wonderful recommendations for top culinary and wine experiences in the Grand Valley wine region, lifting the area as a whole.
1/10

The Villages At Chaumette, Genevieve, Missouri

When people think of Missouri, they might think of it as a "flyover state." However, the Missouri Wine & Grape Board is looking to help change that, thanks to the state being given the moniker the "Napa Valley of the Midwest" for totaling over 130 wineries statewide. Among a number of properties in Missouri to experience Missouri's wine country, The Village at Chaumette at the Chaumette Vineyards & Winery makes for a great weekend getaway. Established in 1990 by Hank and Jackie Johnson, Chaumette Vineyards & Winery is positioned on now sits on 310 acres of land, 30 acres of which are grapevines. The region is situated in the heart of Ste. Genevieve wine country and esteemed by rolling hills and the Saline Creek River Valley. Established in 1990 by Hank and Jackie Johnson, Chaumette Vineyards & Winery ​​​​​​​grows varieties such as Norton, Missouri's state grape; Chardonel, a hybrid of Chardonnay; Traminette, similar in style to one of its parent grapes, Gewurztraminer; and Chambourcin and Vignoles, all French-American hybrids. The Villages at Chaumette offer seclusion with lodging for weekend getaways, with villa studio suites with a king-size bed and a small kitchenette. There are also elegantly-designed villas with nine-foot ceilings, fireplaces, and fully-equipped kitchens looking out to shaded porches and panoramic views; dog-friendly villas are available. Then, the Haney Hill House offers even more privacy as a five-bedroom home within the woods while still being close to the winery. While visiting, head along the Ste. Genevieve's Wine Trail, with six other wineries being a short drive from Chaumette.