As Diane Arbus says, pictures hold many secrets—it can be the secret of your love story or the secrets that make you stick together through thick and thin. If you too want your pictures to tell the story of your love and passion, then you should choose a location for your pre-wedding shoot in Jaipur wisely.
Although there are a handful of pre-wedding shoot locations in Jaipur to choose from, the ones that exist are unusually fascinating. The city is packed with architectural masterpieces like Nahargarh Fort and Jal Mahal that let you have the most romantic and glamorous pre-wedding photoshoot. It's a once-in-a-lifetime experience, so live it to the fullest!
8 Best Places For Pre-Wedding Shoot In Jaipur
This regal city has a plethora of not just royal palaces and forts for you to visit and explore, but these make the best locations for you and your fiance to have the best Jaipur pre-wedding shoot. Scroll through this insightful yet picturesque list and pick your favourite of the 8 pre-wedding shoot places in Jaipur.  
1. Albert Hall Museum
Set amidst the garden of Ram Niwas Bagh—Albert Hall Museum is a marvellous beauty with intricate designs that enhance your pre-wedding pictures. Shooting inside the museum isn't allowed so photographers shoot mostly in front of the museum and in the lush green Ram Niwas Bagh. It is definitely one of the best pre-wedding locations in Jaipur. 
Opening hours: 9:00 am to 5:00 pm
Location: Museum Road, Ram Niwas Garden, Kailash Puri, Adarsh Nagar, Jaipur
Get The Rajasthani Bohemia On! 17 Amazing Shopping Places In Jaipur To Explore In 2022
2. The Nahargarh Fort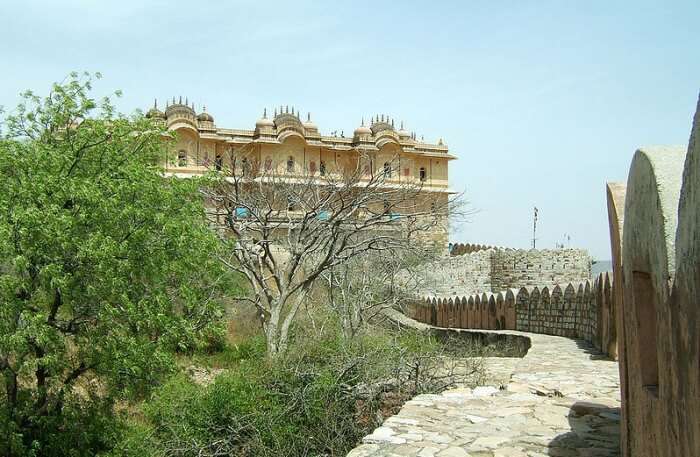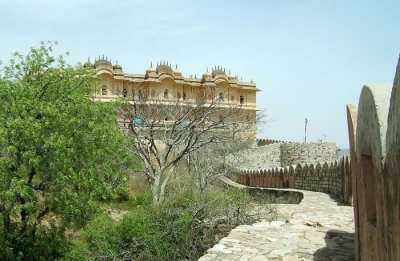 On the edge of the wavy and green Aravali hills lies Rajasthan's most treasured Nahargarh Fort. The fort will be a spectacular backdrop for an interesting pre-wedding shoot in Jaipur. It's not just the top the choice of photographers but also appreciated by couples and ranked amongst the best pre-wedding shoot places in Jaipur. 
Opening hours: 9:00 am to 5:00 pm
Photoshoot charges: INR 20 for stills and INR 100 for videos
Location: Krishna Nagar, Brahampuri, Jaipur
3. Amber Fort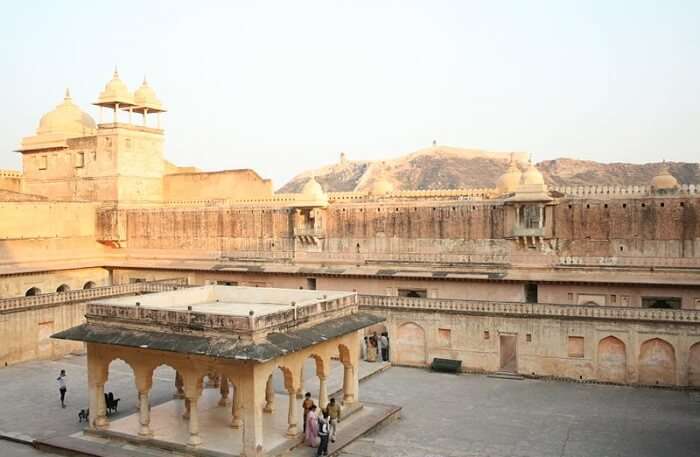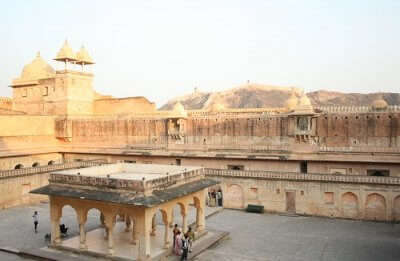 Ah! This old piece of beauty attracts every photographer and now couples for wonderful pre-wedding photography in Jaipur. This fort beautifully captures the essence of the rich heritage which eventually adds interesting elements to your pictures.
Opening hours: 8:00 am to 5:30 pm
Photoshoot charges: INR 50 for stills and INR 100 for videos
Location: Devisinghpura, Amer, Jaipur
Getting Married? See These 17 Best Locations For A Pre Wedding Shoot In Delhi NCR In 2022
4. Neemrana Fort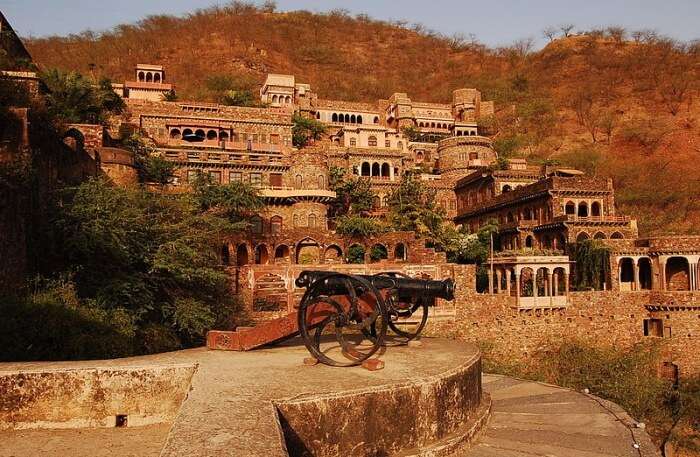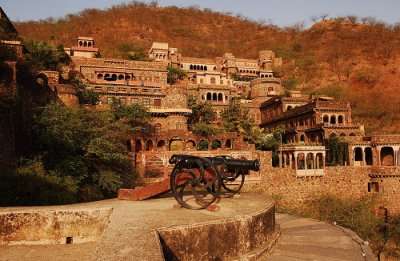 Situated on the Aravali mountain range, Neemrana makes a perfect backdrop for romantic pictures. The pools, hanging gardens, and tiny elements like colonial furniture and sculptures add tremendous beauty to your pictures. Neemrana is not amongst the most popular pre-wedding shoot locations in Jaipur, but now couples have started exploring this piece of beauty too. Below is the detail of the pre-wedding shoot price in Jaipur at this exotic location.
Pre-wedding shoot packages:
Location: 15th Century, Delhi-Jaipur Highway 122nd Milestone, Delhi – Jaipur Expy, Neemrana
5. Jal Mahal Area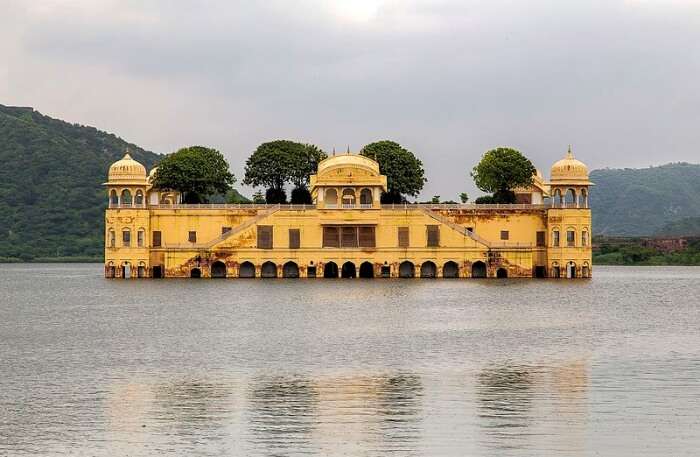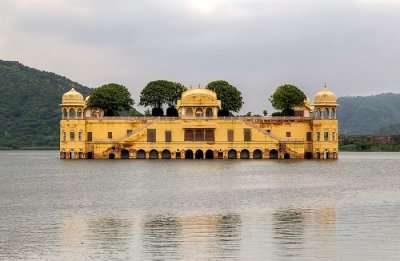 Photographers come up with many Indian pre-wedding photoshoot ideas for couples but shooting by the peaceful Mansarovar Lake is absolutely brilliant. The calmness of Jal Mahal adds elements of coolness to pictures. The yellow palace gleams with sparking water creating a mesmerizing background for your pictures.
Photoshoot charges: Free
Location: Amer Rd, Jal Mahal, Amer, Jaipur
Jantar Mantar Jaipur: The World's Largest Sundial
6. The Samode Palace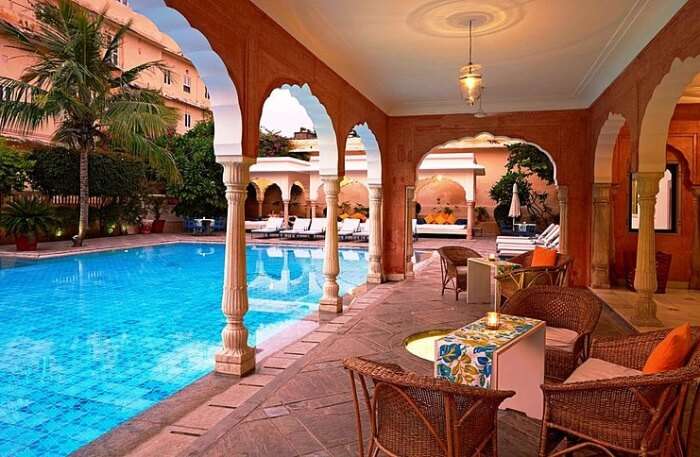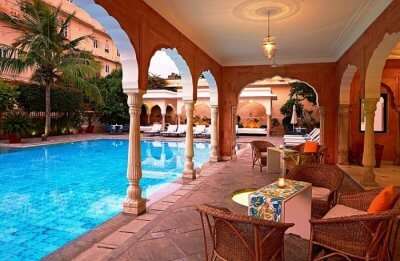 Samode Palace is a fine piece of architecture with a beautiful open pool, stylish furniture, and an awe-inspiring location. The Mughal-style garden blends traditional Mughal and Rajasthani decor with a hint of victorian art which makes it look prettier than any garden in Jaipur. Samode is also popular for its brilliantly painted walls that make another interesting backdrop for your pre-wedding photoshoot in Jaipur.
Entry per person: INR 1000 for Samode Palace and INR 1000 for Samode Bagh
Location: Village Samode, Tehsil Chomu, Jaipur
7. Chomu Palace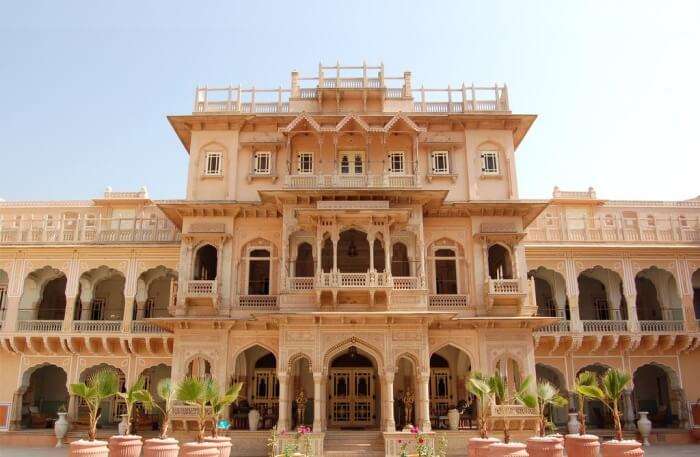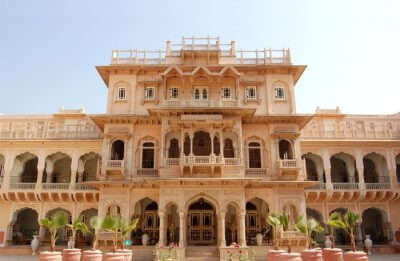 Everything about Chomu Palace is unusually gorgeous and interesting. This is the new kid on the block but already popular amongst couples and photographers. The authentic and historic palace that discreetly blends with modern style is one of the most photogenic and arresting pre-wedding shoot locations in Jaipur you wouldn't want to miss.
Entry per person: INR 1000 
Location: Sikar Rd, Naya Bazar, Chomu
Romantic Trip To Jaipur: Welcome To The City Of Palaces
8. Taj Rambagh Palace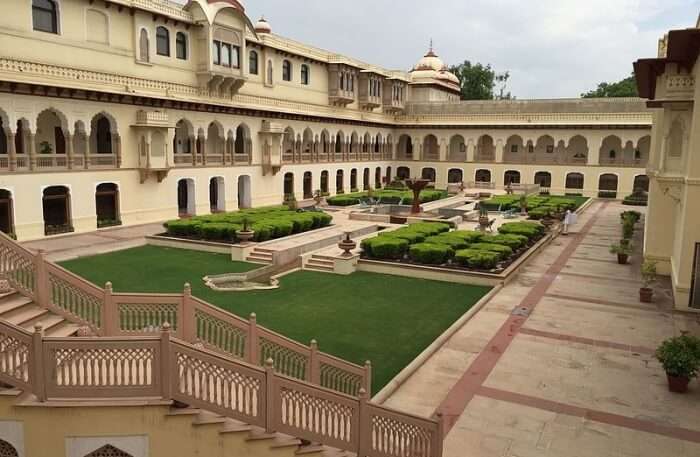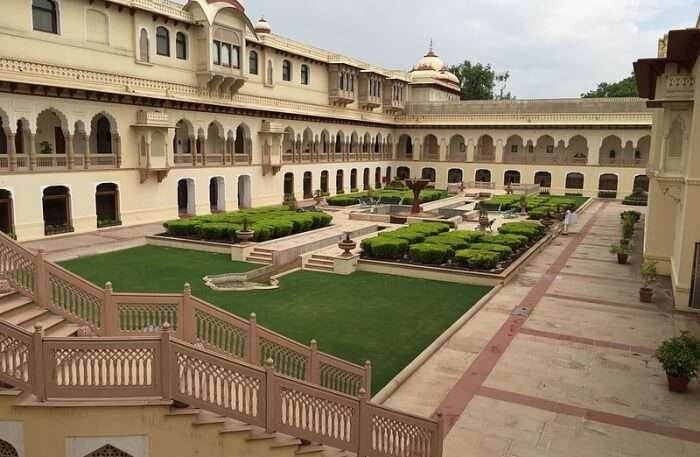 If you want a perfect royal pre-wedding shoot in Jaipur, then Taj Rambagh Palace should be on your list. The Mughal gardens, sandstone cenotaphs, and lattice work make an incredibly stunning background for your pictures. The appealing drawing on the walls that are inspired by Mughal and Rajasthani styles look absolutely stunning in pictures.
Entry per person: No entry fee
Location: Bhawani Singh Rd, Rambagh, Jaipur
Now that you know the best places for pre wedding shoot in Jaipur, remember to take prior permissions from the authority wherever you go. Plan your trip to Jaipur before getting hitched for a wonderful photoshoot at the exotic locations.
For our editorial codes of conduct and copyright disclaimer, please click here.
Frequently Asked Questions Related To Pre-Wedding Shoot In Jaipur
Why people do pre wedding shoot?
Pre wedding shoot is done to create a memory forever. The picture should be worthy of showing it to the world. There are several best places for pre wedding shoot in India.
What is the use of pre wedding shoot?
Pre wedding shoot captures the moments beautifully and is a special feeling before the marriage. The use of it cannot be defined as it is nothing but sweet nothings.
How much does a pre wedding shoot cost?
The average cost of a pre wedding shoot typically is around Rs. 45,000.
How do you do a pre wedding shoot?
Pre-wedding Photography Tips
1. Use a longer lens for more heartfelt and flattering shots.
2. Shoot in Burst Mode.
3. Set your shutter speed.
4. Know the flattering angles and use them.
5. Use backlight for dramatic shots.
What is the best lens to shoot weddings?
The Best Lenses for Wedding Photography
1. 50mm f/1.2 – 1.4
2. 35mm f/1.4.
3. 85mm f/1.2 – 1.8
4. 70-200 f/2.8
5. 100mm Macro f/2.8
6. 24-70mm f/2.8
7. 50mm f/1.4.
---
---
People Also Read
Pre-Wedding Shoot In India Pre-Wedding Locations In Bangalore Pre-Wedding Locations In Pune