Ticking off bucket list items you've always dreamed about is great but moments you never saw coming hit different when travelling abroad. It's easy to get lost with everyone else in the chiselled torso of Michelangelo's David, but it's the out-of-the-way cafés, sunset barbecue dinners with new pals, and big-hearted hostel hosts you'll remember forever. Here's my list of hidden gems from my Roamies Ultimate Europe: Berlin, Tuscany & Greek Temples tour and how to unearth some of your own:
1: Follow Florence's first Sunday of the month rule
So that anyone can see the city's greatest treasures at no cost, a lot of the popular museums and sights are free in Florence on the first Sunday of the month. Our timing was lucky as we had a free day to explore on the first Sunday in July. Even better, our amazing hostel, Florence PLUS, was just a ten minute walk to La Galleria dell'Accademia to see Michelangelo's David. I expected a long wait but we got in after only five minutes in line.
Later, we walked to one of my favourite spots in the city, the Giardino Bardini, a renaissance garden in Oltrarno with the best city views and a really lovely cafe at the top. The cost to enter the garden is typically about 10EUR but thanks to the 'first Sunday of the month' rule we got in for free. Under the same deal, you can also visit nearby Boboli Gardens but it's more popular with tourists so may be busier.
---
2: Admire Venice's skyline from Giudecca rooftops
You could argue that every place in Venice has a gorgeous view, but what if you're a sucker for a cityscape? Hop a ferry to Hilton Molino Stucky along the Giudecca Canal and head up to their Skyline Rooftop Bar. You don't have to be a guest of the hotel and you can grab a drink for a twinkling panorama of Venice at night.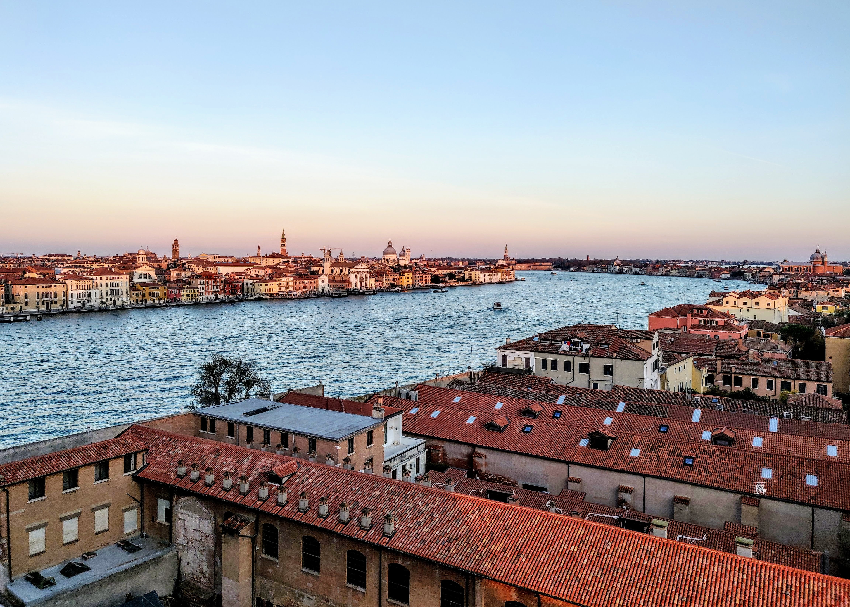 ---
3: Settle into Kotor and a fortified barbecue
Kotor, Montenegro was one of my favourite stops, mainly because I had no idea how extraordinary it was and felt blown away by the Old Town, the pristine beaches, and incredible sunsets. Old Town Kotor Hostel was also one of the most fun stays of my trip. On our second night, the hostel arranged a bus to an old Austro-Hungarian fortress called Fort Gorazda. There, we saw unbelievable views as the sun set over Kotor and tucked into a delicious barbecue dinner made by hostel staff. It was an easy way to strike up a conversation with other people staying there and so much fun.
---
4: Sit back on your roomy Corfu sundeck
On an adventure this long and jam-packed, I welcomed every stop with chill time on the itinerary. Our group pulled up to Sunrock Corfu Hostel near the end of our trip before heading for Meteora, Delphi, and Athens. We arrived late in the afternoon from Albania just in time for a mindblowing sunset. Sunrock is wonderfully unique and might be better described as a hostel resort. It's a family run business and the food they grow on their farm is transformed into delicious Greek dishes, they even make their own feta and wine. We shared some of the best meals of the trip on their huge sundeck while the sun set over Pelekas beach. It was an extraordinary spot to go night swimming — we even saw bioluminescent plankton glowing in the moonlight!
---
5: Try the tastiest gelato outside of Florence, Italy
Naturally, you'll find the best gelato in its birthplace of Florence but I had a couple of connoisseurs on the trip with me determined to find the very best in each destination. Thanks to their in-depth gelateria research we narrowed it down to two in Kotor, Montenegro. The winners were Marshall's Gelato and, my favourite, Solo Gelato — try the orange zest, white chocolate and chocolate chips!
---
6: Feel like family at Hostel Greco in Meteora, Greece
Dora Papa, the owner of Hostel Greco is a true gem. An extraordinary host, she had a delicious lunch waiting for us with stuffed peppers, fresh tomatoes from her garden, homemade cheese and iced tea. It truly felt like home. Dora went above and beyond and spent six hours the night before we left making spanakopita (spinach pie) for us. As one of the G for Good moments on our trip, a chunk of the money she makes feeding hungry backpackers is donated to charities she works with in Tanzania.
---
7: Opt for a thrilling Blue Lagoon tour in Split, Croatia
One of the sweetest parts of a Roamies trip is that you have full free days to do your own thing. A few of us arranged a speed boat trip in Split called the Blue Lagoon and 3 Islands Tour. We had a fantastic day exploring the Old Town of Trogir before heading to two separate swimming spots with crystal clear water; Blue Lagoon and Maslinica.
---
8: Tour through Roman history with your taste buds
Even if you've explored this dynamic city before, the Food Tour in Rome included on this stop gives you a whole new perspective on its history. Thanks to our archeologist and historian, Chiara, we learned so many interesting bits that you'd normally miss. Our first stop? A bar dating back to 1878, referred to as the 'Switzerland of Rome', Antico Bar Pasticceria Mariani. When you walk through its doors, you're technically no longer in the city as it has its own laws and regulations separate from Rome. After a thwarted assassination attempt, Pope Sixtus ensured the bar remained under the name of his saviour and gave the bar complete autonomy forever. The combination of cool stories and tasty Italian treats made for time very well spent!
---
9: Ride the doorless lifts at Prague City Hall
It may sound a bit odd but I think our experience in Prague encapsulates what is unexpectedly delightful about a Roamies trip in general. Our Chief Experience Officer, Federica Ostoni from Italy, adores Prague and her knowledge of the quirkier parts of the city really made it for us. I loved seeing the art installation at the Municipal Library of Prague, a large cylinder made out of books with a surprise inside. Strategically placed mirrors make it look like the stack climbs ever upward through the entire building!
Across the square, we dropped into Prague City Hall to ride the Paternoster Lift. This dumbwaiter for people does not stop or slow down and we had a lot of fun hopping on and hop off on different floors. It's these kinds of atypical touristy things built into Roamies experiences that you'd miss if you didn't have someone with insider knowledge of the city showing them off.
---
Getting there
Eager to find your own hidden gems and stay in some of the best hostels ever like Claire on her Ultimate Europe: Berlin, Tuscany & Greek Temples journey? Our Roamies by Hostelworld & G Adventures trips are just the ticket. And the price (especially for younger travellers on a budget) is just right too!