Going on an African wildlife safari is a dream that kicks in during childhood and stays with us long after we outgrow our toy animal friends. We've got ten good reasons why you should finally make that dream a reality and guess what? They're all safari animals in magical Kenya! We start with the 'big five' (elephant, rhinoceros, lion, buffalo, and leopard) and then add five more for good measure. Even better, we share a few things to know about each animal and where best to see them on tour.
1: Elephant
Endlessly intelligent and iconic, African elephants continue to capture the hearts of travellers to Kenya. In addition to watching the largest land mammals roam the savannah, you can opt to visit the David Sheldrick Elephant Orphanage where they care for young elephants and rhinos before releasing them back to the wild.
---
2: Rhinoceros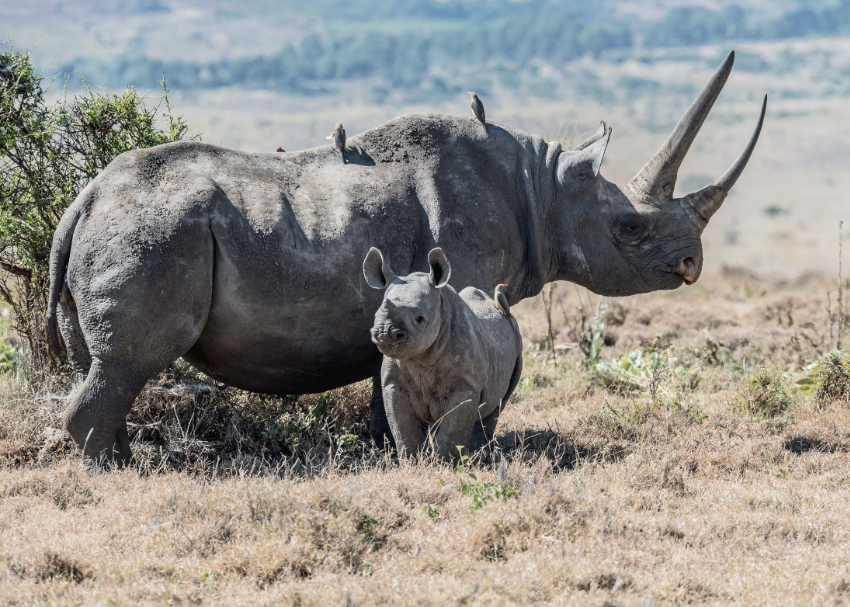 With their majestic horns, rhinos are at risk from poachers and fiercely protected by conservation groups. In places like Lake Nakuru National Park, you can drive along the salty shores looking for both white and black rhinoceros. On some tours, a speaker from the Kenya Wildlife Service helps you gain a deeper appreciation of conservation efforts.
---
3: Lion
Largest of Africa's big cats, the roar of a male lion can be heard from miles away. Lions live in prides of 15 – 20 and there are about 900 of them living in the Masai Mara region, making it one of the best places to spot them in the wild. Look for them lazing in the sun (they sleep about 20 hours a day!) or maybe even chomping on a recent kill.
---
4: Buffalo
Known for their size, strength and deadly horns, anyone that messes with an African buffalo comes to regret it. They are unpredictable and feisty, and (like all animals) its best to give them plenty of space. Buffalo tend to travel in large grazing herds and will circle up to protect weaker members when under attack.
---
5: Leopard
Ah, the elusive spotted feline we'd all love to see! With the help of your local guide, you can look for these solitary hunters in places like Samburu National Reserve, Lake Nakuru, and the Masai Mara. Their numbers are greater in July to September as the great wildebeest migration moves through the area and provides a greater supply of potential food.
---
6: Wildebeest
Speaking of wildebeests, millions of these horned antelopes herd together as they search for grass and water. Along with zebras, gazelles and impalas they form the Great Migration (one of the greatest natural spectacles in the world) and risk it all against crocodiles as they cross the Mara River en masse. You'll be awestruck by the thunder of hooves!
---
7: Hippo
In the Great Rift Valley, you can head to Lake Naivasha to get your fill of hippo sightings. Fair warning though, these aquatic heavyweights are notoriously aggressive and kill more humans a year than any other animal. You can cruise the freshwater lake by boat to spot wading hippos, zebras, giraffes, flamingos and crocodiles along the shore.
---
8: Zebra
If you like zebras (and who doesn't?) then you're in luck in Kenya. The country is home to two distinct species, Plains and Grevy's, the latter of which is endangered. You can see both at Samburu National Reserve along with four animals found only in this northern region, the long-necked gerenuk, beisa oryx, Somali ostrich, and reticulated giraffe.
---
9: Giraffe
---
Not to be outdone by zebras, there are three kinds of giraffe roaming around Kenya: Masai, Reticulated, and Rothschild. Whether you're watching them saunter by your vehicle or from above in a hot air balloon (hey, it's an option!), they are all mesmerizing to watch. The Masai Giraffe is the largest, the most plentiful and can be distinguished by its jagged-edged spots.
10: Cheetah
Kenya remains the greatest stronghold for the fastest land animal in the world. Cheetahs can reach speeds of 110 km / 70 miles per hour. In places like the Masai Mara, you can watch these slim cats sprint for their next meal. Just don't expect them to roar as their vocalizations are mostly purring, growling, chirping and hissing. Cute!
---
Getting there
Live a real wild life by joining us in Kenya on any one of our awesome safari adventures:
Kenya Camping Safari
National Geographic Journeys Kenya Safari Experience
Kenya & Tanzania Camping Safari