The Blue Lagoon in Iceland is a geothermal spa found on the Reykjanes Peninsula. It is a famous destination in Iceland that allures travellers from near and far. The site is nearly fifteen minutes away from Keflavík International Airport, and visitors often head to this destination straight after arriving in the country.
The Blue Lagoon is an outdoor spa where you can enjoy from massages to cocktails amid gorgeous surroundings to relax and rejuvenate yourself, enclosed by impeccable nature. You also get overnight accommodation and dining options here.
The hot spring features innumerable healing elements that occur naturally. Whether you wish to get refreshed by the mineral-rich saline water or exfoliated by exclusive mud, the place offers invigorating treatments in forms that you'd never imagine. The water here naturally maintains a temperature of about 39C/102F with a comfortable lagoon.
History of Blue Lagoon
Initiated as a reservoir of wastewater from the Svartsengi geothermal plant in 1976, and the first person to take a bath here was Valur Margeirsson in 1981. However, he faced resistance from locals before taking the first dip because they thought it might be unsafe to bathe in the blue mud pool. Later, everyone noticed the remarkable healing qualities of the waters here, especially for patients with psoriasis. In 1987, the authorities officially opened the first swimming facilities.
Since then, the location has gradually developed as a luxury spa, research centre, and a couple of hotels. With such remarkable regenerative qualities, the water of the Blue Lagoons is rich in silica and sulfur. A research and development facility on site uncovers remedies for skin ailments, and silica mud is available for free on the sides of the pool for guests to enjoy a face mask.
10 Things To Do In Iceland In Winter Apart From Making A Snowman
Why Do People Bathe in the Blue Lagoon?
The Blue Lagoon properties offer everything from fine dining to napping accommodations, but the hot spring is the most impressive amenity by far. Many people bathe in the Blue Lagoon for its healing properties.
Minerals Found in the Blue Lagoon
The mineral-rich azure of the Blue Lagoon is healing. The two minerals found in the waters here are sulfur and silica, and the combination of these gives the ethereal blue tint.
You can find some pair of algae plants in the Blue Lagoon, which features an amalgamation of minerals in the water to create the perfect skin-care combination.
Iceland In December: 15 Experiences For Having The Best 2022 Winter Vacay Ever!
Things to Do Near the Blue Lagoon
Southwest Iceland is home to naturally occurring hot springs, geothermal activities, and fascinating rock formations. You can explore nearby places, including Lake Kleifarvatn, Reykjanes peninsula, Gunnuhver, Brimketill, etc., making your holiday a memorable experience. The region is ideal for those who love nature and outdoor activities. You can also indulge in hiking, horseback riding, picnicking and more.
Places to Stay While Visiting the Blue Lagoon
While visiting the Blue Lagoon in Iceland, there are numerous options to stay in and around. Some visitors prefer to stay in the capital, Reykjavik or Grindavík, due to its proximity to the site. However, many travellers wish to enjoy the ultimate luxury and plan their stays at the Blue Lagoon. The following are the best places to stay in and around Blue Lagoon:
Staying at the Blue Lagoon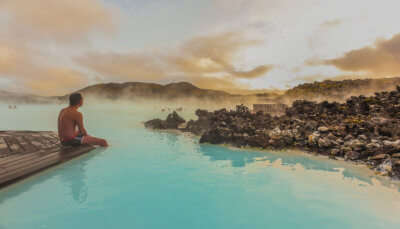 The Blue Lagoon abodes luxurious properties to add flavours of unmatchable comfort to your rejuvenation. You can book the Blue Lagoon Resort, Retreat Hotel and Silica Hotel, known to be the finest accommodations in Grindavík. The rooms here start from US$600 per night.
10 Best Places To Visit In Iceland That Will Leave You Drooling All Over!
Staying Near the Blue Lagoon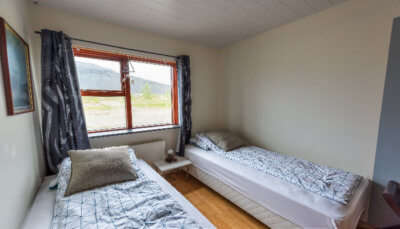 The following are the options to stay near Blue Lagoon in Iceland at an affordable price:
1. Airbnb
Airbnb is the best choice to stay near Blue Lagoon and if you are looking for comfortable and cosy abodes then a night's stay will cost around US$75.
2. Hostels
If you are a solo traveller or a backpacker and looking for a budget-friendly place to stay then you can check out the hostels. These properties save your unwanted expenses, making you spend more money on unforgettable experiences.
3. Hotels
There are many hotels in Grindavík that start at as low as US$70 per night. You get endless options to stay when it comes to selecting accommodations while visiting the Blue Lagoon.
8 Magnificent Waterfalls In Iceland Every Nature Lover Out There Must Visit
Places to Eat at the Blue Lagoon
The following are the interesting restaurants and cafes to eat in an around Blue Lagoon in Iceland:
1. Moss Restaurant
Most Restaurant is in Blue Lagoon and offers scrumptious delicacies cooked with fresh and seasonal ingredients. You get a chance to witness exceptional sights of the surroundings and you can choose the fantastic choices of wine.
2. Lava Restaurant
If you wish to savour traditional Icelandic dishes then Lava Restaurant is an ideal place to plan your meal. You get a chance to capture views of the entire lagoon which makes this place an unforgettable experience.
The 7 Best Water Parks In Iceland For A Great Weekend Out
3. Spa Restaurant
The Spa Restaurant at the Blue Lagoon makes you grab a drink or snack just after stepping out of your refreshing experience. You can even eat meals here in your bathrobe. You can relish local snacks here.
How to Reach
The Blue Lagoon in Iceland is well connected and can be conveniently reached in merely half an hour from Reykjavik. The quickest way to reach Iceland is by air. If you are visiting Iceland from another country or continent then make sure that you book your airfare in advance. From the airport, it takes about 15 minutes to ride to reach the Blue Lagoon. You can also rent a car or hire a taxi to reach here.
Abide By These 6 Major Iceland Travel Tips For A Comfortable And Trouble-free Trip
Best Time to Visit
The Blue Lagoon can be visited throughout the year and the experiences of all the seasons are spellbinding. Rather, visitors find difficulty in choosing the perfect time in a day to visit the site. The lagoon is least visited in the morning during opening hours and late at night.
You can also plan a visit in the evening, nearly 4-5 hours before closing time. This time slot gives you a flawless chance to relax before heading back to your hotel.
Tips for Visiting the Blue Lagoon
Book your entry in advance as the Blue Lagoon gets booked quickly. Plan to reserve at least a few weeks before your visit.
Reserve your entry at least four hours before closing and make sure that you keep enough time to enjoy the lagoon.
Don't forget to sneak peek at the nearby natural phenomena. Witness the naturally occurring hot springs and land formations created by geothermal activity.
18 Magical Reasons To Visit Iceland That You Just Can't Say No To!
Blue Lagoon in Iceland is a lifetime experience that is worth encountering while holidaying here. If you are planning a holiday to Iceland then book your trip with TravelTriangle and get a chance to unravel this land of impeccable terrains with an exclusive itinerary drafted according to your preferences.
For our editorial codes of conduct and copyright disclaimer, please click here.
Frequently Asked Questions about Blue Lagoon in Iceland
What is so special about the Blue Lagoon in Iceland?
The Blue Lagoon is known for its steamy mineral-rich water and soft white silica mud. Visitors enjoy the benefits of bathing in the Blue Lagoon and applying silica mud on their skin. It is a perfect destination to rejuvenate yourself.
Can you visit Blue Lagoon Iceland?
The Blue Lagoon can be visited by a timed ticket entry and there is a limit on the maximum number of guests in a day. You need to make reservations before visiting the lagoon.
Is it safe to visit Blue Lagoon during the Covid situation?
You need to follow all the mandatory travel guidelines mentioned by the authorities to ensure a safe travel experience. Avoid crowded places and keep sanitising your hands after touching surfaces. Maintain social distancing and remain masked in public places.
Can you go underwater in the Blue Lagoon?
The Blue Lagoon is developed for relaxation and its warm and milky waters are not appropriate for vigorous exercise. Also, diving is not allowed here.
People Also Read:
Winter Resorts In Vermont Best Cebu Resorts Best Ski Resorts In Switzerland